Conkle's Hollow is a narrow gorge with breathtaking cliffs rising on either side; the cliffs are made of Blackhand sandstone and are quite sheer in places, the taller ones reaching up to 200 feet in height. Seasonal waterfalls flow from the cliffs at many sites, their streams joining to form Pine Creek on the valley floor.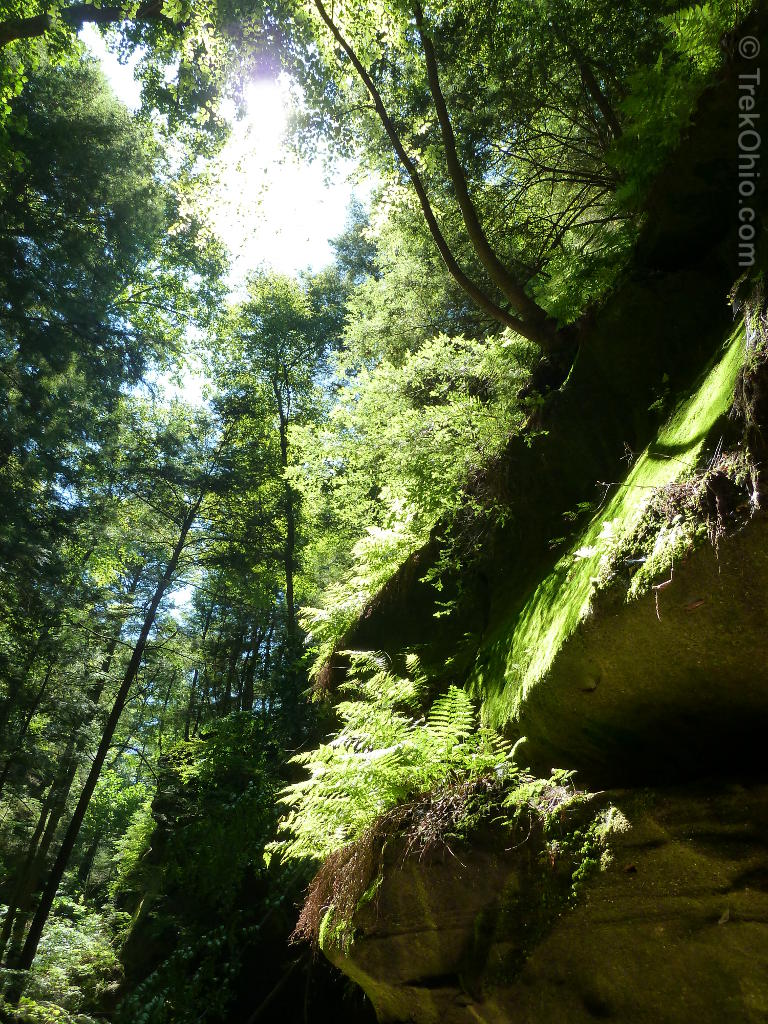 Conkle's Hollow State Nature Preserve has two main trails. The Rim Trail is on the plateau above and leads you around the upper border of the gorge. The Gorge Trail is on the valley floor and leads you down the gorge to its terminal point at a recess cave. In an earlier posting we discussed the Rim Trail. Now we'll explore the Gorge Trail that starts near the parking lot and follows Paint Creek to the gorge's end. The paved portion of the trail is nearly a mile long; it was designed to be handicap accessible. Although the upper Rim Trail isn't really safe for small children, the lower Gorge Trail is suitable for the whole family, including toddlers in strollers (no pets, though). The paved trail ends just before a narrow passage way between rock outcroppings; a dirt path leads from this point to the end of the gorge.
A profusion of ferns surround the trail.
Small side valleys fan out from the hollow, and an occasional recess cave is visible from the path. Dirt side-trails lead to a couple of these recess caves inviting hikers to explore them. The topmost photo of the post was taken from one of these side-trails.
The gorge narrows and terminates in a small recess cave. Spring water flows its roof, bouncing off a flat rock outcropping below.
Additional Information
TrekOhio: Hocking County Parks & Nature Preserves — This is the county where Conkle's Hollow is located. Check out this page for official links and information on nearby parks and preserves.
TrekOhio: Conkle's Hollow: The Rim Trail — Describes the trail you'll find if you climb the stairs of this preserve and walk around the upper rim of this gorge.
Location
Address: 24858 Big Pine Rd., Rockbridge, Ohio 43149
Directions:
GPS Coordinates: 39.452556, -82.571431
Google Maps: View on map or get directions
© Deborah Platt, Robert Platt and TrekOhio.com 2012 to 2021