Looking for a local Ohio hike longer than a day-hike but shorter than hiking the Appalachian Trail? There are several sites where you can go backpacking in Ohio, ranging from overnight trips to trips of several days.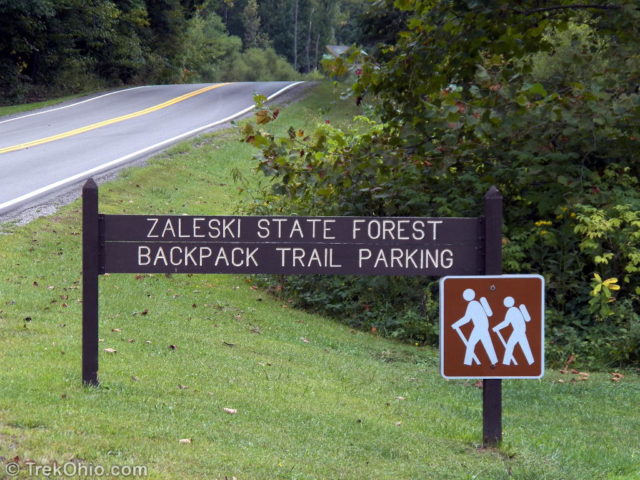 Northeast Ohio
Cuyahoga Valley National Park
This is the only national park in Ohio. The Cuyahoga Valley National Park features a 19-mile hiking trail along a former Erie Canal towpath. Camping facilities are available for backpackers along the trail. The park service advises contacting them prior to a multi-day hike, so they don't tag your car at the trailhead as 'abandoned'. The trail continues beyond the park all the way to Akron.
Mohican State Forest
Mohican State Forest has 32 miles of trails (many of these are also used as horse trails) and 10 back-country park and pack camp sites.
Southeast Ohio
AEP Recreation Land
AEP Recreation Land contains a 26 mile segment of the Buckeye Trail with two nice campgrounds (no fee) along the trail.
Burr Oak State Park
If you're ready to go for Burr Oak, you can hike the 18-mile backpack trail around Burr Oak Lake. Registration is at the park office, and there are several camp sites around the lake. For an extended trip, the Burr Oak trail links up with the Wildcat Hollow backpack trail in adjacent Wayne National Forest (Athens Unit).
Shawnee State Forest
Shawnee State Forest is the largest state forest in Ohio. It is home to the Shawnee Backpack trail – a premier backpack trail of over 60 miles with 7 separate camping sites. Both the Buckeye Trail and The North Country Trail pass through the area, in some places overlapping the backpack trail
Strouds Run
Strouds Run and surrounding parks have 21 miles of trails. The trail network includes Sells Park (City of Athens), Riddle State Nature Preserve, Blair Preserve, and Strouds Run State Park. Camp sites are available at Strouds Run.
Tar Hollow State Forest
Tar Hollow features the 21-mile Logan Backpack trail (loop) as well as a segment of the Buckeye Trail. The trail was created and is maintained by a Columbus Boy Scout troop. In addition to a number of Tar Hollow State Park camp sites, there is a backpack camp located by the fire tower at the intersection of the Logan and Buckeye trails. This site has restrooms, but no water.
Wayne National Forest – Athens Unit
Wildcat Hollow features a 15-mile and a 5-mile loop trail. Camping (no fee) is permitted along the trail.
Note: Deb and I hiked the shorter loop a few years ago in the late spring. The trail was very muddy — as in miles of ankle deep mud. We later returned in autumn and had a very pleasant hike.
Wayne National Forest – Marietta Unit
The Covered Bridge Trail is a 5-mile trail connecting two campgrounds. It ties in with the North Country Trail permitting longer hikes.
Archer's Fork Trail is a 9.5-mile loop trail available for backpackers. Camping is permitted along the trail (no fee). A connector trail connects with the North Country Trail.
Zaleski State Forest
The 23.5-mile Zaleski backpack trail is scenic and well-marked. It features three camping areas (no fee). On pleasant autumn weekends the parking lot at the trailhead can fill to overflowing. The rest of the year, it is not nearly as busy. The parking lot and trailhead are on US-278 directly across the street from Lake Hope State Park.
---
---
Southwest Ohio
Caesar Creek State Park
Caesar Creek State Park features a variety of trails including a 14-mile backpacking trail. The trail includes three camping sites for backpackers. On the park trail map the backpack trail is shown as the "Perimeter Trail".
East Fork State Park
East Fork State Park features two backpacking trails: a 14-mile backpack trail and the 32-mile Steven Newman Worldwalker Perimeter trail which circles the park. Four primitive camp sites are available along the Newman trail. One camp site is also shared with the backpack trail. The Newman trail connects with (and overlaps) the Buckeye / American Discovery / North Country trails
Twin Valley Backpack Trail
The Twin Valley Backpack trail is a 22 mile trail that connects trails in Germantown Metro Park to Twin Creeks Metro Park in Montgomery County. The trail includes several sites where backpackers can camp.
Wayne National Forest – Ironton Unit
The Lakeshore trail around Lake Vesuvius (8+ miles) connects with an 8-mile backpack trail. Camping is available along the backpack trail (no fee).
Symmes Creek / Morgan Sisters trails are two trails with a short connector totaling 14 miles. Camping along the trail is permitted (no fee).
Long Distance Trails
There are three long-distance trails in Ohio. Each of these is a 'trail of trails' in that they include many other trails or portions of other trails joined by connector trails. The Buckeye Trail is a 1,444 mile-trail known by its familiar blue blazes; it loops around the state of Ohio.
The American Discovery Trail is a 6,800-mile, multi-state trail that goes from coast to coast. It starts in the state of Delaware and ends in California. A segment of the trail passes through southern Ohio.
The North Country Trail is a 4,600-mile, multi-state trail that extends from New York to North Dakota. It enters Ohio at the Pennsylvania border, loops around the southern and western periphery of the state and exits into Michigan.
The three trails overlap for many miles in southern Ohio. At Burr Oak State Park, a segment of the Burr Oak backpack trail overlaps with all three long distance trails.
Additional information
© Deborah Platt, Robert Platt and TrekOhio.com 2012 to 2021