A while back I wrote an article entitled Ten Great Hikes in Ohio. As a follow-up I'd like to recommend another ten great hikes. Some may be familiar, some more obscure, but if you like spending time in the outdoors amidst interesting scenery, you'll enjoy these excursions.
Two Loop Hikes at Burr Oak State Park
Burr Oak State Park straddles Athens and Morgan County. It has camp sites, cottages to rent, and a recently renovated lodge. It has 30 miles of hiking trails and even more hiking in the surrounding Wayne National Forest.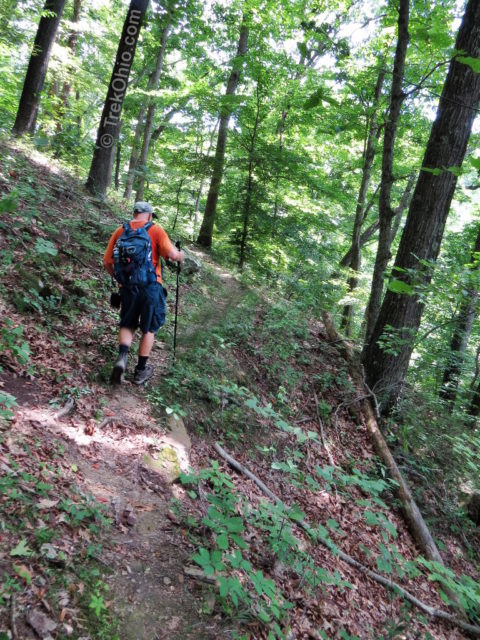 We recommend two loop hikes. The first loop hike starts near the Park Office (near point C on this map) and traverses points C – D – E – F – G – M – N – D – C in a 4.5 mile loop (per my handheld GPS). The trails include the blue-blazed Buckeye Trail and the yellow Buckeye Loop. The terrain ranges from hilly and forested to a flat meadow on the return loop.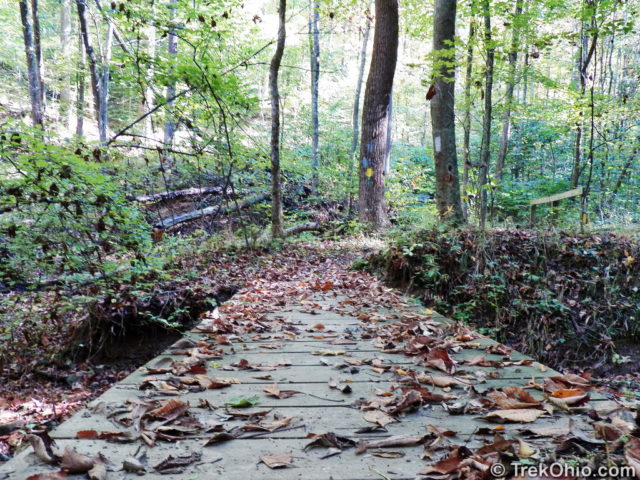 The second loop is a loop trail north of the first loop as shown on this map. The upper loop trail starts at Burr Oak Dock #3 and is 4.2 miles long with a total elevation gains of 1,315 ft.
For those seeking a greater challenge, the two hikes could be combined into one longer hike. Dogs are permitted on all the trails.
Charleston Falls Preserve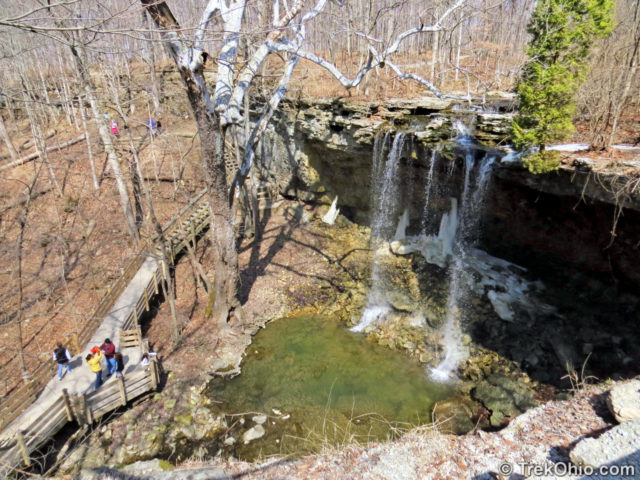 Charleston Falls Preserve offers a nice spot for a family hike in Miami County. The 3.75 miles of trails are wide and carefully signed with bridges and well-built stairways. The park itself is beautiful and includes a 37-foot waterfall, cliffs, ponds, a gazebo, a small cave, and an observation tower. Many benches are available for sitting and admiring the scenery. There are modern restrooms, drinking water, and a picnic area. Dogs are permitted at Charleston Falls.
Conkles Hollow Rim Trail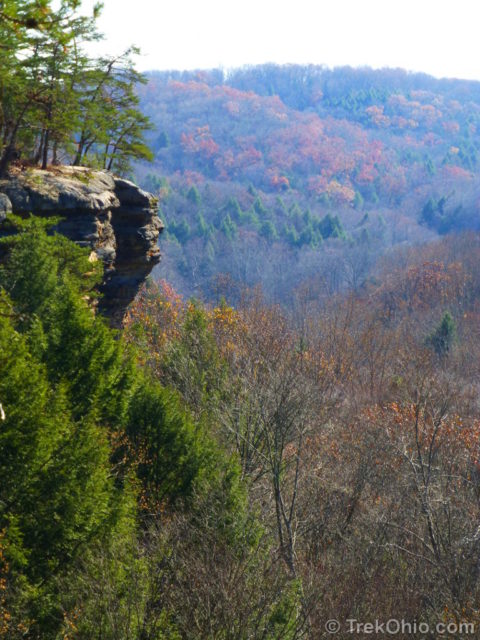 Conkles Hollow in Hocking County is the most popular state nature preserves in Ohio. It features two trails: the flat, paved but very scenic Gorge Trail, and the Rim Trail, which is a 2.5-mile trail that loops around the periphery of the gorge rim. The rim trail has amazing vistas and while scenic year round, it is spectacular when fall foliage is in full display. It is not suitable for small children or people fearful of heights. Dogs are not permitted in the preserve. Hikers should proceed with care and stay on the trail at all times.
For more hiking nearby, the trail head for three nice hikes in Hocking State Forest begins a mile up Big Pine Road from Conkles Hollow.
Fort Hill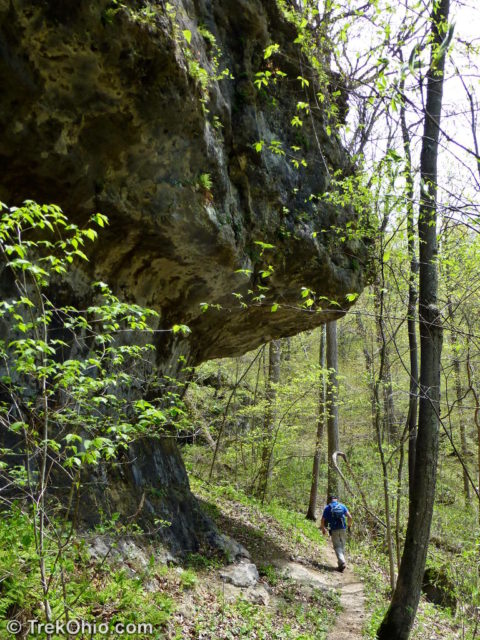 Fort Hill in Highland County has 11 miles of nature trails including a segment of the blue-blazed Buckeye Trail. The hilly terrain includes two Native American earthworks, Baker's Fork gorge valley, and three natural stone arches. In the spring, you can find a profusion of wildflowers. Dogs are permitted at Fort Hill.
Great Seal State Park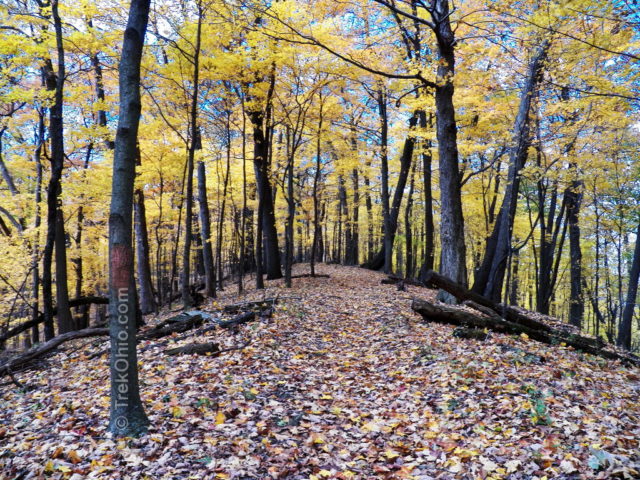 Great Seal State Park in Ross County has 22 miles of trails traversing the hillsides that are represented on the Ohio State Seal. With a variety of trails, you can create just about any length of hike you wish. We especially enjoyed hiking Great Seal in autumn to view the fall foliage.
Lake Katharine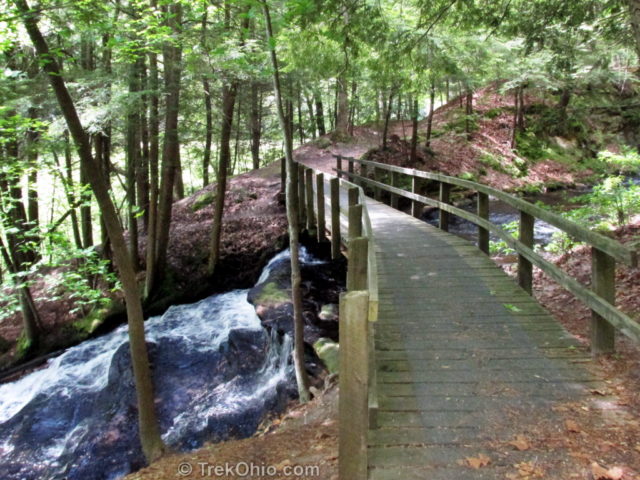 Lake Katherine Nature Preserve located in Jackson County has 6 miles of hiking trails. The trails are very scenic and go by hills, cliffs, a waterfall, and the lake that gave the preserve its name. In the spring the preserve is a great place for spring wildflowers. Dogs are not permitted at the preserve.
Miller Nature Sanctuary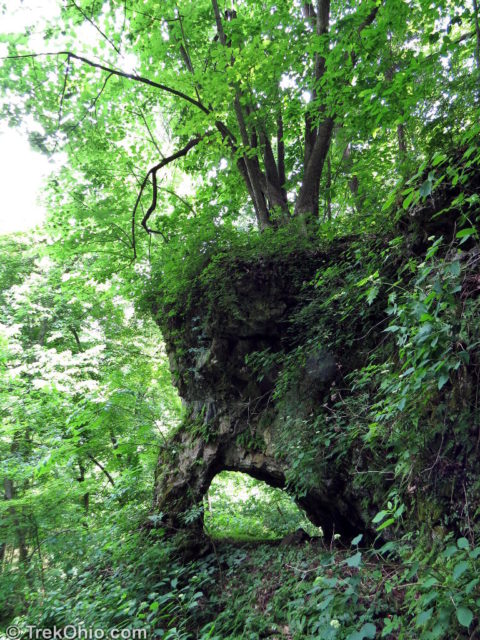 Miller Nature Sanctuary in Highland County is hard to find, but worth the effort. It features three miles of loop trails that provide views of cliffs, seasonal waterfalls, three natural stone arches, the Rocky Fork Creek, and its gorge valley. Dogs are not permitted in the preserve. For more hiking nearby see the nearby Highlands Nature Sanctuary and Fort Hill.
Rhododendron Cove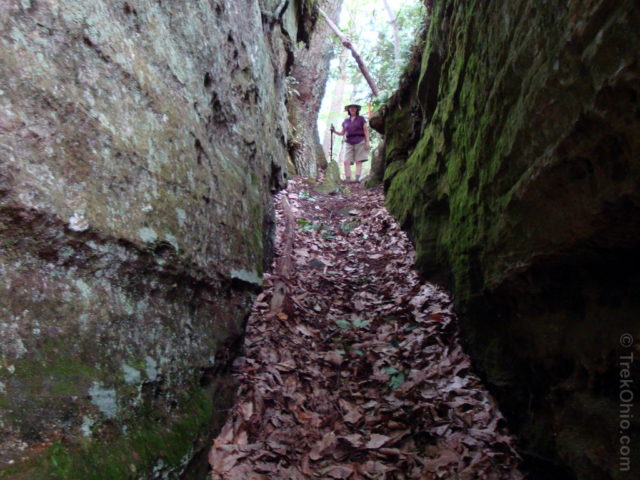 Rhododendron Cove in Fairfield County is another hard-to-find nature preserve. An unmarked, gravel parking lot leads to a mown trail and then ascends to a ridge line. You'll find unusual rock outcroppings and large numbers of Rhododendron Maximum (Great Rhododendron). If you're lucky, you'll get to see Rhododendron Maximum's huge white and pink flowers. The hike is short — only 2.25 miles. But if you're looking for more hiking in a scenic locale, drive up the road to the adjacent Wahkeena Preserve. Dogs are not permitted in either preserve.
Shawnee Day Hike Loop
Located in Scioto County, Shawnee State Park and the surrounding state forest have 72 miles of hiking trails and another 75 miles of bridle trails.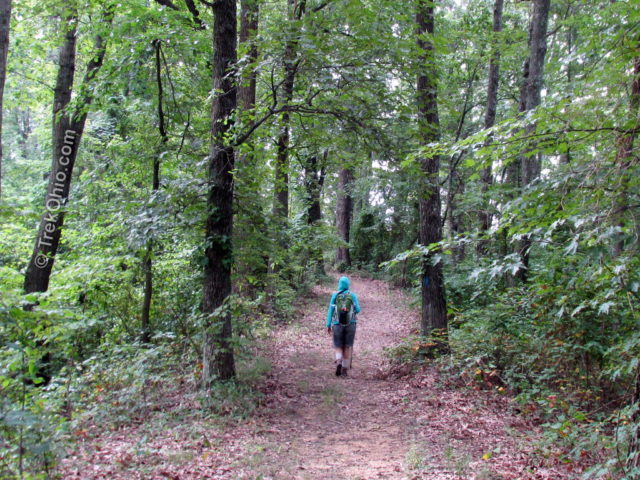 The Shawnee Forest Day Hike Loop is a 7.2-mile loop hike that begins and ends across the road from the nature center. The hike can be accurately described as 'strenuous'.
The hike is a large loop that ascends a 600-foot ridge, goes down the other side, ascends another 600-foot ridge, follows the ridge line, heads back down, and then up and over the first ridge. It is heavily forested most of the way. We've not hiked it in the fall, but since the forest is mostly deciduous, it seems like there would be a lot of fall color. Dogs in good physical shape are permitted on this hike.
Bonus Hike: Rock Stalls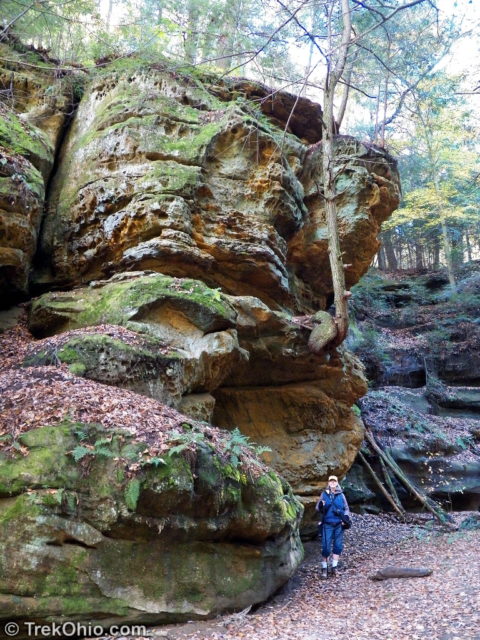 I counted Burr Oak as two hikes, so I'll add a bonus hike. Rock Stalls in Hocking County is a privately owned preserve that is open to the public. A short, 1.5-mile hike descends into a box canyon that features cliffs, slump blocks, streams, and several seasonal waterfalls. It's like a miniature version of Old Man's Cave. Dogs are permitted at Rock Stalls.
Additional information
Other Hiking Summaries
© Deborah Platt, Robert Platt and TrekOhio.com 2012 to 2017