Cedar Falls is a scenic waterfall situated on the trail halfway between Old Man's Cave and Ash Cave.  The falls was named by early settlers after the nearby cedar trees, of which there are none. The settlers misidentified the native hemlock trees as cedars.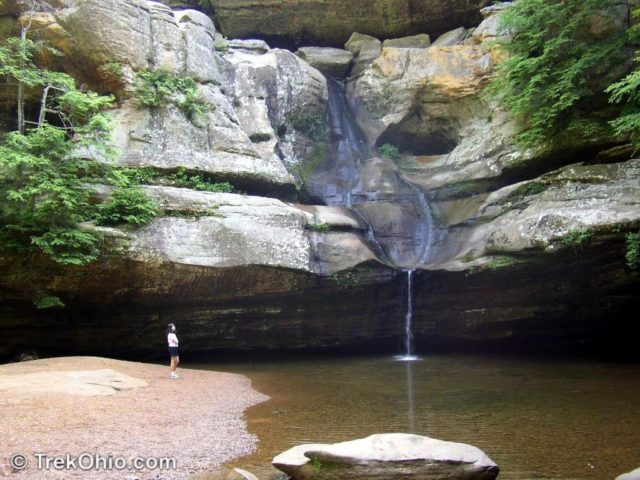 Cedar Falls can be reached by car on SR 374, just a short drives from either Old Man's Cave or Ash Cave.  Amenities include several parking lots, picnic shelters, rest rooms, and drinking water. Although there are several hiking trails that leave from this point, many visitors just go directly to the falls from the parking lot without hiking elsewhere.
For hikers, Cedar Falls is at the intersection of several popular hiking paths.  One route leads from Cedar Falls to Old Man's Cave. There are two choices of trail going towards Old Man's Cave. You can follow a stairway up and take the Gorge Rim Trail which is marked with red marked posts. This trail will take you to a steel bridge, then Rose Lake and finally to Old Man's Cave. Alternatively, you can follow the trail along the stream in the gorge valley to Old Man's Cave.  The lower trail is a portion of the Buckeye Trail (perhaps the most popular part of the Buckeye trail), and it is marked with blue blazes.  Either way, it's a little over 3 miles to Old Man's Cave.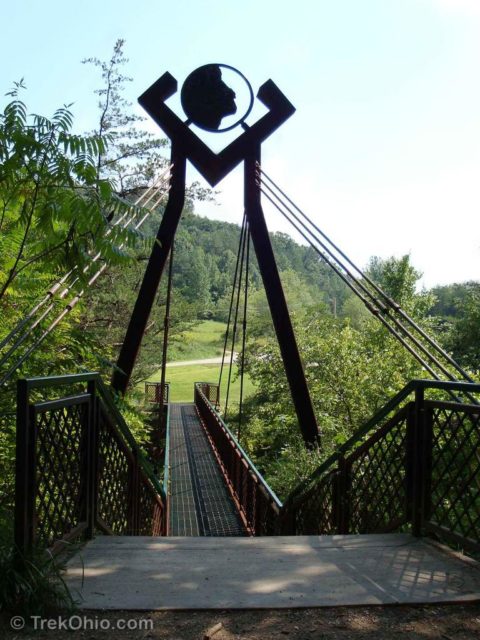 Another route from Cedar Falls leads to Ash Cave. Following this route you go up to the parking lots associated with the falls. At the other end of the picnic area, a dirt access road leads off to a 3 mile hiking trail that takes you to Ash Cave. This is another piece of the Buckeye trail and is marked with the standard blue blazes.
Cedar Falls is the halfway point for the annual Hocking Hills Winter Hike that's held every January. The organizers provide hot navy bean soup, cornbread, and hot chocolate (for a small donation). Park naturalists are available to answer questions, and there is usually music, and a festive atmosphere. Then it's on to Ash Cave.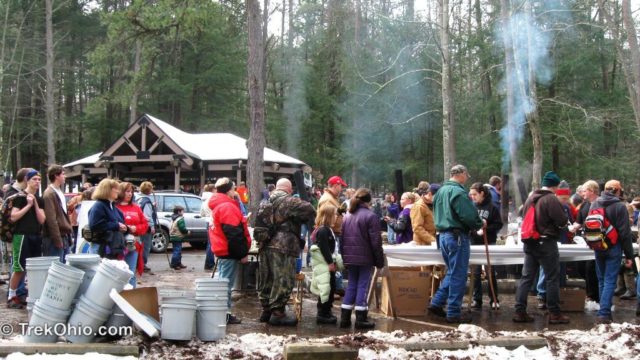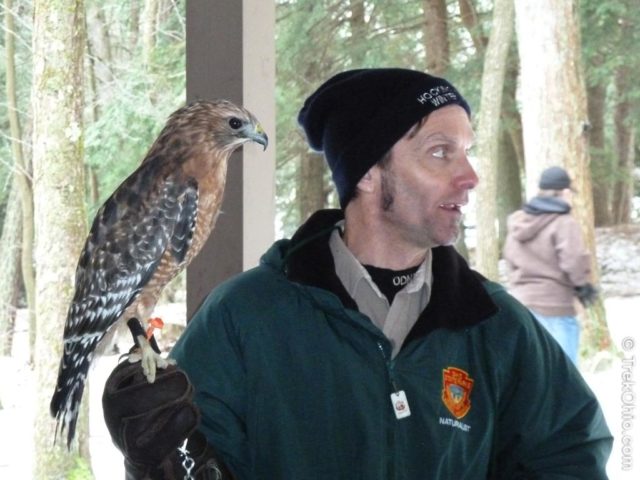 Here's what the falls looks like during different times of the year.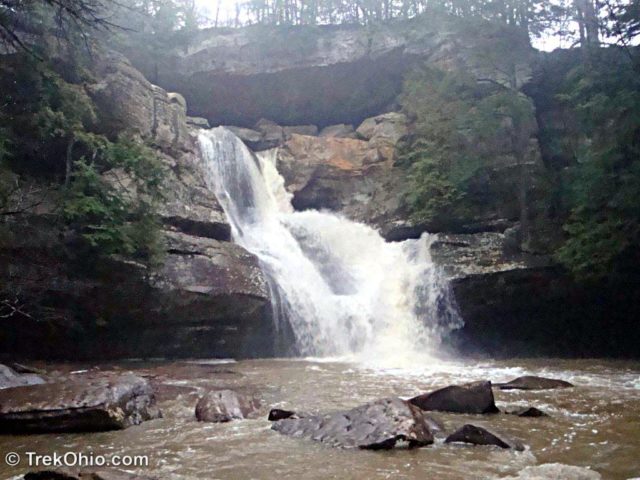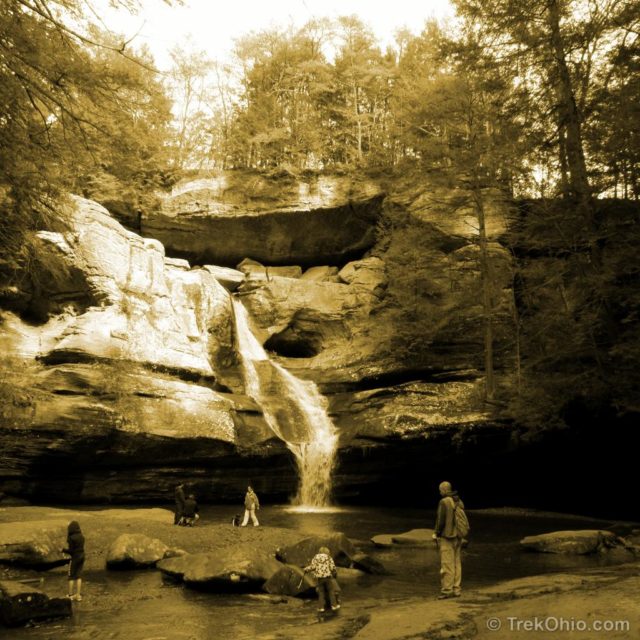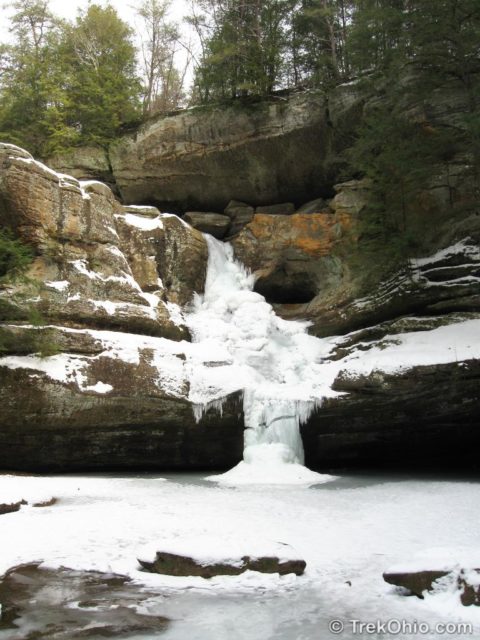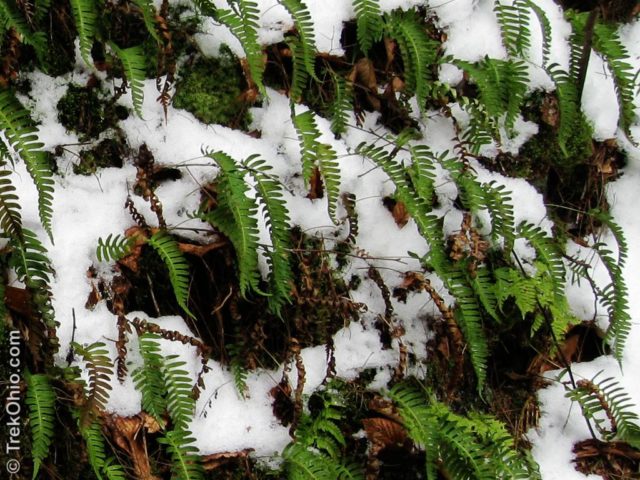 Additional Information
Location
Directions: Within the Hocking State Park, Cedar Falls is near the intersection of OH-374 and Ilesboro Road.
GPS Coordinates: 39.4196154, -82.525354
Google Maps: View on map or get directions
More on Waterfalls
© Deborah Platt, Robert Platt and TrekOhio.com 2012 to 2021