The Hocking Hills is one of the most scenic areas in the state of Ohio. It is also a hiker's paradise with trails varying in difficulty from relatively easy ones (appropriate for young children) to more challenging trails that cover steep terrain or follow gorge rims.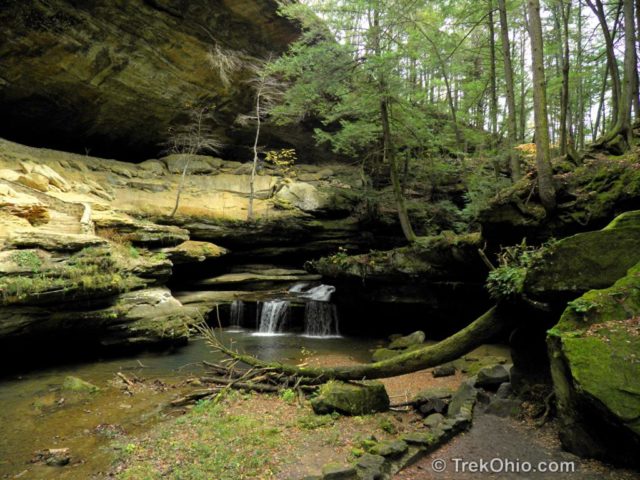 Dec. 8, 2016: The Hocking Hills Dining Lodge has burned down.
State Park Trails
Old Man's Cave
Old Man's Cave
. By starting at the upper falls, you can follow a 1/2 mile loop crossing the creek downstream and see the various waterfalls, rapids, and the large recess cave. There are quite a few stairs, and some steep drop-offs in places.
Old Man's Cave – Cedar Fall's
Cedar Falls
. The easier of the two is the upper Gorge Rim Trail which starts at a wooden bridge spanning Old Man's Cave. The trail is marked with red marked posts. It proceeds past
Rose Lake
to Cedar Falls along the upper rim of the gorge valley. Total distance is 3 miles one-way.
The second trail is the Buckeye Trail between Old Man's Cave and Cedar Falls. This is also known as the Grandma Gatewood trail after the famed Ohio hiker Emma Gatewood. This trail begins beyond the lower falls of Old Man's Cave and follows the creek all the way to Cedar Falls. It is somewhat strenuous in places going up and down hills and between large boulders. We once had to duck into a small recess cave along the trail to sit out a sudden, heavy, pop-up thunderstorm. The trail is marked with the standard Buckeye Trail blue blazes. Total distance is 3 miles one-way.
You can combine the two trails into a 6 mile loop from Old Man's Cave to Cedar Fall's and back.
Cedar Falls to Ash Cave
Ash Cave
. The trail is parallel to the creek and eventually leads to the top of the falls at Ash Cave. A set of wooden stairs take you down to the opening of the large recess cave. Again, follow the blue Buckeye Trail blazes. Total distance is 3 miles one-way.
Ash Cave
A flat paved trail (1/4 mile) leads from the parking lot to the large recess cave topped by a waterfall. This path is handicap accessible and suitable for small children.
Rock House
Rock House
is a relatively short loop trail, but some of the grades to the natural cave and back are very steep. Total distance is about 1/2 mile.
Cantwell Cliffs
Cantwell Cliffs
is a 1 mile loop trail that goes first along the cliff rim and then down to the cliff base around and back up again. The trail is strenuous with sharp drop-offs in places.
Whispering Cave
Whispering Cave
is the Hocking Hill's newest attraction. The Ohio Department of Natural Resources just opened a trail system to this recess cave in 2017. The cave is about 300 feet wide; a drizzly waterfall pours from its rim, falling 105 feet to the gorge floor.
A Note About Dogs
Dogs on leashes are allowed at all Ohio state parks. We've brought our own dog on all the above trails. Keep your dog on a leash and be considerate of other hikers and their dogs. Also, be sure to bring water for both yourself and your dog. When you get back to the car, it might be handy to have an old towel to wipe off your dog's feet in the event they've become muddy.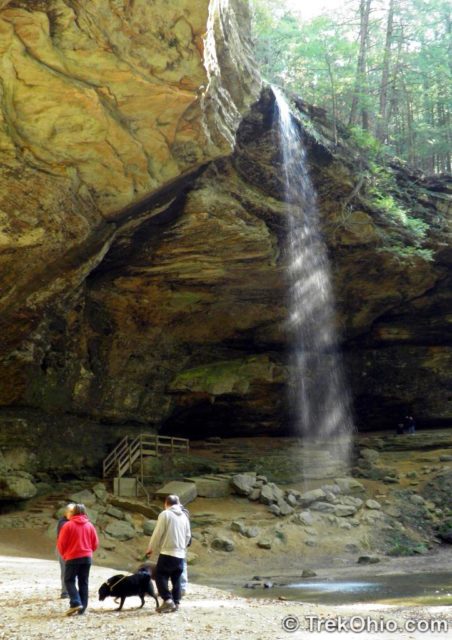 Nature Preserves
Conkle's Hollow
gorge trail
is a one-mile trail along the flat base of the valley. It is suitable for children and is handicap accessible.
The rim trail is a steep trail that climbs up to the cliff rim and follows along the cliff edge. The trail is a 2.5 mile loop. It is very scenic but is NOT suitable for small children. Dogs are not permitted in Conkle's Hollow.
Rock Bridge
Rockbridge Preserve
leads from the parking area, past farm fields to a loop trail. A side path leads to the natural arch. A second side path overlooks two small recess caves and a seasonal waterfall. It's about 3/4 mile from the parking lot to the loop trail. The loop is about a mile and the steep side trail is another 3/4 mile. Dogs are not permitted at the preserve.
Wahkeena Preserve
Wahkeena Preserve
has 2 miles of mostly hilly trails and a short boardwalk through a marsh. Wahkeena features a nature center with a friendly and knowledgeable staff. It is suitable for children. Dogs are not permitted.
Rhododendron Cove
Rhododendron Cove Nature Preserve
. Rhododendron Cove features a trail (2.25 mile round trip) with a steep but very scenic climb to a ridge line and then follows the ridge with views of groves of great rhododendron. The parking lot for the preserve is unmarked so please see our post for directions. Dogs are prohibited from this preserve.
Boch Hollow
Boch Hollow Nature Preserve
has over 4 miles of trails traversing ridges, hollows, and meadows. A picnic shelter and a wood gazebo by a pond are nice places to stop for a snack along the trail. The preserve is just a few miles north of Logan (take OH-664 north). See our posting for directions. Dogs are not permitted at this preserve.
Rock Stalls
Rock Stalls
is a private preserve that is owned and operated by
Camp Akita
. It has 1.5 miles of trails that includes a box canyon with recess caves and waterfalls. The preserve is north of Logan. See our posting for details and directions. Dogs are permitted at this private preserve.
Metro Park
Clear Creek Metro Park
Clear Creek Metro Park
has nine trails with a total distance of over 14 miles. The trails interconnect allowing you to create a custom hike. A one mile portion of the Chestnut Trail is available for pets who are prohibited on the other trails.
Hocking State Forest
Hocking State Forest has 59 miles of hiking trails and 40 miles of bridle trails. Bridle trails are open to both horseback riders and hikers. The Buckeye Trail continues from Hocking State Park into the Hocking State Forest. Three short hikes (each about 2 miles round trip) will take you to interesting sites such as Airplane Rock, Balanced Rock, and Chapel Cave.
Permit-Only Preserves
Four nature preserves in Hocking County are accessible only by permit. Three of these preserves: Little Rocky Hollow, Saltpetre Cave, and Sheick Hollow are run by the state Division of Natural Areas and Preserves (DNAP). If you wish to visit one of these preserves, you can apply for a permit here.
Crane Hollow is owned and managed by the non-profit Crane Hollow, Inc. (CHI). It seems to be used primarily for academic research. Groups are occasionally permitted to hike here by special arrangement with CHI. Contact information for Crane Hollow, Inc. can be found here. If you want to view Crane Hollow from a height, visit Airplane Rock (see above). The valley you're viewing from the cliff top is Crane Hollow.
---
More information on the above parks and preserves can be found in the TrekOhio Guide to Parks, Preserves, and Trails. Check out the guide's entry for Hocking County.
Looking for more places to hike near Hocking County – consider neighboring Fairfield, Vinton, Athens, and Ross counties.
Additional Information
Map
The following map shows the location of the parking areas or trail-heads for the above trails. Click on the marker to see a pop-up containing the name, address, and geo-coordinates of the sites. If the pop-up extends beyond the border of the map, you can pull the map left or right until the pop-up is completely visible.
More Hiking Summaries
© Deborah Platt, Robert Platt and TrekOhio.com 2012 to 2021