Interest in archery has soared since with the release of the movie The Hunger Games with its bow wielding heroine Katniss Everdeen. The archery competition at the 2012 Summer Olympics has also highlighted the sport. If you'd like to hone your bow and arrow skills without paying fees to use an archery range, consider making use one of the state's many public ranges.
We recently visited a public archery range at the Delaware State Wildlife Area not far from Columbus.  A path leads from the parking lot to a large clearing where the range is situated.  Several wooden tables are provided to hold gear.  Targets are provided at a variety of distances.  A couple of different parties were doing target practice while we were there. To the south of the main range there's a separate site for doing broadhead arrow target practice (used for hunting). To my surprise, you can see both target ranges in the Google Map that appears later in this post.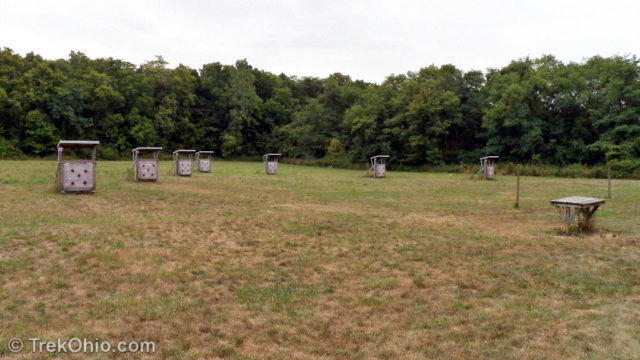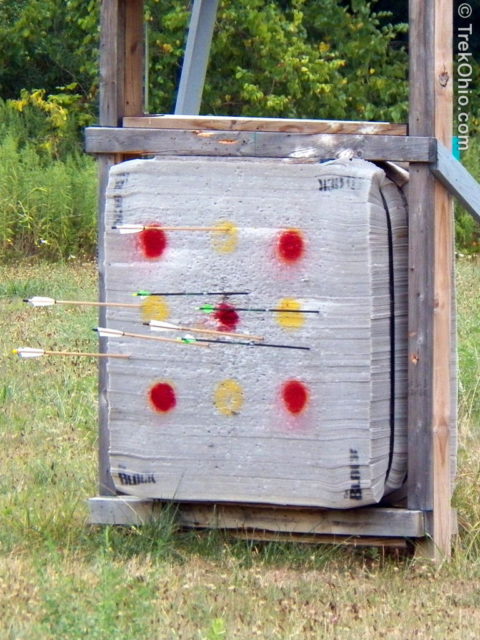 If you'd like to try out the archery range in Delaware County, here are directions for getting there: from US-23, exit at OH-229 East.  Turn left at Peters Rd (this becomes CR-156). Left again at CR-21 in the town of Westfield.  The entrance to the (unpaved) range parking lot will be on the left.  The GPS coordinates of the parking lot are N40.432853, W82.997485.
If you'd like to try some other archery range, check out the table below. If you click the county's name, you'll go to our entry in the TrekOhio Guide for that county, and we list archery ranges for that county with the location or directions. Or you can click on the name of the archery range to go the official website and look for location information there.
Central Ohio
Northeast Ohio
Southeast Ohio
Southwest Ohio
Northwest Ohio
---
---
Additional Information
USA Archery – Olympic archery & Team USA
Ohio's National Archery in the Schools Program – The National Archery in the Schools Program promotes international-style target archery as part of the in-school curriculum, to improve educational performance and participation in the shooting sports among students in grades 4-12. Learn how your Ohio school can participate.
The Ohio Division of Wildlife offers a number of archery-related videos, including:
Hunting in Ohio
© Deborah Platt, Robert Platt and TrekOhio.com 2012 to 2021