Large mammals including deer and predators such as wolves and bear were wiped out in Ohio during the nineteenth century by hunting and deforestation. By 1904, there were no deer in Ohio. White-tailed deer were reintroduced to Ohio via a government stocking program in the 1920's and 1930's.
Since their re-introduction to Ohio, deer have been very successful. They are found in every county in Ohio, both deep in the state forests, in local parks, and suburban fields and groves. Today, the deer population in Ohio exceeds 750,000.
Growth of the deer population has created problems and opportunities. Natural predators of deer have been eliminated from the state allowing deer populations to grow unchecked. Large deer herds in parks have demolished plants and small trees. Deer damage local farm crops and are involved in over 23,000 deer / car crashes each year. In 1943 a limited hunting program was established. Ohio hunters take over 200 thousand deer each year and generate more than $10 million in deer permit revenue for the state.
Deer hunting is permitted on certain public lands on limited dates with a proper permit. This includes parts of Wayne National Forest, most state forests, select parts of select state parks, most state wildlife areas, and select county parks.
The ODNR occasionally has limited hunts at state parks and nature preserves to control deer population – small numbers of permits are issued usually by lottery.
In our TrekOhio Guide to Parks & Preserves (see menu tabs on top of page), we have listed parks by county and we indicate which parks allow hunting. Please see the park web site for specific limitations. Hunters must comply with all state and local hunting regulations.
Dates for Ohio 2018 / 2019 White-tailed Deer Season
Archery: Sept. 29, 2018 – Feb. 3, 2019
Youth Gun: Nov. 17-18, 2018
Gun: Nov. 26 – Dec. 2, 2018; Dec. 15-16, 2018
Muzzle-loader: Jan. 5-8, 2019
Hunting hours are 30 minutes before sunrise to 30 minutes after sunset for all deer seasons.
Countdown to Ohio Deer Gun Season
The ODNR Booklet, Ohio Hunting and Trapping Regulations 2018-2019 (PDF), includes a section that lays out all of the hunting regulations relevant to deer hunting. Below is an excerpt from page 6 of that booklet (to see a large version, right click on the image and open the link in a new tab):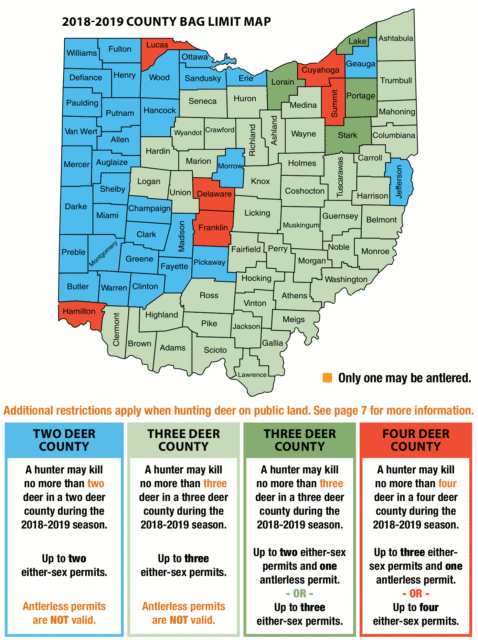 Updates
7/7/2018 – Ohio Deer Summary (PDF): 2017-18 Season Summary, 2018-19 Preview, & Survey Results
2/16/2018 – Public Invited to Comment on Ohio's 2018-2019 Hunting Season Proposals
Ohioans are invited to offer public comment regarding the proposed and future hunting, trapping and fishing regulations at open houses scheduled across the state. The open houses will be held on Saturday, March 3, between noon and 3 p.m., and online comments will be accepted from now through Sunday, March 4.
---
2/8/2018 – Ohio Wildlife Council Receives 2018-2019 Deer Hunting Proposals
The Ohio Wildlife Council heard proposals for Ohio's 2018-2019 white-tailed deer hunting season dates and bag limits at Wednesday's meeting, according to the Ohio Department of Natural Resources (ODNR). The proposed season dates are nearly identical to previous seasons.
Overview of proposed deer hunting seasons for 2018-2019:
Deer archery: Sept. 29, 2018-Feb. 3, 2019
Youth deer gun: Nov. 17-18, 2018
Deer gun: Nov. 26-Dec. 2, 2018; Dec. 15-16, 2018
Deer muzzleloader: Jan. 5-8, 2019
---
2/5/2018 – Ohio Hunters Harvest more than 186,000 Deer during 2017-2018 Season
Hunters checked 186,247 white-tailed deer throughout Ohio's 2017-2018 deer season, according to the Ohio Department of Natural Resources (ODNR). Last year, 182,169 deer were checked during the 2016-2017 season. Read more →
---
1/10/2018 – Hunters Harvest more than 13,000 Deer During Ohio's Muzzleloader Season
Hunters checked 13,268 white-tailed deer during Ohio's muzzleloader season, Jan. 6-9, according to the Ohio Department of Natural Resources (ODNR). During last year's muzzleloader season, 15,843 white-tailed deer were checked.
Hunters still have opportunities to pursue deer this winter, as archery season remains open through Sunday, Feb. 4. Read more →
---
12/18/2017 – More than 14,000 Deer Checked during Ohio's Two-Day Gun Hunting Season
Ohio's hunters checked 14,115 white-tailed deer during Ohio's 2017 two-day deer-gun hunting season, Dec. 16-17, according to the Ohio Department of Natural Resources (ODNR). During last year's two-day December deer-gun season, hunters faced less than ideal conditions and harvested 9,228 deer.
Hunters still have opportunities to pursue deer this winter. Muzzleloader season is Jan. 6-9, 2018, and archery season remains open through Sunday, Feb. 4, 2018. Find more information about deer hunting in the 2017-2018 Ohio Hunting and Trapping Regulations or at wildohio.gov.
Check out the link for more information.
---
12/4/2017 – Nearly 73,000 Deer Checked During Ohio's Weeklong Gun Hunting Season
72,814 deer checked this year, compared to 66,758 deer checked last year during the week-long gun hunting season.
---
11/28/2017 – Ohio's 2017 Deer-Gun Season Opens with more than 22,000 Deer Harvested
Here's a summary of the total deer harvested as of Nov 28, 2017:
| Weapon | Antlered | Antlerless | Total Deer |
| --- | --- | --- | --- |
| Archery | 34,388 | 32,465 | 66,853 |
| Gun | 16,238 | 24,022 | 40,260 |
| Both | 50,626 | 56,487 | 107,113 |
A per county breakdown of the deer havest can be viewed at ODNR: Weekly Deer Harvest Report: 2017-2018 (Harvests reported through Nov 28, 2017) (PDF).
---
11/1/2017 – Ohio's Traditional Deer-Gun Hunting Season Begins Nov. 27
This ODNR update includes information on hunting season details (including bag limits, dates and hours), deer carcass transport, the poacher hotline, chronic wasting disease, and the positive economic impact of hunting in the state.
---
9/28/2017 – State Parks Offer New Opportunities for Deer Hunters
Approximately 1,200 acres previously closed to hunting will be available to bow hunters as part of controlled hunts at Deer Creek, Malabar Farm, and Maumee Bay state parks. All hunts are archery-only. To buy a lottery ticket for a chance to hunt in these area, you must attend one of three lotteries that are being held on Saturday, Oct. 21st at 1 p.m. Check out the link for details.
---
9/26/2017 – Ohio's Updated Hunter Education Course Provides Options for Aspiring Hunters
The course has been revamped and there are several ways of completing it.
In-classroom – Usually takes 12 hours over two days. Cost: free. Find a nearby course to enroll in.
Online Hunter Education for those 12 or older. Cost: $15.
Home-Study Course for those younger than 12. Cost: $15. You start by taking the online course. After passing that, you attend a classroom session that lasts 3 or 4 hours and ends with another exam.
---
9/2/2017 – ODNR to Offer Special Deer Hunts on Seven State Scenic River Properties
Enter locally held lotteries for an opportunity to participate in archery deer hunts at seven locations bordering three of Ohio's state scenic rivers. The lotteries are being held Sept. 10th and 16th. See above link for details.
---
8/17/2017 – ODNR to Offer Special Deer Hunts on Six State Nature Preserves
Those interested must attend a local ODNR meeting where they can buy a lottery ticket for a chance to hunt in the preserve (it costs $5). The six preserves and their meeting dates are Gallagher Fen (8/26/2017), Lake Katharine (8/27/2017), Blackhand Gorge (9/6/2017), Goll Woods (9/16/2017), Lawrence Woods (9/17/2017), and Sheepskin Hollow (9/20/2017). Attendance at the meetings are required. Do not attempt to enter via mail.
For complete information on the hunting requirements, how the hunt is conducted, and the exact time and place for the meetings, see the link above.
---
04/13/2017 – Ohio Wildlife Council Approves 2017-2018 Hunting Regulations (summarized below)
There has been a change in allowable rifles. Now any straight-walled cartridge rifle with a minimum caliber of .357 to a maximum caliber of .50 is allowed for deer hunting.
The statewide bag limit remains at six deer, with only one being antlered. Hunters must also respect each county's bag limits and any other county restrictions. The county bag limits will remain the same as last year unless the county is listed below.
Increase in bag limit from 2 to 3 per county for the following counties:

Athens, Belmont, Carroll, Coshocton, Fairfield, Gallia, Guernsey, Harrison, Hocking, Jackson, Jefferson, Lawrence, Meigs, Monroe, Morgan, Muskingum, Noble, Perry, Tuscarawas, Vinton, and Washington

Decrease in bag limit from 3 to 2 per county for the following counties:

Allen, Defiance, Fulton, Henry, Paulding, Putnam, and Williams

Download the Ohio Deer Hunting Regulations for 2017-2018 (PDF) from ODNR for a complete listing of the regulations.
---
02/09/2017
–
Ohio Wildlife Council Receives 2017-2018 Deer Hunting Proposals
Previous Deer Harvests
Note that ODNR publishes statistics on the deer harvested this season and last season at wildohio.gov/deerharvest.
Lyme Disease
The tick that carries Lyme disease has become established in much of Ohio. The Ohio Department of Natural Resources would like to get the word out that this tick continues to be active throughout the winter and poses a risk to hunters. For more information, check out our post entitled Bad tick-related news for Ohio.
Deer Season Information / Regulations
Hunter Education / Target Ranges
---
---
Additional Information
Statistics
Here's a visualization I created of the 2015-2016 hunt using Google Fusion Tables. Click on the county to see a pop-up containing the county name and number of deer harvested in the 2015-2016 deer hunting season. If the pop-up extends beyond the border of the map, you can pull the map left or right until the pop-up is completely visible.
Dec. 9, 2016 on coyotes: In the comments many people have expressed concern about coyotes preying on fawns. Many people are also under the impression that ODNR is to blame for this because they introduced coyotes into Ohio. I posted a question about this on the Facebook page for the Ohio Division of Wildlife. The Division of Wildlife denies that they are responsible for introducing coyotes into the state. In their own words:
…the Ohio DNR Division of Wildlife has never trapped and transplanted coyotes into Ohio. Coyotes have expanded their range naturally over time to encompass not only Ohio, but the entire eastern United States…
© Deborah Platt, Robert Platt and TrekOhio.com 2012 to 2018