One feature we often include with our articles is a map of our hike. Originally we used a handheld Magellan Explorist 310 to do the job of mapping our hike. But as we acquired more capable smart phones, we'd switched over to Google's MyTracks application for Android phones. This app had a bit of a learning curve and some idiosyncrasies, but we became accustomed to it and it became our goto application for mapping. We used it for finding our way on the trail (or back to our car) and afterwards to view distance traveled and total elevation gain. For our web site, we could either do a screen capture from our phone or easily export the data to Google Maps (web app) and then embed the Google Map web page in our site.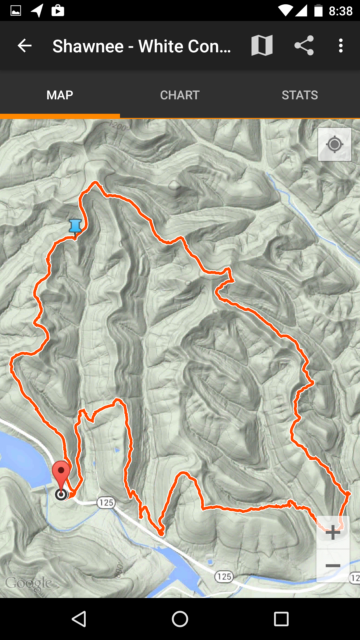 All was good until a few weeks ago, we fired up MyTracks for a hike and it informed us that Google was discontinuing it and it would stop working on April 30, 2016!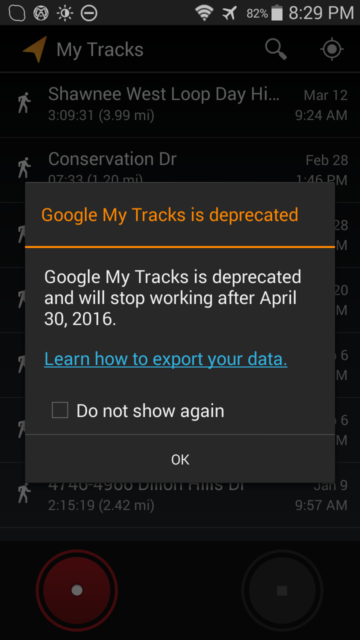 We could always go back to using the handheld Magellen. However, I'd gotten used to using my phone for hiking and the GPS chip in my latest phone was more accurate and got satellite lock a lot faster than the older Magellen unit. I tried a variety of GPS apps from the Android store and settled on an app called MyTrails. Here's what I like about it:
Lots of customizable preferences
Variety of free map sources including Microsoft and Google maps (including terrain and satellite maps), OSM (open source) maps, and my favorite: USGS 7.5′ Topo Maps
Can be set to omit 'pauses' from map – stopping to take photos, etc.
Summary pages of details and statistics from hike
Elevation graphs of the hike
Can screen capture images, or export GPX files
The capability of storing off-line maps for use in areas with no cell signal
And a few things I don't like:
LOTS of customizable preferences
MyTracks audibly announced distance and speed every mile, MyTrails doesn't do this
Can export to Google Maps, but not as easily
MyTracks displayed calories burned, MyTrails doesn't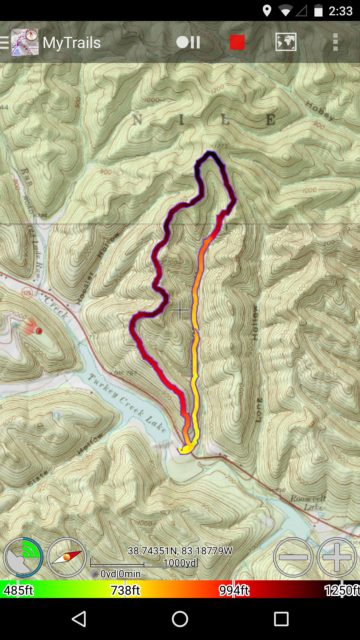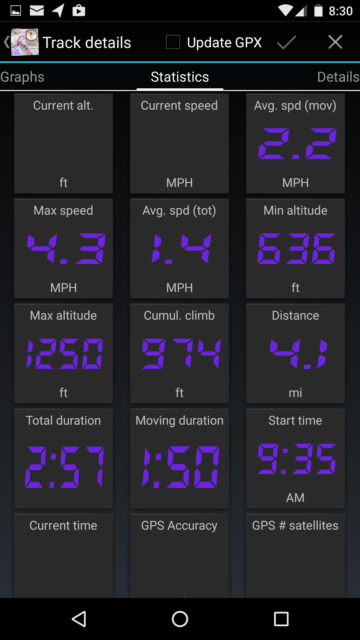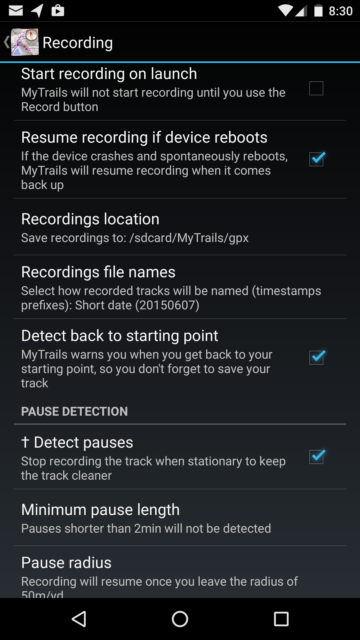 The MyTrails app is published by FrogSparks and is available from the Google Play Store. There is a free version (with advertising) and a paid version (which I purchased) that costs $2.38.
Project Fi
Deb and I recently replaced our aging Android phones with Nexus 5X phones. The Nexus 5x as well as it's big brother the Nexus 6P phone support Google's Project Fi. Project Fi is Google's entry into the market as a wireless provider. We signed up for Project Fi (replacing our previous Sprint service). The cost is $20 / month for unlimited voice / text plus a rate of $10 / GB (rounded to the nearest MB) for cellular data plus tax. There is no charge for data over WiFi. Google has cut a deal with Sprint and T-Mobile to use both networks. If the phone is connected to WiFi, it will use that for data and phone calls (both voice and text). If WiFi is not available, the phone will look for the fastest and strongest Sprint or T-Mobile signal. It may change providers several times during the course of the day.
I've had the service since January and Deb's had it for several weeks. Having access to two networks has been handy and we've gotten access to more LTE (fast) networks than we had with Sprint alone. However there are still dead spots in Ohio where neither network has coverage. One is at Malabar Farm State Park. A large dead zone is Shawnee State Forest and Shawnee State Park. We stayed at a cabin at Shawnee and had no cell signal. However, because the lodge and the cabins have WiFi, we had access to both data and text / voice calling during our stay. We've got the phones set to acquire most data over WiFi (books, podcasts, maps, news). Thus, so far our costs for cell service are lower.
Additional information
© Deborah Platt, Robert Platt and TrekOhio.com 2012 to 2021