There's a newly opened attraction at the Hocking Hills State Park: Whispering Cave. It is a recess cave that's nearly 300 feet wide with a drizzling, 105-foot waterfall pouring from its upper rim.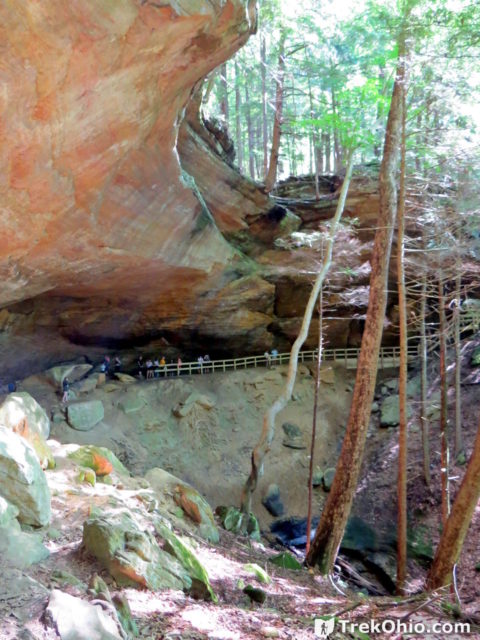 Getting Oriented
The new trail is called the Hemlock Bridge Trail. It begins near the parking lot for the Hocking Hills Dining Lodge which is closed for the time being. You'll find a kiosk for the new trail toward the northwest end of the parking lot (the end opposite from the lodge).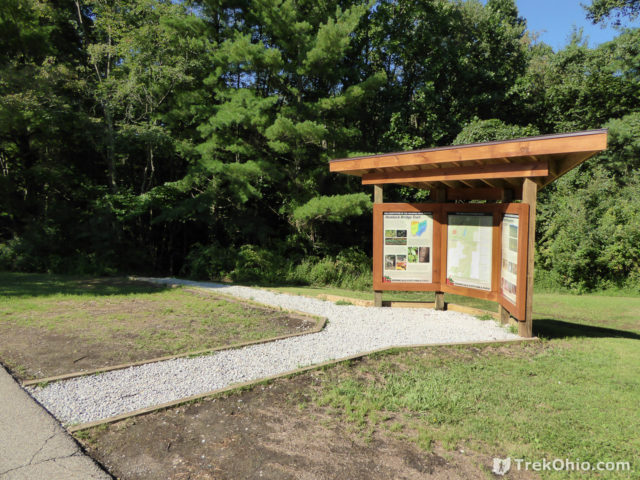 Below is an excerpt from the official trail map for the Hocking Hills State Park (PDF).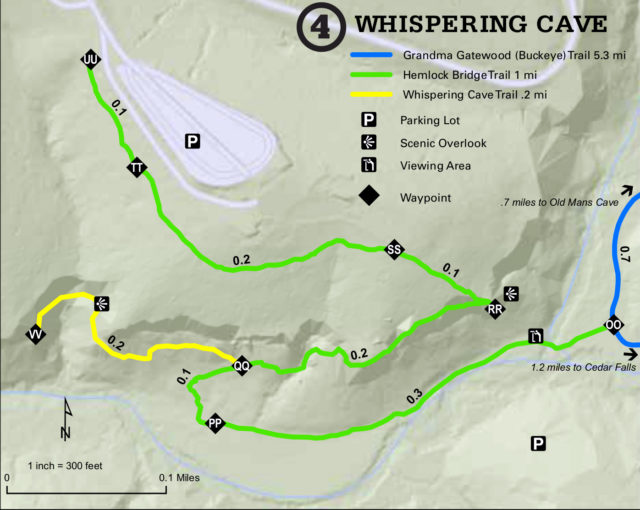 Hemlock Bridge Trail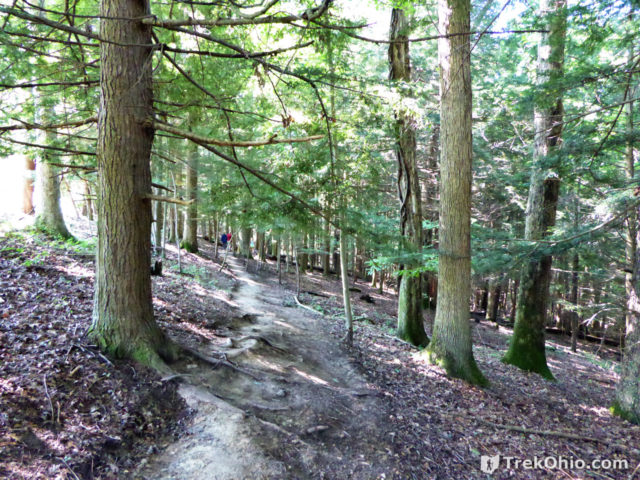 Although there is still a patch or two where springs bubbling out of the ground make the trail a bit muddy, there are short stretches of boardwalk over many of the wetter areas.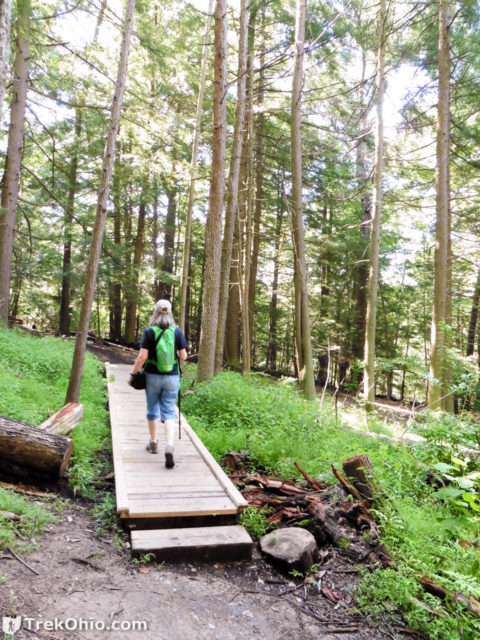 After a short hike there are wood-framed, gravel-filled stairs leading to a lower area of the gorge.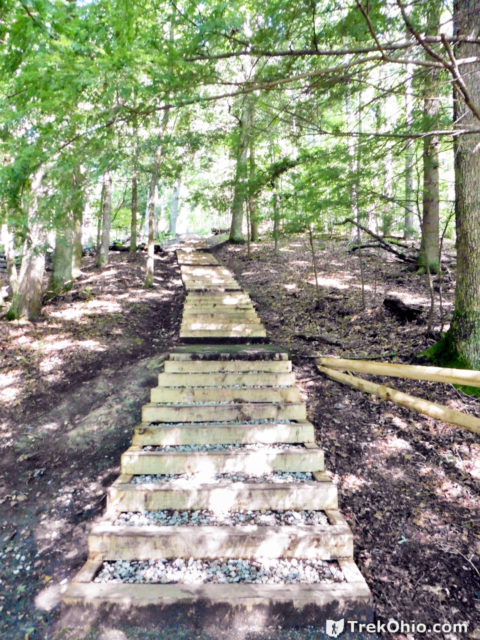 At the foot of the stairway, there is an overlook enclosed by a log fence.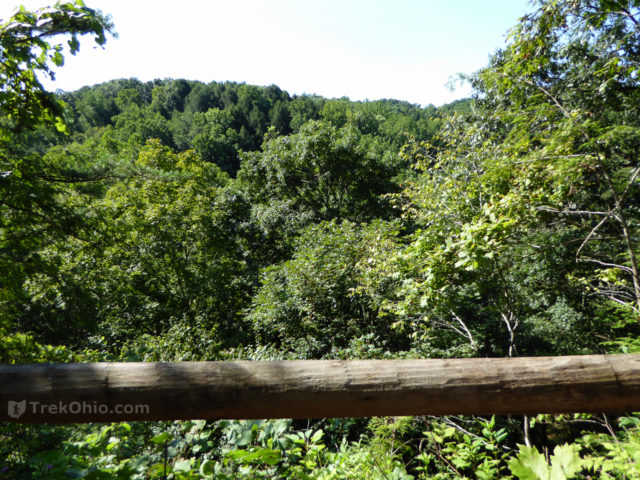 After following the trail a ways, you come to another staircase, this one hewn out of living rock. This makes me wonder if this portion of the newly opened trail was actually built during the Great Depression when the Civilian Conservation Corp often carved stairways into rock.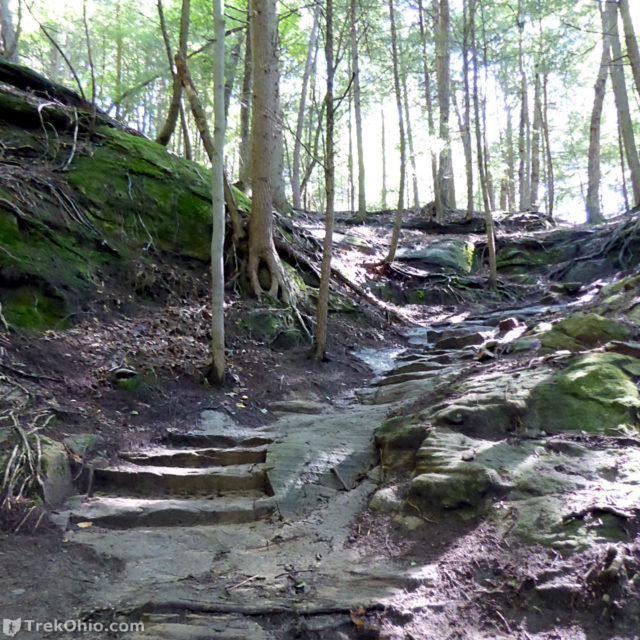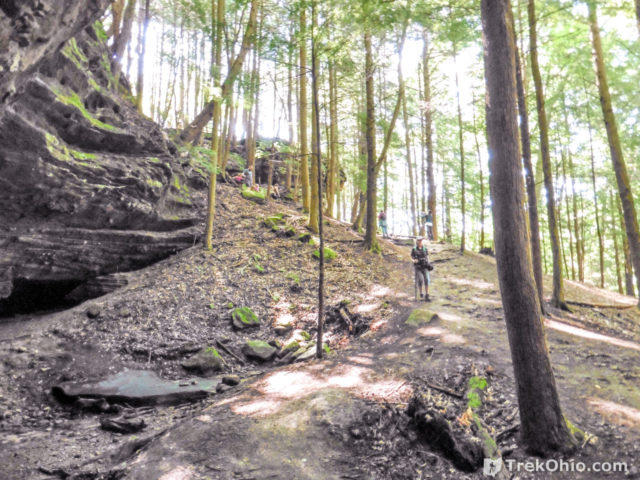 Impressive sandstone cliffs lie just beyond.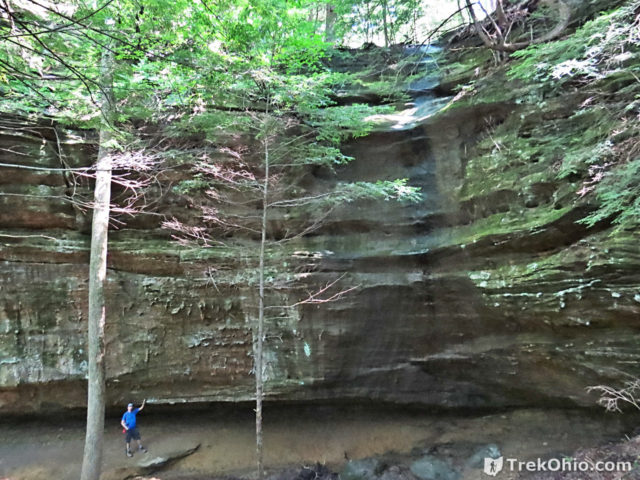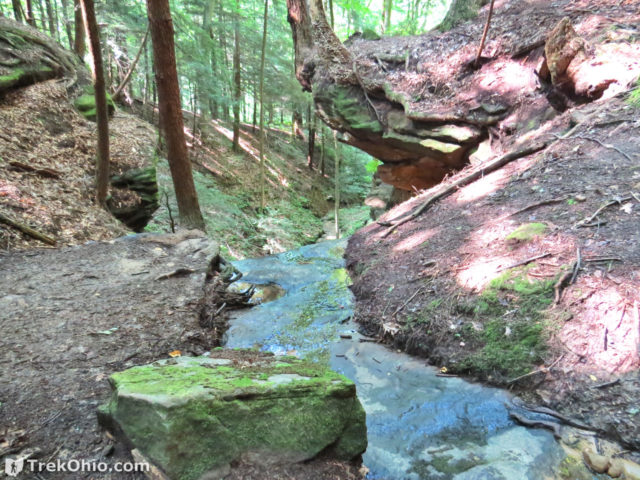 From the trail head for the Hemlock Bridge Trail to the Whispering Cave Trail and finally to the cave itself is a distance of 0.7 miles, so the round trip is a little less than a mile and a half. There is excellent signage where the two trail diverge, so you can't miss it.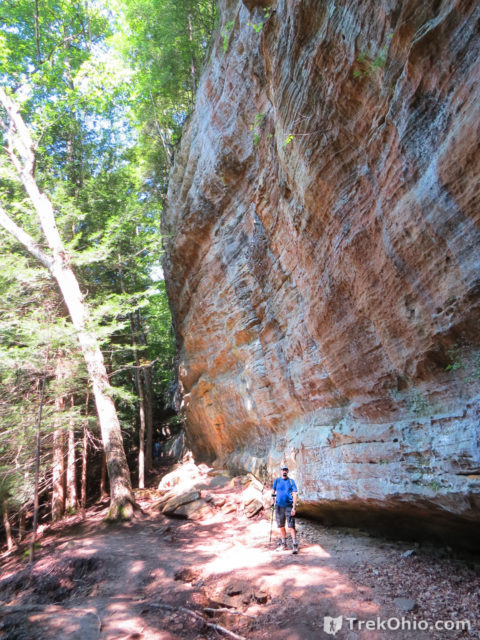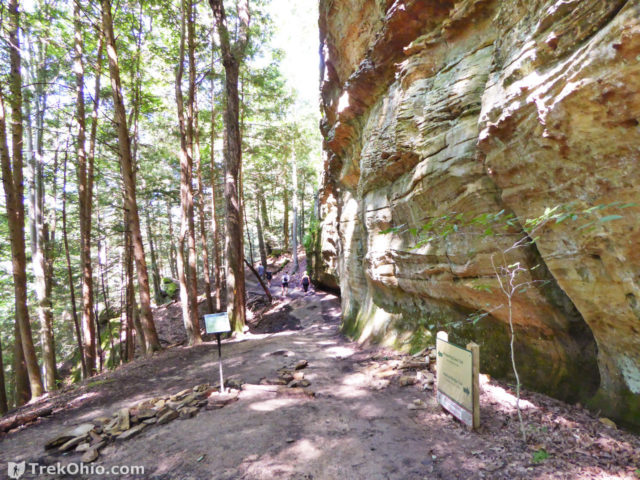 Whispering Cave Trail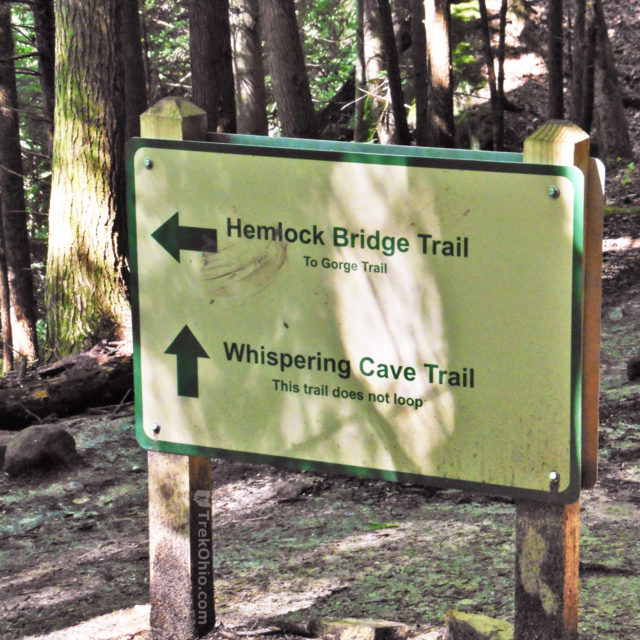 We passed a mini-recess cave on the way to the main attraction.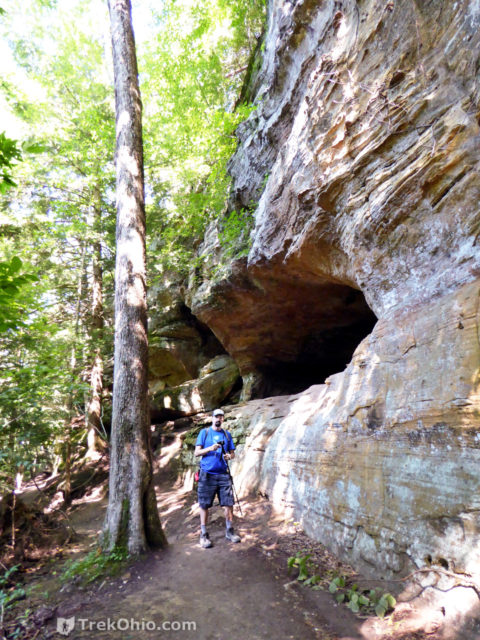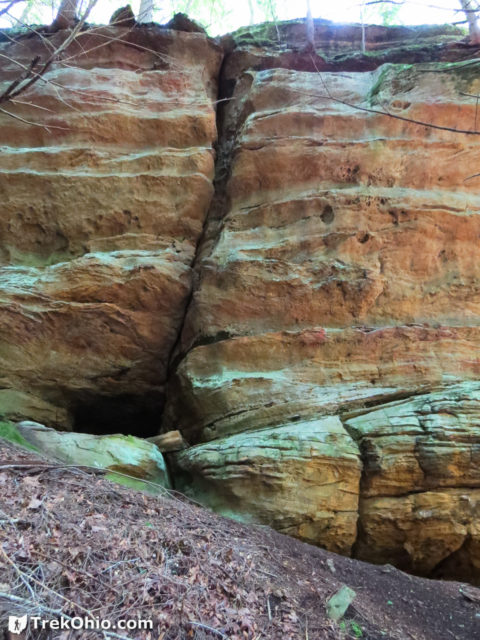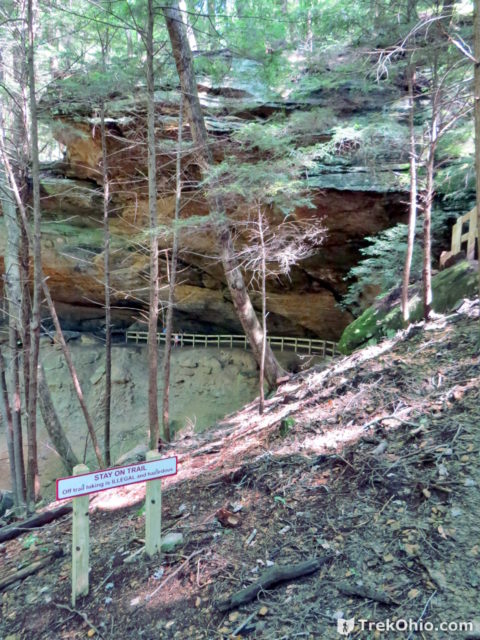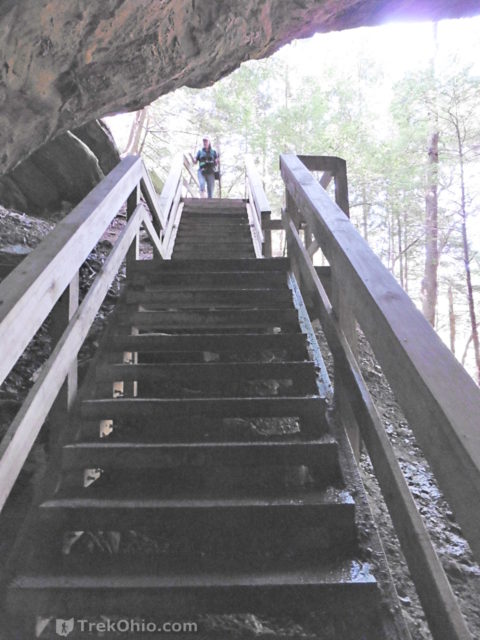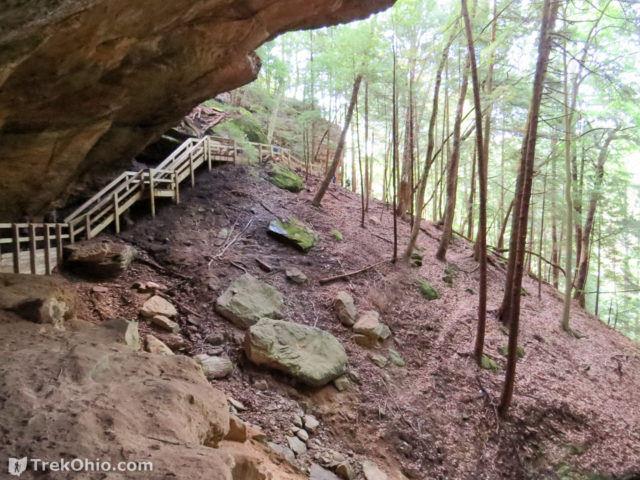 Below is the view from the recess cave, looking out onto the gorge. As I mentioned earlier, the waterfalls is a sort of drizzling falls. If you look into the dark, swirly basin to the lower left in the photo below, you can just make out a bit of the water streaming down in front of the darkest part of the basin. If you look at the upper right of the photo below, you can see a fence. This marks the end of the trail through Whispering Cave.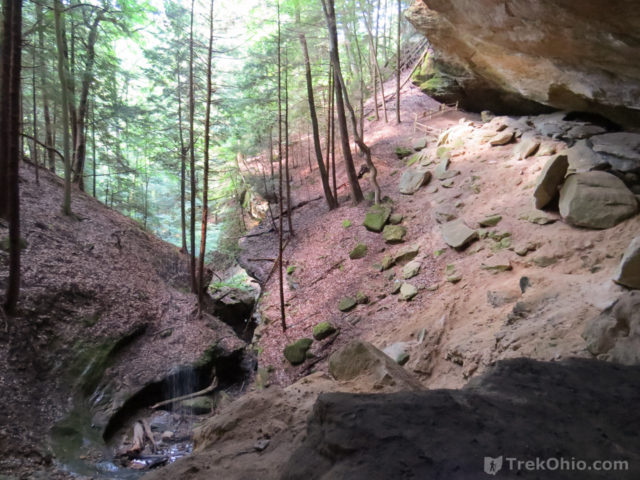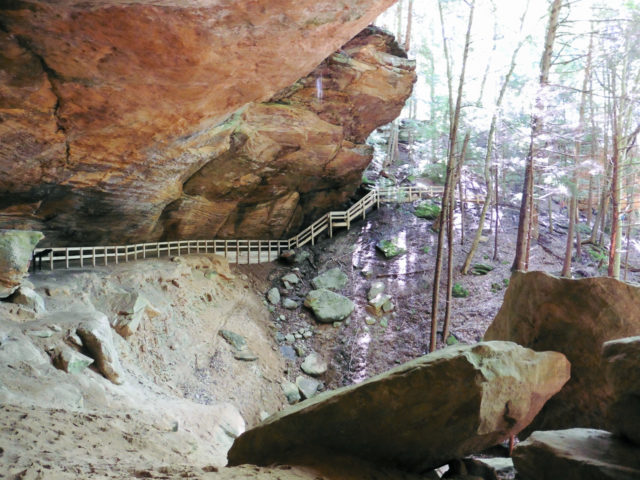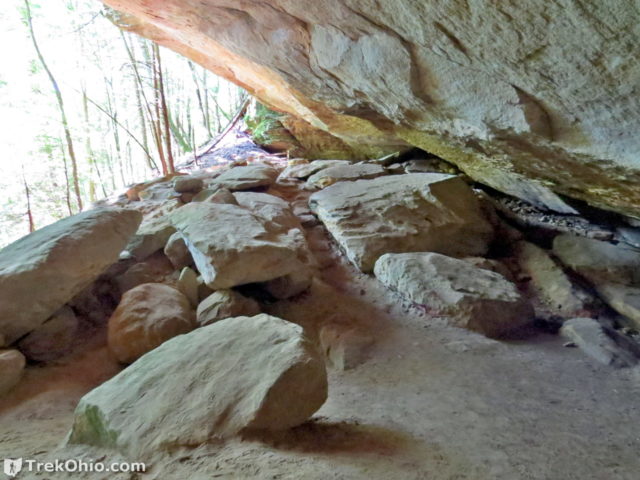 On my outbound trip I navigated this just fine. However on returning I stumbled and fell while going through the narrow passage pictured above. It's dark under the cave ceiling; the sandy floor gives under foot, and it turns out that the trail descended more steeply than I had anticipated which threw me off balance. So it might be worth taking this section more slowly and cautiously than I did.
And here's a final look back from the end of the trail.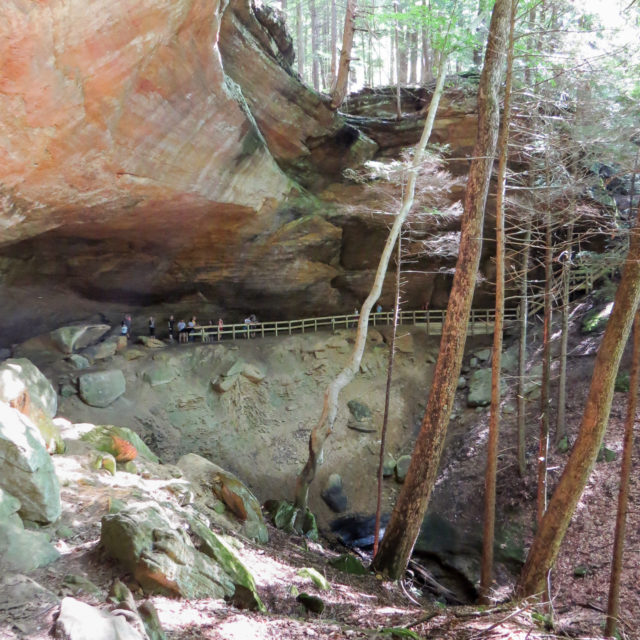 The Ohio Department of Natural Resources has put together a really nice video showing what the area looks like; it appears to have been filmed using a drone.
Additional information
Location
Directions: From the Visitor Center at Old Man's Cave, turn left onto OH-664 and drive for about a mile, then turn left again at the entrance for the Hocking Hills State Park Cabins. Follow that park road to the parking lot for the lodge. The trailhead is at the near end of the parking lot.
GPS Coordinates: 39.425878, -82.551861
Google Maps: View on map or get directions
More on the Hocking Hills
© Deborah Platt, Robert Platt and TrekOhio.com 2012 to 2021