Hocking Hills State Park is the most popular park in Ohio, and Old Man's Cave is the most popular location in the park. Old Man's Cave is not a cave in the traditional sense of an underground limestone cavern. Instead it is a deep gorge with a large, overhanging lip made of erosion-resistant, blackhand sandstone. The stream that runs through the gorge is marked by a series of waterfalls and rapids. This region is known as "Old Man's Cave" because one side of the gorge has a recess cave where an "old man" used to live. The old man was an 18th-century hermit named Richard Rowe.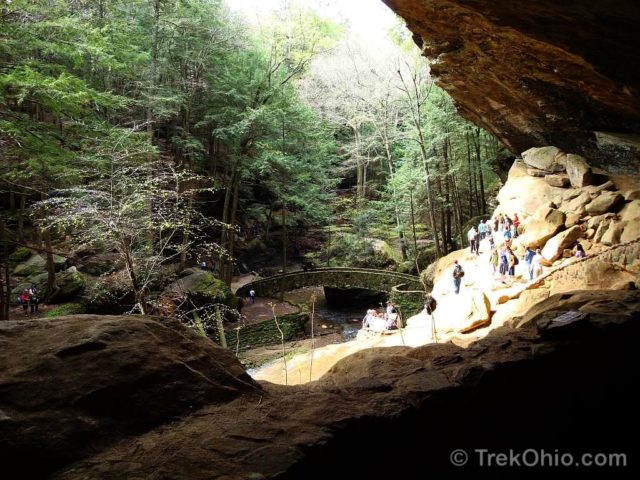 The Visitor's Center will be under construction throughout 2018; don't enter marked construction zones. Nonetheless all trails will remain open.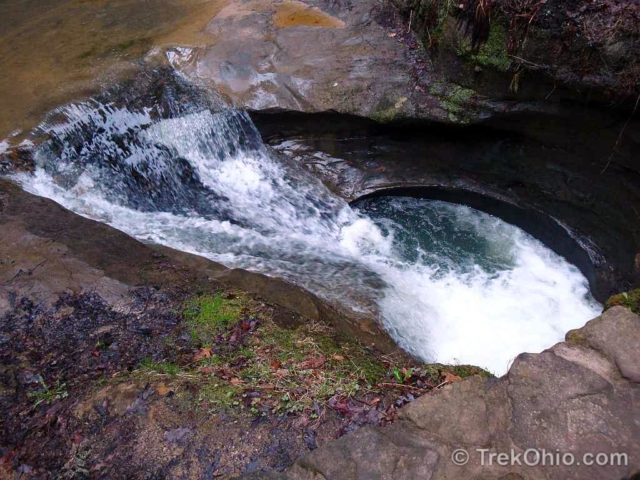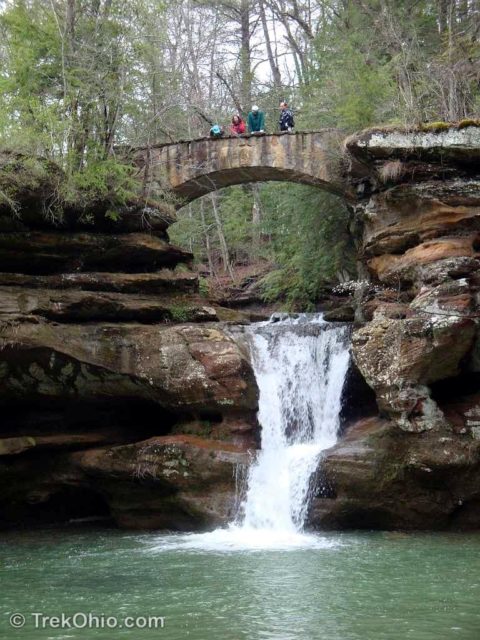 A trail winds through the gorge crossing the stream with a variety of bridges permitting visitors to thoroughly explore the area.
Old Man's Cave features a large parking area, and a park building with a gift shop, nature exhibit, rest rooms, and a small (take-out) restaurant / grill. A nearby camp allows visitors to stay overnight. Numerous (private) cabins are available for rent in the area. Most cabins feature decks and hot tubs.
Crowds sizes vary with the site being very busy on sunny summer weekends. However the busiest day of the year is in January when the annual Hocking Winter Hike takes place. As many as 5,500 people take part in this annual event beginning at Old Man's Cave and ending six, snowy miles later at Ash Cave.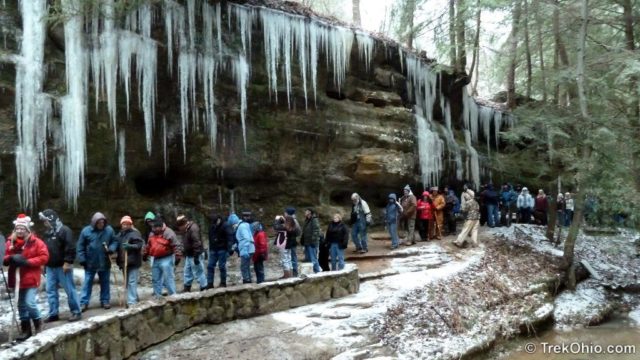 There are two hiking trails that link Old Man's cave to nearby Cedar Falls about 3 miles away. The lower trail begins at the lower end of gorge in the Old Man's Cave region and follows the stream to Cedar Falls. This part of the trail is a tiny portion of the Buckeye trail, and it's marked with blue blazes.
Alternatively you can take an upper trail that starts at a path near the main building and then crosses a wooden pedestrian bridge high over the gorge. The first portion of this higher trail follows the gorge rim, but it eventually brings you to Rose Lake and then on to Cedar Falls. For a shorter hike, you can take this trail to Rose Lake and then immediately return to Old Man's Cave for a total distance of about 3 miles.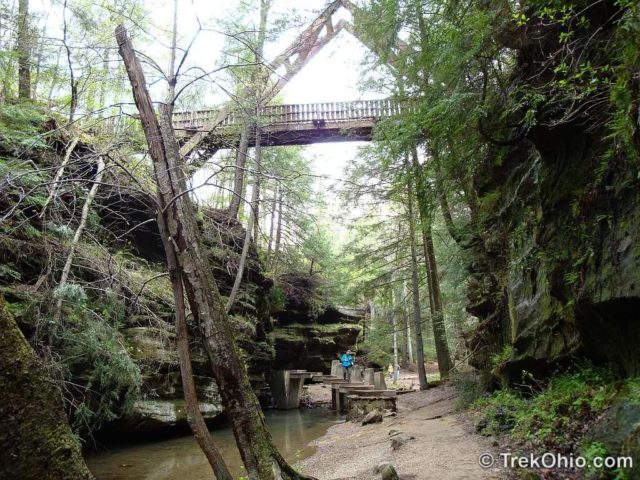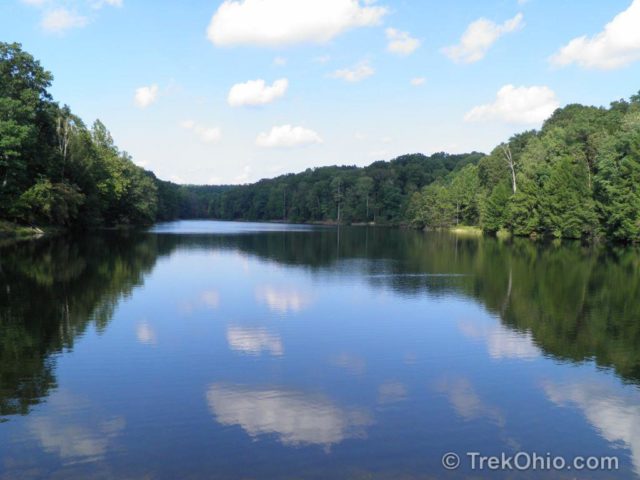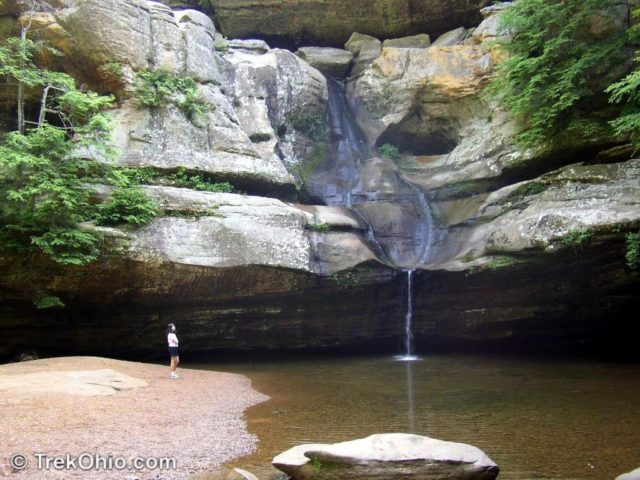 When is the best time to visit? I like to go after a few days of heavy rain in the spring, so there will be lots of water in the waterfalls. If you'd like to avoid the crowds, try going mid-week. And it is surprisingly fun to go there on a sunny day in mid-winter because the gorge walls are decked with huge icicles. To hike safely in winter, I recommend staying away from the icy cliff edges. It's also helpful to wear footwear that slips over your boots and provides extra traction, such as Yaktrax.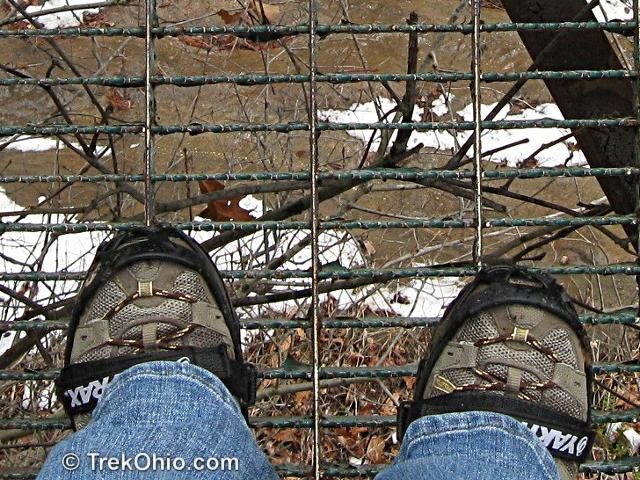 Additional Information
Location
Address: 19852 OH-664, Logan, Ohio 43138
GPS Coordinates: 39.4283173, -82.5408262
Google Maps: View on map or get directions
More on Hocking Hills State Park
© Deborah Platt, Robert Platt and TrekOhio.com 2012 to 2021