I decided to write this after visiting Jackson Bog State Nature Preserve and reading all the informative signs there… except they weren't all that informative for me because I didn't know my swamps from my bogs.

So when I came home I decided to learn a few wetland basics.
Let's start with the easy stuff. In North America a wetland that has trees growing in it is called a swamp. That's why Dawes Arboretum referred to the following grove of trees as "Cypress Swamp".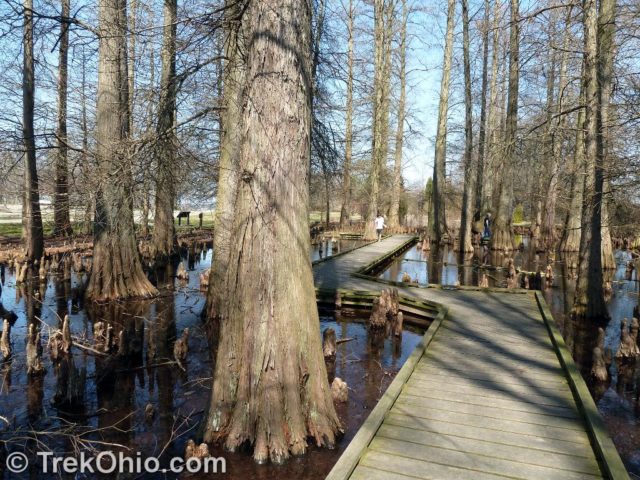 A marsh is a field that has large quantities of standing water. Marsh vegetation consists mostly of bulrushes, sedges and reeds. Here's a marshy area that I photographed at Jackson Bog.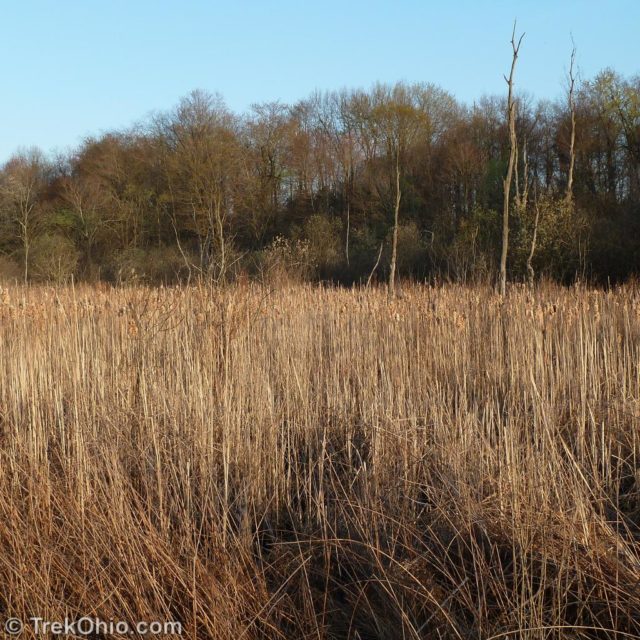 Another way of classifying wetlands is to consider what's making the wetland wet. Either the water is seeping out of an underground aquifer in the form of a spring, or the water is falling from the sky, running downhill over the land's surface, and finally draining into the wetland. How the water gets into the wetland will affect the water's mineral content and acidity. If the water is seeping out of the ground, it's going to contain a lot of dissolved minerals. If you've ever lived some place with hard water, you may have noticed that those dissolved minerals build up on your shower heads, tea kettles and pipes. When a wetland has a lot of dissolved minerals, the water becomes somewhat alkaline (that's the opposite of being acidic). This alkaline, mineral-rich water may not have many other nutrients, but bulrushes and similar tall, grass-like plants are still able to thrive in it. Such a wetland is known as a fen. But wait!

…that means the marsh shown in the above photo is also a fen.
In contrast a rain-fed wetland is somewhat acidic. Low-growing mosses like sphagnum moss thrive in this kind of environment. Fresh moss often grows on top of the previous season's dead moss. The dead moss creates an ideal environment for the living moss because the cells of the dead moss soak up water like a sponge. The water that's stored in the dead moss will keep the living moss moist and healthy between rains. The dead moss is also buoyant, and so the dead moss helps the living moss float on the water's surface where it gets greater exposure to sunlight and that leads to more photosynthesis. The dead moss can also make the water in the wetland become more acidic because it absorbs calcium ions from the hard water, so the water becomes less alkaline. Simultaneously the decaying moss releases hydrogen ions into the water causing the water to become more acidic (this process is called ion exchange). A wetland characterized by moss and acidic water is known as a bog.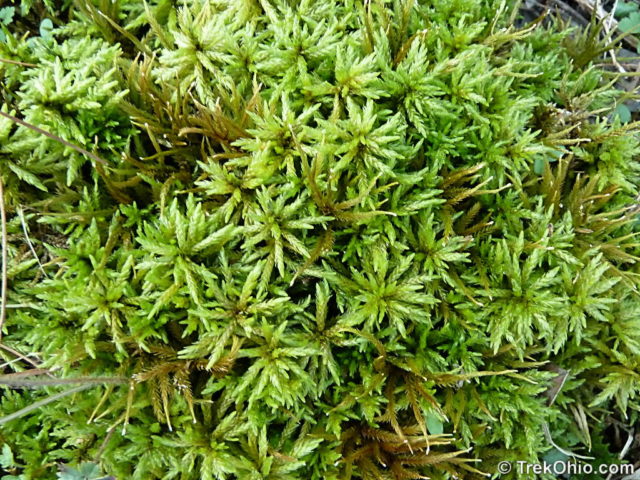 As the under-layer of dead moss slowly decays, it becomes what is known as peat. The peat stains the water brown or yellow because it releases tannin.

And that might be why the water ends up looking yucky like this.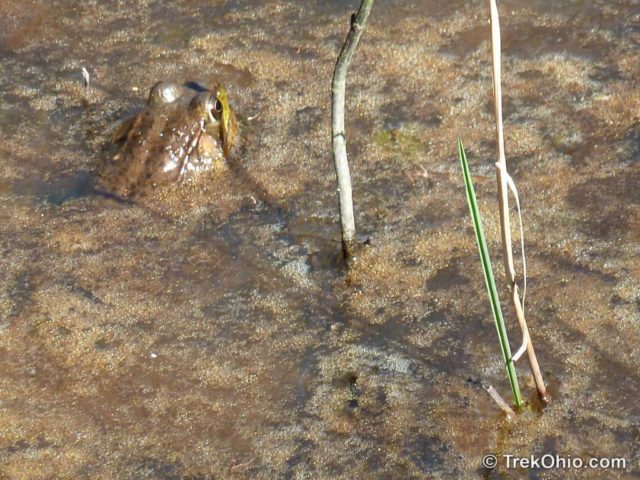 I had previously discovered that Northern Green Frogs may be brown instead of green. The brown frog above is actually a Northern "green" frog. Now I'm wondering if the brown varieties started out green, but were stained brown by their boggy habitats.
The final addition to my wetland vocabulary is the word, mire (also known as quagmire). Mire is a very wet mud. Animals that walk on mire tend to sink in deeply. In the photo below taken at Jackson Bog, you can see bird tracks all over the mire. However you'll note that the birds sunk in sufficiently deep that their tracks didn't leave individual toe marks. When I consider how light birds are, I can imagine that I would have sunk in quite deeply were I to have tried walking on it. Because people, animals, and vehicles can easily become stuck in mire (or quagmire) that's why these words are used figuratively to describe getting into a situation that's difficult to get out of.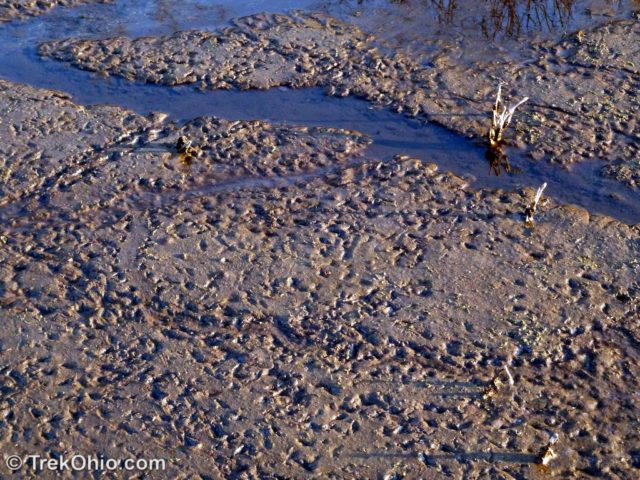 And this brings me to my final, unsolved mystery. Why is Jackson bog called a "bog" and not a "fen"? To my eye this wetland seemed to be dominated by tall, grassy vegetation. To puzzle me further, one of the informative signs at Jackson Bog said the following:
Jackson Bog was born amid a cluster of lime-rich springs found at the bottom of the hills surrounding the preserve. Plant species, usually found hundreds of miles north of here, thrive in the warming sun, rich glacial soils and plentiful water conditions too harsh for most Ohio native plants.
So Jackson Bog is an alkaline wetland that supports marsh grass. The only references to bogs that I noticed among the signs at Jackson Bog was this passage about sphagnum moss.
[Sphagnum moss] also release tremendous amounts of organic acids into their surroundings, creating islands of bog-like habitat in an otherwise alkaline fen.
And that leads me to conclude that Jackson Bog is a fen that's interspersed with small, boggy regions.

But as always, I welcome your thoughts on the matter.
Additional information
More on Wetlands
© Deborah Platt, Robert Platt and TrekOhio.com 2012 to 2021