The Shawnee Day Hike Trail has changed since our 7.2 mile hike a year and a half ago. The suggested blue-blazed day hike trail is now a 4.2 mile hike. However by combining the white-blazed connector trail and a new segment of the blue-blazed day hike trail, we were able to do an 8.4 mile-loop hike. As an unexpected treat, the new segment of the blue-blazed day hike trail took us by a lovely overlook with a bench where we could take in what remained of fall color. Since we were hiking there this past Halloween, the colors were past peak.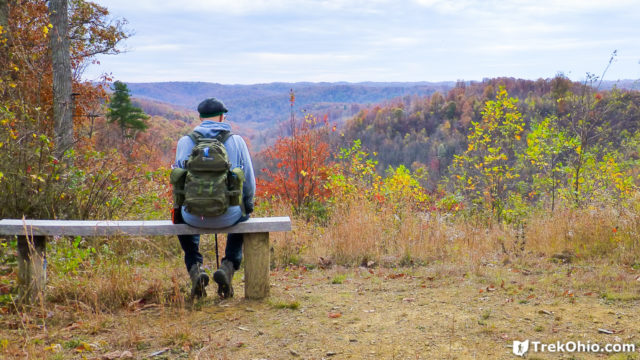 When we arrived at the trailhead, we had been planning on doing a repeat of our 7.2 mile hike. So we were very surprised when to see that the trailhead sign said, "DAY HIKE TRAIL 4.2 MILES". We headed down the trail feeling somewhat disappointed.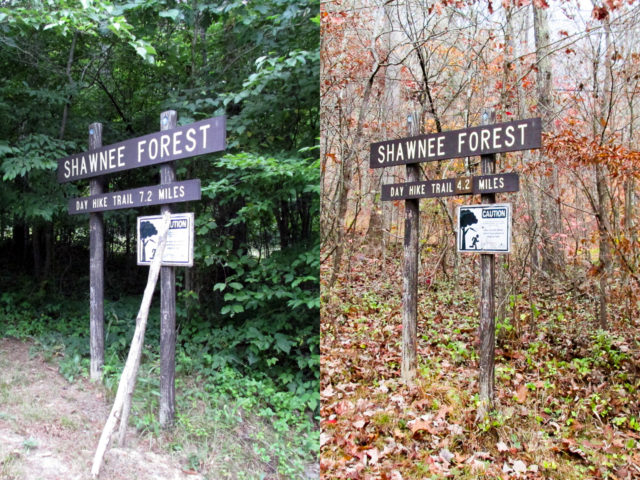 As we headed to the next sign on the trail, we passed a clearing to our left. Upon finishing our hike we discovered that this clearing is the return route for the hike. However since there was no signage to that effect, we had no idea it would be part of our hike.

A little farther and we came to a sign with a map. The map depicted a blue Shawnee day hike trail that was 4.2 miles long. I checked our prior GPS trace which I had on my phone. The map omitted a lengthy blue and white blazed trail segment to the east from our prior hike. We were puzzled as to why the hiking route was so different.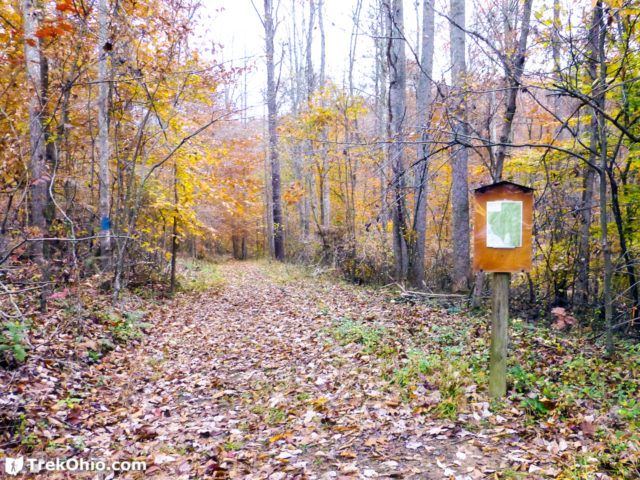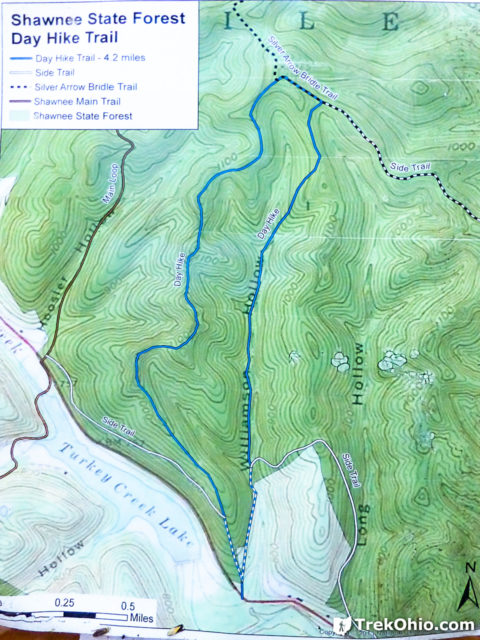 After a couple tenths of a mile we came to an intersection I'd remembered from the prior hike. Signs pointed back to where we had parked near the nature center. To do the 4.2-mile hike, presumably we were supposed to go straight ahead and follow the blue blazes for the Shawnee day hike trail. During our prior 7.2-mile hike we had started out by going that very direction and doing a clockwise loop. The trail to the right with the white blazes was the connector trail that we had returned on during our previous, clockwise loop. We decided to start by going right along the white connector trail because that way promised a longer hike (we hoped). We still were unsure why this trail was no longer a part of the Shawnee State Forest Day Hike Trail, and we half expected to come across a barrier of some sort that might prevent us from continuing this way.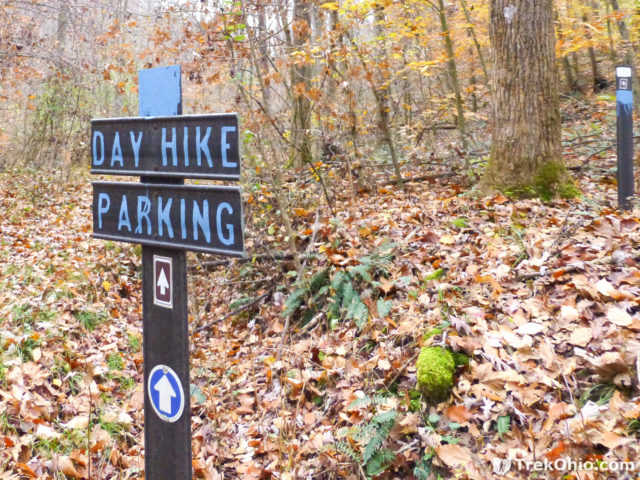 Previously, the connector trail had been a white blazed segment followed by a blue blazed segment. The blazing had been changed and was now white for over 5 miles (though a few trees had both the new white and old blue blazes).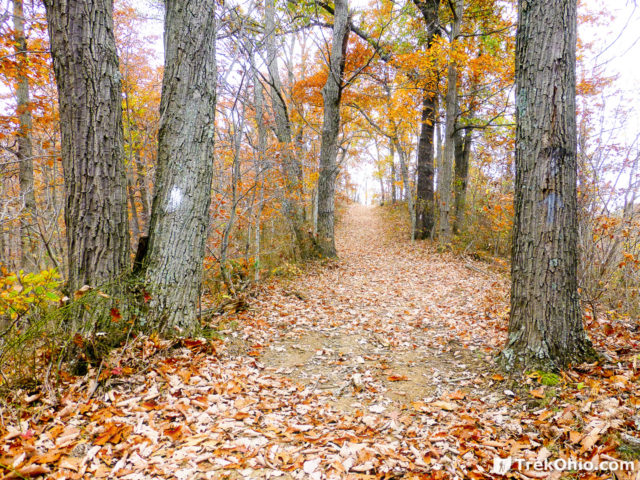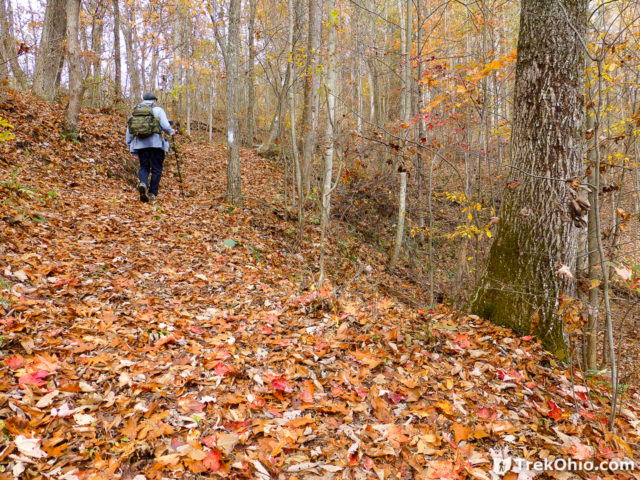 Once we had completed the trail we were able to check out the GPS trace and do a nice side-by-side comparison with previous maps for this hike. With ODNR's trail changes, there are now options for a 4.2, 7.2, or 8.4-mile hike. Although we had feared that the old trail might be barricaded at some point, it is still there and in good condition.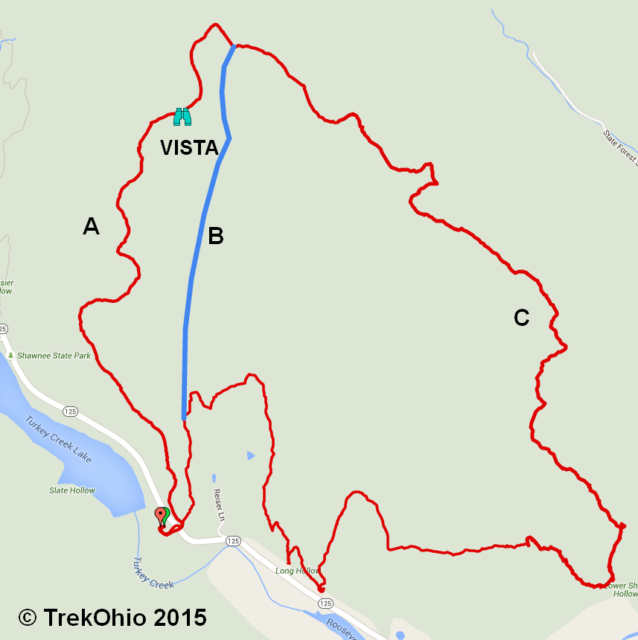 Clarifying the alternative hiking routes
(Classic (now called East-Loop) – segments B+C) This was the 7.2-mile Shawnee Forest Day Hike Trail that we described previously. We recommend hiking this in the counter-clockwise direction which will allow you to tackle a couple of steep hill climbs at the beginning of your hike while you are still fresh. To do this counter-clockwise loop, at the first signed intersection, go right onto the white connector trail. After about 5.5 miles at the next signed intersection, take the blue trail on the left.

Update: A new sign at the trail-head labels this as the 'East Loop'.

(Segments A+C) This is the 8.4 mile day hike that we did on Halloween and that we are describing in this post. We also recommend that you do this loop in the counter clockwise direction, so you can tackle those first, steep hills while you are still fresh. At the first signed intersection, go right onto the white connector trail. After about 5.5 miles at the next signed intersection, take the blue trail straight ahead.
(New (now called West-Loop) – segments A+B above) This is the 4.2-mile trail that has become the new, official Shawnee Forest Day Hike Trail. Stay on the blue-blazed trail all the way, avoiding the white-blazed connector trail.

Update: A new sign at the trail-head labels this as the 'West Loop'.

Our 8.4-mile hike

A few miles into the 5-mile connector trail, we came to the trail intersection below near a stream bed. To continue on the loop we had to go uphill to the left.

Trail intersection — The white connector trail goes to left

Deb ascending a hill

Corncob beside the trail — Someone illegally luring deer to the area?

Extra-large leaf of the Northern Catalpa tree (Catalpa speciosa)

While hiking the 8.4 mile loop on Halloween, we climbed three hills and passed through hollows with stream beds. Overall there was an elevation gain of 1,847 feet. Near the hilltops, many of the trees were bare which exposed glimpses of valleys and other distant hills. In the hollows, fall color was still quite dramatic. We ate our lunch on the go and made pretty good time.

Our final hill climb on the white connector trail took us up to a ridge line and a trail intersection. We'd traveled about five and a half miles on the white connector trail. We stood on a ridge line with the white connector trail behind us. To the left was a blue trail. Straight ahead was another blue trail. We weren't sure which trail to take, but knew both would return us to the trail-head and then the parking area.

Intersection of white-blazed connector and blue-blazed day hike trails

We choose the blue trail straight ahead. It followed along a ridge line, gradually ascending for some time. Eventually we came to an open area where earth-moving machines had been at work. There were a number of trail choices at this point, including a bridle trail that split off and went to the right.

We passed a construction area on the trail

To continue on the blue-blazed day hike trail segment, we had to cross the mound of earth that had been pushed in front of the trail (Bob is pictured standing on it below). We were a little unsure if the mound was supposed to be a barrier, but soon we were reassured that the trail continued beyond it.

A bridle trail split from the trail, the blue-hiking trail continued straight over this small mound

This was the only segment of the trail where we encountered mile markers, such as the one below.

2-mile marker on segment "A" of the blue-blazed, Shawnee Day Hike Trail

We continued straight on the blue blazed trail. After a while we came to a scenic vista. ODNR had strategically placed a bench from which to admire the vista. We sat for a while and enjoyed the view. I'm pictured at this vista in the top-most photo of this post, and below is a photo of Deb in the same place.

Section of vista panorama

Vista closeup

As we continued along this ridgeline there were some lovely views of the adjoining hills.

Ridgeline

View of nearby hills from ridgeline

We passed a male buck moth along the way. Its extravagant antenna help it to detect the female moth's pheromones.

Male Buck Moth (Hemileuca maia)

We also saw this reindeer lichen intermingling with moss.

White, reindeer lichen in a bed of green moss

We continued on the ridgeline for some distance and then the trail began gradually descending. Eventually we caught glimpses of the road and knew that we'd soon be back where we started.

Ridgeline trail

Last mile-post — We are approaching SR-125.

We were feeling pretty good and joked about driving over to Buzzardroost Trail to continue hiking and to check out the view from their overlook. But it was late; sunset would take place around 5 PM. Since we had been staying at the Shawnee Lodge, we instead drove there and went for dinner. Before returning home the next day, we went behind the lodge to the area between the pool and the gazebo to take in the beautiful view. We also hiked at the nearby Raven Rock State Nature Preserve this same weekend. It is possible to get a permit for this permit-only preserve from the park office at Shawnee State Park.

Next morning — This is the view from the back of Shawnee Lodge.

We had a great time. If anyone decides to hike this area over the winter months, the limited daylight hours would incline me to recommend the shorter, 4.2-mile loop hike.

One final note — the Shawnee Day Hike trail while blue-blazed is not part of the Buckeye Trail. In fact, the original day hike trail pre-dates the Buckeye Trail.

Update: In the fall of 2017 we returned to hike the 8.4 mile extended day loop trail. Much to our surprise, portions of the trail were closed due to logging activity. We now recommend viewing the Shawnee Forest web site when planning your hike to see if trails are closed.










Additional information
More on Scioto County
© Deborah Platt, Robert Platt and TrekOhio.com 2012 to 2021