Buzzardroost Rock Trail offers a truly stunning vista perched 500 feet above the Ohio Brush Creek valley. The trail is part of the 16,000-acre Edge of Appalachia Preserve in Adams County. Located just south of Ohio SR-125, the trail stretches 2.2 miles one-way along ridgelines from the parking lot to the observation area, making for a 4.4 mile hike.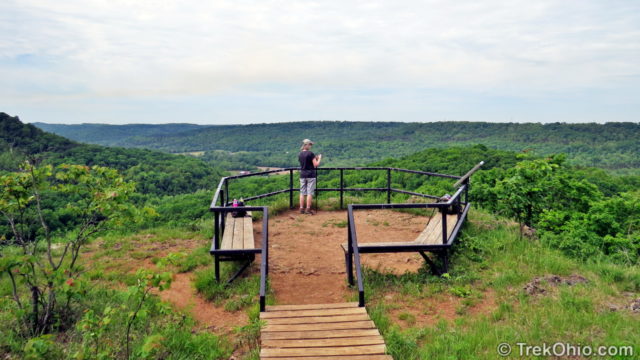 A sign at a gravel turn-off on the south side of SR-125 identifies the parking area and trail-head for Buzzardroost Trail. About a quarter mile down the gravel road is a cement parking area and an information kiosk about the trail. The trailhead is near a large sign across the gravel driveway from the parking area.
The trail traverses a small hill, crosses a small bridge, and enters the woods. A sign-in kiosk for visitors is located at the bridge. The trail is marked with red blazes. It proceeds through forest for about a mile crossing bridges over several small streams which feature small seasonal waterfalls.
It then emerges into an open prairie area for a short while, ascends a hill and re-enters the forest. After another mile, it emerges on top of a Peebles dolomite rock outcropping overlooking Ohio Brush Creek. An observation area features benches and a spectacular view.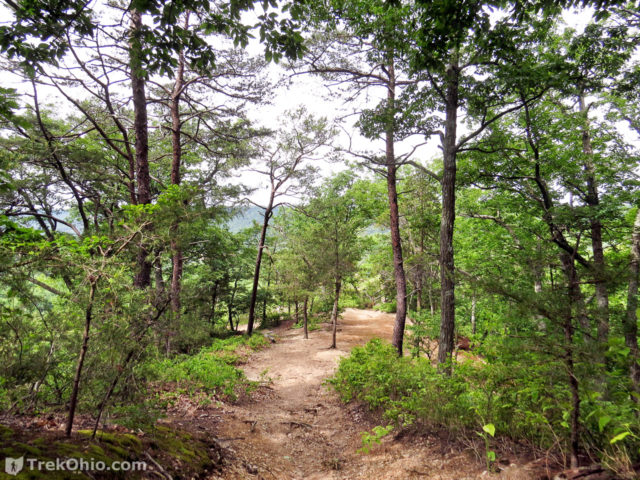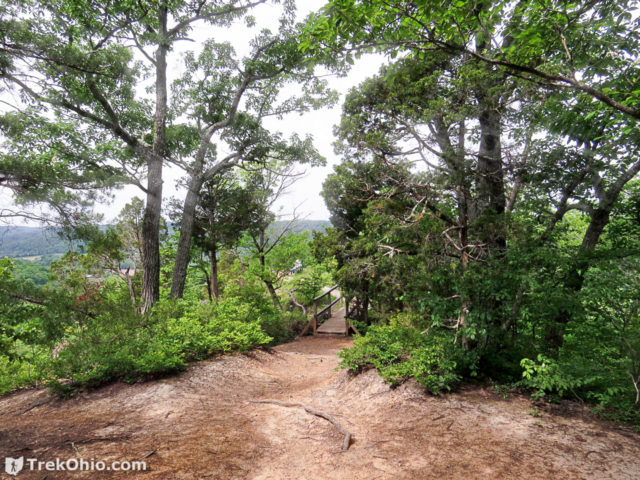 We arrived about lunch time on a clear sunny day. We stayed a while and ate our trail lunch while enjoying the view. We visited in late May, but we've been told that the vista from the observation area is superb for viewing fall color.
There is a sign at the observation deck which shows the location of the observation deck relative to its surroundings. It also makes clear that this would be a wonderful place to view fall color.
Because we were there in the May, a number of spring wildflowers were blooming, some of which we already published in the post, Spring Wildflowers 2015. Some additional wildflowers follow.
We also saw a number of butterflies and moths.
We don't normally post photos of flies, but this one was shiney. 🙂
Deb was also excited to see the following toad because almost every single toad we see is an Eastern American Toad (Bufo americanus americanus). The one below is a Fowler's toad. One way to tell the species apart is to count the number of warts in various dark spots. If you find dark spots with more than two warts, it's a Fowler's toad; otherwise, it's an Eastern American toad.
Additional information
Location
Address: 16300 OH-125, West Union, OH 45693 (near town of Lynx)
GPS Coordinates: 38.770605, -83.425814
Google Maps: View on map or get directions
If you'd like to see a GPS trace of our hike on the Buzzardroost Rock Trail, check in out on Google Maps.
More on the Edge of Appalachia
© Deborah Platt, Robert Platt and TrekOhio.com 2012 to 2021