While staying at a cabin in Lake Hope State Park, we visited Lookout Rock and hiked on the nearby Moonville Rail Trail. It was the Wednesday before Thanksgiving, and the weather was sunny and cool.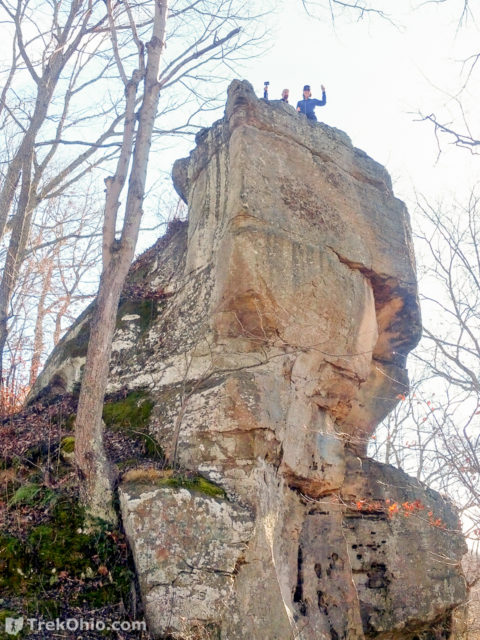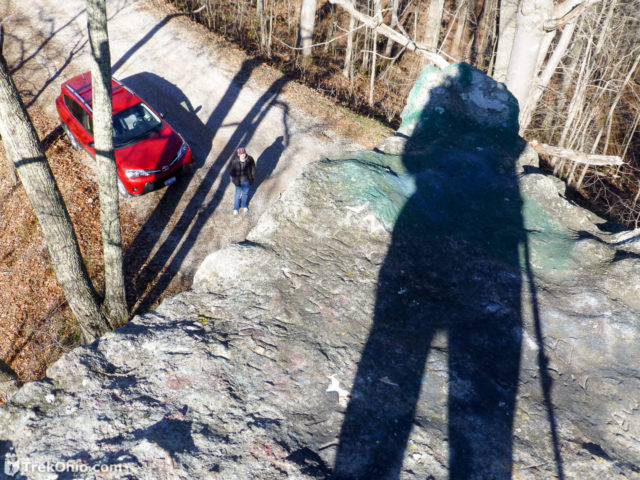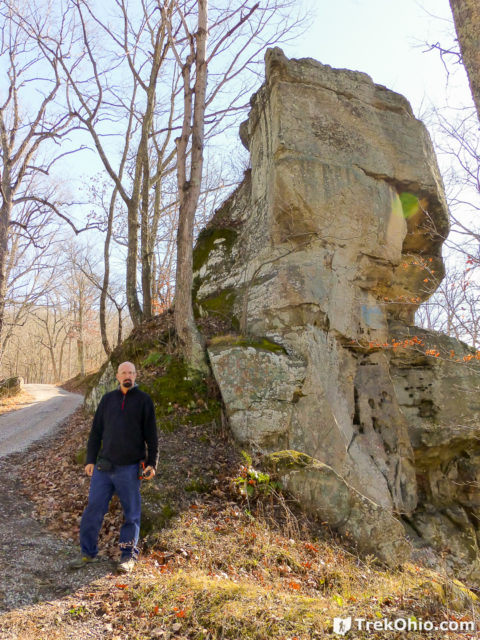 Lookout Rock is located on Hope-Moonville road, a narrow, gravel road that winds through Zaleski State Forest. At one point, the road goes along a saddleback ridge with steep drop-offs to either side. On one side of the road, we saw a tall sandstone cliff. This was our destination. Lookout Rock is a wedge-shaped outcropping. The road continues uphill and rises to nearly the same level as the top of Lookout Rock. From there its practically a flat walk to the rocky promontory that makes up Lookout Rock. There is a small pull-off near the base of the cliff where we are parking in the above photo. There is also a parking spot up the hill that is wide enough to allow you to turn your car around for the return trip.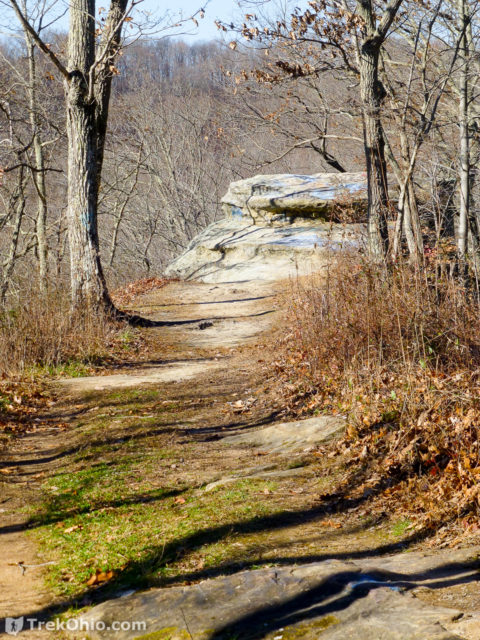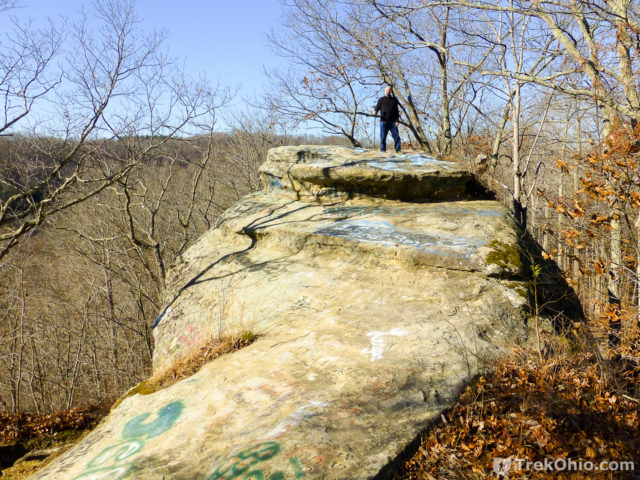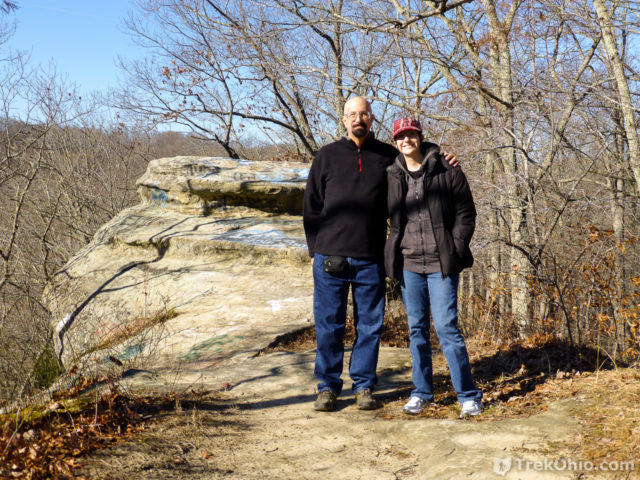 The rock stands about 25 feet above the roadway on one side. The drop on the other side is considerably farther. On either side of the road are valleys with hills visible in the distance. Since it was almost Thanksgiving, there was no foliage to obstruct our view.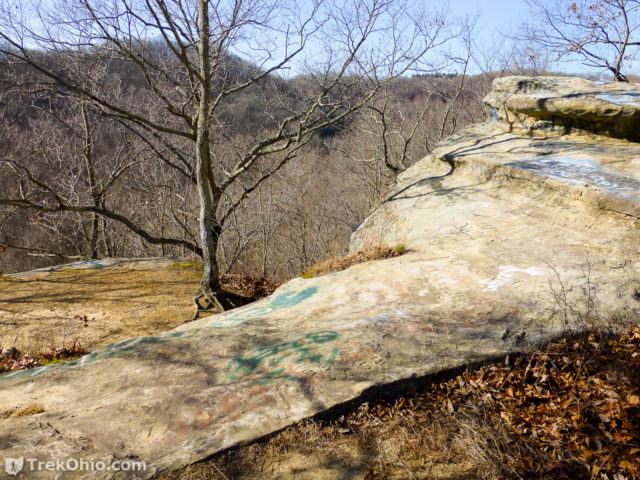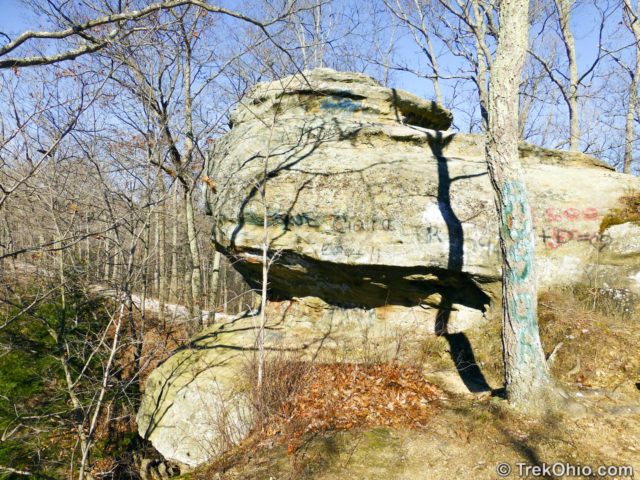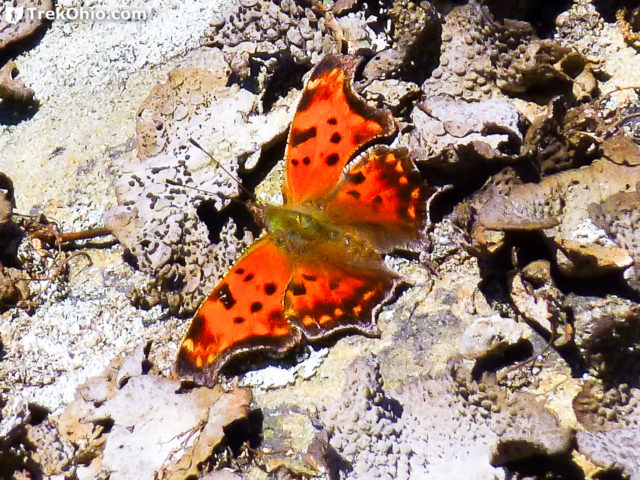 According to legend, in the 19th century a group of twenty men on their way to the mining town of Moonville were surrounded by a pack of wolves. They found shelter on Lookout Rock. They built a fire and spent the night and then proceeded safely on to Moonville. An interesting story, but I'm somewhat skeptical. On the other hand, while at the nearby Moonville Trail, Deb spotted a couple of bears heading away from us in the distance.
Besides Lookout Rock, Moonville Tunnel and the rail trail, there's lots to do in the area. Check out our articles on Lake Hope. The dining lodge at Lake Hope offers wonderful BBQ, smoked meats, and an excellent scenic view of the lake. We had our Thanksgiving meal there, and the buffet was top notch.
Additional information
Location
Directions: (from Lake Hope Lodge): Head south on SR-278, near the southern end of the lake, turn left onto Shea Road. At the first intersection, go straight staying on Shea Road. The paved Shea Road narrows and turns into the dirt and gravel Hope-Moonvile Road. Drive carefully and you'll eventually see an iron bridge over Raccoon Creek. Before the bridge is a pull-off and there is now a sign identifying this as the path to Moonville Tunnel. Continue across the bridge, staying on the road for about a mile. You'll cross another bridge and the road will climb up a saddleback ridge. On your right side, you'll see Lookout Rock next to the road. There's a pull-off for one car at its base. We recommend driving up the hill, where there's a pull-off suitable for two cars.
GPS Coordinates: 39.301782, -82.319778
Google Maps: View on map or get directions
© Deborah Platt, Robert Platt and TrekOhio.com 2012 to 2021