Fort Hill is one of our favorite places to visit. It has great hiking as well as many interesting geological, archaeological, and botanical features. It's a bit of a drive from central Ohio, or we'd visit much more often. We visited Fort Hill twice this fall. Our most recent trip is documented in our post: "Fort Hill: Canby's Mountain Lover Trail and Keyhole Arch". We also visited two weeks earlier when fall foliage was near it's peak. This post focuses mostly on our earlier trip.
We started on the Gorge Trail and then took the Deer trail back to the parking area. We scouted the two water crossings for Canby's Mountain Lover Trail and noticed the Keyhole Arch, which we'd not seen before. We also got a better photograph of the arch near the intersection of the Deer Trail and Gorge Trail.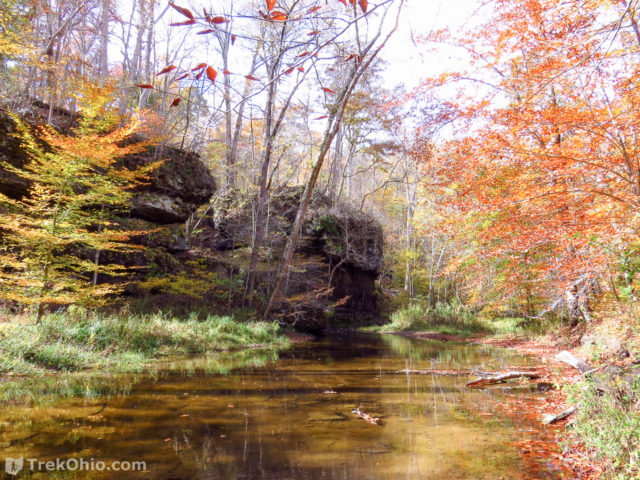 Our path was a counter-clockwise loop of 4.56 miles with a total of 1,129 feet of elevation gain. There's a very nice picnic area at the parking lot, but we had an early lunch at the log cabin on the Gorge Trail.
If you're planning a trip to Fort Hill, I recommend a stop at the Country Crust Bakery; an Amish bakery nine miles up the road from Fort Hill. Their hot pretzels are excellent!
Country Crust Bakery: 4918 State Route 41 S, Bainbridge, OH
(Closed on Sunday)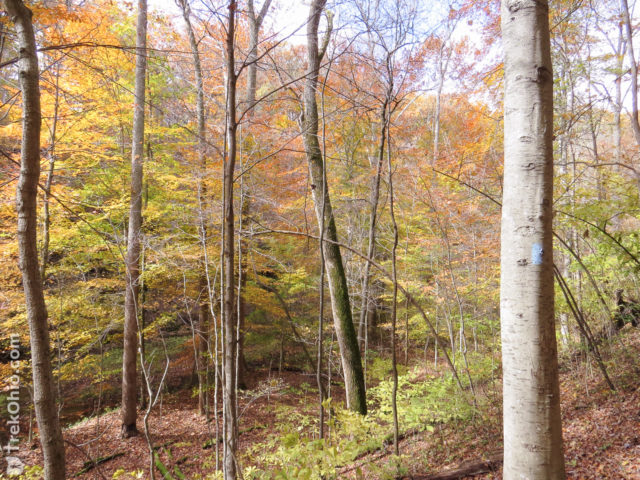 GPS Trace of our Hike
If you'd prefer you can explore this map directly on Google Maps.
Additional information
More on Highland County
© Deborah Platt, Robert Platt and TrekOhio.com 2012 to 2021