Just prior to our birding trip to Magee Marsh in May, we visited two waterfalls in the Cuyahoga Valley National Park. We stopped at Brandywine Falls – one of the finest waterfalls in the state of Ohio.
Brandywine Falls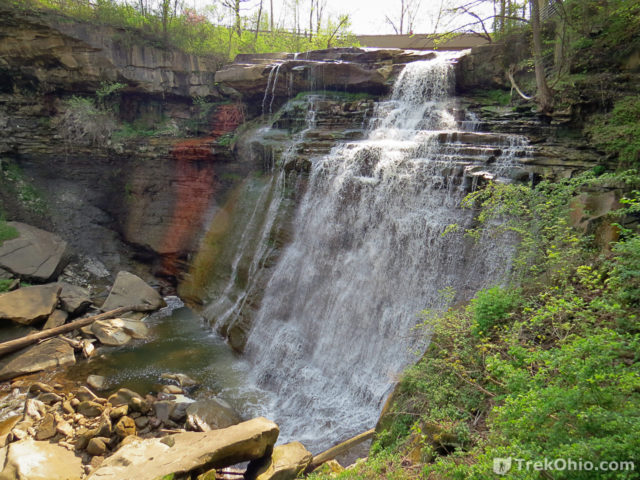 The falls is located on Brandywine Creek where it flows over a 65-foot (19.8m) sandstone and shale cliff. For information on the falls history, facilities, and travel directions, please see our prior article.
Blue Hen Falls
After a quick stop at Brandywine, we drove to the parking area for Blue He Falls, about 10 minutes away. The trail-head for Blue Hen Falls is located off Boston Mills Road. A small parking lot accommodates 3-4 cars with an overflow lot on the other side of the street. An information kiosk is located at the trail-head. The trail goes downhill to a bridge over Spring Creek. The blue-blazed Buckeye Trail splits off and the Blue Hen Falls Trail then follows the creek to the falls. At the falls is a bench and a sign that says 'End of Trail'. The distance from the parking area to the falls is 0.5 miles.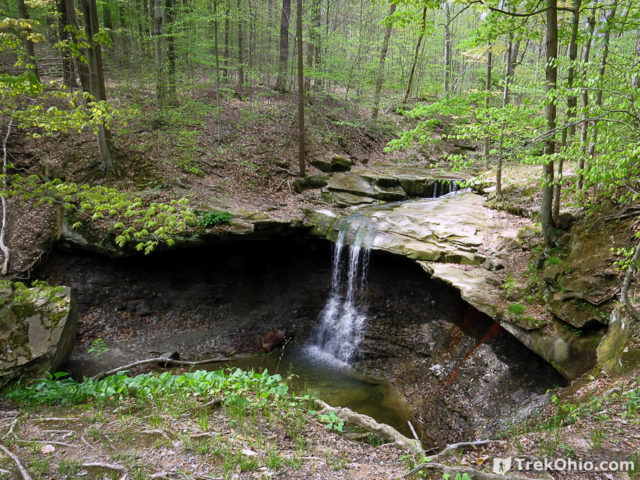 Blue Hen Falls is a 15-foot (4.6m) falls which flows over hard Berea sandstone capping softer Bedford Shale, similar to nearby Brandywine Falls.
Although we visited the are past the peak of spring wildflowers, there were still a few to be seen.
Additional information
Location
Brandywine Falls

Address: 8176 Brandywine Rd, Northfield, Ohio 44067
GPS Coordinates: 41.2764618,-81.5401097
Google Maps: View on map or get directions

Blue Hen Falls

Address: 2001 Boston Mills Road, Boston Township, Ohio 44236
GPS Coordinates: 41.2570369,-81.5749242
Google Maps: View on map or get directions
Note: this post was updated at the request of CVNP on 6/11/2019.
More on Waterfalls
© Deborah Platt, Robert Platt and TrekOhio.com 2012 to 2021