Strouds Run State Park is located in scenic Athens County close to Ohio University. The park and several adjacent parks and preserves feature miles of trails for hikers, mountain bikers, and equestrians.
We visited the park several times last year. The park consists of 2,606 acres of forested hills and Dow Lake (a large man-made lake). Adjacent to the park is the 22 acre Sells Park owned by the city of Athens, the 106 acre Riddle State Nature Preserve and the 75 acre Blair Preserve. The parks are interconnected with a network of trails and are very popular with local mountain bikers.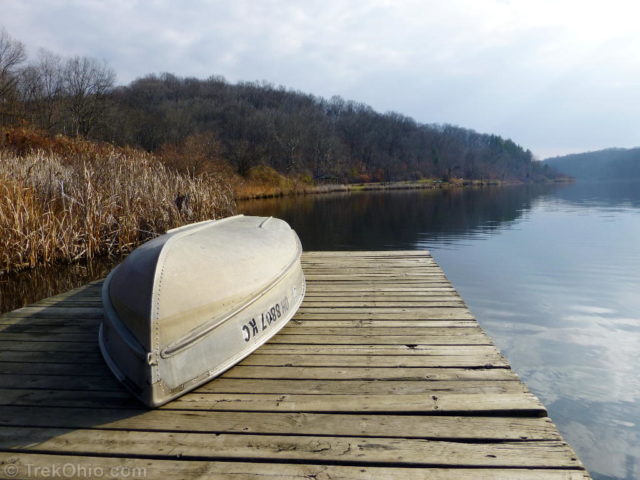 Getting oriented
We hiked the Athens Trail which begins in the adjacent Sells Park. Sells Park is located at the end of a cul-de-sac known as Avon Place that's only several blocks from Ohio University. The park entrance has informational signs at the trailhead, a small parking area and a bike rack.
Below is a GPS trace of our hike. We began at the left, lower point and on the loop portion of our hike, we traveled in the counter-clockwise direction. The farthest point to the upper, right (reaching up to Strouds Rund Road) is an alternative spot where you could park and do the hike.
Since we started at Sells Park, we began our hike on the Athens Trail, then we followed Finger Rock Trail until we reached Dow Lake in Strouds Run State Park. The trails are well-marked; the Athens Trail marker is a white A-shape on a red rectangle. However, there are quite a few diverging side trails, so we recommend bringing a copy of the maps which we've linked to in the "Additional Information" section of this post.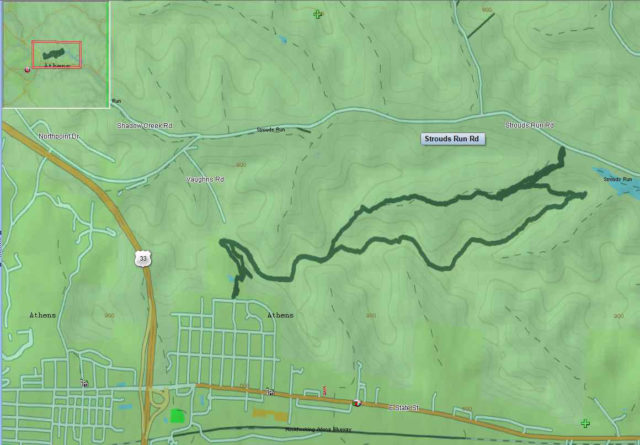 Outbound from Sells Park to Strouds Run Drive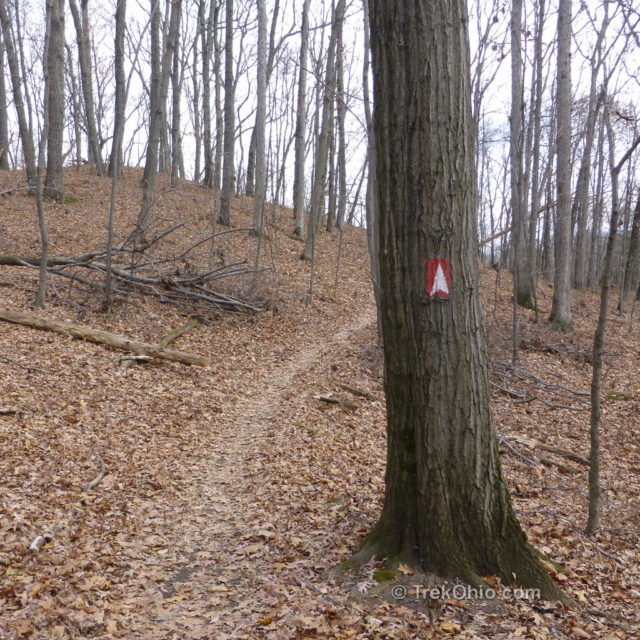 Sells Park is relatively small, but the trails are steep taking you up to the ridge-line. We passed Sells Pond near the trailhead and then began the ascent through the heavily forested hillside and past exposed rock outcroppings. At the end of the ascent, you leave Sells Park and enter Riddle State Nature Preserve. The Riddle Preserve consists of a section of old growth forest featuring oak, hickory, tulip, and poplar trees. The trail continues along the ridge-line and eventually crosses into Strouds Run State Park.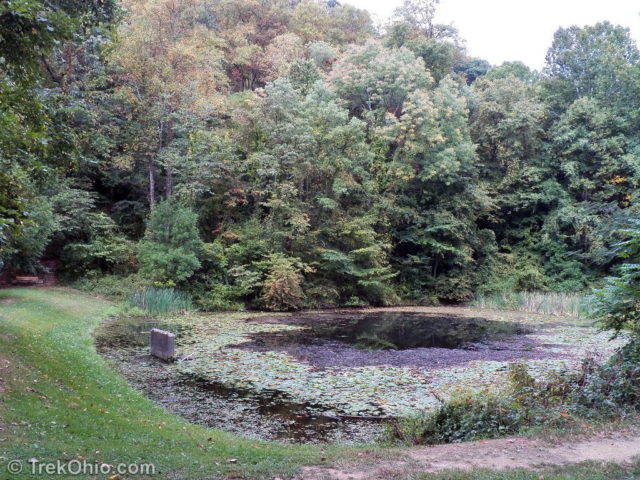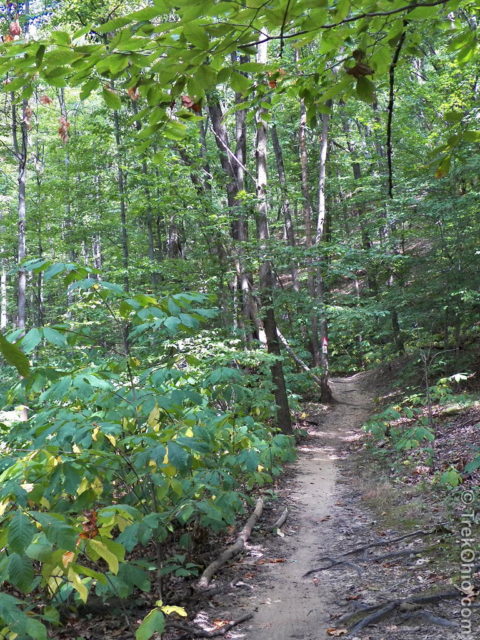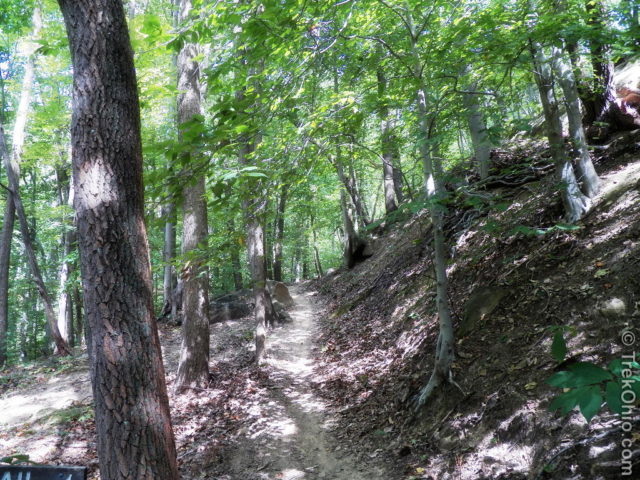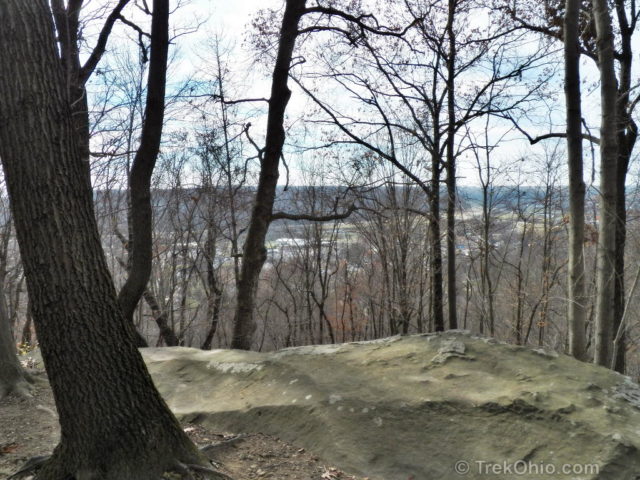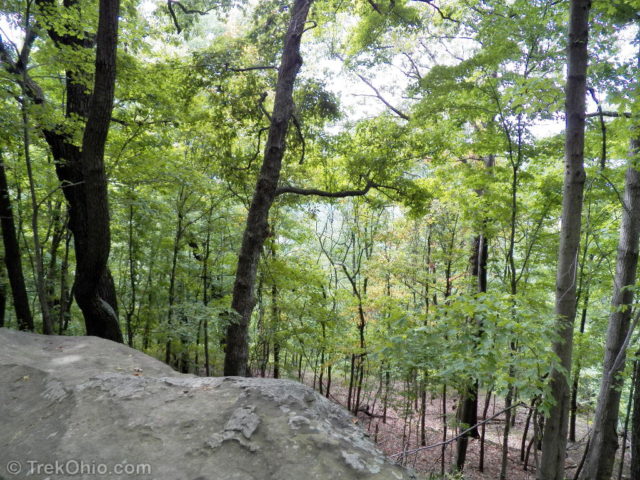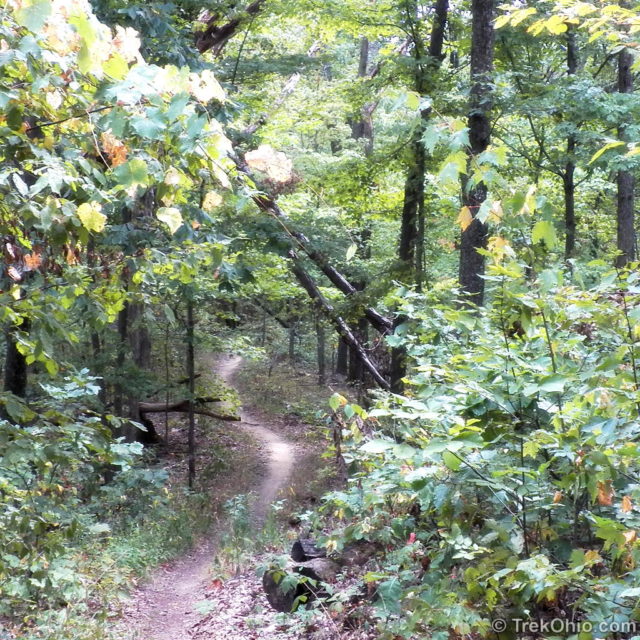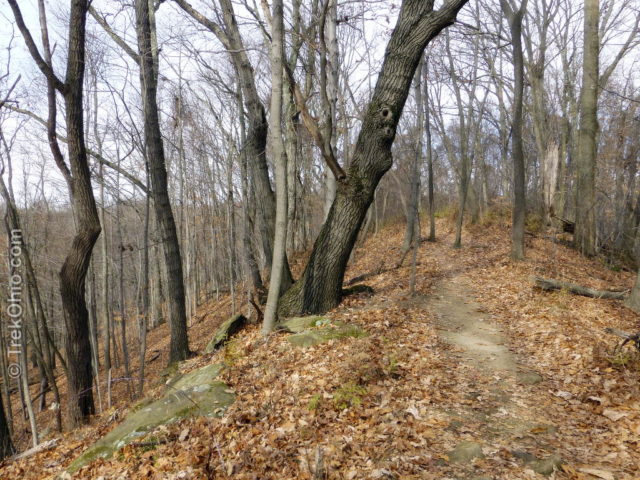 As you might have expected, Finger Rock Trail leads to Finger Rock, an exposed rock outcropping that resembles a large finger pointing towards another outcropping. We arrived at Finger Rock around noon, and I looked at outcropping where the "finger" was pointing and interpreted this to mean "you should eat lunch over there".
We climbed up the outcrop and found a rock "bench" on which to enjoy our midday meal. We were perched on the edge of a plateau with three sides sloping steeply downward.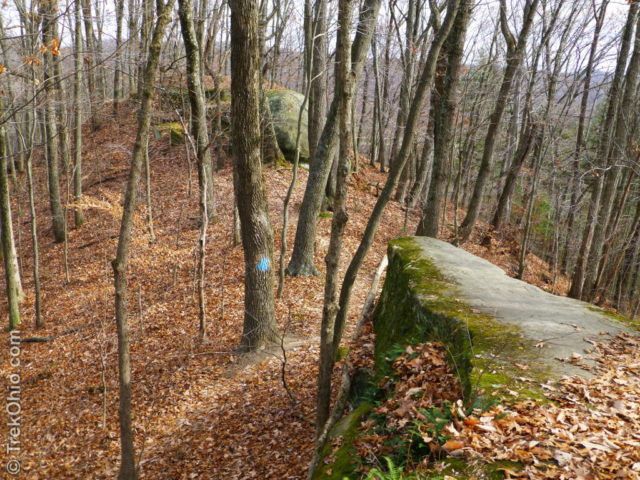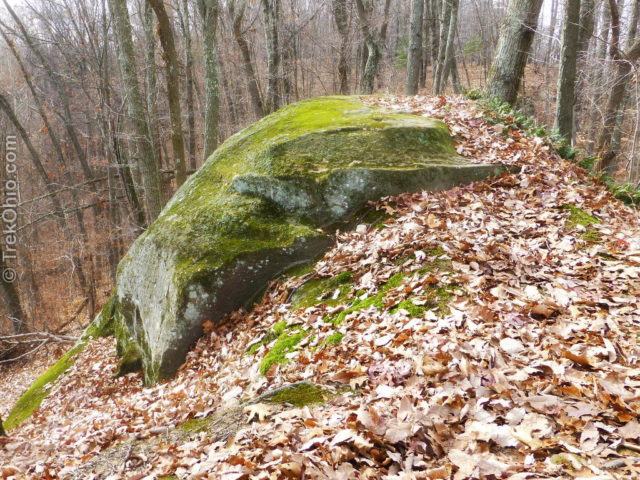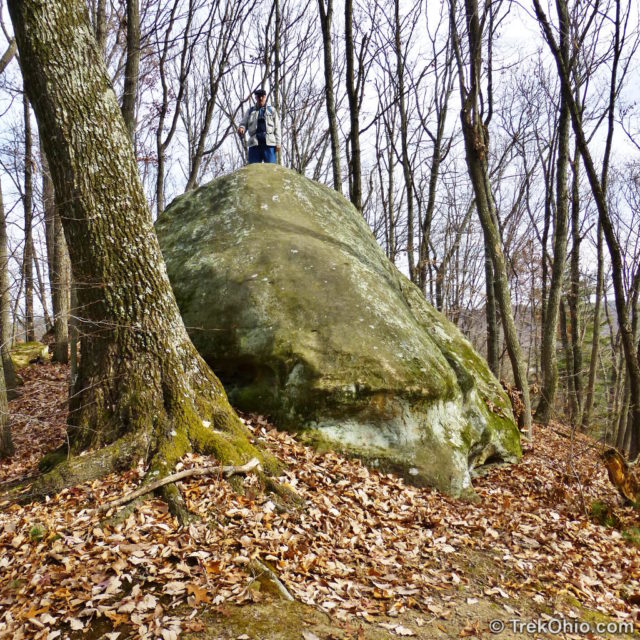 If you stopped to look at the surface of the outcroppings, it was interesting seeing all the ferns, moss and lichens growing on their surfaces, slowly breaking them down.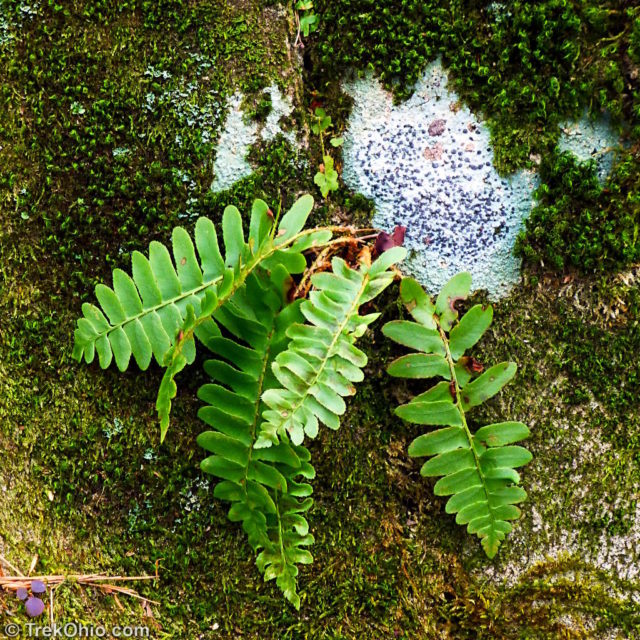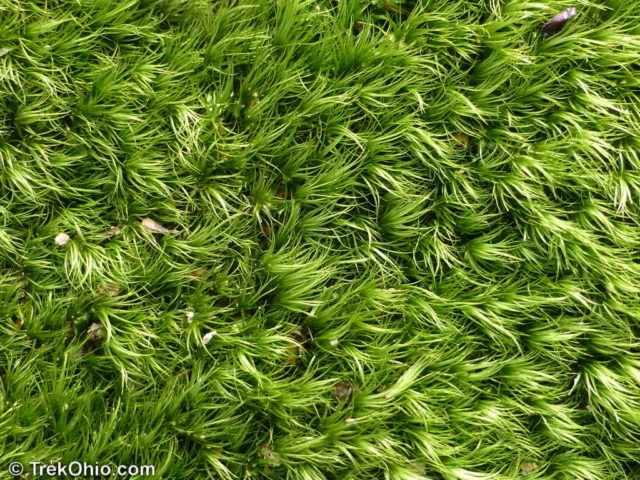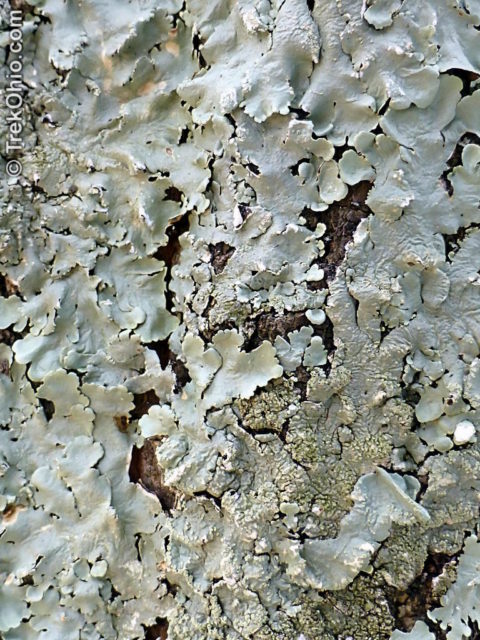 After lunch we lingered briefly to take more photos and then pressed on. From Finger Rock the trail descends in a series of switchback turns down to Dow Lake. The trail ends at a small parking lot / picnic area next to Strouds Run Road. Although there are no restrooms here, there are restrooms in two nearby parking lots. To reach them follow Strouds Run Road to the left (away from the lake) or to the right (towards the lake). You can also reach the lakeside parking lot by following a mown path to the right (when facing towards Strouds Run Road). These vault restrooms are off the parking lots that you'll soon be encountering.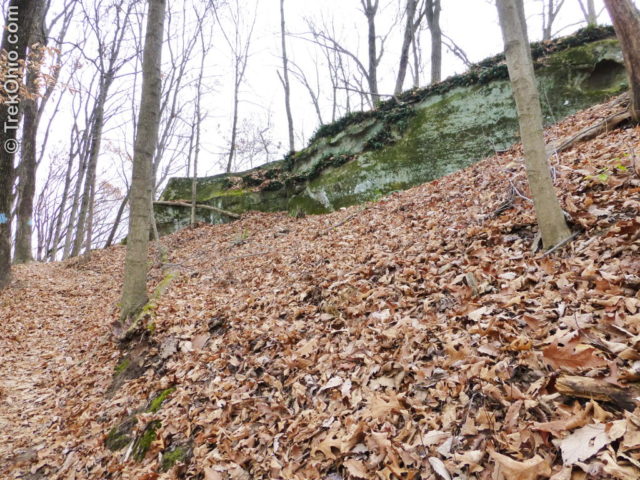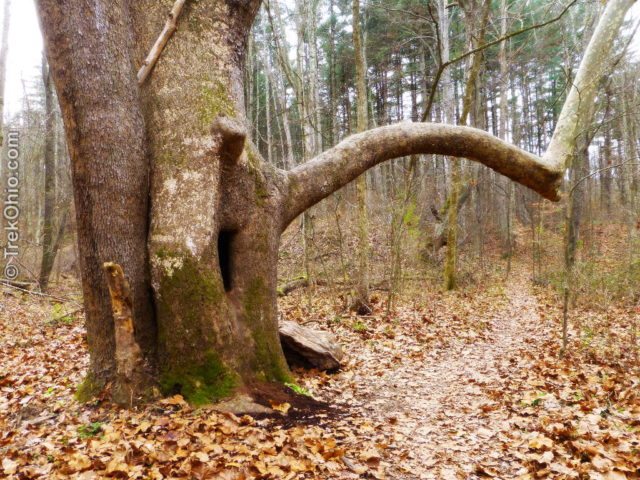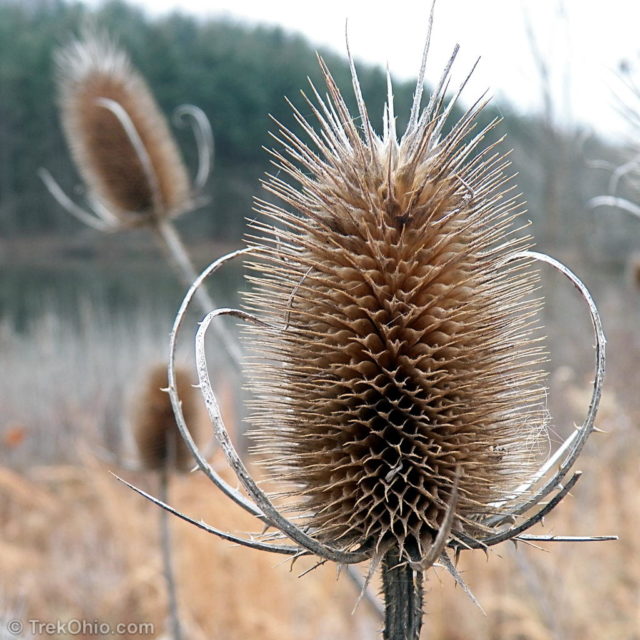 Inbound from Strouds Run Drive back to Sells Park
We returned via a different route. The Finger Rock Trail intersects Trace Trail which eventually connects with the Athens Trail. Trace Trail goes by a small pioneer cemetery. It then passes through the Blair Preserve, which is owned by the Athens Conservancy. On private property just beyond the Blair Preserve is an impressive looking escarpment. Although hikers cannot directly approach the escarpment, it makes for a scenic view. The well-blazed Trace Trail features sturdy bridges across small streams, and it's open to both hikers and mountain bikers.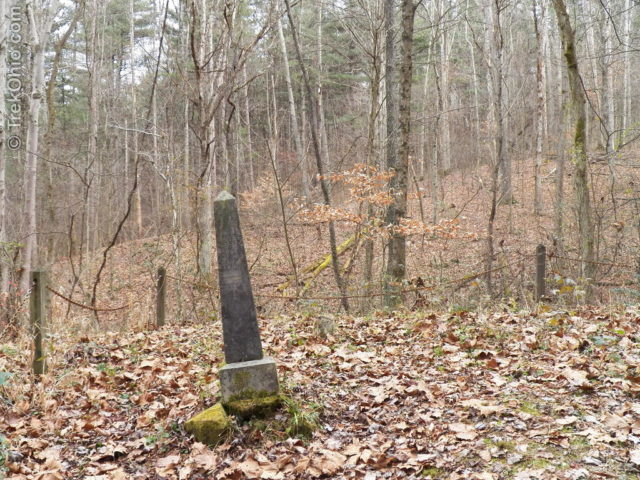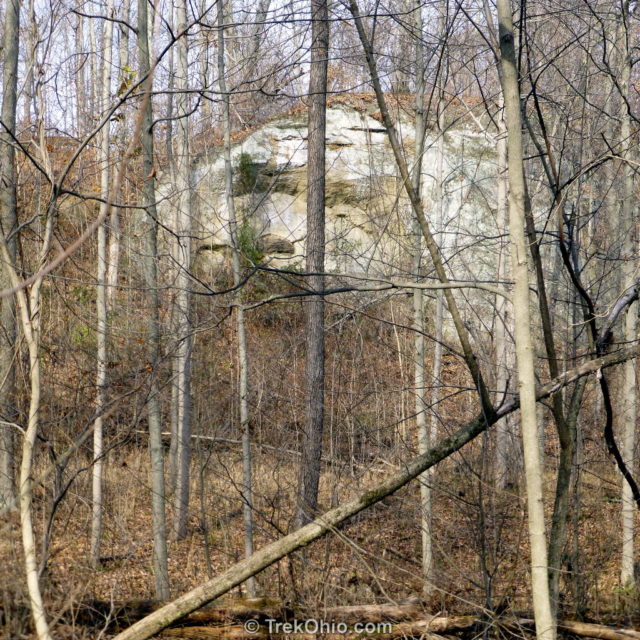 The trail follows a hollow along a small stream and finally ascends steeply to the ridge-line where it connects to the Athens Trail. We continued on the Athens Trail eventually passing through Riddle Preserve back into Sells Park. There we descended back down to the parking area.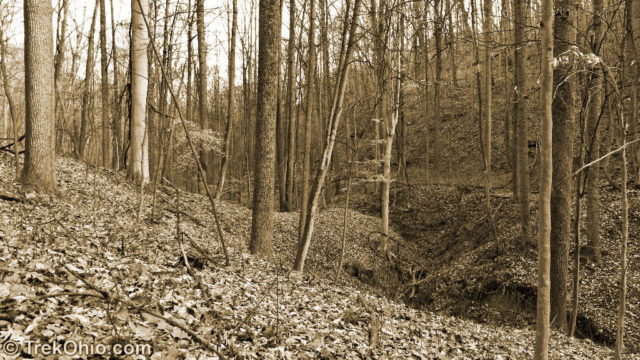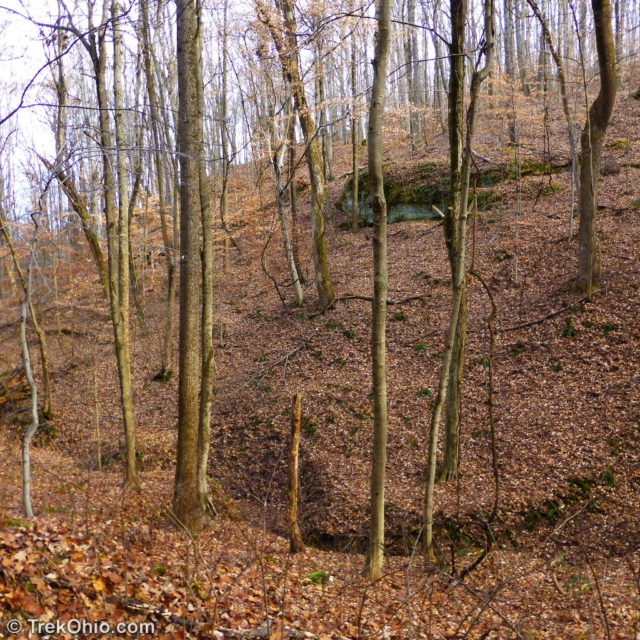 We hiked about 5 miles, but only saw a small part of the trail network at Strouds Run. There is a trail around Dow Lake and many hiking, biking, and equestrian trails on the east side of the lake.
Stopping by the Beach and Camp Store
Following our hike, we drove to the area where the beach and camp store are located in Strouds Run State Park to have a look around. The Strouds Run State Park features its own campsites, fishing, a large swimming beach, and a boat rental area where you can rent canoes and other watercraft. The park is also open to deer hunting in season.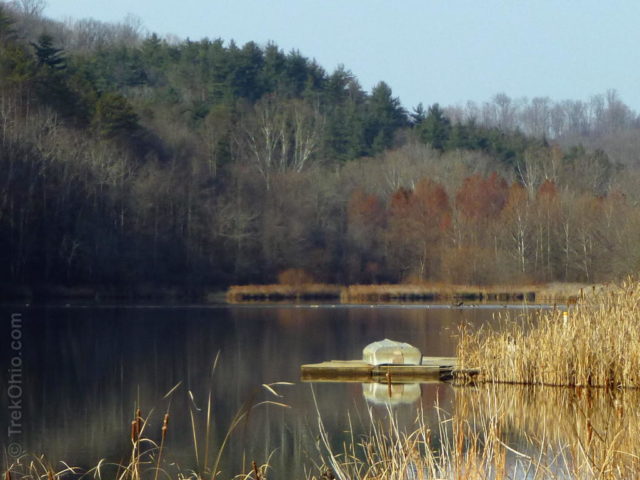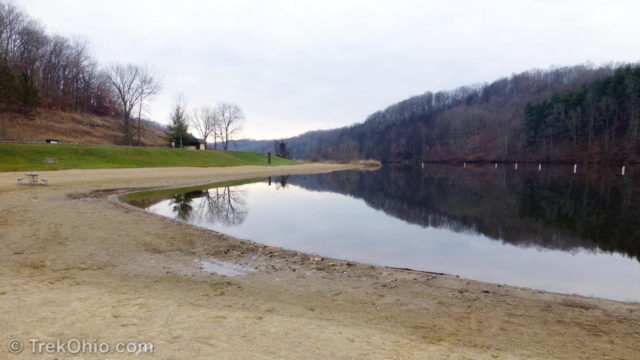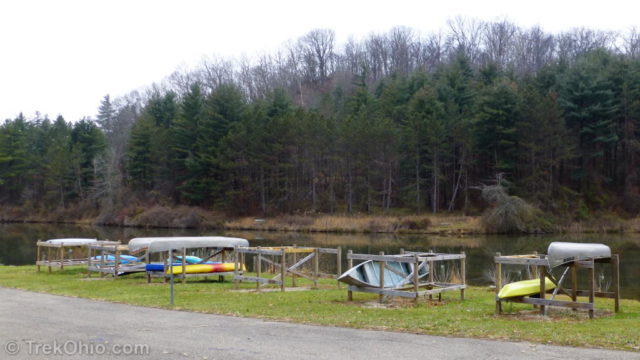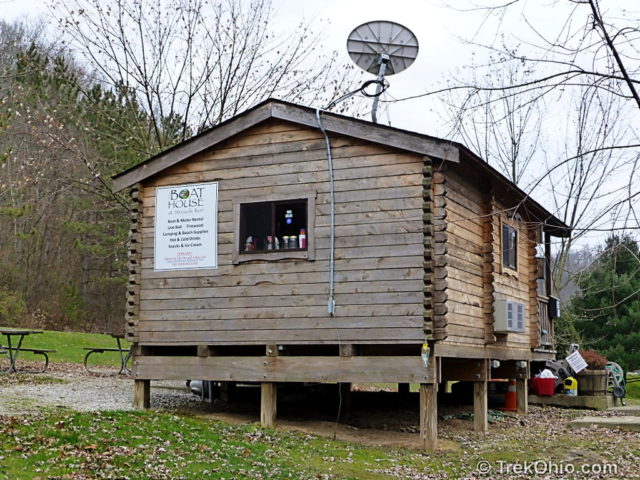 The Athens Conservancy has been an active advocate for mountain biking at Strouds Run. It has purchased adjacent land (such as Blair Preserve) and developed many of the hiking / biking trails in the area. During our visits we saw several mountain bikers enjoying the miles of trails available in this park system.
Additional Information
Location
Sells Park:

GPS Coordinates: 39.3433630, -82.0745440
View or get directions using Google Maps
Directions: Exit US-33 in Athens at East State Street. Turn left on to Avon Place and go to the end of the road. Park in the parking area at entrance to Sells Park. The trail-head is well-marked with signs.

Strouds Run State Park

GPS Coordinates: 39.3513230, -82.0435320
View or get directions using Google Maps
Directions from Sells Park: From Sells Park, head south on Avon Place toward Pleasantview Drive. Turn right onto East State St. Turn right onto N. May. Continue onto Cable Lane. Continue onto Strouds Run Road. Turn right onto Strouds Run Drive. Turn right onto Strouds Run Road.
More on Athens County
© Deborah Platt, Robert Platt and TrekOhio.com 2012 to 2021