Lockville Park is a 6 acre park in Fairfield County containing the ruins of three locks from what was once the Ohio & Erie Canal. The park also has a covered bridge that was constructed in 1888.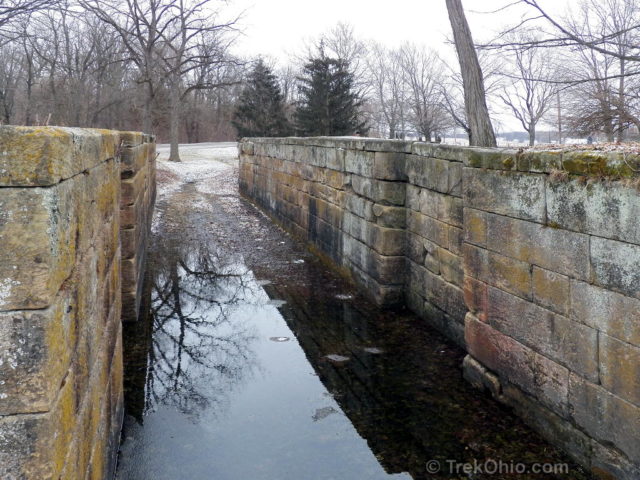 If you look at a map of Ohio, you'll see Lake Erie on the northern edge. The irregular southern edge is formed by the Ohio River. The Ohio River feeds into the Mississippi River which flows into the Gulf of Mexico. Both the Ohio River and Lake Erie provided convenient water transportation for Ohioans from early settlers to today. But in the early 1800's moving goods inside the borders of Ohio was an expensive undertaking.
There was a need to create a transportation network to move goods cheaply to either Lake Erie in the north, or the Ohio River to the south. In 1822, the state legislature created a commission to plan, implement, and operate a canal system that would become known as the Ohio & Erie Canal. Ground was broken in 1825 and work was completed in 1833. The state then added a second north / south canal along the Miami River known as Miami & Erie Canal, as well as many feeder canals.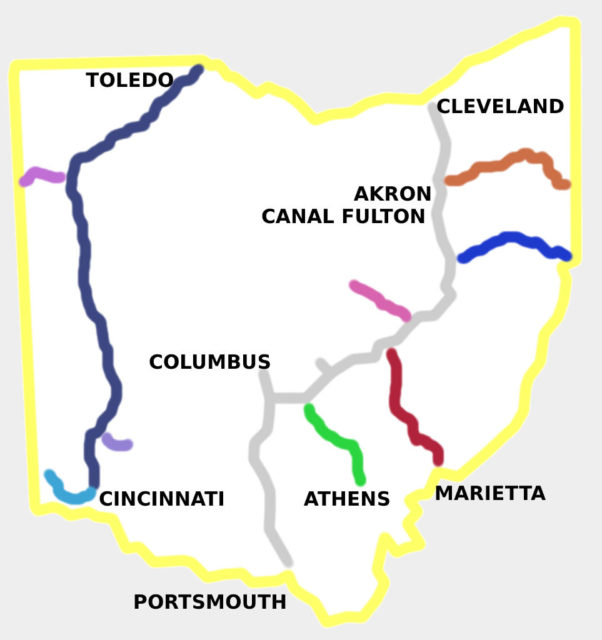 The work was done in a pre-industrial era – so the canal was hand dug, mostly by German and Irish immigrants. When completed, transportation costs in Ohio dropped from $125 / ton to $25 / ton. The canal had a minimum width of 40 feet (12 meters). The canals were about 4 feet deep, and there was a 4 mph speed limit to prevent boat wakes from eroding the canal's sides. Towpaths on either side of a canal allowed barges to be pulled by animal teams, typically a couple of horse or mules.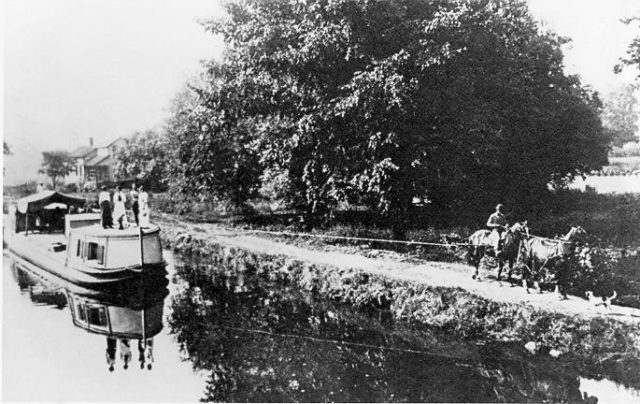 Changes in elevation were handled by locks – rectangular canal sections built of stone with gates on either end. A barge would enter a lock and the gate would close. Water was either added or removed to raise or lower the barge. The gate on the other side would be opened and the barge would emerge. A barge could carry up to 10 tons of goods, but traveled only 3-4 miles per hour (5-6.5 kph).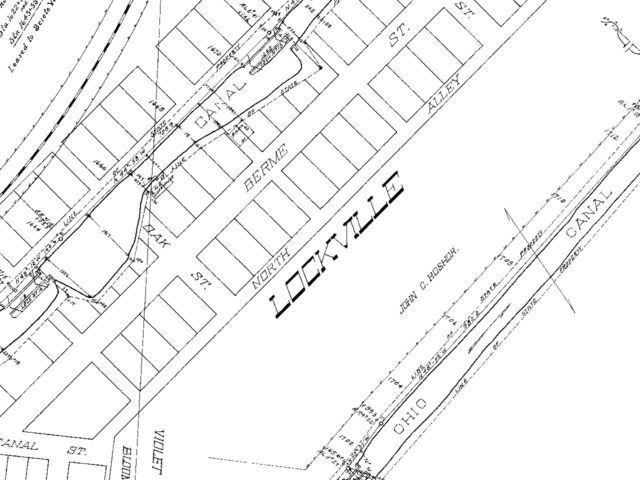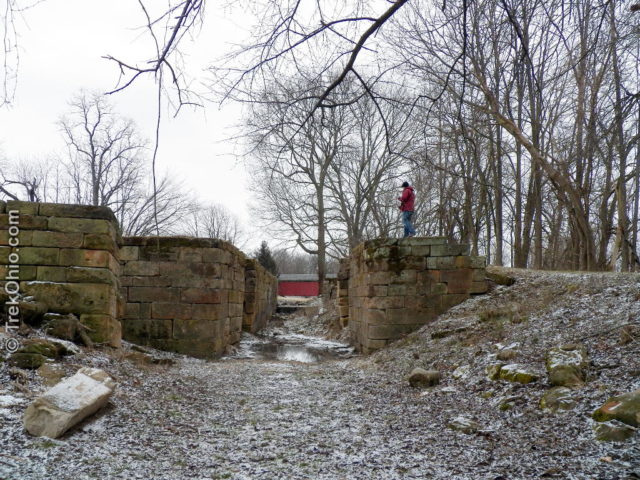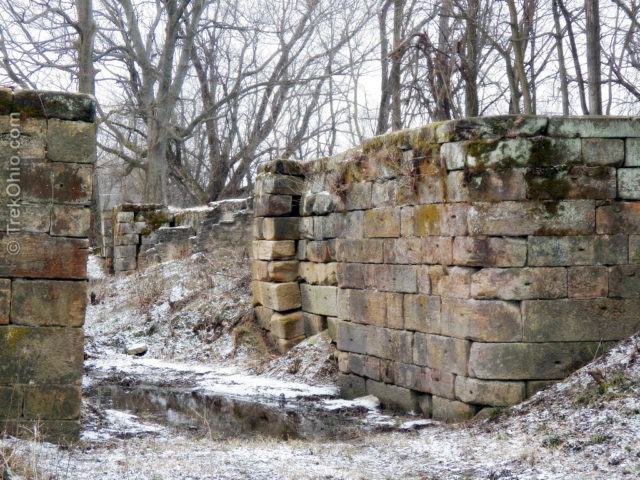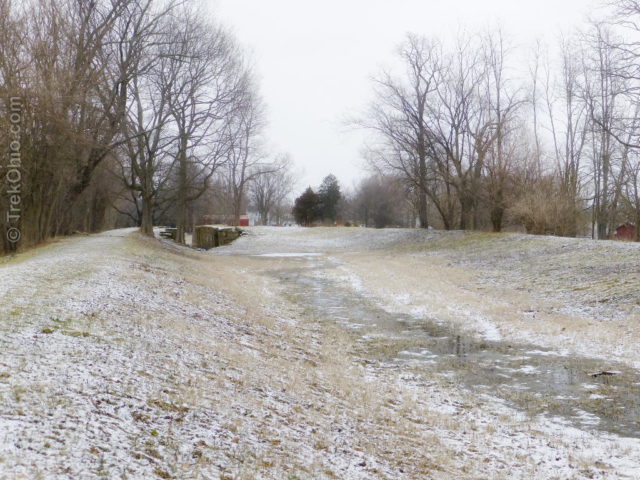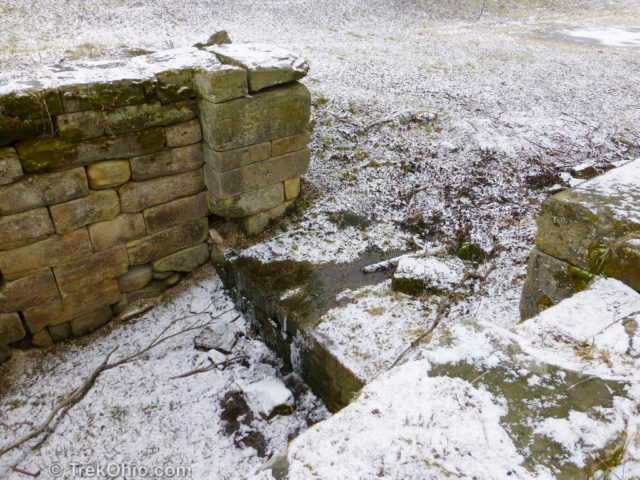 By the late 1800's the canal was losing money due to competition from railroads. A flood in 1913 destroyed portions of the canal and the system was shutdown for good.
Lockville Park contains three locks from the Ohio & Erie Canal. You can walk along the former towpath from lock to lock. The park also contains the Hartman Covered Bridge #2 built in 1888. Previously the bridge was located on Wheeling Rd over Raccoon Creek. There is a small parking area located just beyond the park entrance, and a nearby picnic shelter.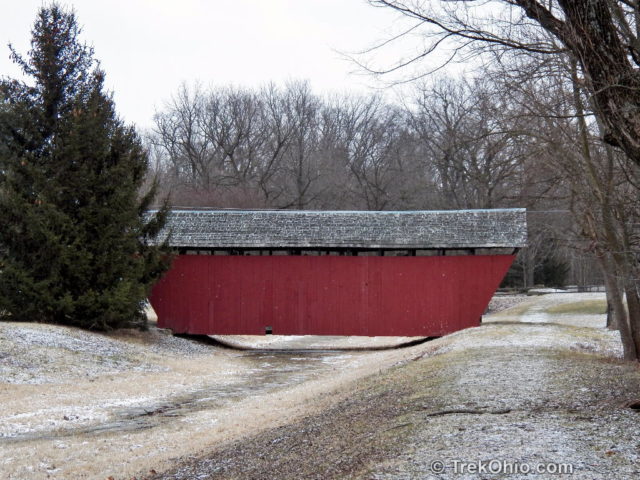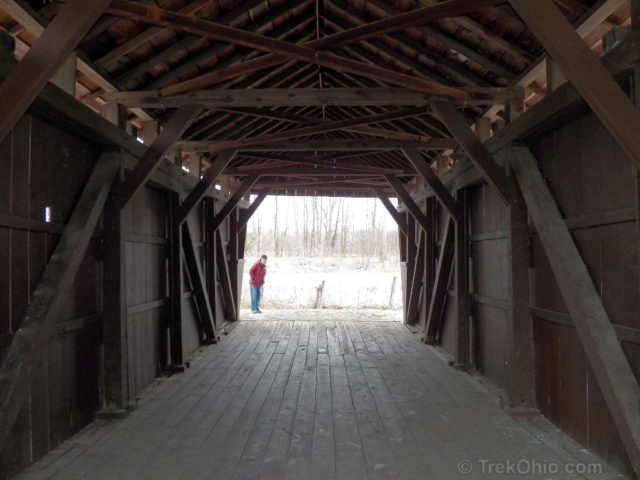 Additional information
Location
Address: 5895 Pickerington Road NW, Carroll, Ohio 43112
Directions: From US-33 take Pickerington Rd (County Highway 20) south. After 1.2 miles you will see Lockville Park on the right.
GPS Coordinates: 39.817526, -82.738506
Google Maps: View on map or get directions
More on Ohio's Industrial History
© Deborah Platt, Robert Platt and TrekOhio.com 2012 to 2021