Last weekend Bob and I went to Pickerington Ponds to see if the Great Blue Herons had resumed nesting there. Great Blue Herons like to have their nests grouped together, so it is sort of like they're living in an apartment complex. If no more nests will fit in a particular tree, then herons will nest in the tree next door. This grouping of nests is called a heron rookery or sometimes a heronry, and herons are said to be colonial nesters.
This tree had four nests so far, but not all four were occupied while we were viewing them.
We saw one heron in a nearby nest who was lying down and seemed to be incubating eggs already.
Since we've been to this same heron rookery in previous years, I can give you some idea of what it is like later in the season. The photos below are of the same tree, but were taken May 8, 2011.
Although the photos below are stretching the telephoto capability of our point-and-shoot cameras, they give you some idea what the nests are like once their eggs have hatched.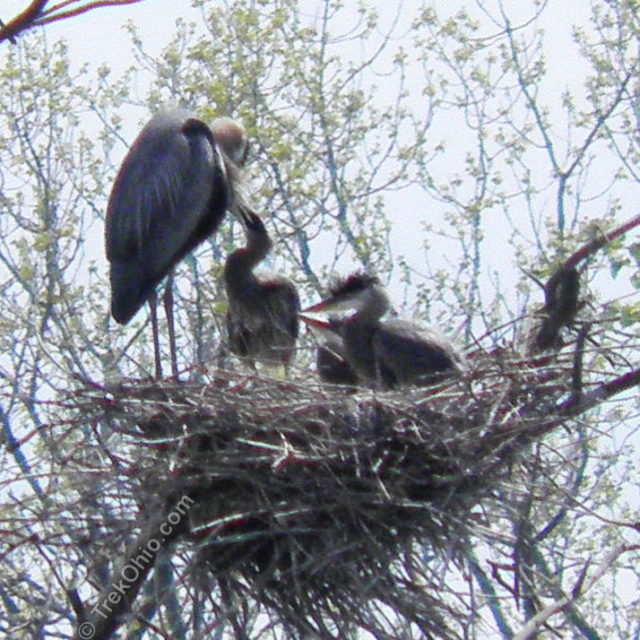 One of the joys of going bird watching for great blue herons is that they are so large it's hard to miss them. They are four feet tall (about 1.3 meters) with a wing span of seven feet (about 2.3 meters). Although a few herons remain here all year long, most migrate because they need unfrozen water to fish. The males typically return first, so they can pick a nesting site. The females return a few weeks later. Once they have paired up, the male continues to strengthen their bond by presenting his lady with sticks for their nest. This gift-giving goes on from February through April. The male and female take turns incubating the eggs during the 28 days it takes before the eggs hatch.
The females lay 3 to 7 eggs which hatch in late April or early May. The young birds can be viewed in their nest for about 60 days. The youngsters usually fledge (learn to fly) in July. They vacate the nest soon after.
The nests are four feet wide and about two feet deep; they're lined with soft material like leaves and moss. Herons often re-use nests year after year.
If the youngsters make it through their first year, they have a chance of living for twenty years.
If you go to a heron rookery, I recommend that you take binoculars or a spotting scope if you have one available. Although the nests may be some distance from where you are standing, you can often see individual great blue herons much closer while they are hunting for food. They typically stand very still and wait until prey comes close enough to ambush it. Here's a photo of one laying in wait in a stream at the Pickerington Ponds Metro Park.
The only heron rookery that I've personally been to in Ohio is the one in Pickerington Ponds. But I searched the Internet to find a number of other heron rookeries across the state. The list of other heron rookeries follows the information on Pickerington Ponds below.
Locations of Heron Rookeries in Ohio
Pickerington Ponds

featured in this post; see Location below.

Smith Preserve at Olentangy Falls

(Delaware County in a Liberty Township preserve): This is on Taggart Rd., just south of the intersection of Taggart Rd. and Hyatts Rd. (GPS: 40.213053,-83.057835). I published an article on this heronry, Heronry in Delaware County.

Lake Hope

(Vinton County): According to Lake Hope State Park Bird Watching Guide-Ohio Valley Birding Trail
The wetland area along SR 278 and ¼ mile south of the Lake Hope dam contains a large Great Blue Heron rookery of about 50 nests.
Winton Woods

(Hamilton County, near Cincinnati; click to see the location on Google Maps): I believe you can get directions as to the heron rookery's location from Winton Center which houses the park district's administrative offices; phone number is (513) 521-7275.

Church parking lot in Mason, Ohio

(Warren County): According to this post on Flickr:

This GBH rookery can be seen just north of downtown Mason, Ohio. The nice folks at the Living Leaf Community Church on Rt 42 allow everyone to use their parking lot and view the colony from the fenceline between the trees and shrubs. This gives a great view of the heronry without disrupting the nesting.

Morrow,Ohio

(Warren County): I believe that this heron rookery has become a preserve managed by a conservation group called, The Little Miami, Inc. According to this PDF file it is a 147 nest heronry, one of the largest in Ohio. You might be able to walk or ride a bike to the heron rookery since the Little Miami Scenic Trail looks like it goes right by it (Trail Map –PDF). In addition there is canoe livery that offers tours that pass the heron rookery.
(Geauga County, located at 10110 Cedar Road, Munson, OH 44026; click for location on Google Maps):

The Rookery is a 562-acre tract located in southwest Munson Township. The Chagrin River, the old Interurban Railroad Junction, and one of Geauga County's largest nesting colonies of great blue heron are all special features of this park. It is Geauga Park District's intent to protect this natural area in perpetuity.

Grape Island in the Ohio River Islands National Wildlife Refuge

(West Virginia on the other side of the Ohio River): Location on Google Maps

Cowan Lake State Park

(Clinton County, between Cincinnati and Columbus): the heron rookery is located off State Route 730
(Clark County, Ohio):

In early spring, a large heron rookery at the Wenrick Wetlands is visible from Spangler Road. Sixty blue heron nests and a Cooper's Hawk nest rest in the branches of two large trees.

Cuyahoga Valley National Park, also known as Bath Road Heronry

(Summit County on Bath Road, between Riverview and Akron-Peninsula roads, near Akron, Ohio): There is a pull-off along Bath Road for viewing the heronry at the point located on this Google Map.

Narrows Heronry

(Summit County): This may be the same heronry as the Bath Road Heronry immediately above. It's GPS coordinates point to a location to the south of the pull-off for the Bath Road Heronry. Here is its location on Google Maps. Update: I was just looking at this Google Map image again. Surprisingly if you zoom all the way in you can actually see the shadows cast by the heron nests.
Additional information
Location of the Heron Rookery at Pickerington Ponds
The address for Pickerington Ponds Metro Park is 7680 Wright Road, Canal Winchester, Ohio. However the park is 1600 acres, and it can be hard for a person new to the park to find the heron rookery. In the map below I have identified where to park to view it. You can get directions by viewing the larger map at Google. If you enlarge the map you'll see that there is a line of trees going from left to right across the middle of the map. This is where the heron colony is nesting. There is a multi-use path around the wetland, so if you like you can walk around and view the nesting areas from other angles.
When you get to the parking lot, you'll see a fenced-in grave. This is the grave of an Ohio settler; it was common for people to be buried on their farms during this period.
More on Birds
© Deborah Platt, Robert Platt and TrekOhio.com 2012 to 2021