A few days ago, I was able to photograph my first butterfly of the year, a Mourning Cloak Butterfly. The reason the outer edges of its wings are frayed already is because it has been hanging out in Ohio all winter… well, not exactly hanging out. When it's very cold, this butterfly sneaks into a crack in a tree or some other little nook and hibernates there until it gets warmer. And it doesn't necessarily wait till spring. Whenever we are having unseasonably warm, winter weather, there is some chance of these butterflies emerging and flitting above the snow.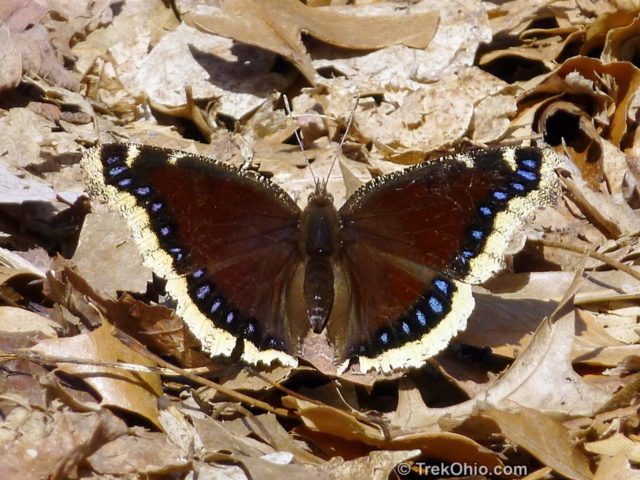 Since very few flowers are blooming in early spring, you might be wondering what this butterfly dines on. It turns out that the Mourning Cloak butterfly isn't all that interested in nectar. It's preferred food sources are tree sap, rotting fruit, and animal scat.

Because it hibernates over the winter, the Mourning Cloak is also one of our longest lived butterflies, maxing out at about ten months. It is believed that the Mourning Cloak hibernates in the summer too, except it's not actually called "hibernate" if it happens in the summer. Instead it's called "aestivate". The thinking is that the Mourning Cloak "aestivates" during the heat of summer and then becomes active and starts eating like crazy in the fall. It needs to pack on enough fat so that it can last till spring.
Check out the feet in the photo below and think about whether there's anything odd about them.
It looks like it has four feet (three are plainly visible). Now how many feet do insects usually have? … six, right? So what's the deal with this butterfly?
Actually it does have six feet, but the front two are wee, fuzzy, little things that kind of blend in with its body. Because someone thought that the fuzzy, front feet kind of looked like brushes, such butterflies are said to be "brush-footed." The Mourning Cloak belongs to the scientific family, Nymphalidae (brush-footed butterflies).
The Mourning cloak lives in Eurasia as well as North America. The name, "Mourning Cloak", is a translation of its name in German. In Britain it's known as a "Camberwell Beauty." It also has an old-fashioned name, "White Petticoat." That's my favorite name because it's easy to see the petticoats while I have no idea what a "mourning cloak" looked like in the era when the butterfly was named; too bad that "White Petticoat" isn't in current usage.
In early spring the male waits in a sunny, open spot until a female flutters by. Courtship happens mid-air. The females lay all her eggs together on a host plant. Suitable host plants include willow, elm, cottonwood, and hackberry. Although the Mourning Cloak caterpillar below is by itself, typically it would be in a large group with its siblings. This seems to provide a little extra protection for the youngsters because if a predator comes near them, they all bristle together. I imagine this bristling would be more intimidating if done as a large group. If the group eats up the host plant before it's time to pupate (turn into a pupa), the caterpillars all march off together like a little army looking for another host.
Regardless of the state of the host plant, when it's time to pupate the caterpillars finally go off in different directions to find a suitable place to turn into a chrysalis-encased pupa (it's moth caterpillars that end up in cocoons). I learned from North Nature Zine that the general rule is "Don't pupate where you last pooped!"

Apparently the accumulated waste from the mass of caterpillars might attract predators. Since the pupa are completely defenseless during their transformation into a butterfly, moving away is in their best interest.
I will close with this classic illustration showing the three stages of life for the Mourning Cloak: butterfly, caterpillar and pupa in its chrysalis.
Additional information
More on Butterflies and Moths
© Deborah Platt, Robert Platt and TrekOhio.com 2012 to 2021