My husband and I began our afternoon here by parking off Hazel Dell Road near the waterfall. It is a relatively small, but charming falls, about 25 feet in height. The surrounding region has many sandstone cliffs and bouldering (climbing) is allowed.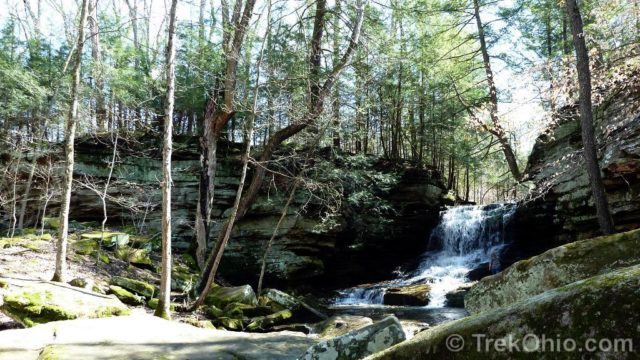 Here are some additional sights near the falls.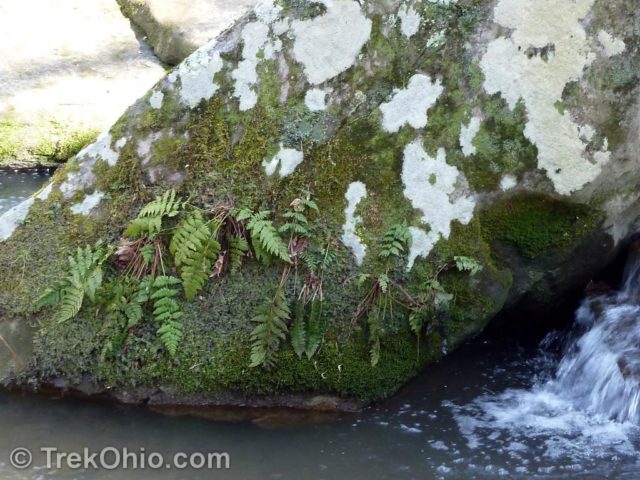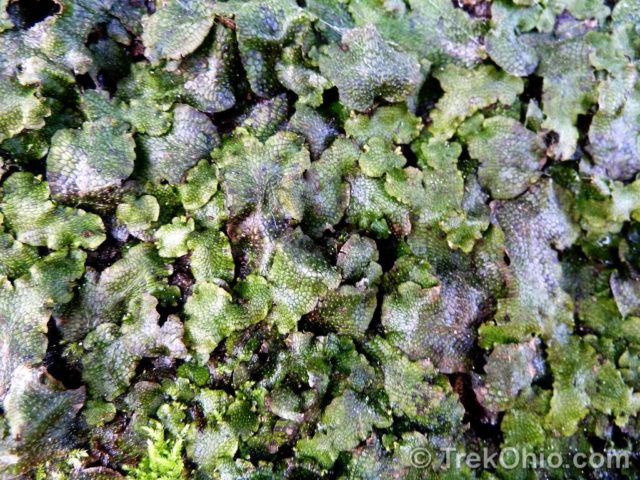 Trails Across the Road from the Falls
Across the road from the falls is additional parking and a trail head. There are about 4 miles of trail. The trail quickly branches into two: the Pine Knob Trail and the Prairie Trail. Since it was unseasonably warm we decided to begin with the Pine Knob Trail so that we'd have a bit of shade. In the photo below you can see the Pine Knob in the distance.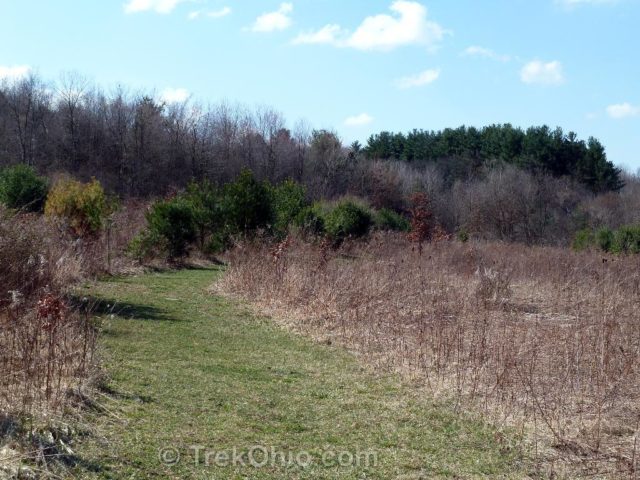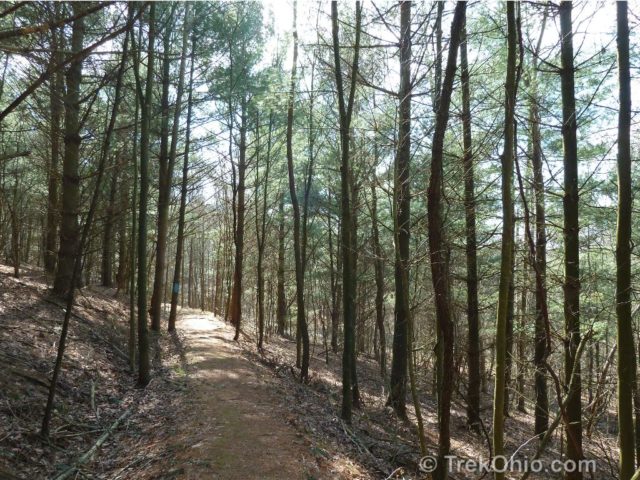 In the photo below we have emerged from the pine knob and are looking back toward it. In the next leg of the trail, we traversed a mown path with a thicket of sumac shrubs surrounding us.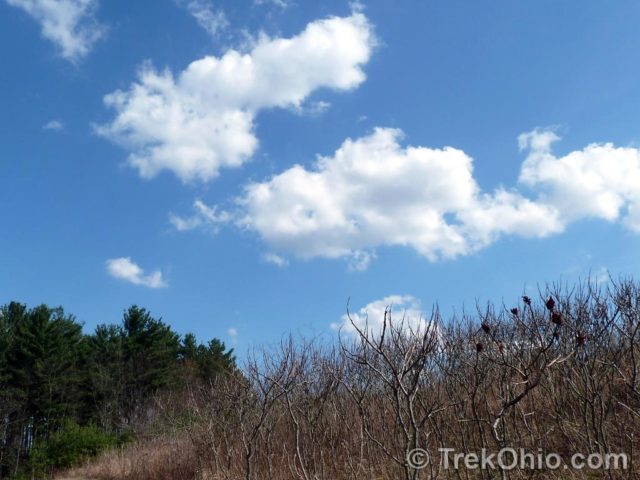 In the next grove of pine trees, I couldn't help but notice that they were lined up like rows of corn which is a sign that this was once a pine plantation (a tree farm where pines were cultivated for their lumber). All of the wooded portions of the trail were well marked with blue blazes.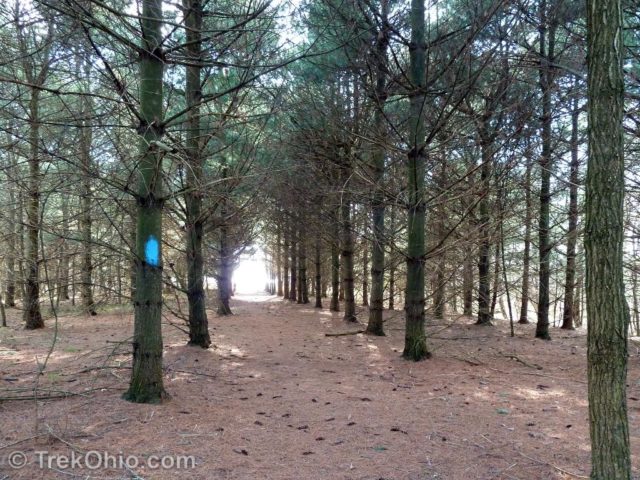 After emerging from this second pine grove, there was a bench.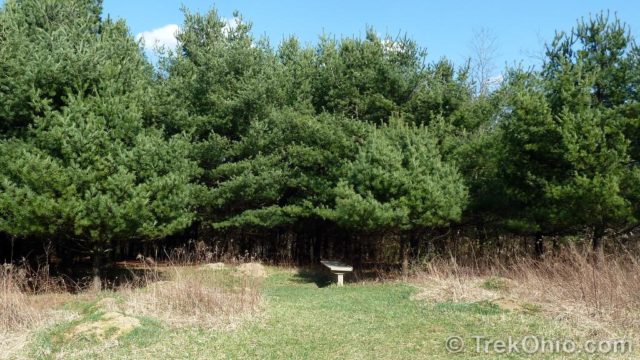 No matter how tired you are, don't sit on it!

In fact whatever you do here, don't stop walking. I foolishly did and soon had ants crawling all over my shoes. In fact there were so many ant hills here, we were afraid that once we crested the hill we'd see a giant, mutant ant from a fifties, sci-fi film. Thankfully we soon left the ant armies behind us.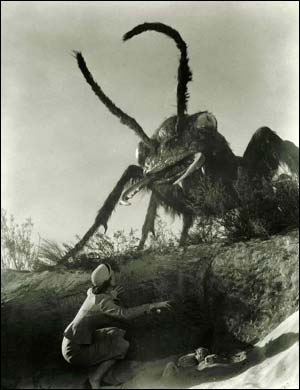 BTW, see how the woman above is dressed? That's exactly how I dressed for my hike: heels and a cute, little pillbox hat.

Anyway as we pushed on we eventually did explore the Prairie Trail. This trail had portions that went through fields and other portions that bordered woods. Once we got into the fields, the trails were marked with signs like the ones below. Not all trail junctures in the prairie portion posted the names of the trails, so it would be wise to have a trail map with you.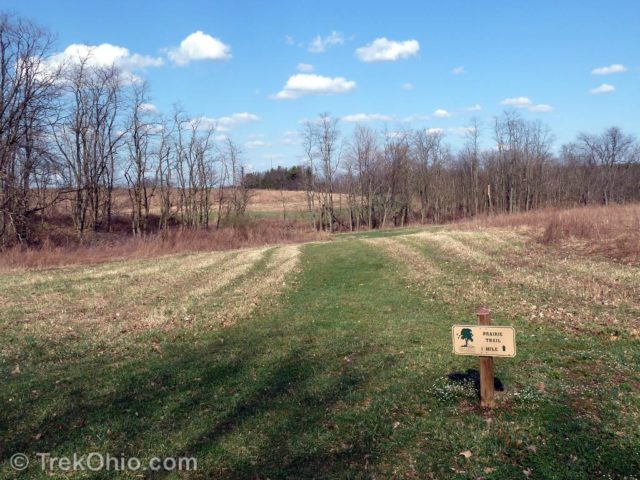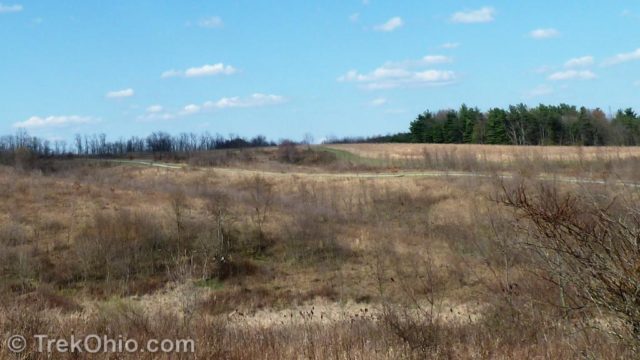 Although the first bench we had encountered was not really usable because of the ants, I believe we encountered three others that were very nice benches, typically on hilltops. And I have to say it was pleasant sitting on them because there was a bit of wind there, so it was a nice way to cool down.
Before the trail was over, we passed through a portion which had low shrubs on both sides of the trail. It was at this point we had a herd of four deer race across the trail about 15 feet ahead of us. It was a lot of fun seeing them.
All in all we had a great afternoon.

I'll mention in passing that there were no restroom facilities at the park, although there was a picnic table and grill. I'm also told that this is a good site to do geocaching, but I didn't take advantage of that.
Additional information
TrekOhio: Knox County Parks & Nature Preserves — This is the county where Honey Run Highlands Park is located; check out this page for links to the official website and for information on nearby parks and preserves.
Location
Parking lot nearest to the falls

Official address given by park system: 10865 Hazel Dell Road Howard 43028
Google Maps estimate of the address: 11439 Hazel Dell Rd, Howard, OH 43028
GPS Coordinates for driveway: 40.383454, -82.266895
Google Maps: View on map or get directions
More on Knox County
© Deborah Platt, Robert Platt and TrekOhio.com 2012 to 2021