Knox woods State Nature Preserve is a small, 30 acre woodland with two loop trails. However there are several connector trails to the adjoining Knox County park, Wolf Run Regional Park. Wolf Run is a 288 acre park with diverse habitats (woods, meadows, wetlands) and many facilities for guests. Besides having an enclosed dog park, guests are also allowed to take their leashed dogs on the trails at Wolf Run. Because the park and preserve are next to each other, you can go on a great hike that takes in both. I'm going to recommend starting at Wolf Run, passing through Knox Woods, and then returning to Wolf Run via a different trail.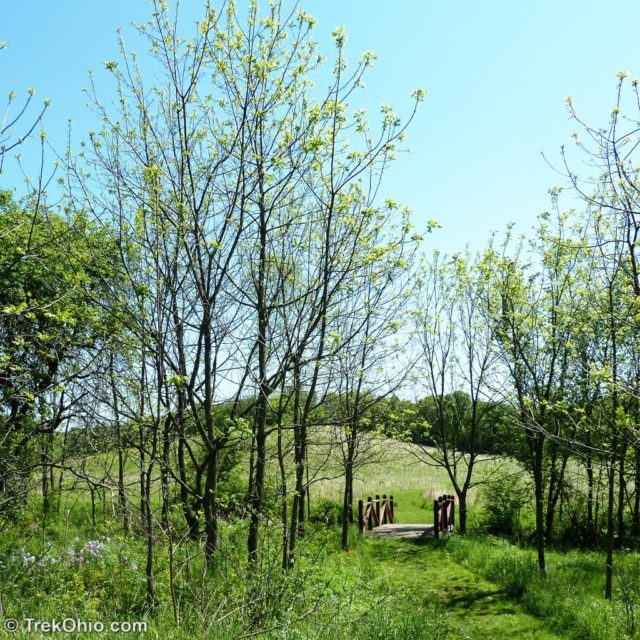 Getting oriented
Below is a GPS trace of our hike. We began at the entrance to Wolf Run Regional Park off of Yauger Road, and hiked counter-clockwise. We hiked through Knox Woods State Nature Preserve when we passed through the Northwest portion of the loop. When we describe the location of both Knox Woods and Wolf Run at the end of this article, we describe how to find the trailhead when starting at Knox Woods State Nature Preserve. To further help, I've marked where this trailhead on the map below.
Note that the map and all the images in this article can be viewed in a larger resolution if you click on the image.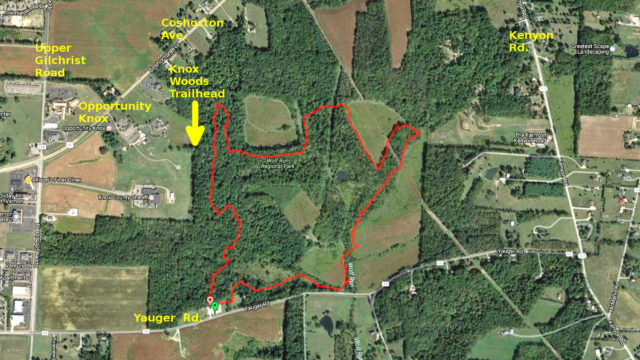 Wolf Run Regional Park
Wolf Run is a very pleasant community park. At the park's entrance, there is a fenced dog park to the left (including an agility course) and a small "bouldering" playground for children. To the rear of the parking lot is the woods and trail head. This is also where the restroom facilities are (a single porta-potty). To the right there is a picnic shelter and grill.
At the trail head there's a kiosk with a park map, but there are no maps available to take with you. You immediately get to choose between Woodlands Trail and Pond Trail. Since my friend, Connie, and I chose the Pond Trail our walk through the woods was quite brief, and we soon arrived at a meadow. We then walked on a mowed path that skirted the edge of the forest, sometimes under the tree canopy near the forest's edge and sometimes along the treeline in the meadow. After going through Knox Woods via a connector trail, we ended up returning on the Woodlands Trial.
We often were presented with diverging trails. Most of the junctures were marked with sign posts that named the trails, but sometimes they weren't. Since we didn't have a map with us anyway, we just followed the path that looked more interesting at the time. So even though we started out on the Pond Trail, we never actually made it to the pond. However during a return trip to the park in October, we used a map to locate the pond which is pictured below.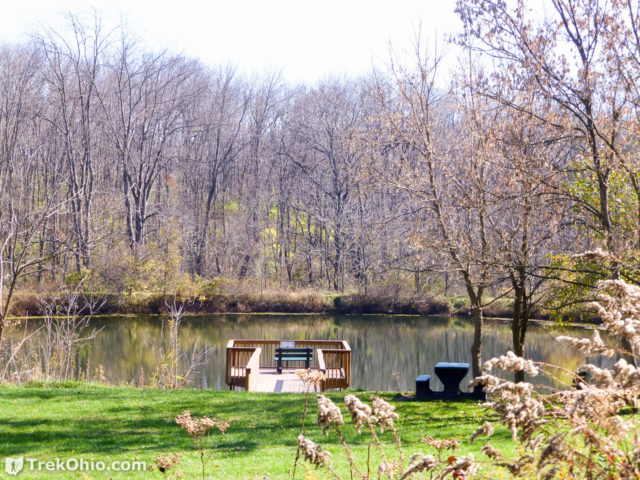 Because we were there in mid-May there were many wildflowers with the dominant flowers being phlox, buttercups and blackberry blossoms. This made for a lovely walk.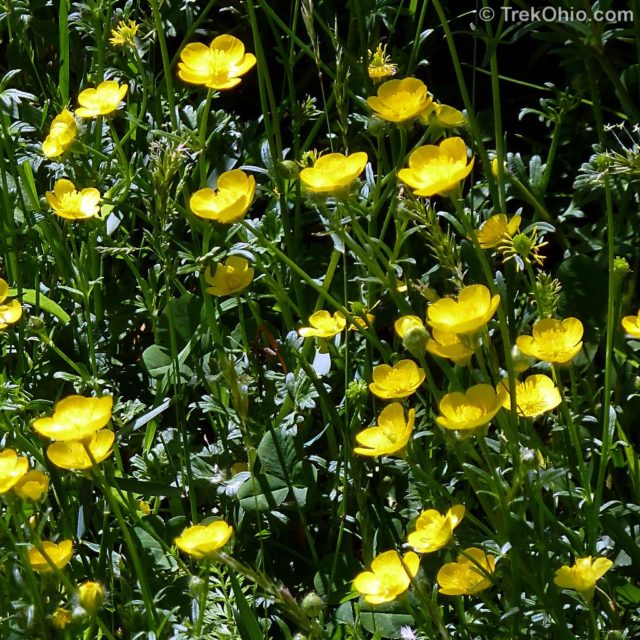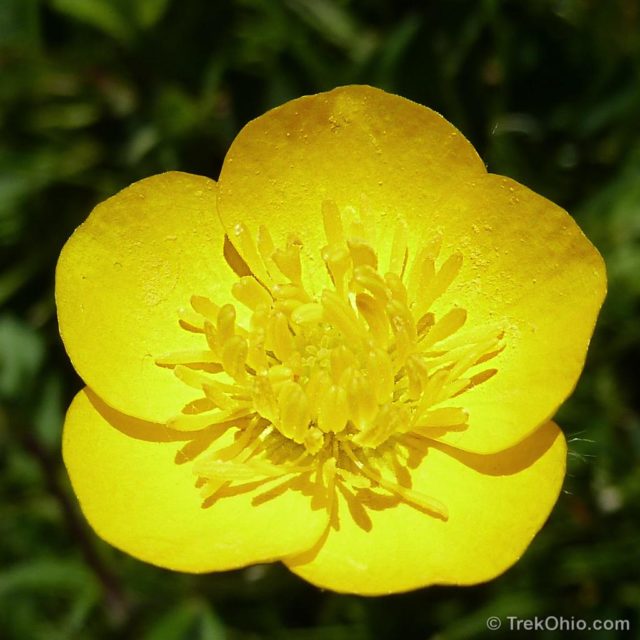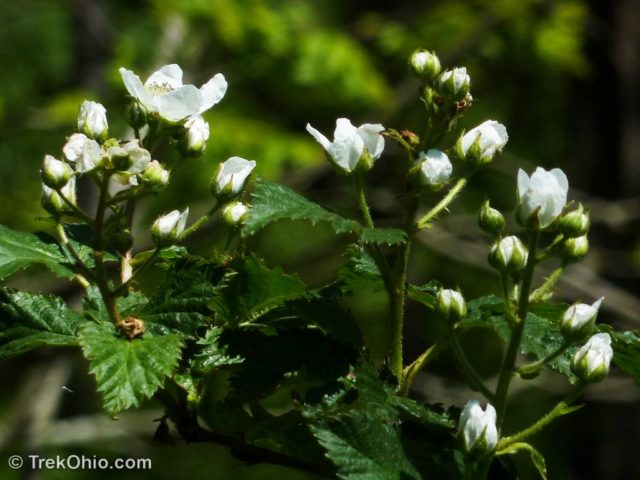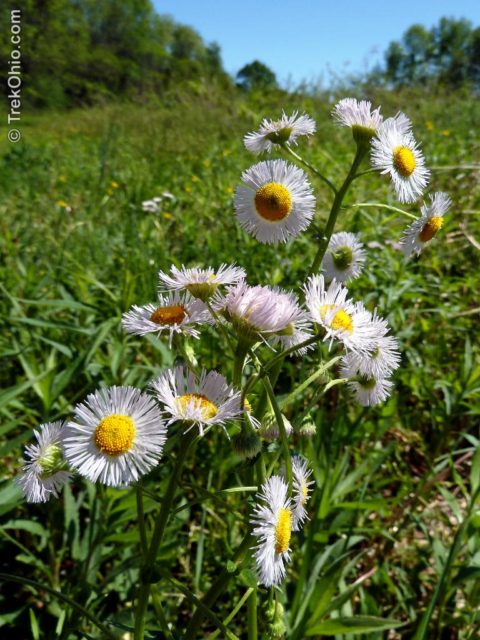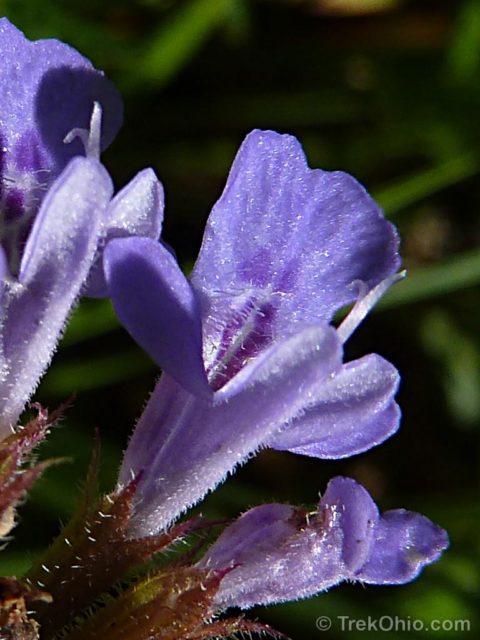 One of my favorite flowers was phlox. Since we were near the forest's edge, there was enough light for these to thrive. I also saw them in the interior of the forest when there was a clearing.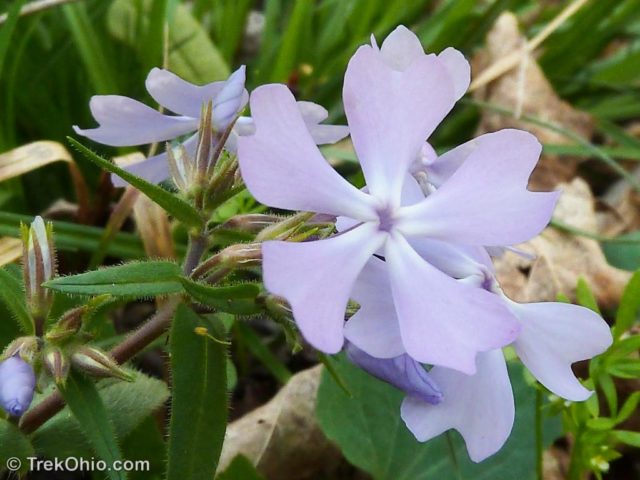 The terrain was one of gently rolling hills in both Wolf Run and Knox Woods; in the autumn I think this would make for a lovely view of the fall foliage. We both noticed that one of the hills had an overlook with a deck, but our meandering path never led to it. 🙁 I guess we'll just have to go back. 🙂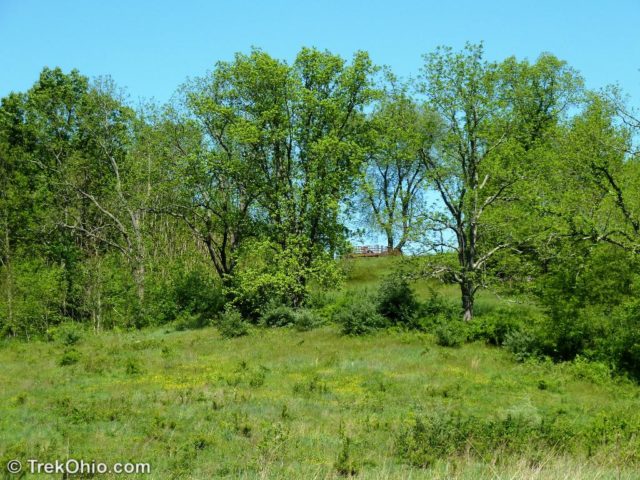 Lest you think that there are no wooded trails in Wolf Run, here's some proof that there are.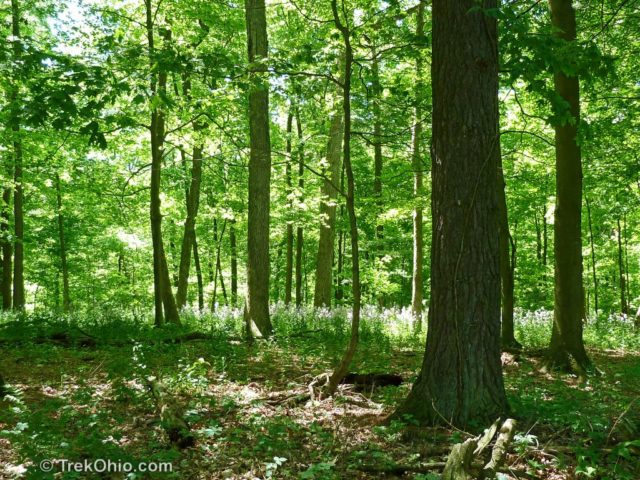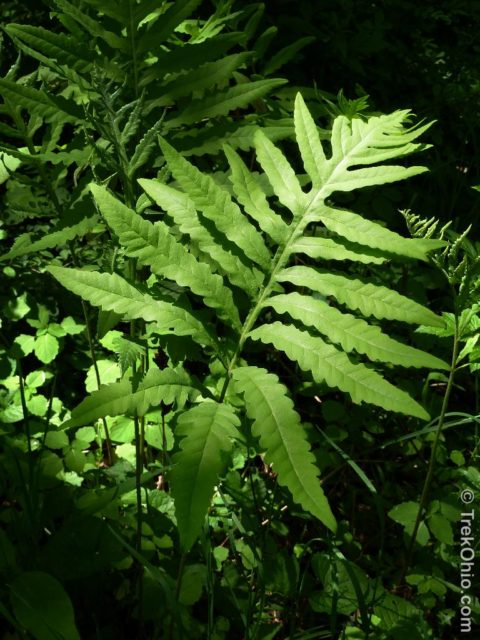 Knox Woods
Once you reach the boundary with Knox Woods, there is a kiosk and trail markers in the woods announcing that fact. One of the things that I like best about Knox Woods is that it has quite a few mature trees. Check this one out!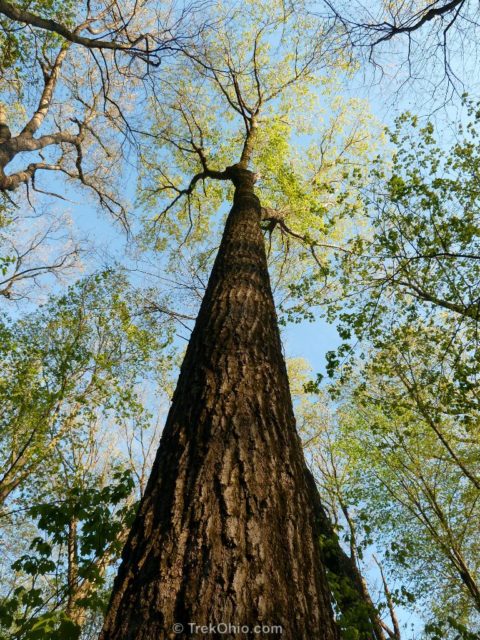 Some hillsides didn't have much undergrowth.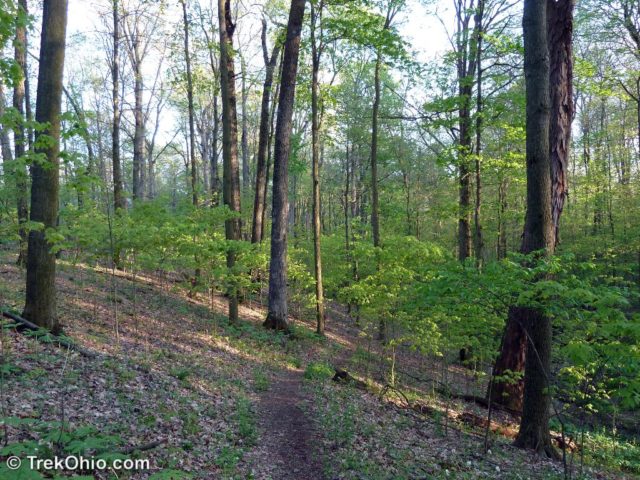 But mostly there was quite a bit of undergrowth. However the trails were wide enough that I didn't see that as a problem.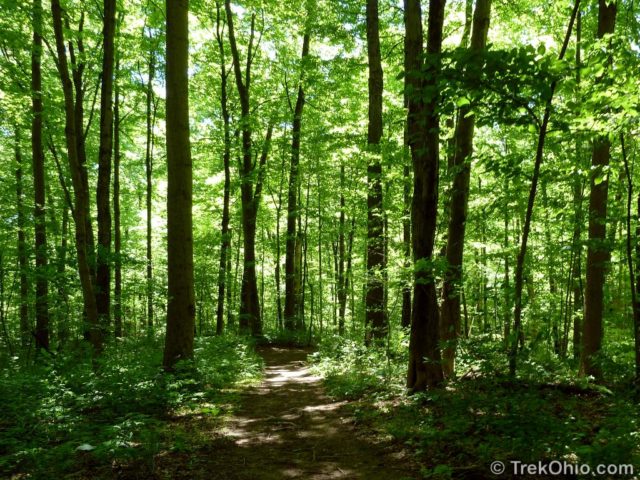 I did see a lot of invasive weeds amongst the undergrowth (particularly garlic mustard), but once in a while I came across pleasant areas full of ferns.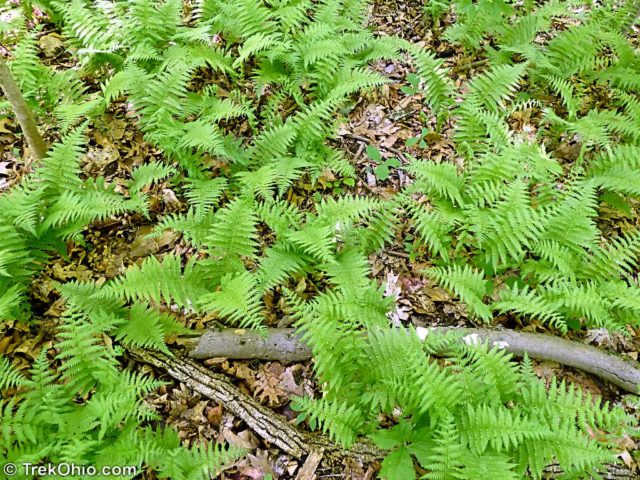 The most common flower that Connie and I saw mid-May was actually the squawroot that I blogged about earlier — that's the plant that lives underground and feeds off oak roots. However I also came across the flower below, wild hyacinth.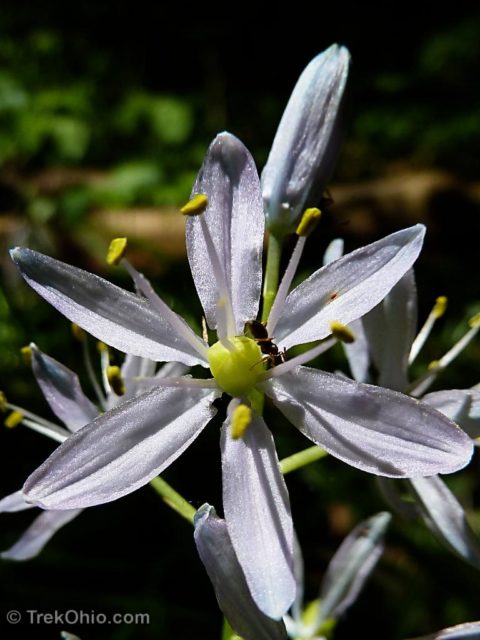 I also saw a fungus known as Dryad's saddle.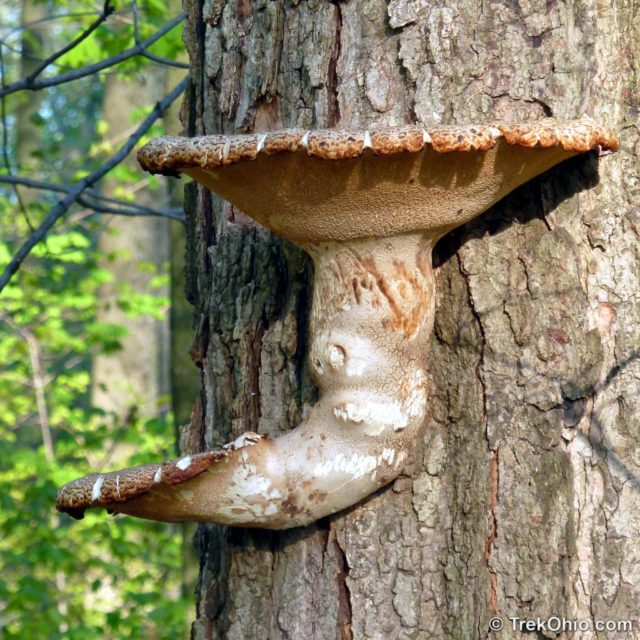 Knox Woods is the same forest where earlier I discovered a crab spider lurking in a trillium. So as to not disappoint us, we came across a couple of interesting bugs this time around, too.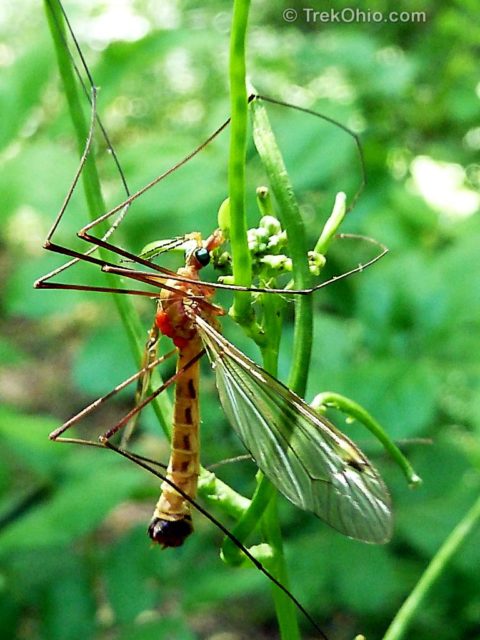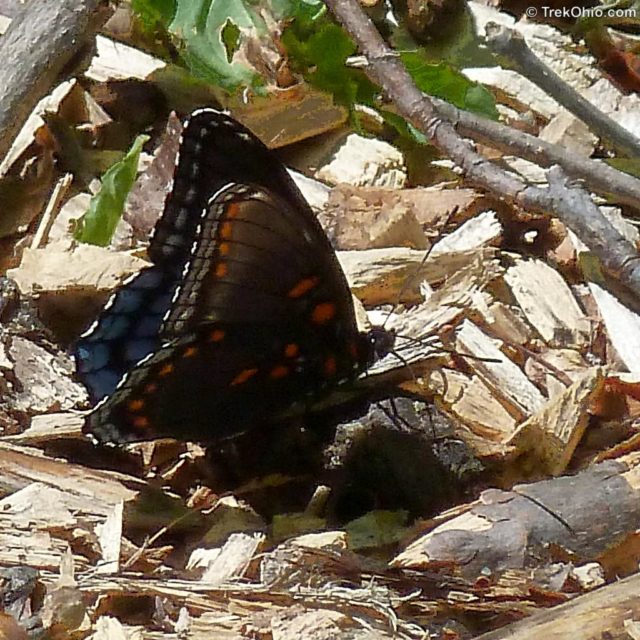 Additional Information
TrekOhio: Knox County Parks & Nature Preserves — Knox Woods State Nature Preserve and Wolf Run Regional Park are both in Knox County; check out this page for official links, and for information on nearby parks and preserves.
Location
Wolf Run Regional Park

Address: 18000 Yauger Rd, Mount Vernon, Ohio 43050
GPS Coordinates: 40.396911, -82.428596
View or get directions from Google Maps

Knox Woods State Nature Preserve
(entrance at the Opportunity Knox Employment Center)

Address: 17604 Coshocton Road, Mt. Vernon, Ohio 43050
GPS Coordinates: 40.404816, -82.433797
View or get directions from Google Maps
Since the entrance to Knox Woods State Nature Preverse via the county's employment center is a little odd, I'm going to go into a little more detail about that. If you decide to just check out Knox Woods while bypassing Wolf Run, note that there are no facilities of any kind at the entrance to the state nature preserve, such as restrooms or picnic tables. The nature preserve is behind employment center (And yes, the name of the employment center is a pun.

)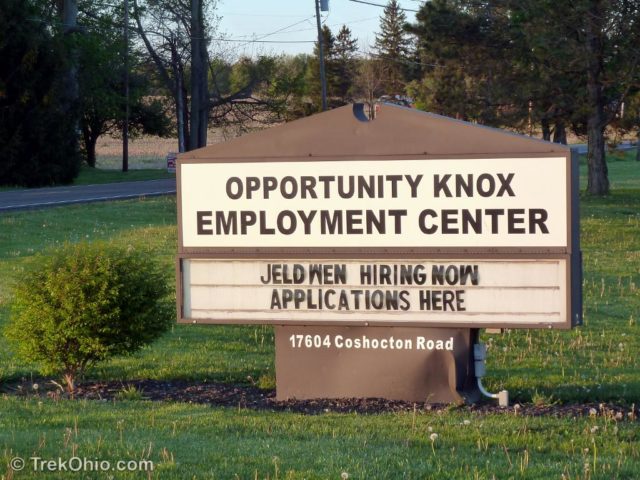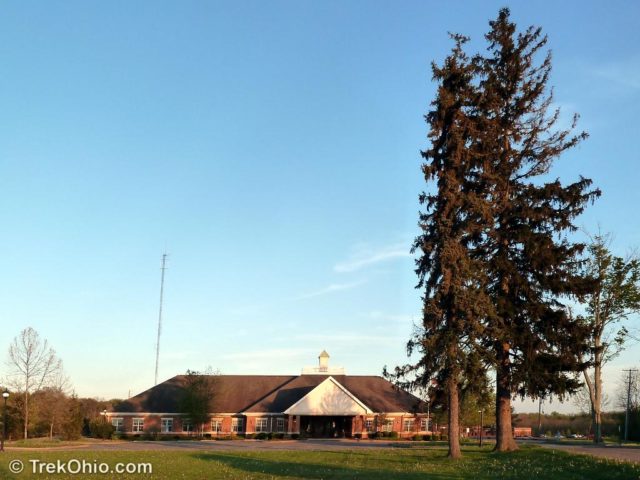 Once you pull in at the employment center, you need to drive around the building to the rear parking lot. Once there you'll see a sign announcing the nature preserve, and a long access road. However beyond the access road there is a very long treeline. When I got there, I had no idea where the trail head was in the treeline, so let me point that out for you.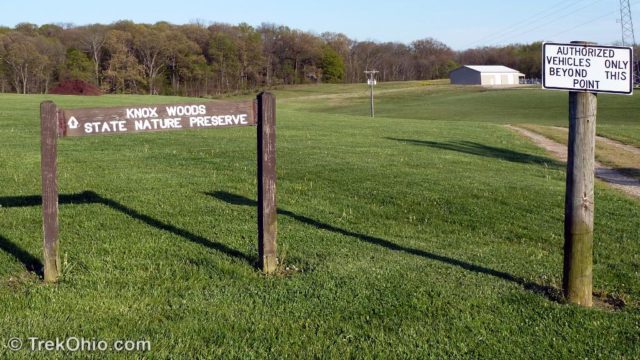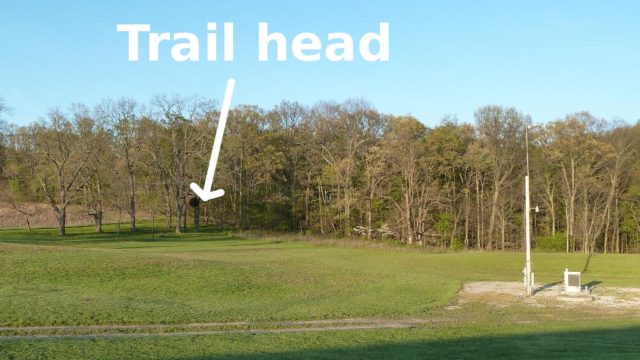 More on Know County
© Deborah Platt, Robert Platt and TrekOhio.com 2012 to 2021