Lancaster, Ohio has a population just under 39,000, and it is the county seat of Fairfield County. It has a municipal park known as "Rising Park." The park offers the normal sort of amenities that you might expect: a pond, picnic tables, playgrounds… things of that nature. But what's unusual about the park is its terrain. Rising 250-foot (76 m) above the surrounding plain is a bluff known as "Mount Pleasant." The bluff is made of highly erosion-resistant Blackhand sandstone. From the top of Mount Pleasant you have an exceptional view of the city and the forested hills at its outskirts.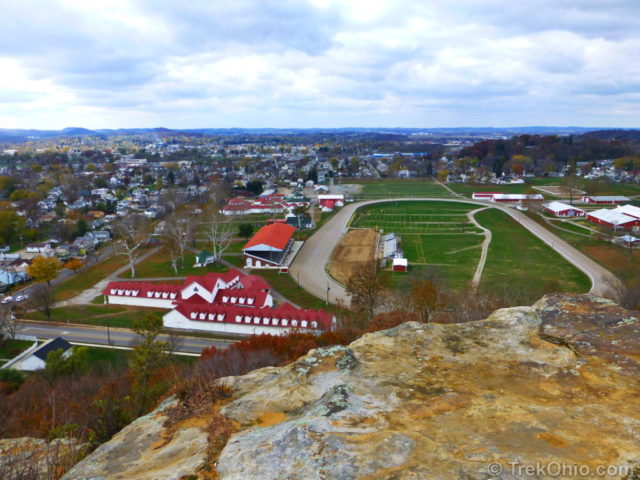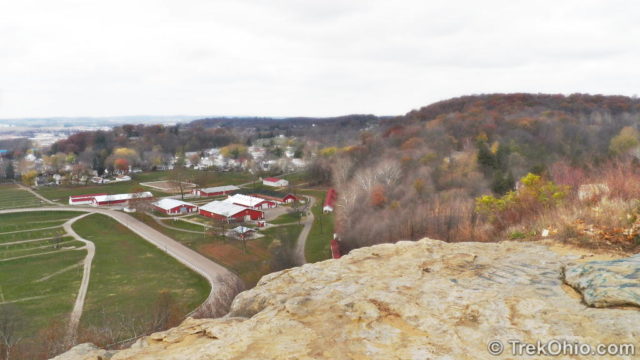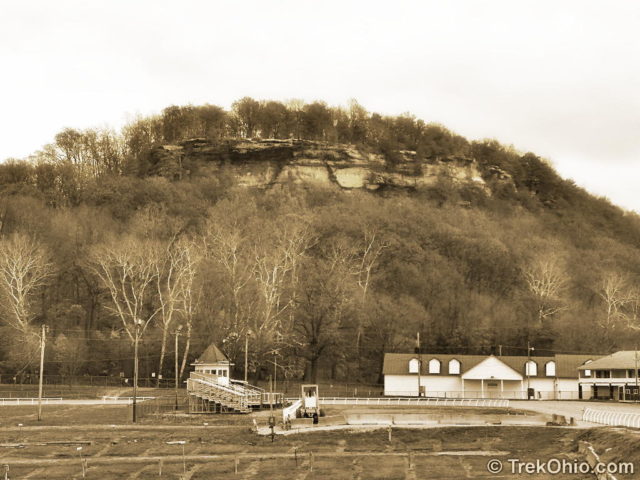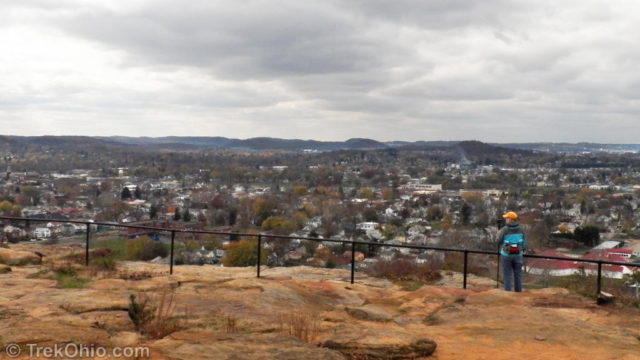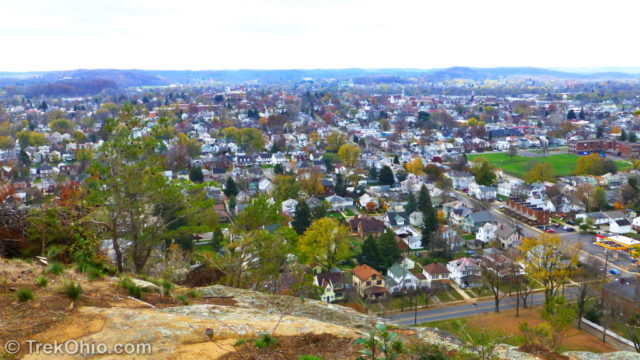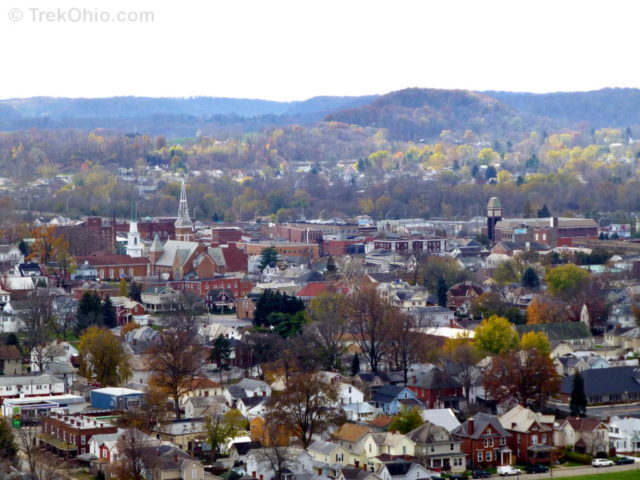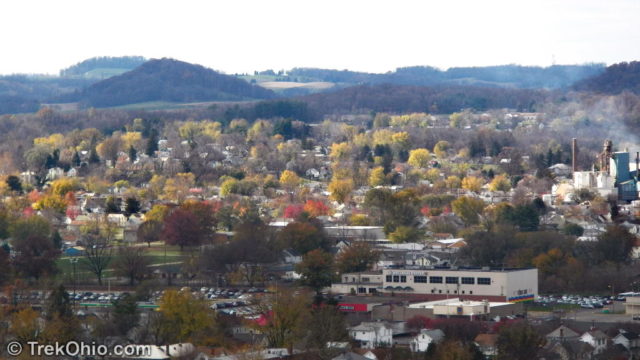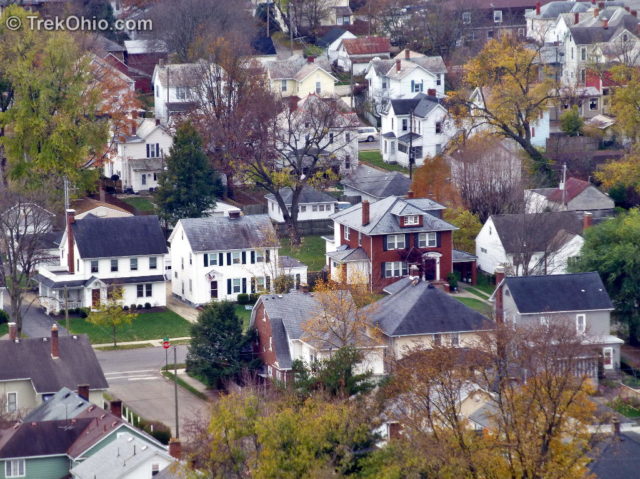 We really enjoyed the view from atop Mount Pleasant. It would be fun to come back on a sunny day and see how the lighting changes the view. I can also imagine it would be fun to view the changing seasons from this vantage point.
It is not possible to drive to the top of Mount Pleasant. You have to park below and walk up. The kiosks where I am standing in the following photo mark the beginning of the ascent.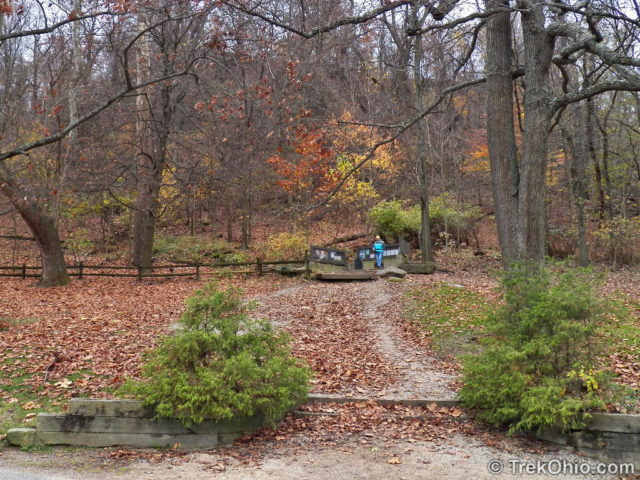 As you walk up you'll go by some rocky outcroppings in the interior.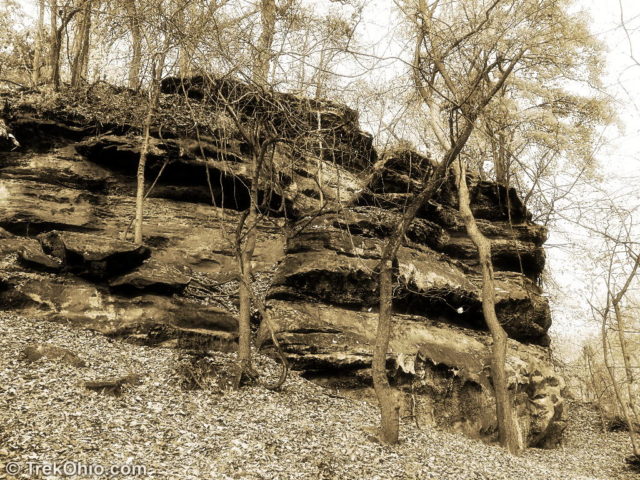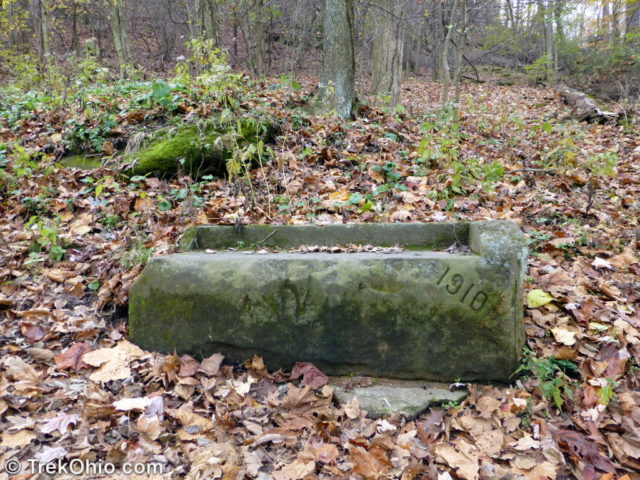 From the Wikipedia article about Lancaster I learned that experienced climbers have climbed up the sandstone cliffs a number of times. As far as I know they have done this without injury. However there have been cases of people falling from the top of the bluff, apparently from approaching the edge of the cliff too closely. Please stay on the safe side of the railings.
Additional information
Location
The address of Rising Park is 1100 N High St, Lancaster, Ohio. Take OH-22 through Lancaster, run left on OH-27. Just past the fairgrounds turn right into the Rising Park entrance. If you click "View Larger Map" below you can arrange for Google to give you directions from your location to Rising Park.
More on Fairfield County
© Deborah Platt, Robert Platt and TrekOhio.com 2012 to 2021