Squirrels and chipmunks both stockpile acorns, but it matters whether the acorns fell from a white oak or a red oak. The acorns dropped by white oaks sprout soon after landing on the ground, but the acorns of the red oak lie dormant all winter and sprout in the spring. Since the sprout consumes the energy that was stored in the acorn, rapid sprouting makes the acorns of the white oak a poor choice for stockpiling. So squirrels and chipmunks typically eat the acorns produced by white oak as soon as they fall, and they stockpile the acorns of the red oak since they'll last till spring. However periodically white oaks have a mast year in which they produce an unusually large number of acorns. In mast years both squirrels and chipmunks would like to be able to set aside some of these extraordinarily abundant acorns. So they have a clever way of preserving them over the winter. They remove the portion of the acorn from which the sprout would emerge, or if it's already present, they just remove the sprout. Once the sprout is gone, even white oak acorns can be stockpiled.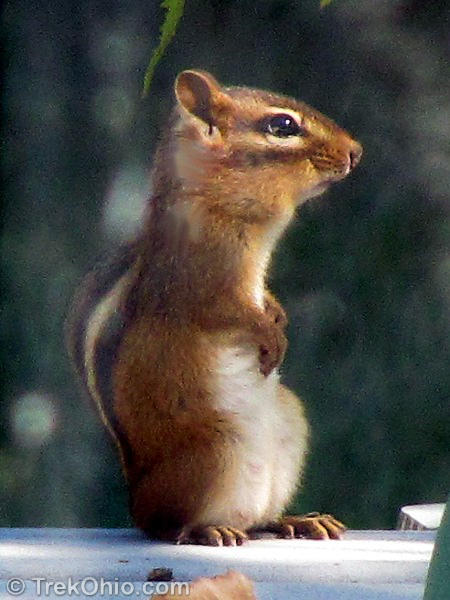 In the short video below, a chipmunk shows how to stockpile sprouted acorns by removing the sprout.
The bird feeder in my backyard attracts both squirrels and chipmunks. At one point I switched over to safflower seeds to discourage their presence. But it turns out that the squirrels and chipmunks (at least the ones in my yard) love safflower seeds. They can't get enough of them. But then one summer I began to find safflower plants sprouting in the mulch all around the foundation of my house. Even though my bird feeder is in the backyard, the sprouts were even showing up in the front of my house. I was convinced that squirrels were responsible for this until I watched a chipmunk "planting" safflower seeds in my mulch. Since the chipmunk was doing his planting in the summer, it wasn't taking long for the seeds to sprout. It was almost like he was a little farmer doing what he could to insure a bumper crop of safflower seeds to be harvested in the fall.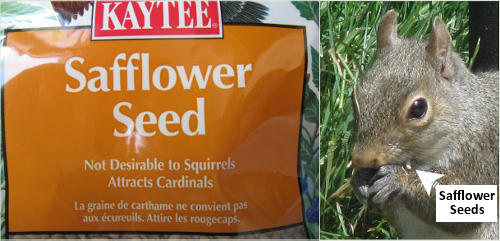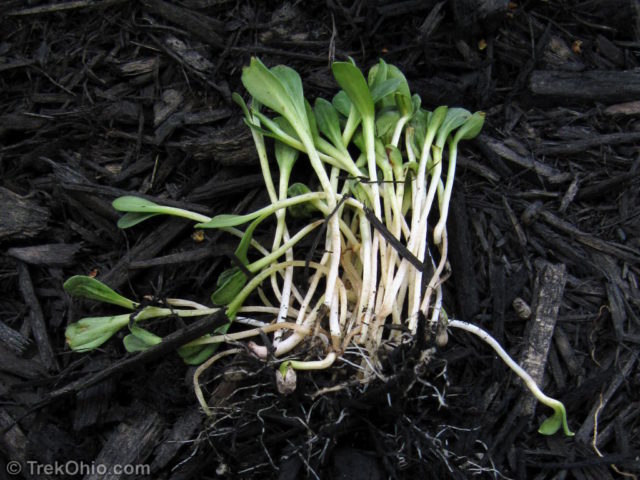 Besides eating nuts and seeds, chipmunks also eat fruit. For that matter, chipmunks are opportunistic omnivores and will happily scarf down bird eggs, worms, bugs, and even small frogs.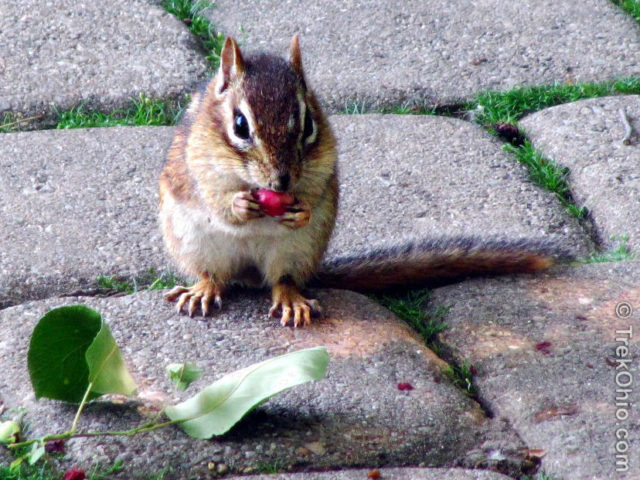 Chipmunks also eat certain fungi, such as truffles. In fact truffles are unable to disperse their own spores, so they depend on chipmunks and other truffle-loving mammals to disperse their spores for them. Chipmunks do this much in the same way the chipmunks in my yard were growing safflower plants all over the place.
In the photo below, you can see that the dove is towering above the little chipmunk. What a tiny, little creature it is.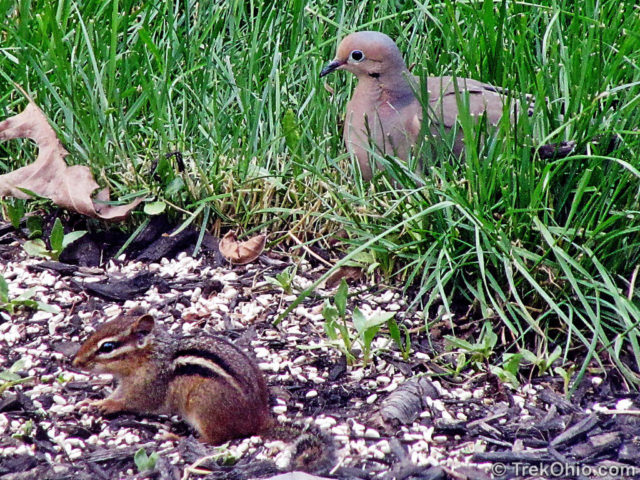 Chipmunks use their cheek pouches like shopping bags. Once they've stuffed their cheeks, they usually scamper back home to stash their goods. I've often seen them have so many nuts or seeds in their mouths that their mouths can't close completely.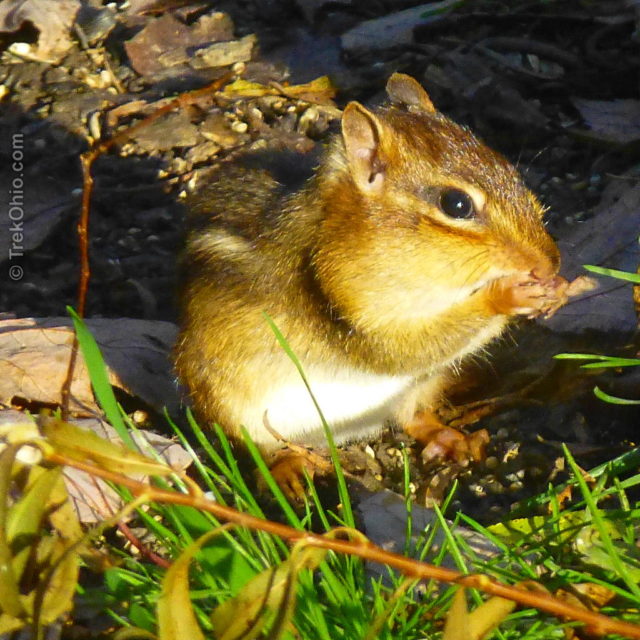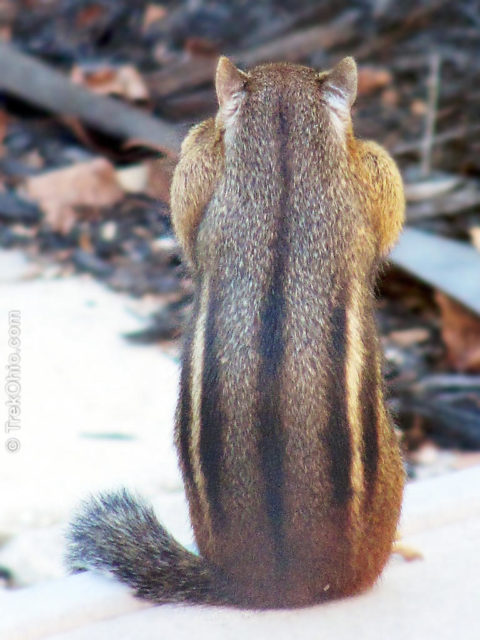 Despite being garden pests, I have to admit they're cute. I'll close with a couple more photos.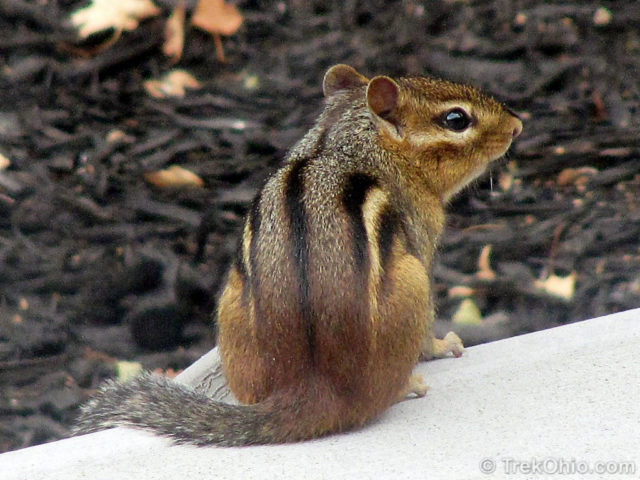 Additional information
© Deborah Platt, Robert Platt and TrekOhio.com 2012 to 2021