Earlier this week Bob published an article on Lake Hope that I really liked… and I wasn't the only one. In the past few days this one article has been liked 119 times on Facebook. For us, that's a lot of likes. No other article that we've published has even come close to that number. Admittedly I'm biased, but I think Bob has published a number of similarly, well-written articles. So it's possible that it's just a matter of making it easier for people on Facebook to follow our blog.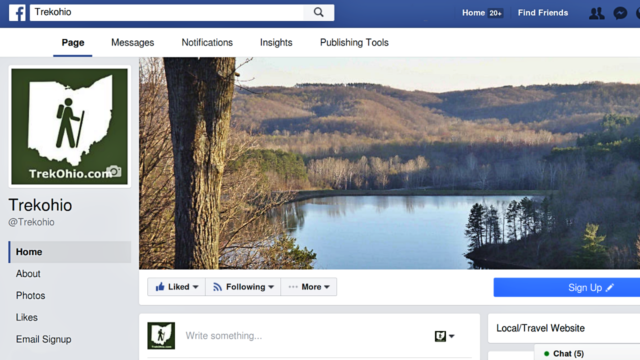 Although I have a Facebook account, I can't say I've really done much with it. But I knew that WordPress provides a mechanism under Settings > Sharing to publicize your WordPress posts on your Facebook account. And once I began checking into this, I noticed that there is a widget listed under Appearance > Widgets called Facebook Like Box. Visitors can use this widget to like/subscribe to your Facebook page which ideally would contain links to your WordPress posts. But it turns out that I didn't have a "page"… I just had a profile. After noodling around some more, I discovered how to make a page. Since then I've made a logo and banner, set up "Publicize" and added the "Facebook Like Box" to our rightmost sidebar. Our Facebook page can now be found at https://www.facebook.com/Trekohio.
This will be my first post since linking the two accounts, and I'm eager to see what it looks like on Facebook. I've inaugurated my new page by being the first person to like it. If the spirit moves you, consider liking it too to help me get the ball rolling… and also so the page's number of likes will be less pathetic.

Regardless of how publicizing on Facebook turns out, this should be an interesting experiment.
Our Presence Elsewhere in Social Media
On Twitter we are represented by @ohio_deb, "Deb at TrekOhio.com"
On Pinterest we have a board that follows are posts here at TrekOhio.com
© Deborah Platt, Robert Platt and TrekOhio.com 2012 to 2021