In May we stayed at Punderson Manor – an English Tudor style lodge located Punderson State Park. The lodge was comfortable and convenient to a variety of natural venues. Oh yes, and it is reputed to be haunted by a dozen ghosts.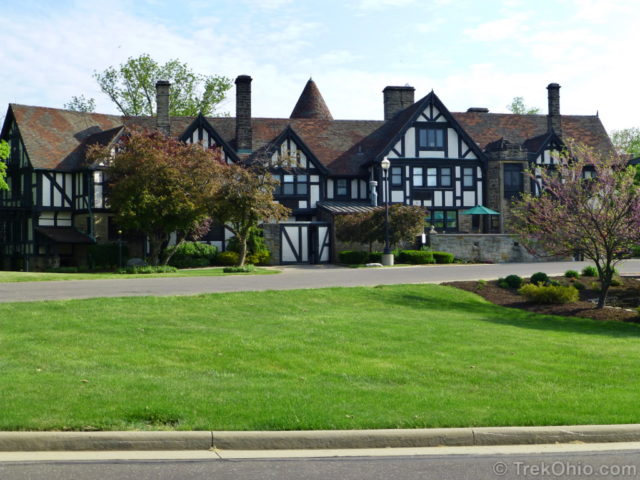 Haunted Punderson
For those living outside Ohio, the following chart is a simple decision tree for determining if a given locale is haunted.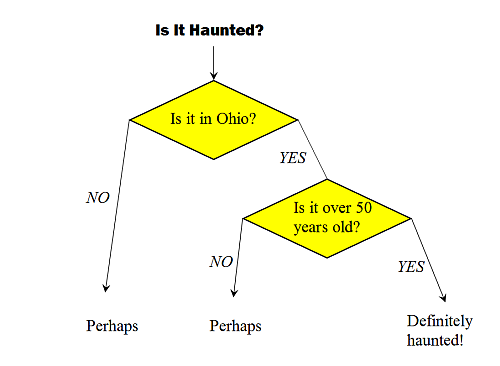 Punderson Manor is located next to Punderson Lake – a natural glacial kettle lake that is unusually deep. The land was settled by the Punderson family who ran a grist mill (for making flour and corn meal), as well as a distillery there. The land was purchased by a millionaire named Karl Long who started building the manor house, but lost his fortune in the Great Depression. When he died the construction was incomplete. The state of Ohio eventually became the owner and finished the mansion as a state resort in 1956.
Here are a few of the strange events that supposedly have been witnessed at Punderson Manor:
Workers have reported cold spots and ghostly laughter in the hallways
A ranger stopped a winter caretaker hurriedly driving away from the mansion one winter night. The caretaker reported exclaimed "I'm not going back to that hotel tonight! It's haunted!".
Employees have seen doors opening and closing and water faucets going on and off by themselves
Three employees witnessed an apparition in the dining room dressed as a lumberjack hanging from a rope that disappeared near the ceiling
Guests have reported loud noises from empty rooms next to theirs
Several employees have witnessed an apparition of a woman dressed in civil war era clothing
Punderson Manor offers haunted history tours every Thursday at 8:30 PM from Memorial Day thru Halloween. Call 440-564-9144 Ext. 401 for details.
So did we see or hear anything ghostly during our visit. I can report the following occurrences.
We stayed on the first floor and heard strange music emanating from the lower level. 1
We saw a woman in white gliding through the halls in the late evening. 2
I observed a strange green glow late one night from a corner of the room. 3
Some people think the manor's gargoyle is spooky, but the intimidating look of a gargoyle is supposed to frighten off other spooky things. Obviously this one is sleeping on the job.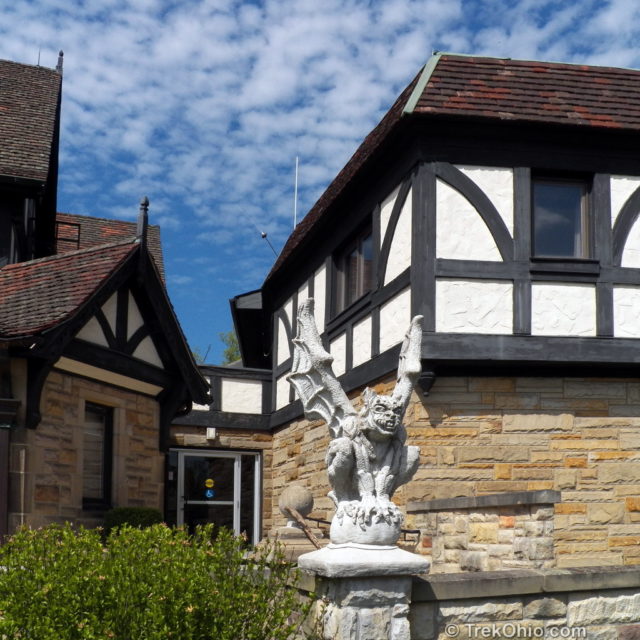 Not-so-spooky Punderson
We were staying at Punderson Manor to use it as a base for exploring northeast Ohio parks. From Punderson Manor, it was an easy drive to Burton Wetlands Nature Preserve, Holden Arboretum, Penitentiary Glen Reservation, and several other sites that we visited. We booked a standard, double room with a lakeside view. Here's what the room was like.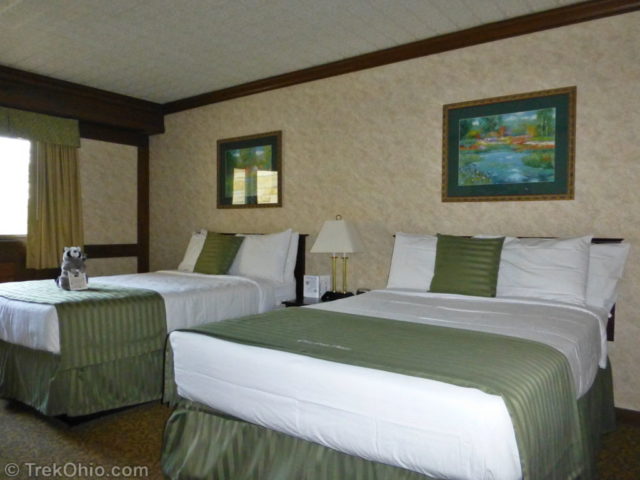 Note that there is a cute, little, stuffed animal awaiting on one of the beds. This is a standard feature on all of the state-owned lodges that are managed by Xanterra, and at each lodge a different animal is chosen to represent it. Guests are invited to take the little stuffed animal home with them (the cost will be added to your bill). Since we didn't have a small child with us, the little animal remained in the room when we left, but I would imagine families with small children would find it difficult to leave the little guy there.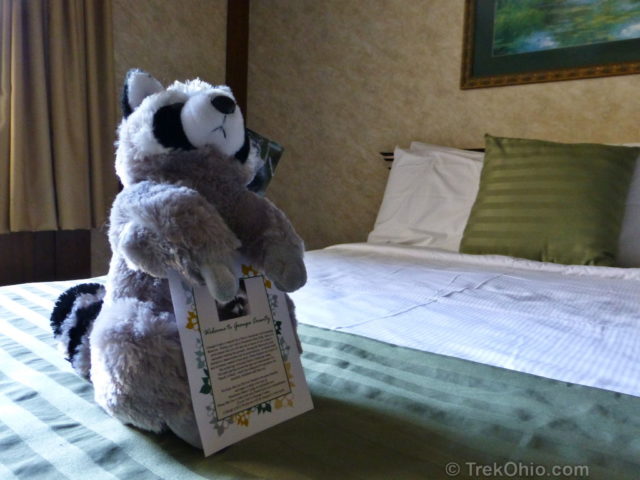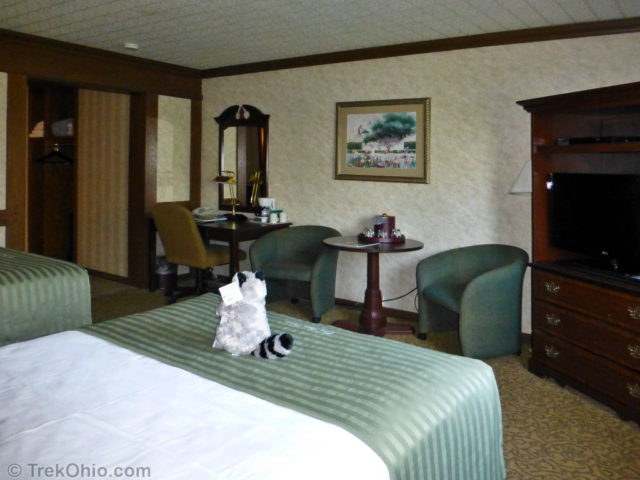 The manor features 31 guest rooms, a restaurant and bar, a haunted library / sitting area, a gift shop, an indoor and an outdoor pool, and several decks and patios overlooking the lake. There are 26 furnished two bedroom guest cottages available adjacent to the manor.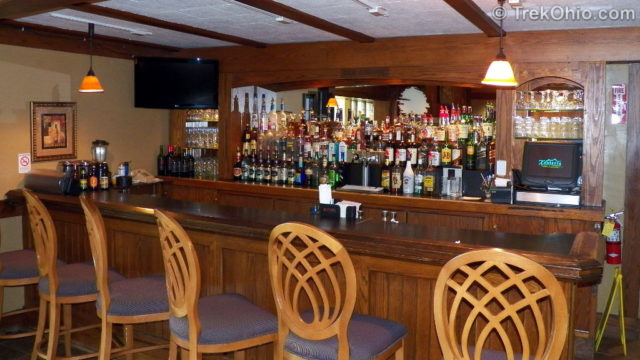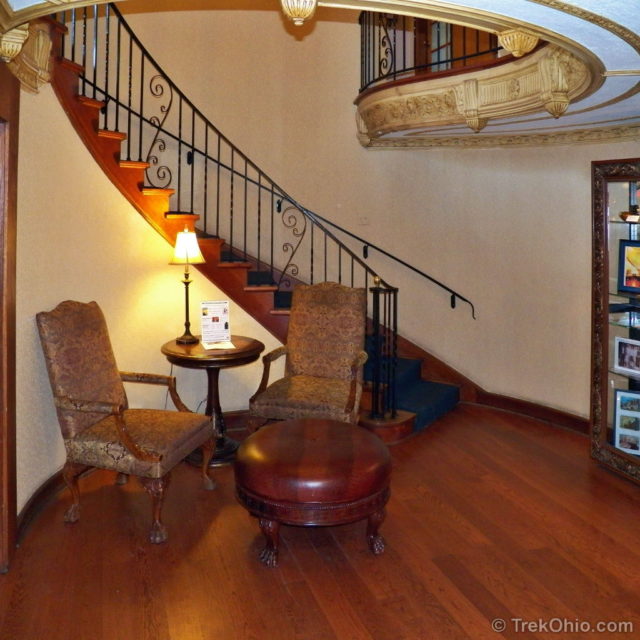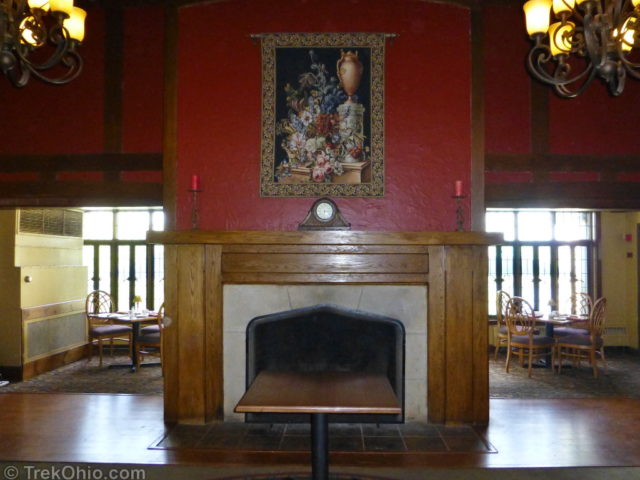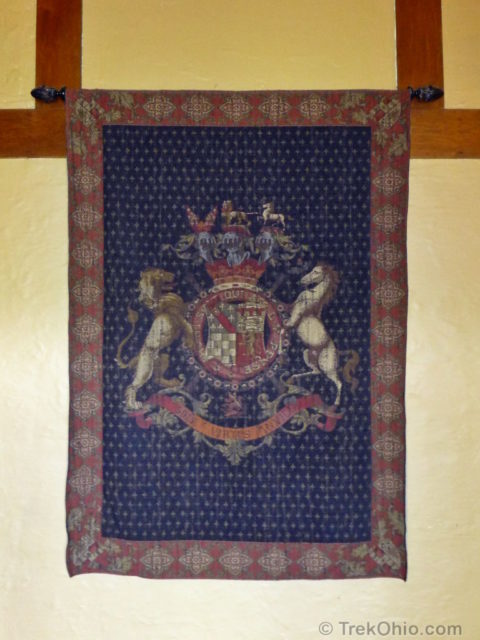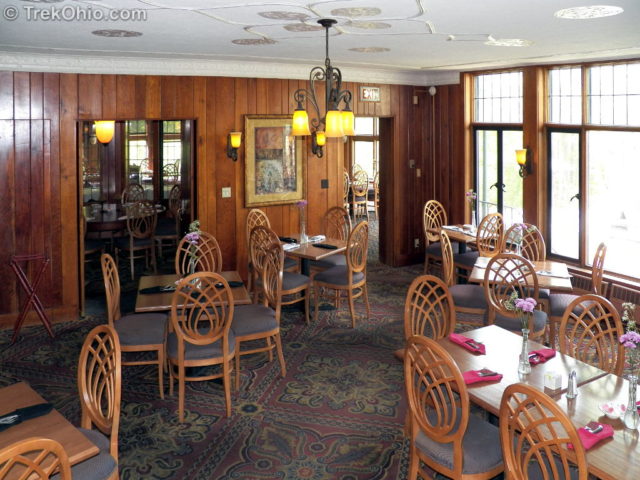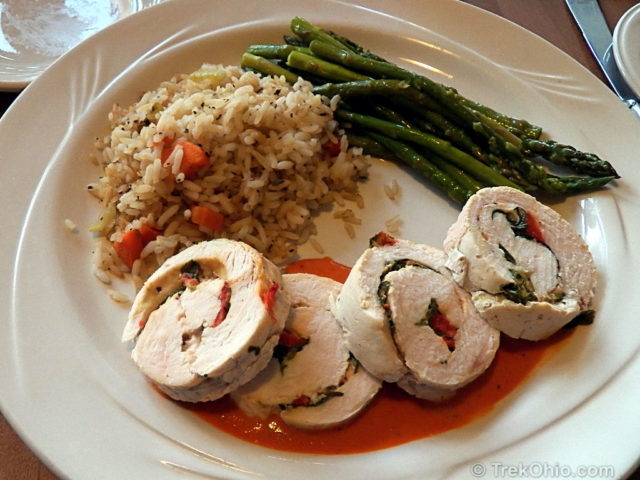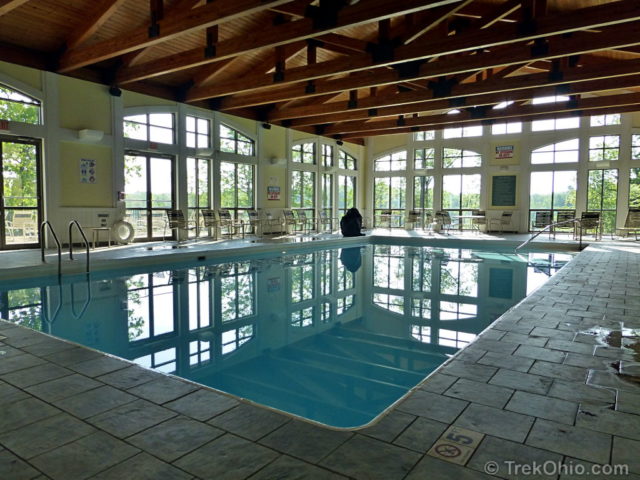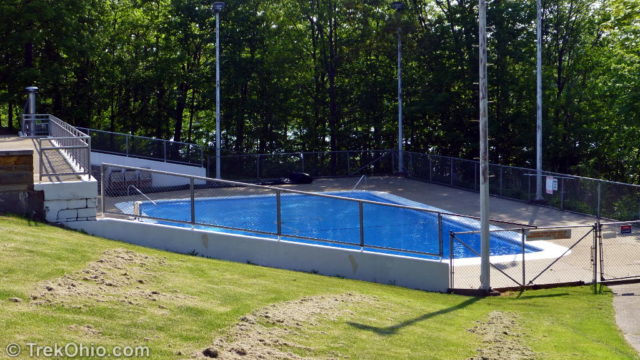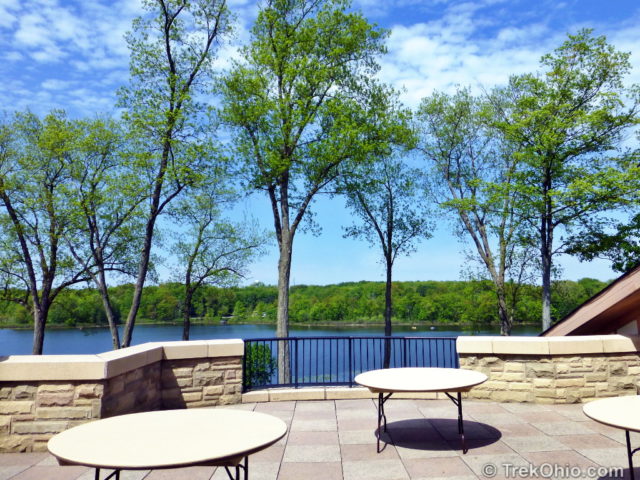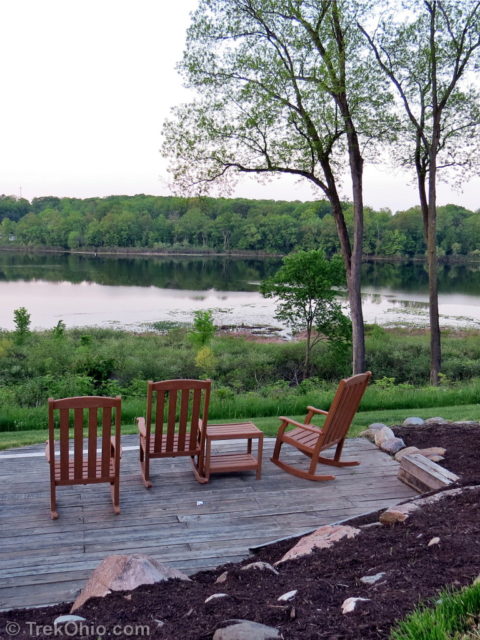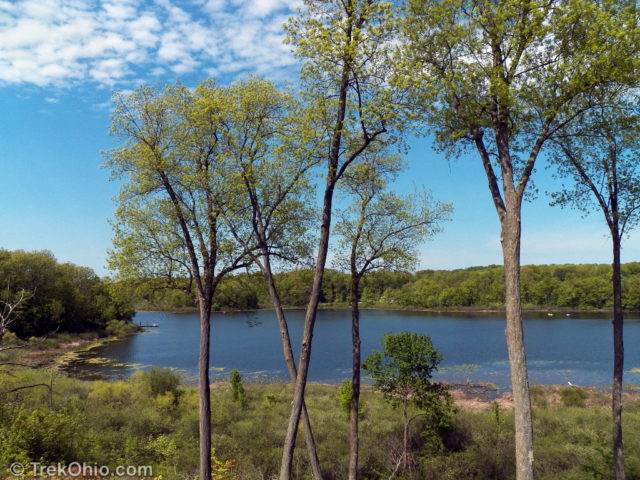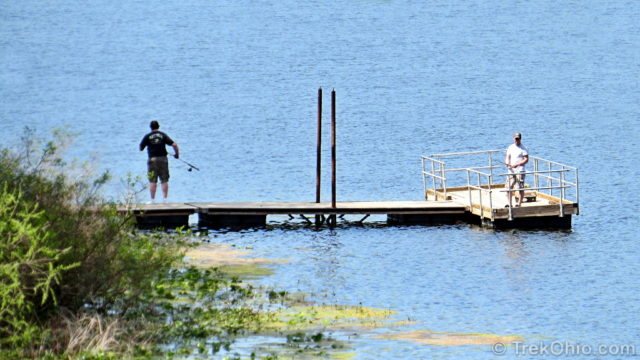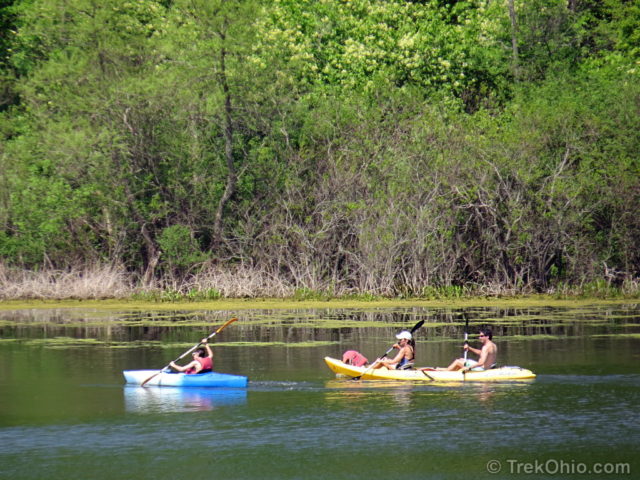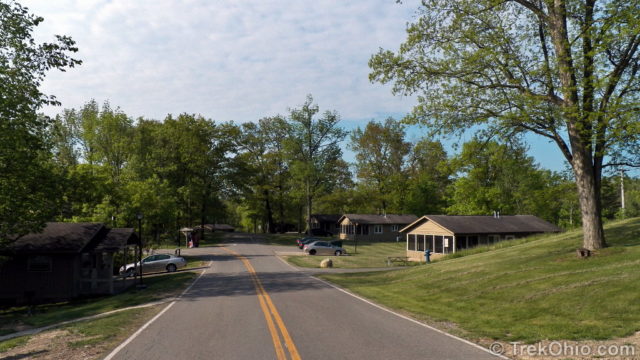 The manor is located within Punderson State Park, a 741 acre park in Geauga County. The park has 7.5 miles of hiking trails, an archery range, fishing, swimming, and boating in Punderson Lake, and both an 18 hole golf course, and a separate disc golf course. In the winter, there is a sledding hill, snowmobile trails, cross-country skiing, and even dog sled trails.
And I'll close out with a few photos of one of the trails that we explored there.
Since we were there in May, there were a few wildflowers growing along the trail.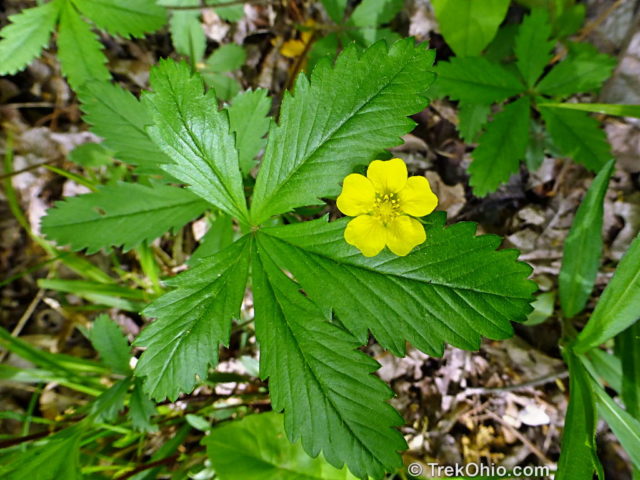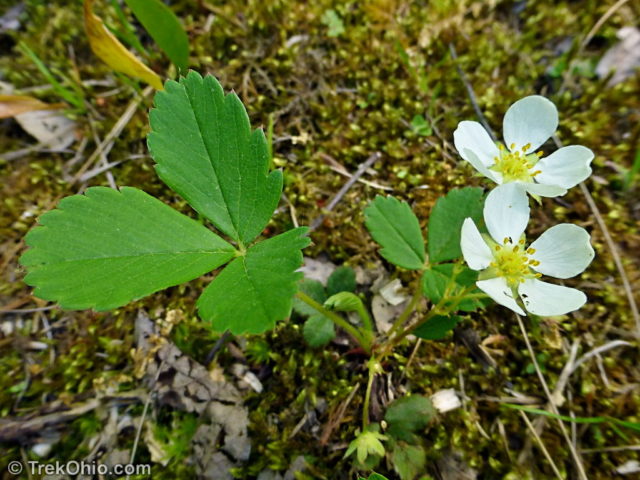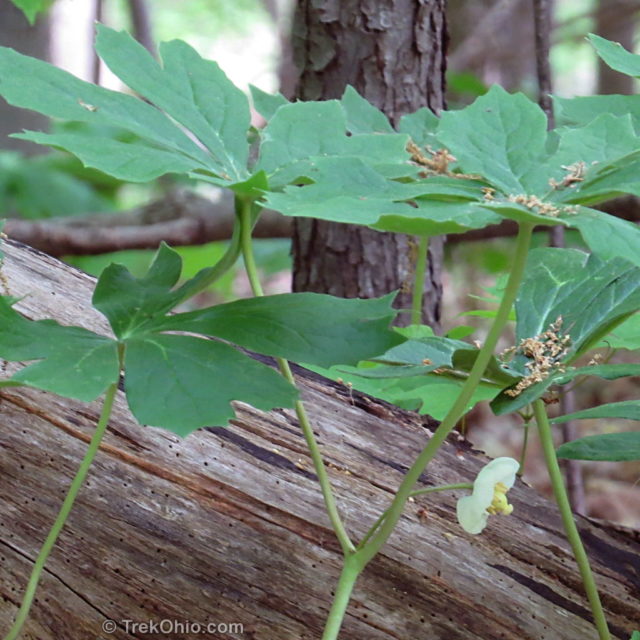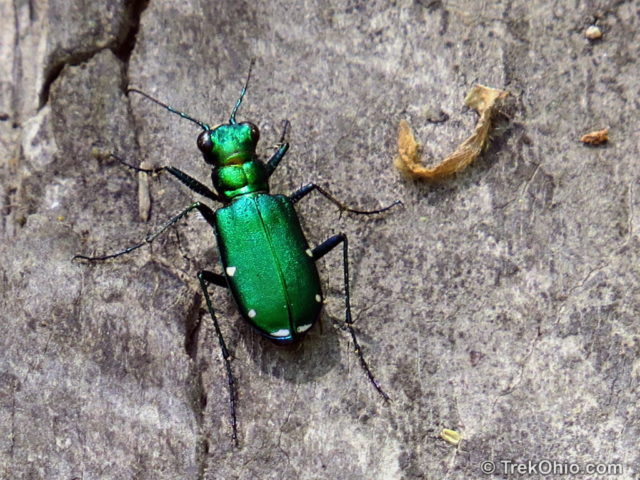 Additional information
Location
Punderson Manor
Address: 11755 Kinsman Rd. Newbury, OH 44065
Geo-coordinates: 41.451026,-81.207528
Phone Number: 440-564-9144
Footnotes
1. There was a wedding reception in progress in a room on the lower level. The band sounded pretty good.
2. The bride was carrying a box with leftover wedding cake to her car.
3. I left my netbook in suspend mode. Once I shut it down the green LED went out.
© Deborah Platt, Robert Platt and TrekOhio.com 2012 to 2021