I don't know about you, but I used to think that all conifers were evergreen. Not true! The Bald Cypress is a conifer that loses its needle-like foliage every winter becoming, well, bald. But if you catch sight of one in the autumn, it's a glorious, coppery-red.
Bald Cypress in Autumn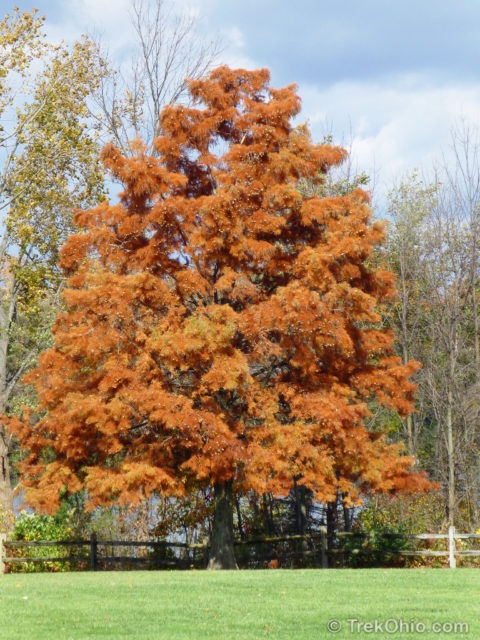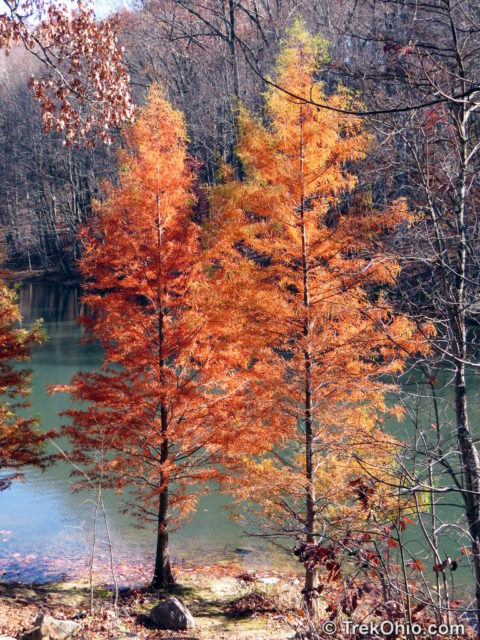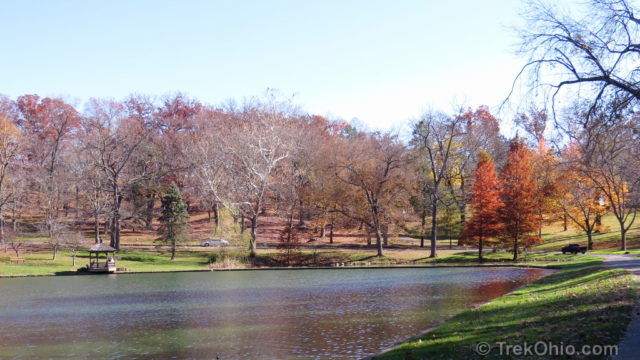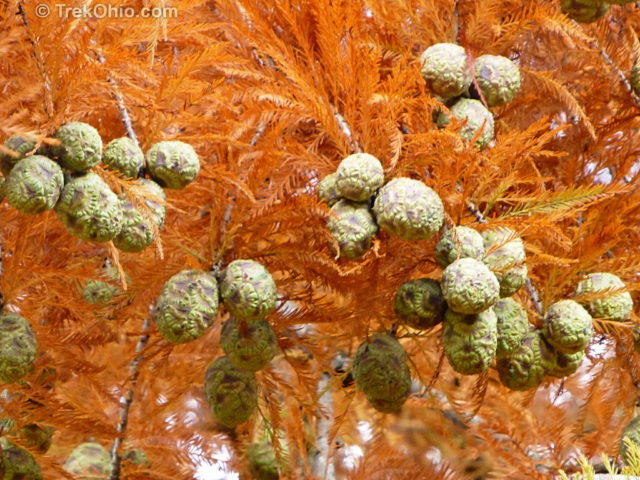 Bald Cypress in Other Seasons
The two trees in the foreground below are Bald Cypress photographed in December.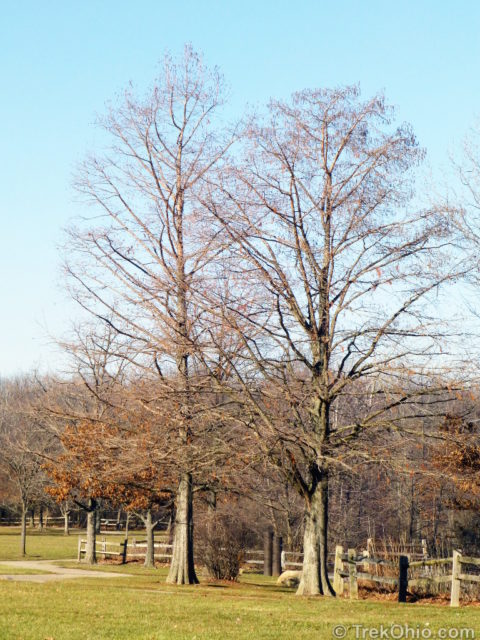 The two trees in front of the boardwalk below are also Bald Cypress. They are just beginning to come into leaf in late May.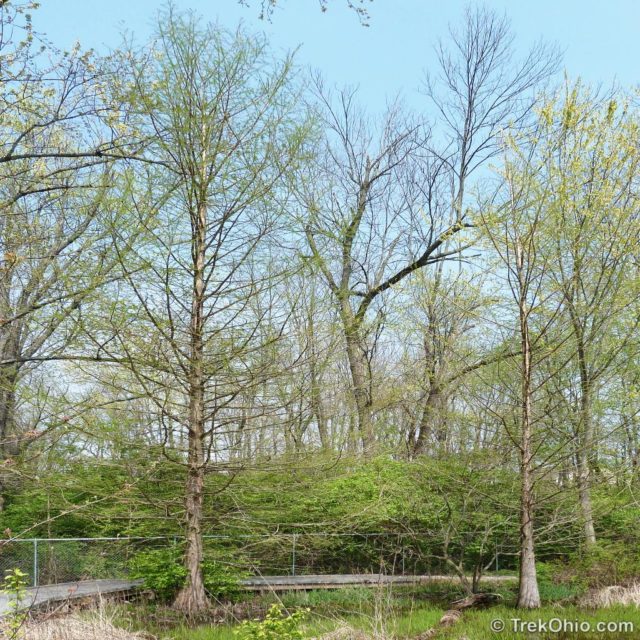 The trees below were photographed in June at the Cypress Swamp in Dawes Arboretum in Licking County. The younger trees have a pyramidal shape (in other words, they look like Christmas trees). In the background you can see that the mature trees have a more open shape. In Ohio the trees grow to be 60 feet with a canopy that spreads out to about 25 feet. In their native habitat they can grow to be 100 feet or even 120 feet tall.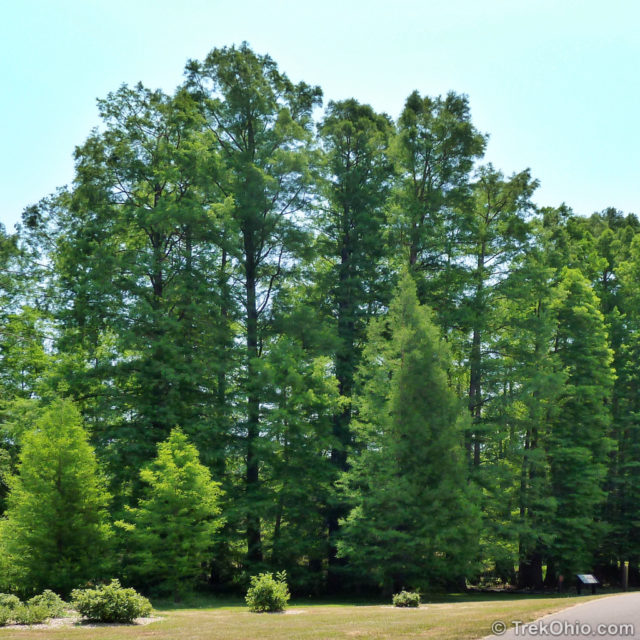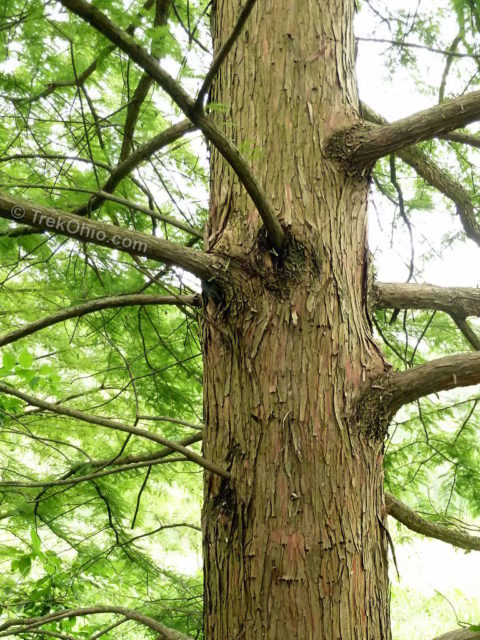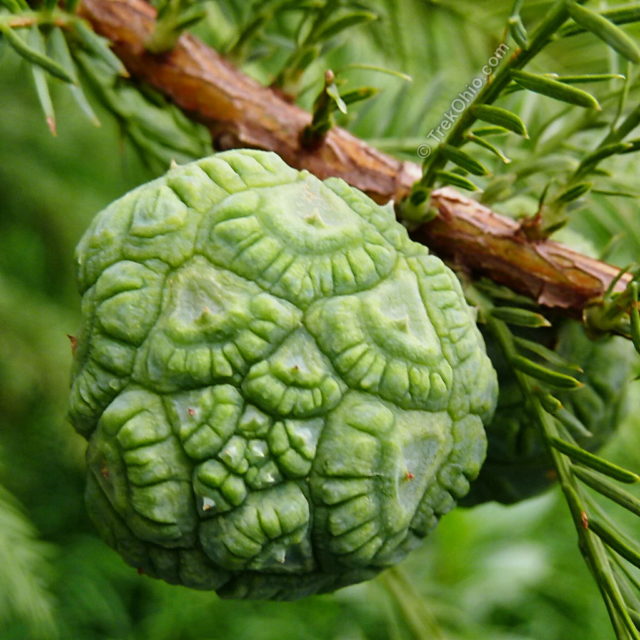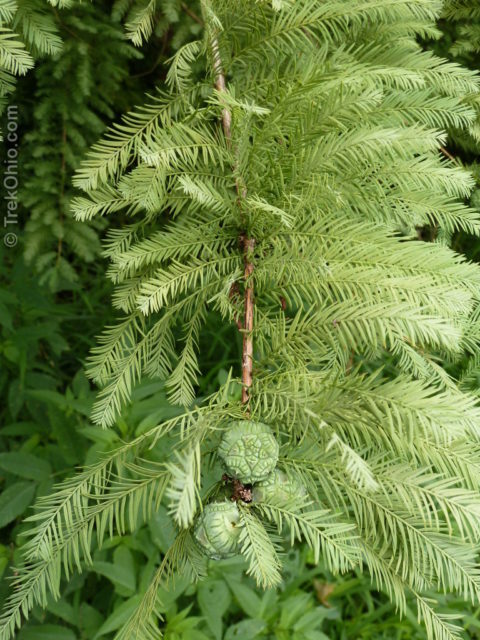 Bald Cypress Range
The Bald cypress is a native, North American tree found in the deep south extending northward to the southern-most tip of Illinois and also along the Atlantic coast from Florida to southern Delaware. In the wild it is normally found in wet environments because other trees can out-compete it in drier environments. Because it often grows in swampy areas, when it drops its cones the water helps to disperse its seeds. The seeds won't germinate unless they are in saturated (not flooded soil) for at least one to three months. It prefers sandy loam that's somewhat acidic.
However when planted as an ornamental tree in a manicured landscape, it turns out that it does fine in drier soil. It is susceptible to ice damage as a seedling, so nurseries typically start the plant in a greenhouse. When it is a bit more mature, it becomes surprisingly hardy and cold resistant. As an ornamental tree it has been planted as far north as Canada.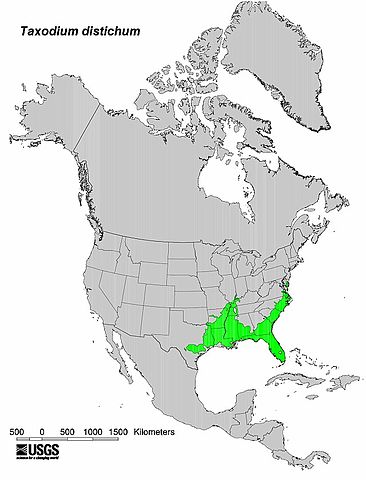 In the south the cypress is commonly found in bayous draped in Spanish moss.
Cypress Knees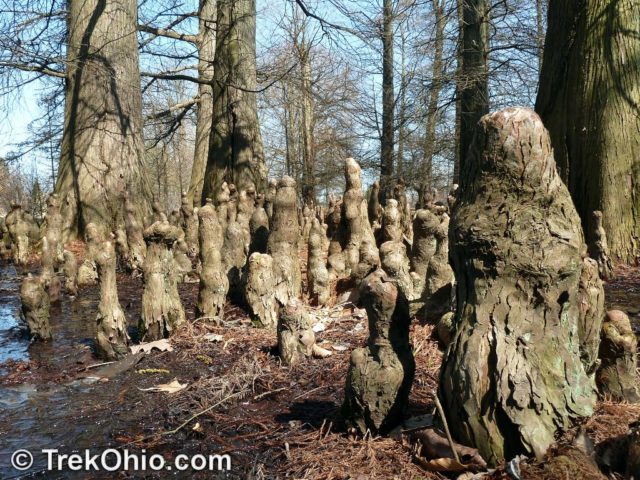 When growing in wet areas, the Bald Cypress tends to develop growths on its roots that extend up into the air. These growths are called "cypress knees", or more formally, Pneumatophores. There's some debate as to the purpose of cypress knees. It was originally thought that the cypress knees might facilitate gas exchange, so the roots can respire or "breathe" in water-logged soil. Perhaps without the cypress knees, the roots would die and rot under water. However this belief has been tested scientifically in a couple of different ways, and there's no evidence to back it up. The more recent theory is that cypress knees provide the tree with extra structural support when the tree is growing in water-logged soil. This extra support may prevent the tree from being blown over even in hurricane conditions in its native range. The roots do not develop knees if the tree is grown away from a body of water.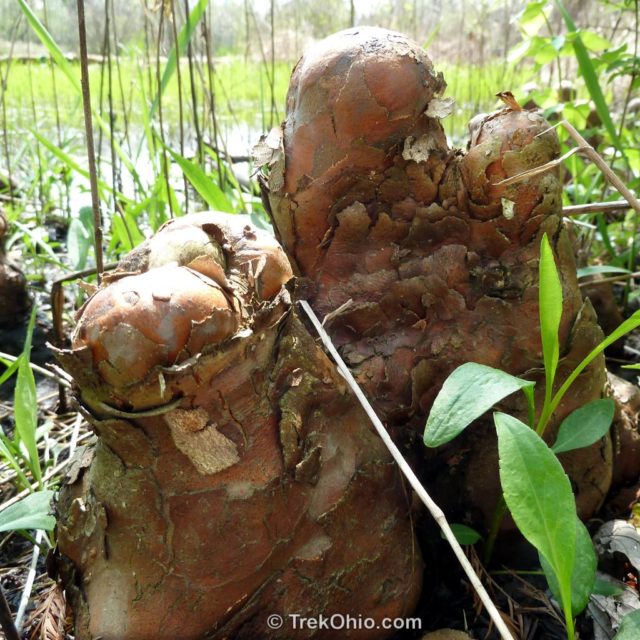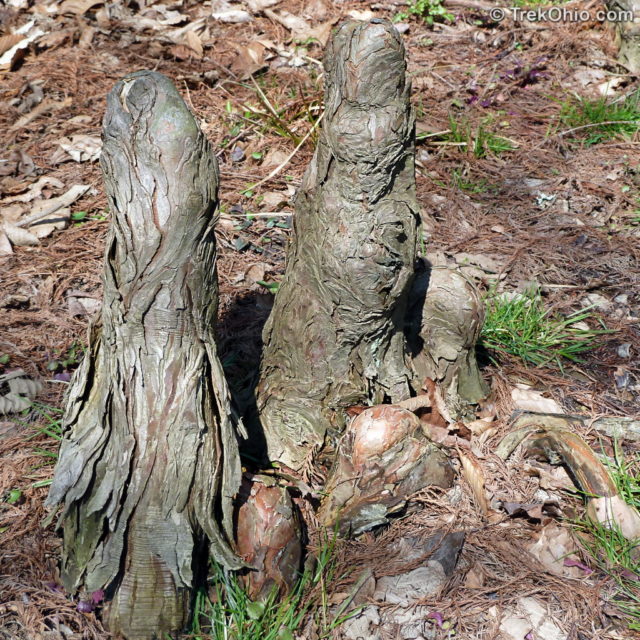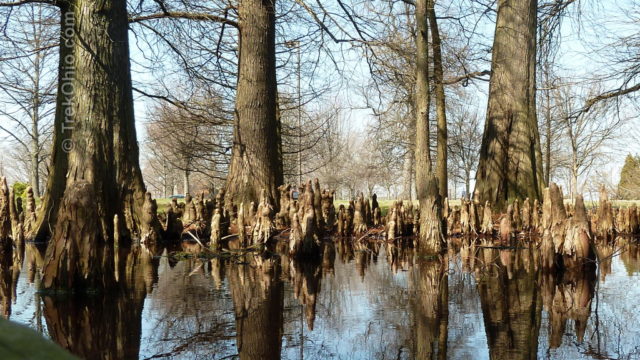 Other common names for Bald Cypress include baldcypress, southern-cypress, white-cypress, tidewater red-cypress, Gulf-cypress, and swamp cypress.
Additional information
More on Trees
© Deborah Platt, Robert Platt and TrekOhio.com 2012 to 2021