I always associated the bald-cypress pictured above with the bayous of the deep south. Imagine my surprise to learn that we have some growing in Central Ohio.

It turns out that the mature bald-cypress (Taxodium distichum) is actually cold tolerant. You may be wondering why we aren't seeing them all over the place. Well, they can't reproduce naturally in this climate because the immature seedlings are susceptible to ice damage. But if you nurture the little seedlings in a greenhouse, then transplant them outdoors when they're older, they'll survive and flourish here. Now I'm thinking of transplanting one into a wet spot in our backyard.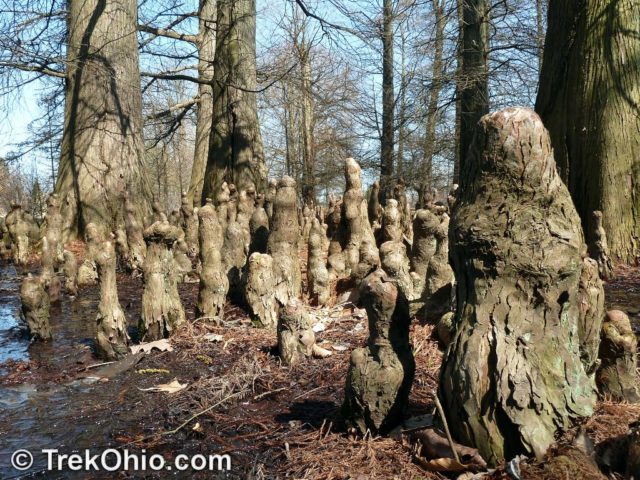 I took the above photo near ground level so I could get a good look of the odd root protuberances that surround these trees. They're technically called "pneumatophores," and they emerge from the ground or water surrounding these trees. I wondered what their purpose was, but according to the interpretive sign near these trees,
Botanists have been trying to figure out their use. Some say they are for air exchange and others say they are to help brace the trees under high winds.
So it sounds like they're just guessing at this point.
I discovered the above bald-cypress at the Dawes Arboretum. I had never been there before, and I wasn't sure this was the best time to visit. In a month or two the place will probably have flowers all over the place. However, I'm glad I did make this mid-March trip. True I didn't see that many flowers, but amphibians are reproducing now, and the Cypress Swamp above was a hotbed of activity.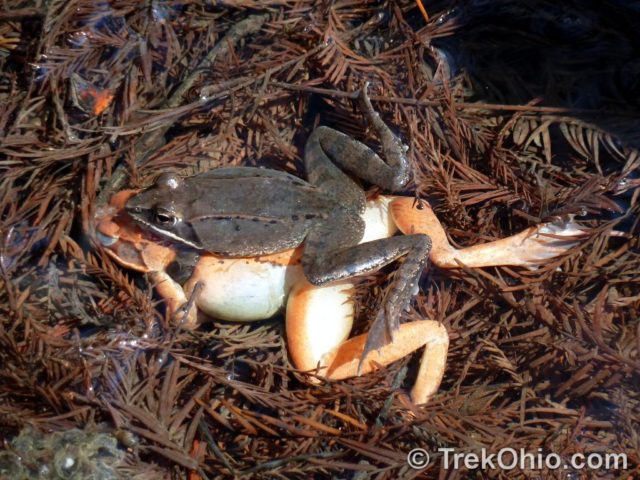 The wood frogs above are surprisingly different in size and color. If you take a good look at the lower left of the frog photo, you'll see some eggs. There were many amphibian eggs in the water here.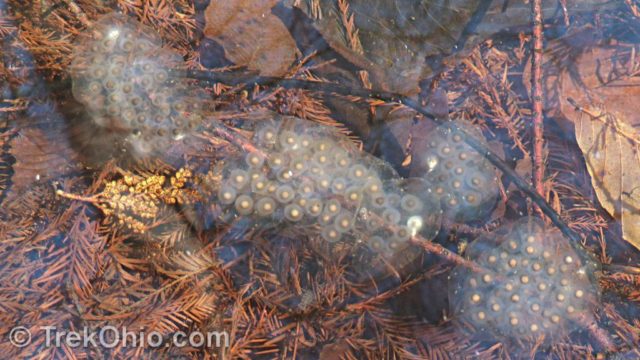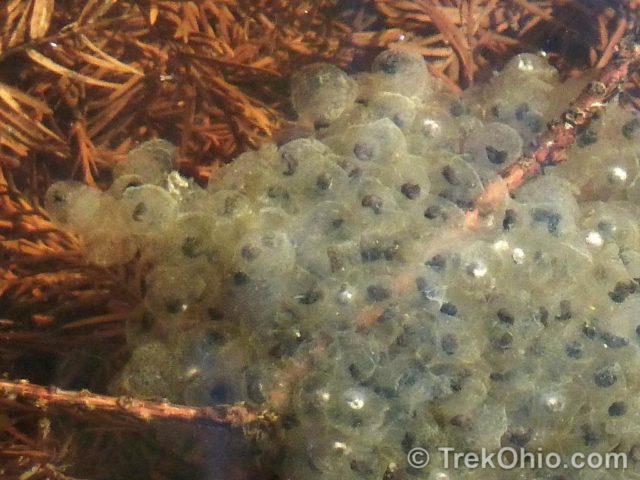 The Cypress Swamp is a relatively small area, but the horticulturists here have done a great job of making it a complete, viable habitat. All of my amphibian photos were taken from the little boardwalk pictured below. If you look just beyond the trees, you'll see the adjoining lawn and parking lot which gives you an idea of how small this swamp really is. Nonetheless it was delightful.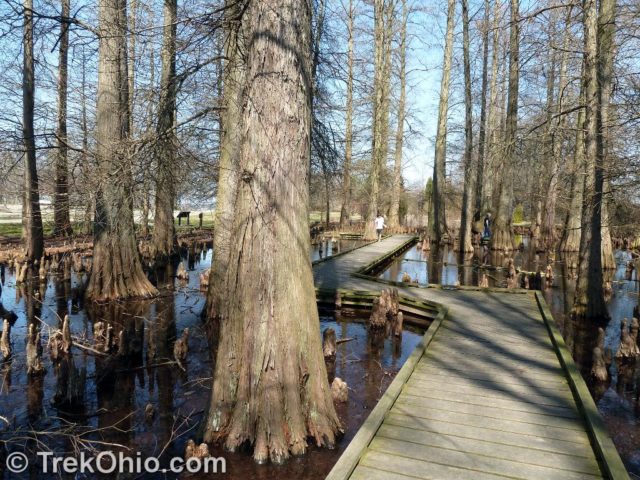 Additional information
More on Licking County
© Deborah Platt, Robert Platt and TrekOhio.com 2012 to 2021