No one knows the their name. They left no written record. Today we call them the Adena Culture and we know they had a thriving civilization in Ohio between 1000 BC and 200 BC. They built hundreds of earthen mounds, probably as part of a funeral ritual. The largest of these mounds is a 65 foot tall mound situated on a hill overlooking the Miami River in Miamisburg, OH.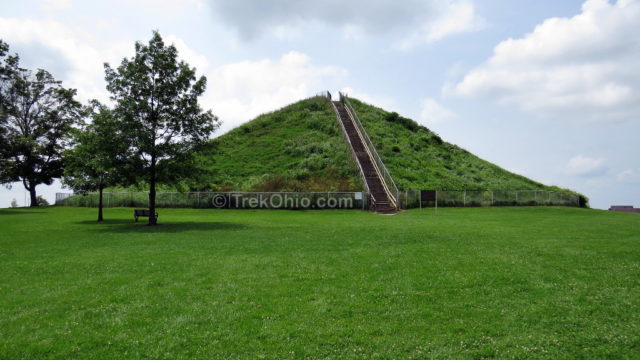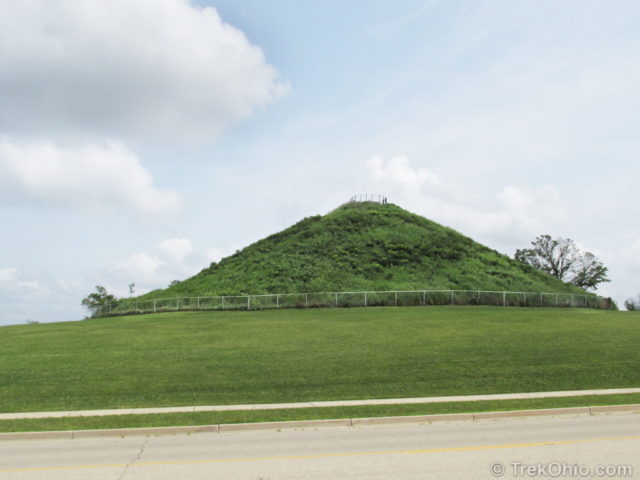 The mound was partially excavated and a bark covered skeleton was discovered. The Miamisburg mound has never been fully explored. Other Adena sites have yielded pottery, bone and flint tools, and jewelry made of shells or copper. The Adena had permanent villages and subsisted through both hunting and agriculture.
Today, the Miamisburg Mound is located in a park of the same name. The park features a picnic shelter, play areas, rest rooms, an educational kiosk, and steps to the top of the mound built by the CCC during the Great Depression.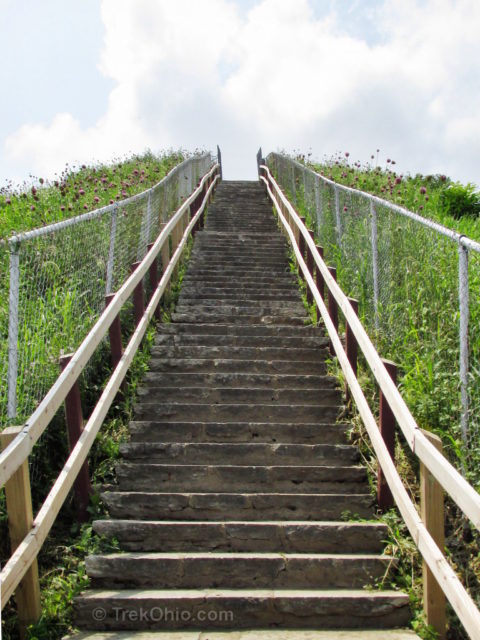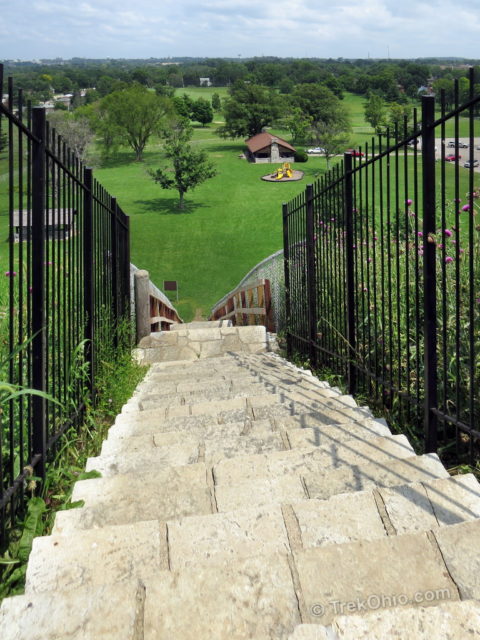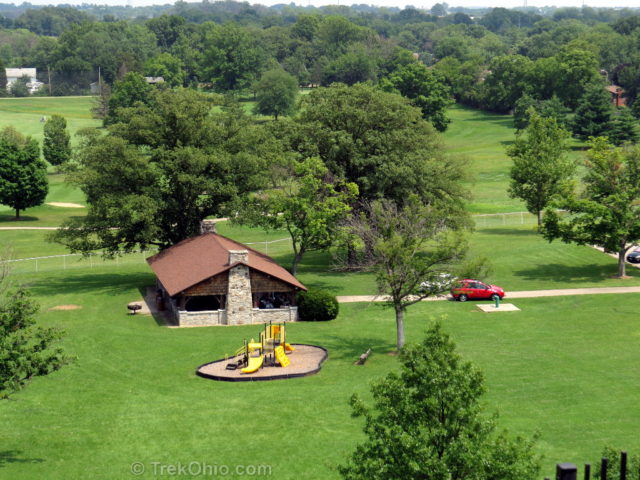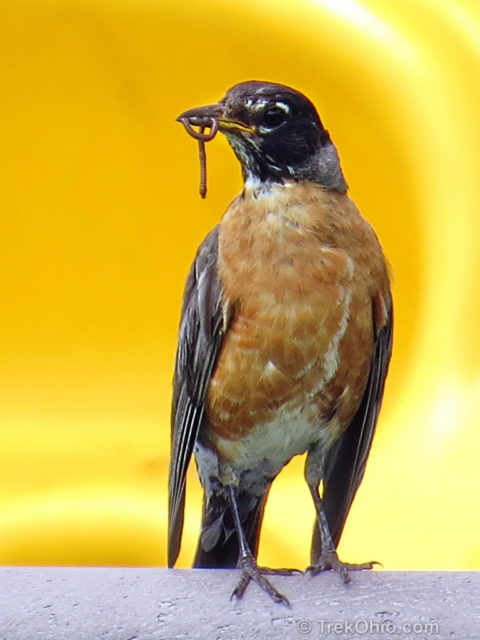 While we were there much of the mound was covered in flowering thistles.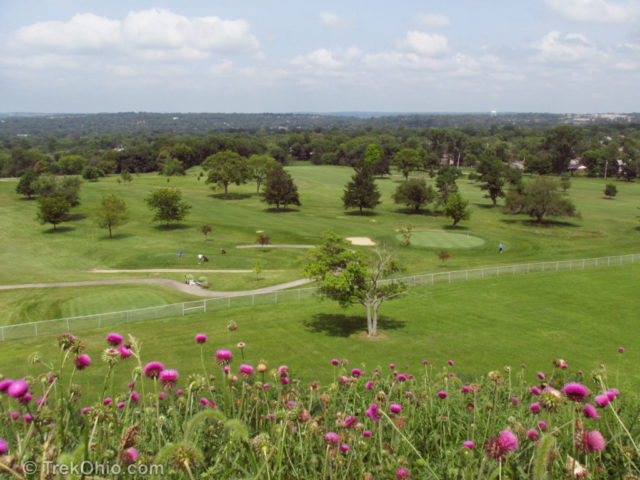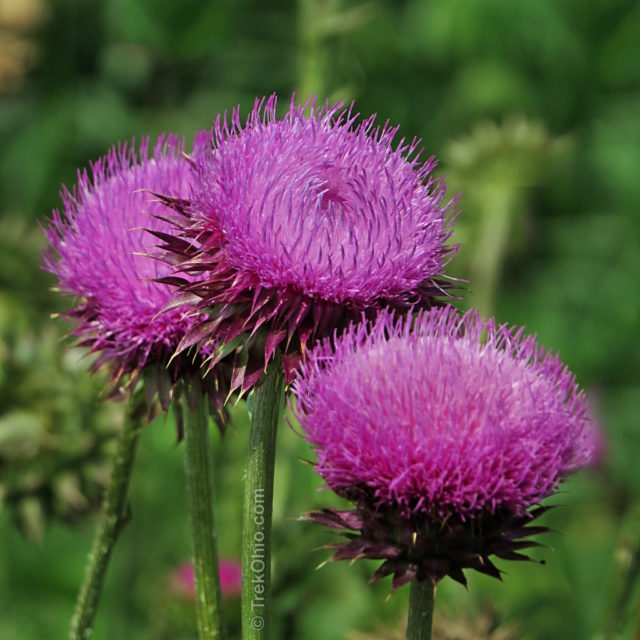 The mound is built on top of a 100 foot hill. From the top of the mound, is a view of the surrounding area. Many of the nearby sites are named after the mound, including the Mound Science & Energy Museum across the street, the adjacent Mound Golf Course, and the Mound Advanced Technology Center. The R&D park is located on the former site of Mound Laboratories which developed the fuse for the first nuclear bombs as part of the Manhattan Project. During the ensuing Cold War it continued to be active in the development of nuclear weapons, but it has since been disbanded.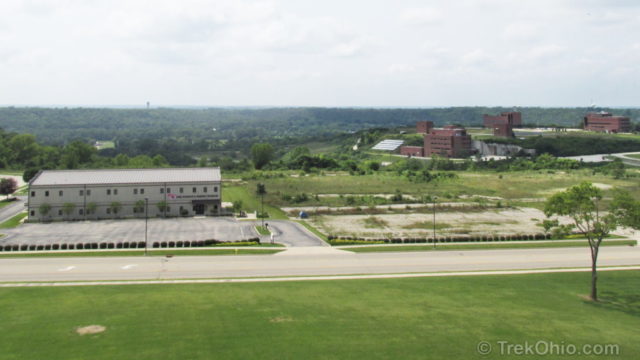 Standing on top of the mound, surveying the modern environment, one can only wonder what the landscape looked like during the time of the mound builders. We can view the earthen mounds built by hand and see some of the artifacts of these ancient people, but we can only make inferences about how their civilization functioned.
Additional information
Location
Address: 900 Mound Avenue, Miamisburg, Ohio 45342
GPS Coordinates: 39.635871,-84.2849447
Google Maps: View on map or get directions
More on Ohio's Native American Heritage
© Deborah Platt, Robert Platt and TrekOhio.com 2012 to 2021