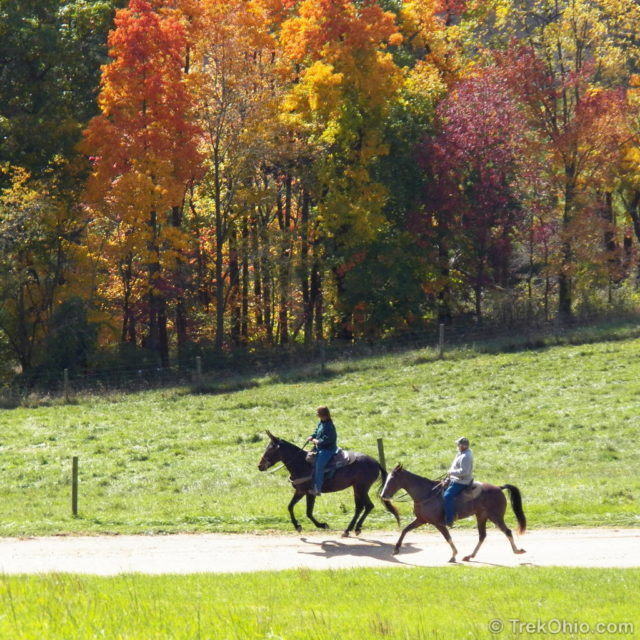 Latest Update:
10/17/2018
According to the 2018 Fall Color Update #3, fall color is developing more slowly than usual this year due to warm weather that lingered into autumn. The most recent Fall Color Report indicates that the vast majority of the state is just starting to change colors. The exceptions include a single site that is approaching peak fall color (Shawnee State Park in the far south), and five five state parks where fall color hasn't started yet (in the south these are East Fork and nearby Stonelick State Park, as well as Pike Lake and nearby Paint Creek State Park; in the north, Geneva State Park is still listed as being green). Because the weather is finally turning colder, we are bound to see more color soon.
Dogwood and Sasafras trees are turning red now. Ohio's maples are still mostly yellow, but should go from yellow to orange to finally red in the near future.
Beginning the last week of September, the Ohio Dept. of Natural Resources shares information about the state of fall color throughout the state at Fall Color Report.
Typical Development of Fall Color in Ohio
Traditionally fall color in Ohio develops as described below, with peak fall color moving from north to south:
Northern Ohio: end of 2nd full week of October (with the exception of trees along Lake Erie)
Central Ohio: end of 3rd full week of October (plus trees near the Lake Erie shoreline)
Southern Ohio: toward the end of October and possibly the beginning of November
At least that's is how fall color develops in theory. In practice I have noticed that peak fall color often arrives at the end of the second full week of October throughout much of the state.
We get our best fall color when there is a decent amount of rain throughout the growing season and when autumn days are bright and sunny, while autumn nights are cold, but not freezing. Some of the earliest displays of fall color are seen in these two vines: Poison Ivy and Virginia Creeper, both of which can turn bright red. Among early changing trees are the sycamore and cottonwood. These trees are found in low-lying areas and turn yellow. And the Ohio Buckeye Tree also shows color early, with leaves varying from golden to red hues.
At near peak fall color the leaves on our hickory and yellow poplar trees turn yellow. Maple trees often show off dazzling reds.
Online Fall Color Report
A great way to keep track of the development of fall color across the state is to check out the Fall Color Report at Ohio.org. This page is updated weekly throughout the fall. It has a map of Ohio that is a bit like a weather map, but is marked by leaves that change color at different Ohio sites as the season progresses.
Where to View Fall Color
Great destinations include hilly terrain, shorelines, tree lines at the edge of fields, and fire towers. At TrekOhio we've posted a list of Ohio's Scenic Overlooks that you might want to consider as possible viewing destinations. The Ohio Department of Natural Resources (ODNR) also publishes Fall Foliage Reports to help you find colorful, fall locales. Among other things, they suggest routes for Fall Color Driving Tours and identify some of the state's fire towers that provide great views. If you live in or near Lake County, you might want to look at some of their suggested fall-color hikes.
According to National Geographic's article, Top 10 Places to See Autumn Leaves, Holmes County, Ohio is one of the top ten places in the world for enjoying fall color. If you like to cycle, there is an excellent bike trail in the county. The area is a well-known site to experience Amish culture, whether that be food or crafts.
Stuff to do this Fall
Check out Ohio.org/Fallidays for ideas on Getaways, seasonal events, activities, discovering haunted Ohio, and more. For a fun, family activity in October, consider a Halloween campout. For campouts and other activities, check out our list of Halloween Events at Ohio Parks for 2018.
Sharing Your Photos
The Ohio Department of Natural Resources (ODNR) encourages people to use one of the following hashtags when posting fall photos on social media: #FallidaysInOhio, or #OhioFall18. Our state park system is also offering a photo contest going on that is not limited to fall color photos. Photos can be submitted in one of six different categories:
Places to Stay
Scenic Locations
Families in the Park
Park Activities
On the Water
Year of the Trail
For details on the photo contest, check out OhioStateParksPhotoContest.com.
Videos from the Division of Forestry
The Division of Forestry typically publishes weekly videos with current information on the state's fall color. Below is the most recent one for 2018:
If you'd like to watch it directly at YouTube, here's the URL: https://www.youtube.com/watch?v=Zgd8Maw0M1Q
If you'd like to see some of the places that we have visited in the fall, you can click on any of the photos below to find out more information, or you can look at a more extensive list of TrekOhio posts on fall color.
---
© Deborah Platt, Robert Platt and TrekOhio.com 2012 to 2018