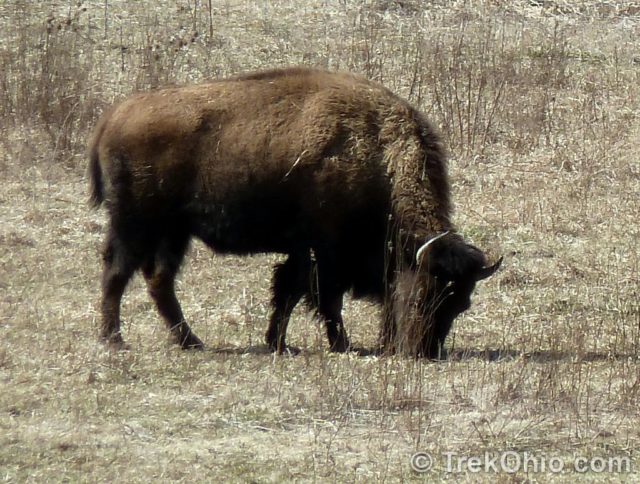 I wasn't sure what to expect when I went to Battelle Darby Creek Metro Park, but I had been hoping to see a herd of bison in a natural looking setting. Yeah… that's not exactly what happened. When I got to the area where the bison are, there was a sign informing me that the bison were being held in a temporary holding pen, so it was hard getting a photo of them without showing the fence which enclosed them. But perhaps the small enclosure meant that I got a closer look at them than I would have otherwise… nice for someone like myself who only has a point-and-shoot camera.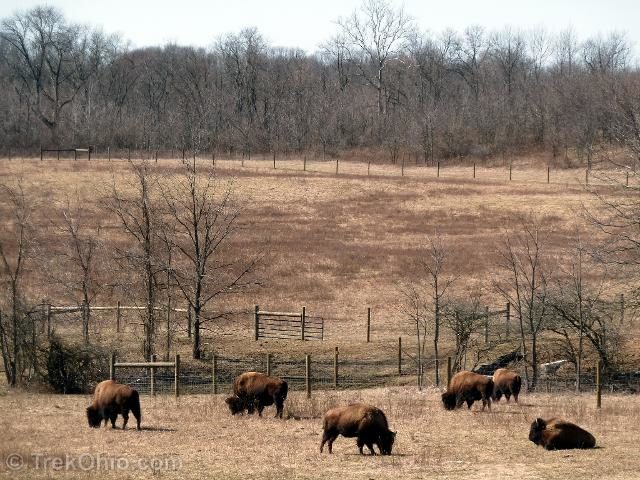 It's hard to believe now, but thousands of bison once roamed Ohio. This may seem kind of sad, but can you imagine what it would be like to have herds of bison roaming across our streets and freeways?

I also tend to associate bison with the Old West, not the Ohio Valley. And I'm right! … sort of. The animal did originate from our western plains. But prior to European settlers coming to America, Native Americans had managed to gradually extend the bison's range farther and farther east. They did this by burning woodlands to create the grasslands that bison need for food. By the time Europeans arrived in North America and started pushing westwards, a lot of this grassland was already being re-claimed by forest. That's because after Columbus's first contact with the Native Americans in the Caribbean a couple of centuries earlier, a pandemic swept across the continent drastically reducing the Native American population. This affected their ability to manage the land, so much of it had reverted back to forest by the time settlers were pushing into the Ohio Valley.
Additional information
TrekOhio: Franklin County Parks & Nature Preserves — Battelle Darby Creek Metro Park is one of the Columbus and Franklin County Metro Parks. For official links and information on nearby parks and preserves, check out this page on Franklin Couny.
More on Franklin County
© Deborah Platt, Robert Platt and TrekOhio.com 2012 to 2021