Bird watching is just one of the attractions of Blendon Woods Metro Park. The park features two observation shelters near Thoreau Lake. In addition the rear of the Nature Center has windows that look out on a number of bird feeders.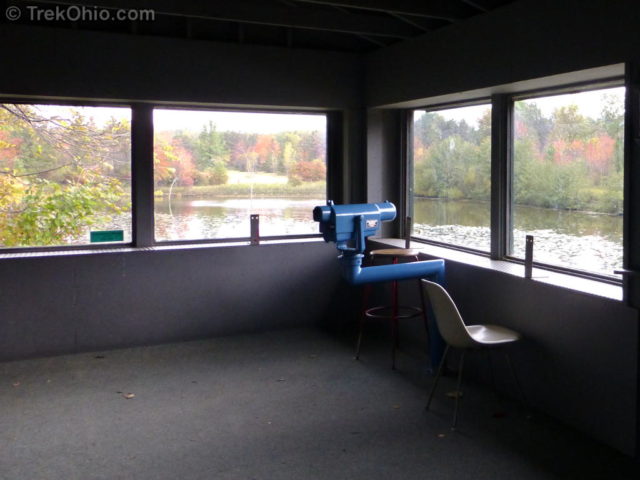 A wheelchair accessible trail (Pond Trail) extends from the parking lot near the Nature Center to Thoreau Lake. It's only 0.3 miles long. You are very likely to hear and see woodpeckers on your way there.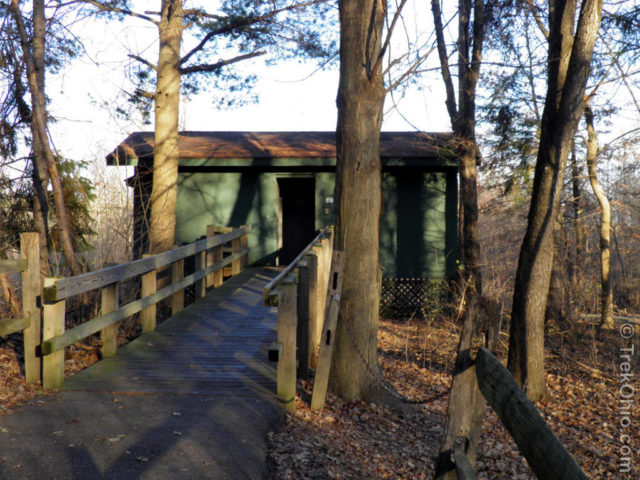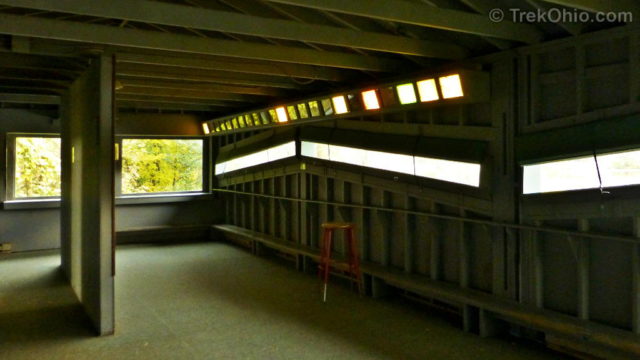 In the photo below I'm looking at a bird feeder through one of the diagonal cutouts in the observation shelter. This is my favorite bird feeder in the Columbus and Franklin County Metro Park System. What I like about it is that it's so close that even a person without a powerful telephoto lens can take photos of birds without having to shoot through glass. Besides seeing your typical feeder birds, wild turkeys also feed off seeds on the ground, and I'm told that deer do, too.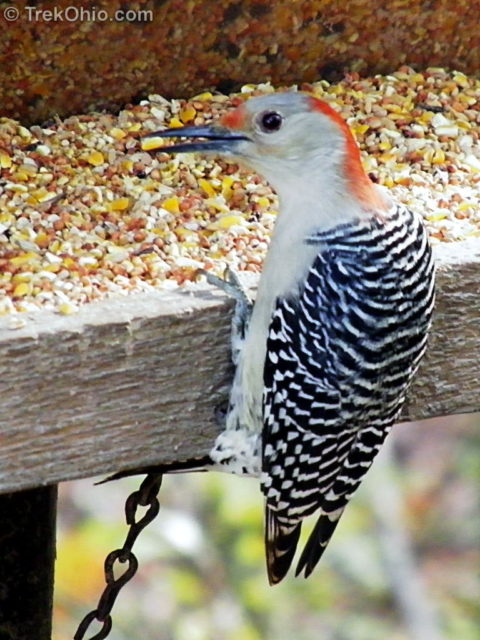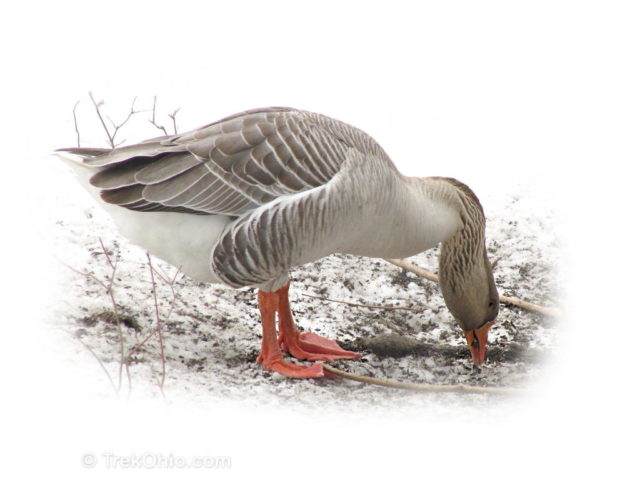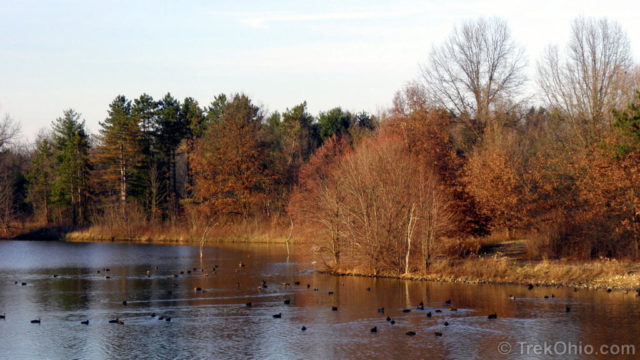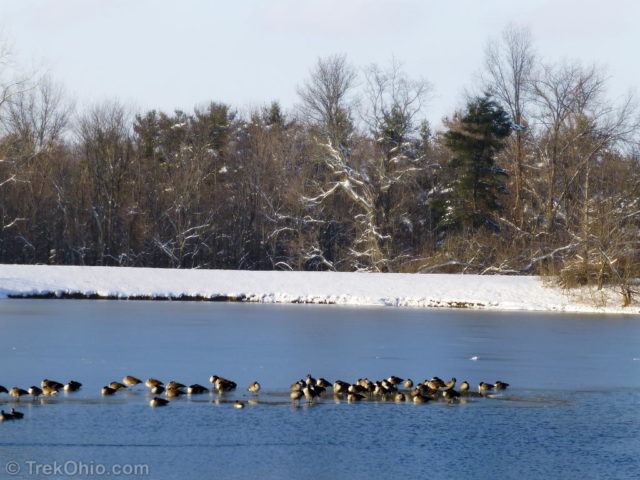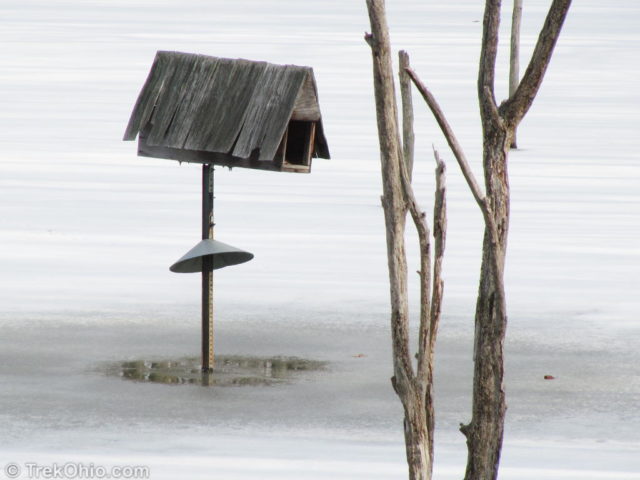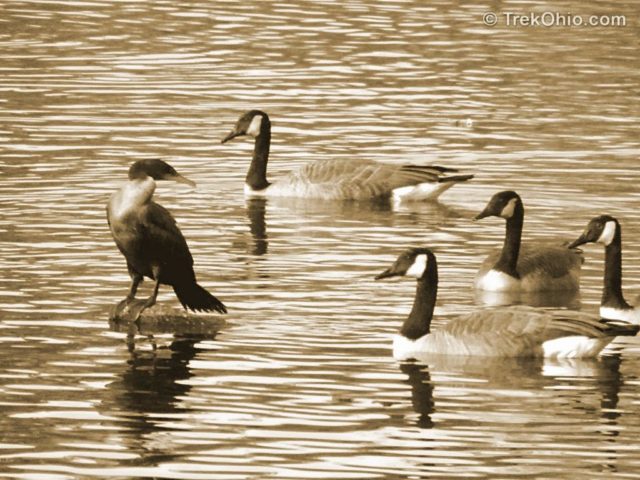 Turning away from Thoreau Lake, let's head back toward the Nature Center. The Nature Center at Blendon Woods is one of four nature centers present in the Columbus and Franklin County Metro Park system (the others are at Highbanks, Blacklick and Battelle Darby). Outside the nature center, you'll see the ripple rock pictured below (shaped like Ohio). The ripple rock is from bedrock that's present in the park. You can see an outcropping of this bedrock if you take the Ripple Rock Trail. An interpretive sign and another ripple rock can be found near a rail fence along this trail. This marks where the outcropping is. The ripples were formed when Ohio was the seabed of a shallow sea some 160 million years ago.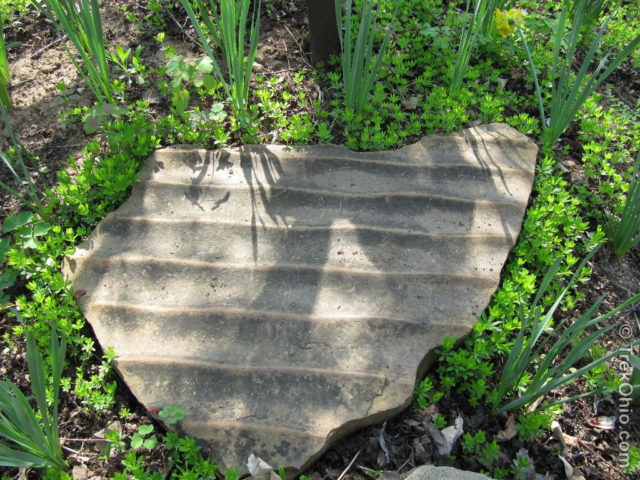 From June through September there is a screened in gazebo just outside the nature center that's known as Monarch Mansion. The staff raises monarch caterpillars until they become butterflies. The butterflies live in this mansion until they are released on Monarch Day celebrated annually. I just missed seeing the gazebo this year, but while I was inside the nature center, one of the naturalists showed me that they were still raising caterpillars, and I got to see a butterfly that had just recently emerged from its chrysalis. Interestingly the released butterflies are "tagged" and a number of our tagged butterflies have been sighted in Mexico.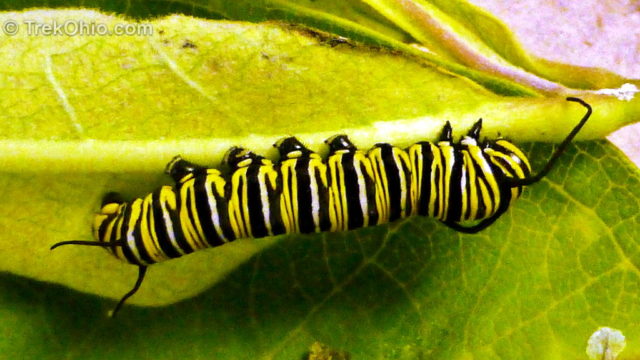 If you go through the Nature Center to the rear of the building, there are large windows that open to many bird feeders in a wooded setting. While there I saw the Indigo Bunting pictured below. Since I've never seen one of these at my backyard feeder, I thought that was very cool.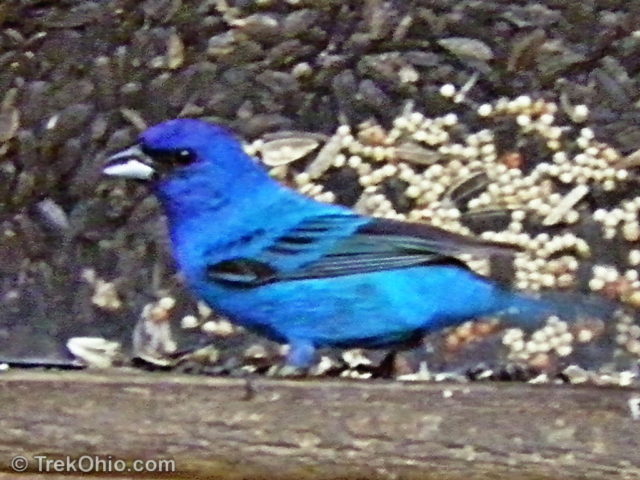 There is an artificial, yet very natural-looking, stream that runs in plain view of the nature center. This attracts a number of critters, but it is especially fun to watch the birds take their baths.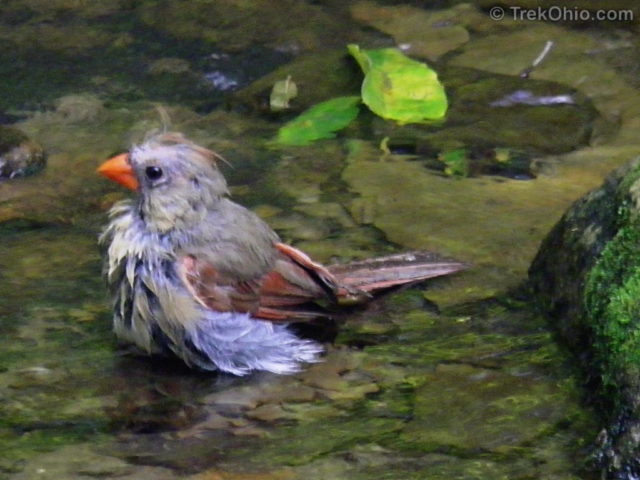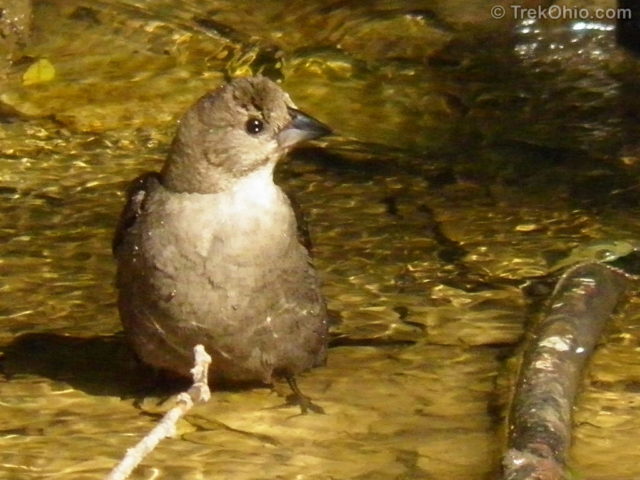 It's good to get out of the house on a winter's day. This park is so popular that the snow on the trails is pretty packed down and not hard to hike (or jog).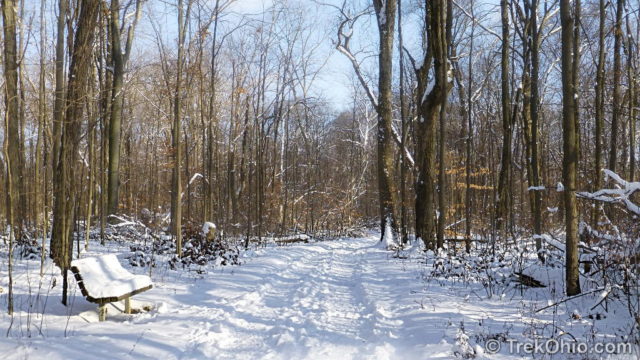 Even in winter the benches are sometimes occupied.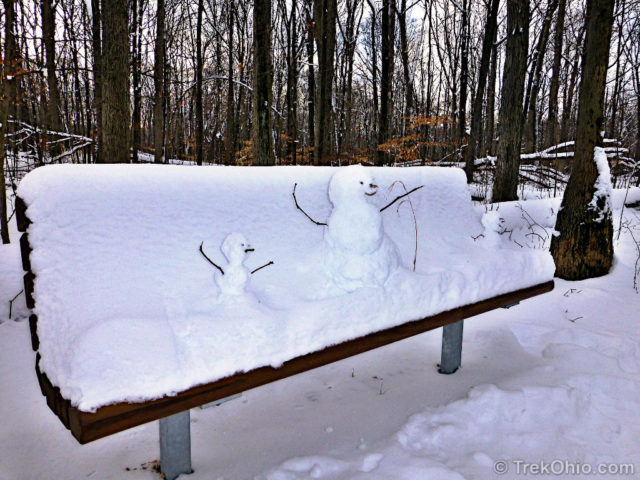 The photo below shows one of the park's four picnic shelters as seen from the trail. In the winter I like to imagine it's a ski chalet.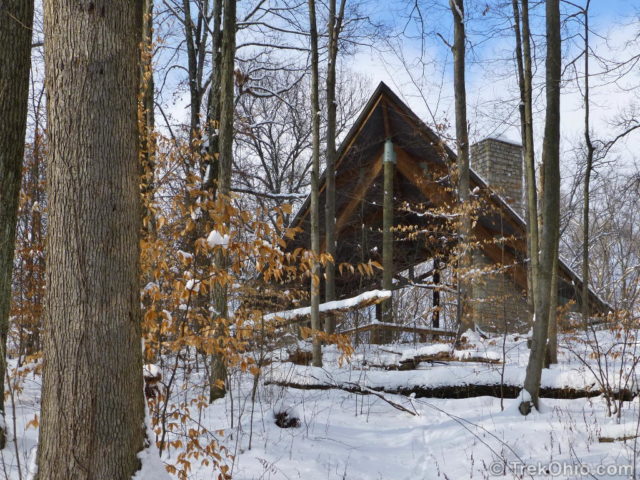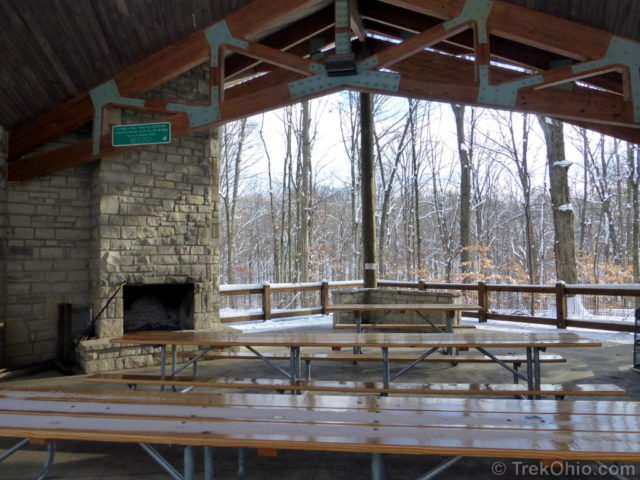 Shadblow shelter has such a nice fireplace and a view! The shelter also has electricity and ADA accessible restrooms.
A number of the trails are hilly. This steep part of the Overlook Trail has a staircase.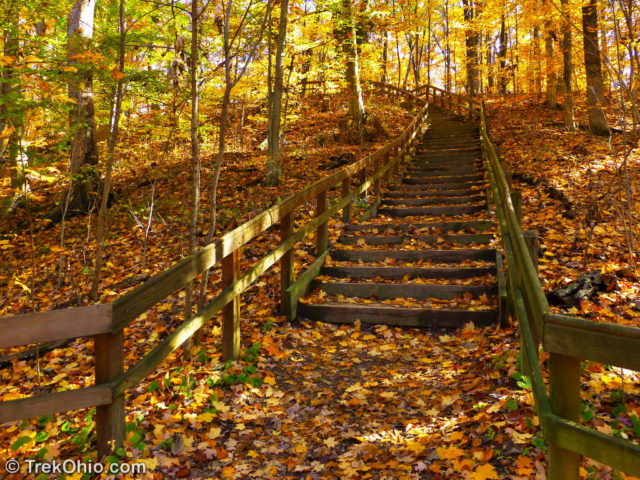 There's a railing along part of the Brookside Trail. I've often seen all-black squirrels rummaging for nuts in this region.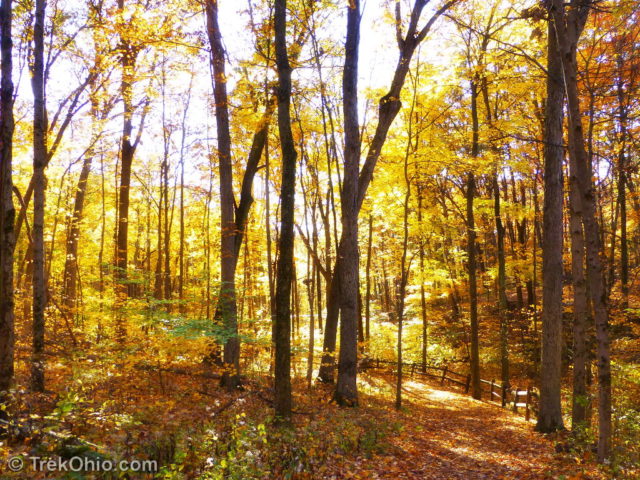 If you follow the Sugarbush Trail, you pass through a woods that opens onto a meadow. Besides being a nice walk, during the winter this trail is open to cross-country skiers. However if you hike there in the spring, it tends to be a bit damp.
The naturalists at the Blendon Woods Nature Center do extensive educational programs. Some of them take place in this outdoor classroom.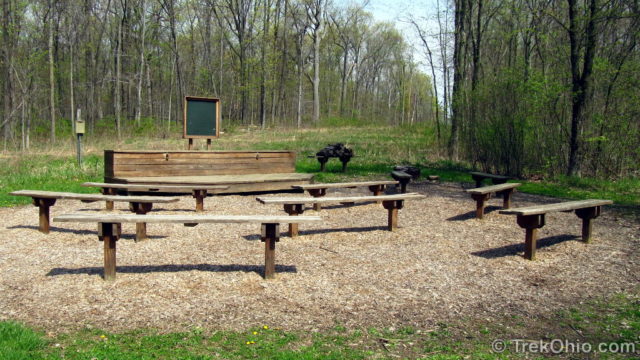 If you go in spring, you'll see trees in blossom around the Nature Center and near Pond Trail.
A number of species of wildflowers also make their home in the park.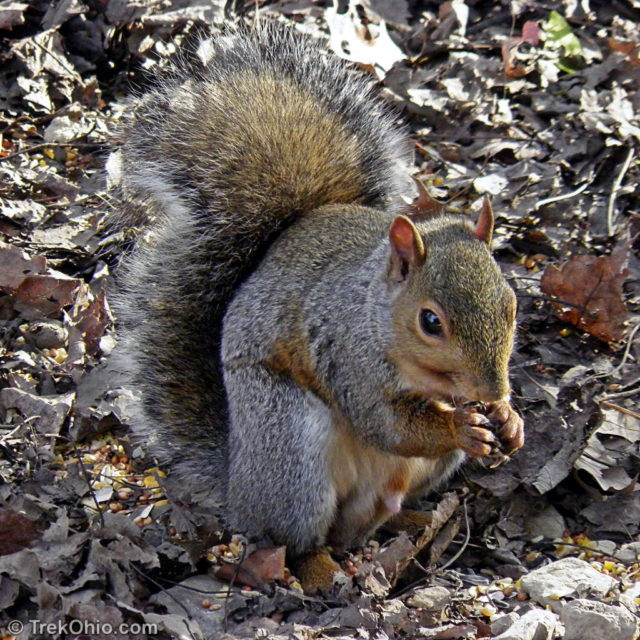 As you might expect there are also deer at Blendon Woods, but sometimes they are hard to see.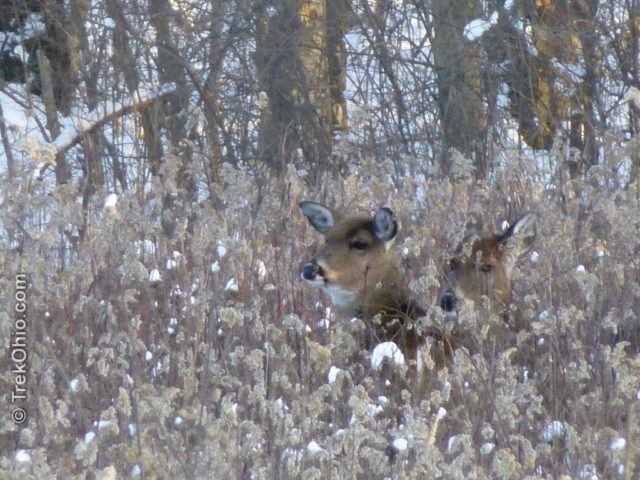 Besides the above-mentioned features, the park also has a kiddie sledding hill (snow boarding permitted), a skating pond, a disk golf course, playground equipment, picnic tables and grill, and a pet trail. Pretty awesome!
Additional information
TrekOhio: Franklin County — This is the county where Blendon Woods is located; check out this page for links to the official site, and for information on nearby parks and preserves.
TrekOhio: The Walkingstick Insect — a naturalist at Blendon Woods introduced me to this cool insect
TrekOhio: Chipmunks eating, planting and stockpiling — includes a video of a chipmunk at Blendon Woods pulling sprouts from acorns so he can store them
Location
The park is conveniently located for residents of Westerville, Gahanna, New Albany and northeast Columbus. It's address is 4265 E. Dublin-Granville Road, Westerville, Ohio. You can get direction to the park using the map below. It may help to click View Larger Map for directions.
© Deborah Platt, Robert Platt and TrekOhio.com 2012 to 2021