Although we just launched our blog in March, it is customary to reflect back on the previous year as the new year approaches. So Deb and I decided to share some of the highlights from the past year as we explored Ohio's parks and nature preserves.
Best Hike of the Year
Deb: Christmas Rocks Nature Preserve — I loved the view from the cliff on the Jacob's Ladder trail.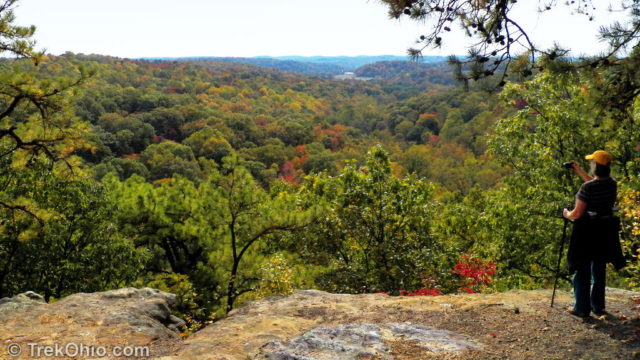 Bob: Hocking Hills Winter Hike – the Hocking Hills region is great in any season, but it's spectacular in the winter. This was our third year participating in this annual hike.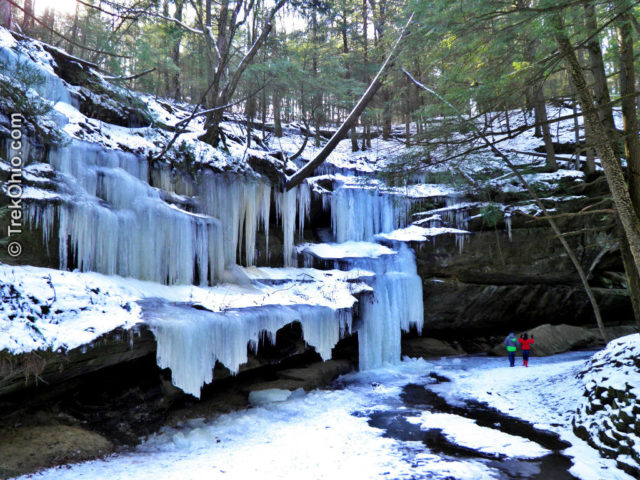 Most Surprising Park Experience
Deb: I was really surprised to learn that there is a Golf Course in and around the ancient, Hopewell Octagon Earthworks.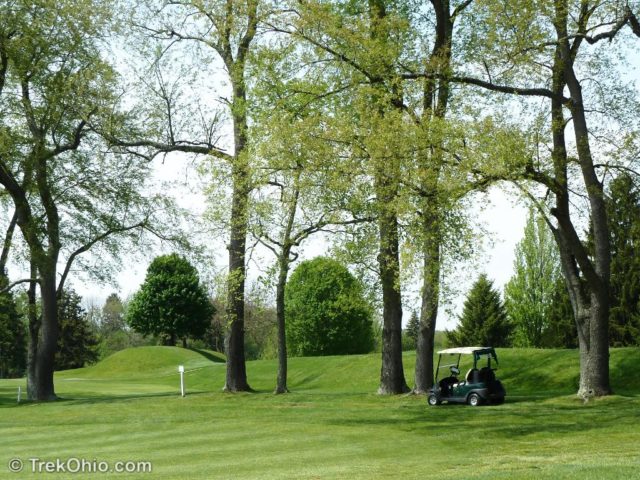 Bob: Chapel Cave (aka 21 Horses Cave) – we were pleasantly surprised to find horses and riders in the cave when we arrived.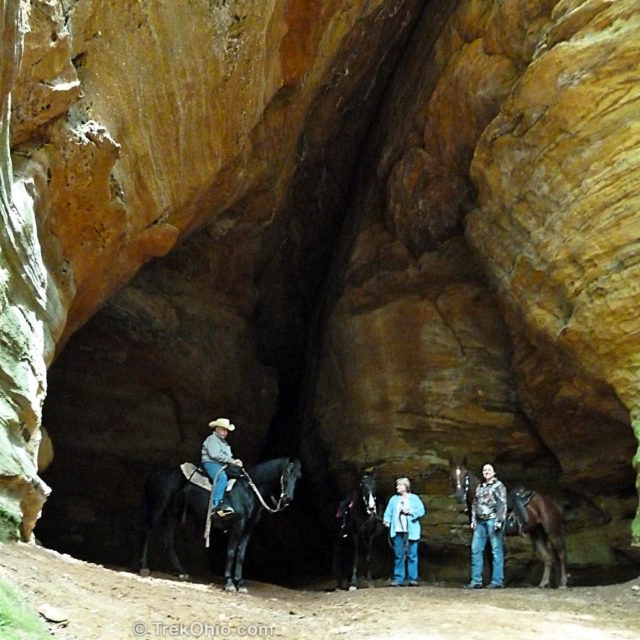 Favorite Wildflower
Deb: I love wildflowers, and I photographed about a zillion this year. But my favorite flower for this year is the blossom of the Mayapple. It is hard to photograph because it's white, it faces down toward the earth, and it is underneath a canopy of its own leaves. But against all odds I got this photo of it illuminated by the sun anyway because the sun was low enough in the sky for its light to reach under the leaves. This was also when I realized that if I took a macro photo of a flower near sunset, even stamens and pistils would cast long shadows.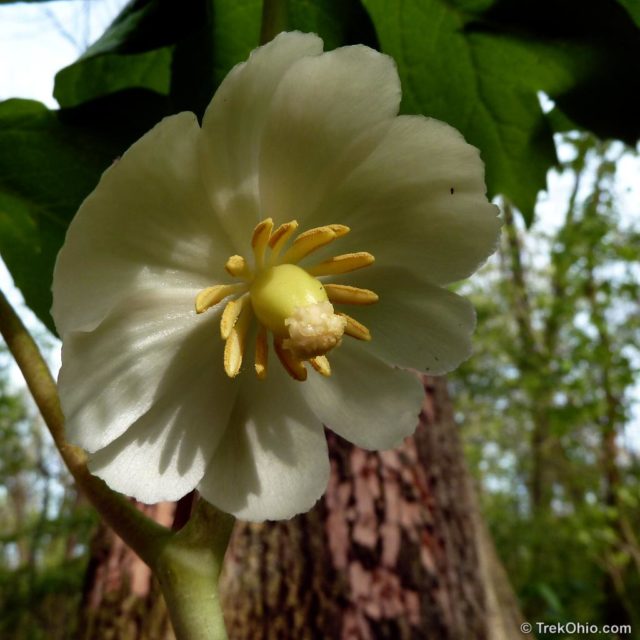 Bob: Got nothing …

Best Critter
Deb: Red-spotted newt — These little amphibians go through three stages of life: larva (like a tadpole), terrestrial juvenile, aquatic adult. I have seen the terrestrial juvenile form of this newt quite a few times while I'm hiking, but this summer was the first time I saw an aquatic adult. I discovered him while looking at tadpoles in a stream at the Wahkeena Nature Preserve.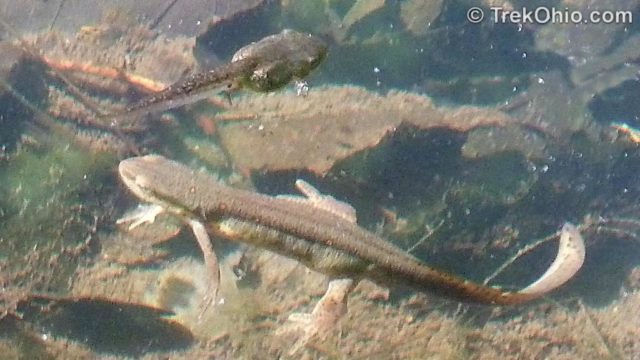 Bob: Eastern Box Turtle – We saw several of these shy creatures in Wayne National Forest. Apparently they like to come out after a rain.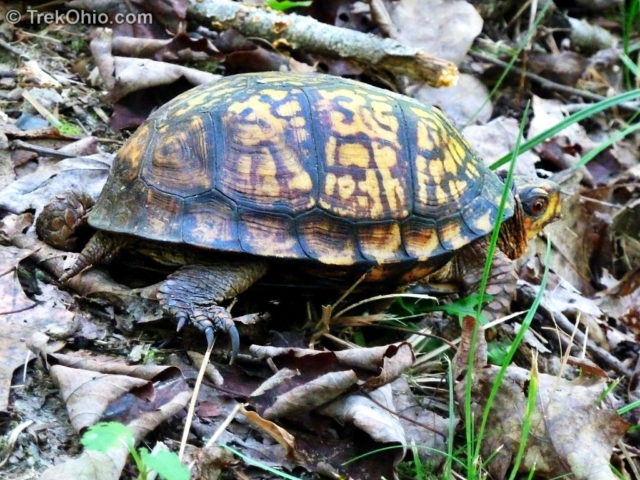 Favorite Fungus
Both of us: Chicken of the Woods (Laetiporus cincinnatus) — It's huge, brilliantly colored, supposedly edible, and it has the name of the Ohio city, "Cincinnati", tucked into its Latin name. 🙂 The one below was spotted at Christmas Rocks State Nature Preserve.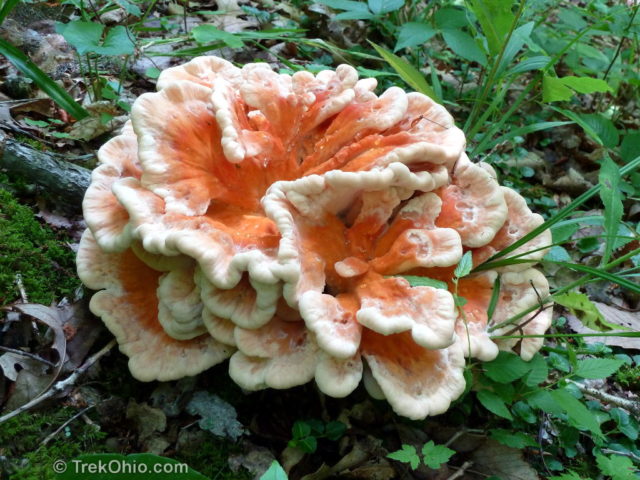 Best Drive to Trailhead
Deb: Going between Mohican State Park and Malabar Farm State Park — This area is rolling hills, farms and deciduous forests; we were going there in the fall and the leaves were colored beautifully. Plus while passing one farm, these horses agreed to line up for a photo.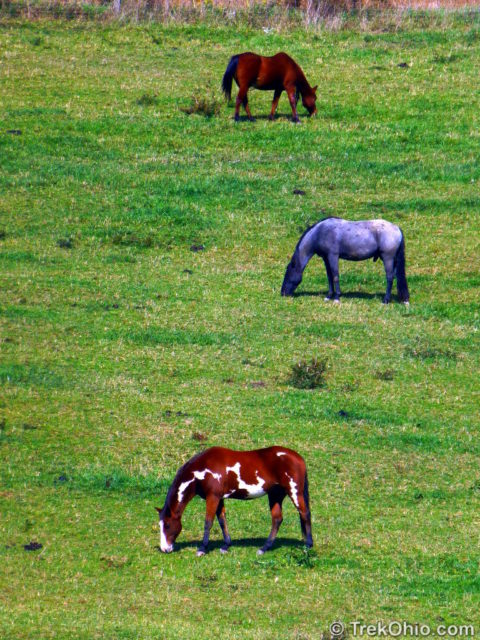 Bob: Washington County – scenic countryside with hills, farms and many covered bridges.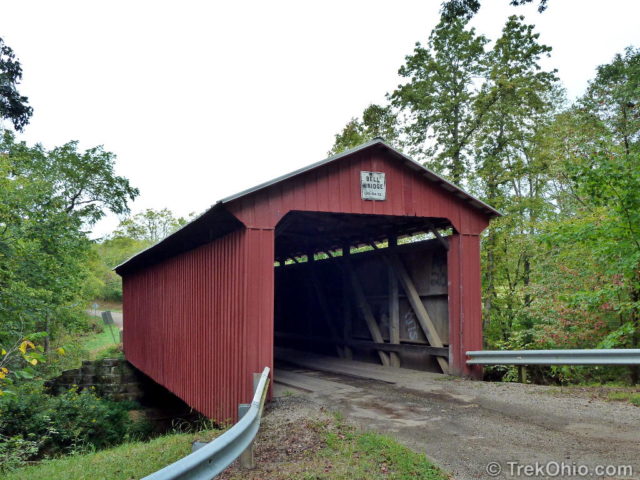 We've been listening to audio books during our (sometimes long) drives to parks and preserves. It really helps to make the drive more enjoyable. We listened to Ursula Le Guin's Earthsea trilogy and are currently making our way through Jim Butcher's Dresden Files series.
Most Hidden Preserve
Both of us: Rhododendron Cove — The dirt parking lot for this preserve appears to be associated with a pumping station. Not only is there no sign, you have to hike about a half mile before you get to the kiosk. This is intentional since until recently Rhododendron Cove was a permit-only, state nature preserve with a fragile habitat.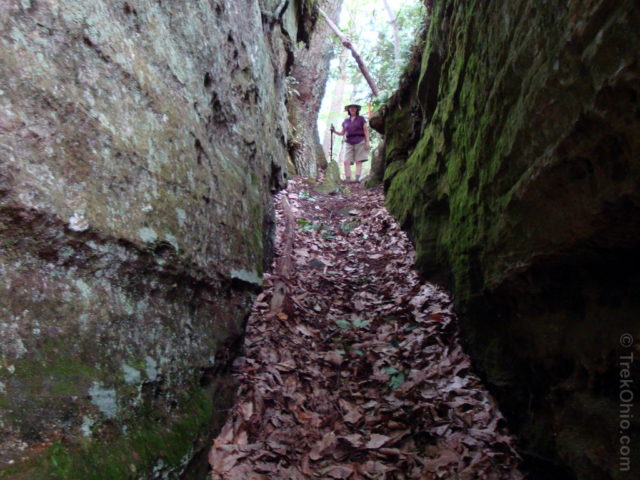 Favorite Nature Center
Both of us: Wahkeena Nature Preserve — this was a hard choice since there are so many good nature centers in Ohio (who can forget holding snakes at Shawnee Park's Nature Center?

). However we picked Wahkeena Nature Preserve because we can't imagine how the staff could be more helpful. One of the staff members (Robyn) publishes a blog letting everyone know what's going on throughout the open season (including what wildflowers are blooming). They offer kid-friendly educational programs, and if you go there and can't find one of wildflowers that are currently in bloom, they'll actually direct you to it. The interior of nature center is also great and includes such things as caterpillars developing into butterflies and a glass encased bee hive.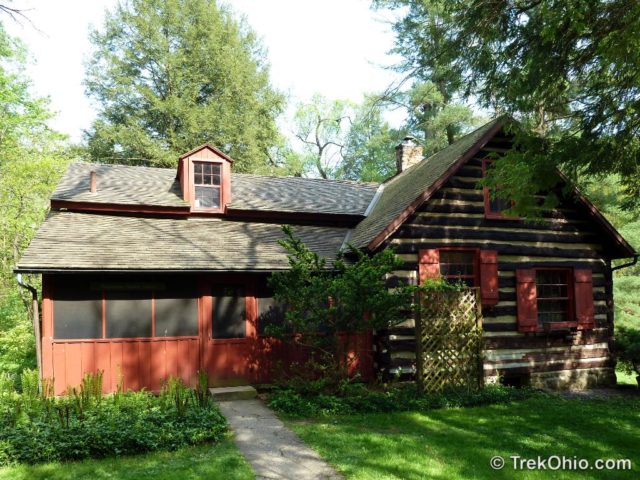 Most Educational Site
Both of us: Caesar Creek State Park — The Visitor Center has a wealth of information on various topics, but I was especially interested in their exhibits on Ohio fossils. To make it even more interesting, you can get a one-day permit to hunt and collect fossils on the park grounds. They are so abundant it is hard to imagine going home without one. What a kid-friendly activity! Below is our fossil souvenir.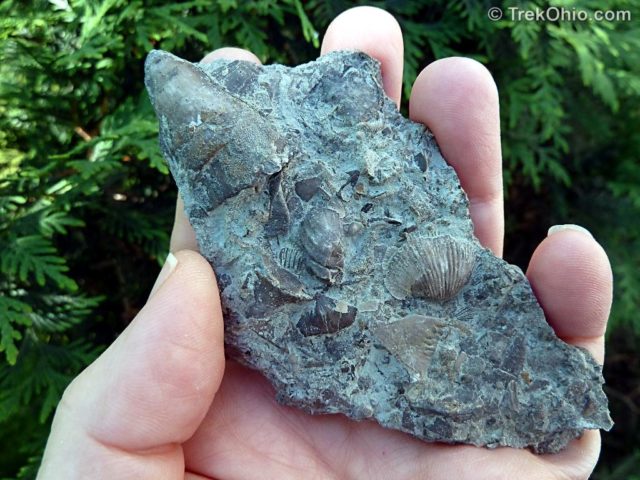 Best Historic Site
Deb: Mound City at Hopewell Culture National Historical Park — There is an extensive groups of Hopewell Indian Mounds enclosed in an earthworks wall here, plus there is a museum on site with Native American artifacts, plus there are short documentary videos in a theater. If that wasn't enough, the staff members there are very knowledgeable and helpful. Below is one of the artifacts housed at the museum. To my surprise a Wikipedia editor requested my permissions to use the photo in an article on Hopewell Pottery.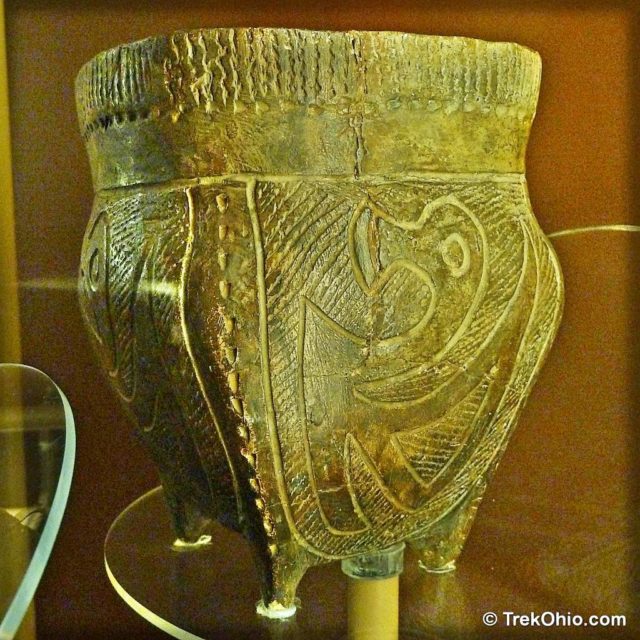 Bob: Buckeye Furnace – restored 19th century iron blast furnace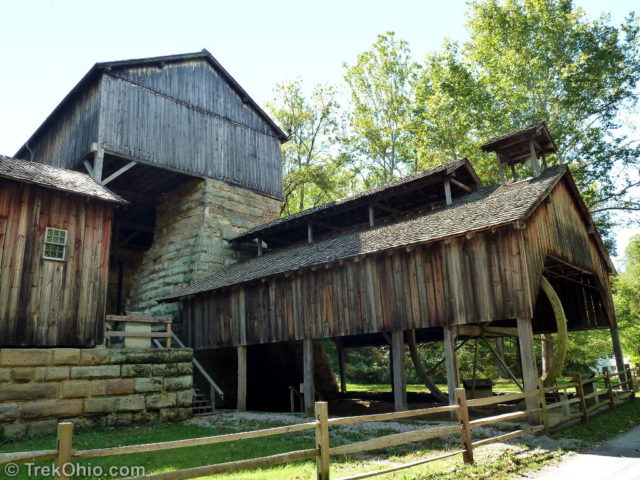 It's been a great year for hiking Ohio's parks, preserves, and trails. Here's wishing a merry Christmas, happy holidays, and happy New Year to all of our readers. Keep on trekking!
More Annual Highlights
© Deborah Platt, Robert Platt and TrekOhio.com 2012 to 2021