In reviewing 2014, we've come up with our annual TrekOhio highlights!
Best Hike of the Year
We've excluded the Hocking Hills Winter Hike, which otherwise would probably win best hike every year. Beyond this annual hike, below are our favorites for this year.
Deb: My favorite hike for the year was the one that we took at the Headlands Dunes State Nature Preserve. Living miles from the ocean, it is easy to forget that Ohio has beach dunes, but thanks to Lake Erie, we do. The hike is very scenic, and the dune plants are rare and intersting. And we were both surprised to see a deer grazing on the beech!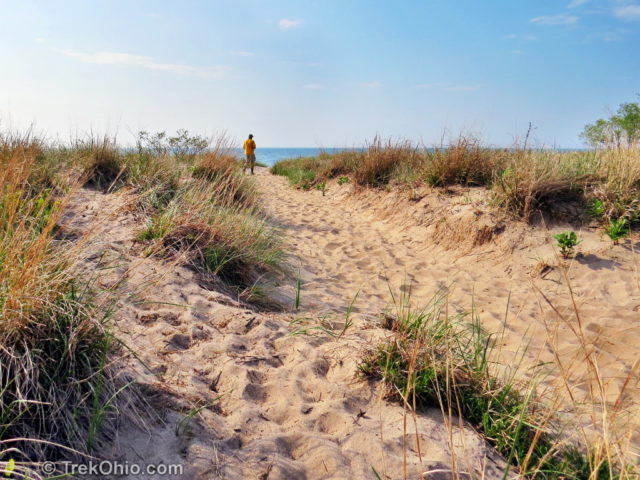 Bob: I'd have to pick our hike on the Pine Ridge Trail at Lake Katharine.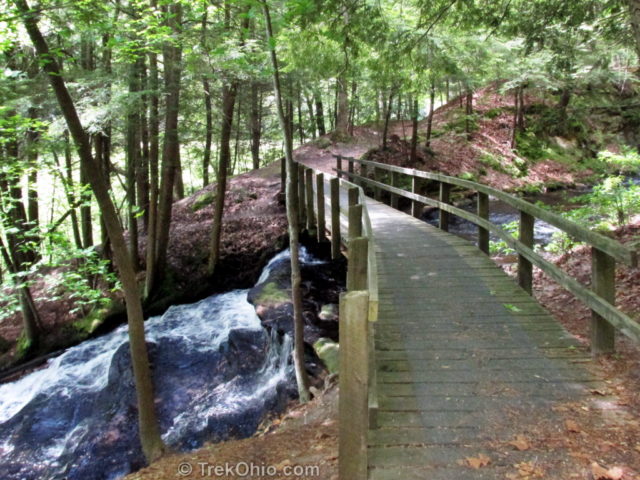 Favorite Photo
Deb: I think that my favorite photo was a Great Blue Heron that I saw while visiting Blendon Woods Metro Park in Franklin County. We posted an article on this park following a previous visit.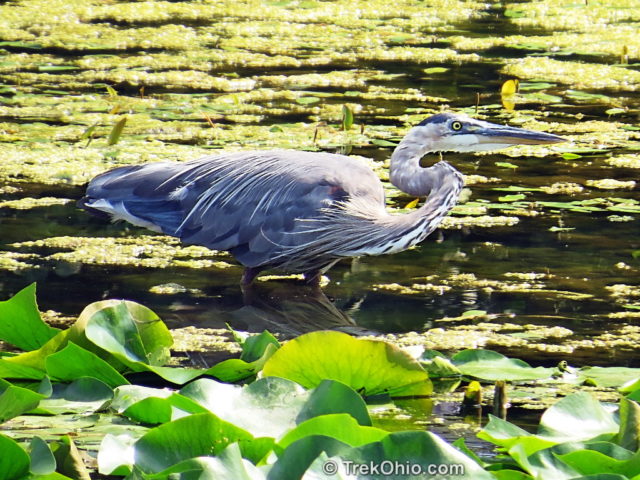 Bob: I shot a sequence of photos of a swan at Spring Valley Wildlife Area. Much to my surprise, the shot was photo-bombed by a goose in the foreground taking flight.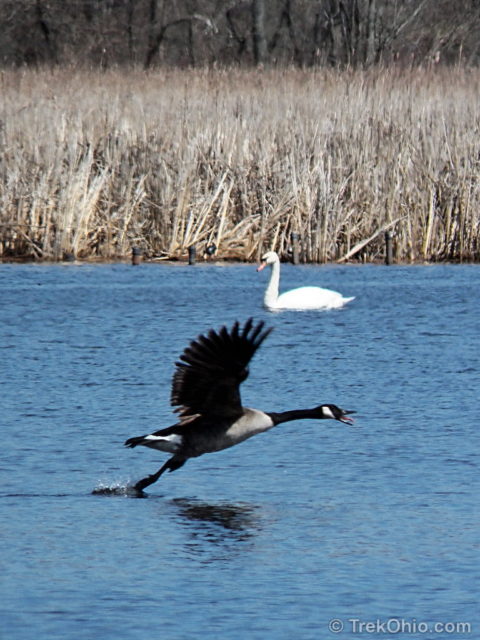 Most Surprising Park Experience
Deb: See the four-leaf clovers floating near the lily pad below? I was surpised to learn that they are really ferns! I came by this knowledge at an educational program on ferns held at the Wahkeena Nature Preserve in Fairfield County.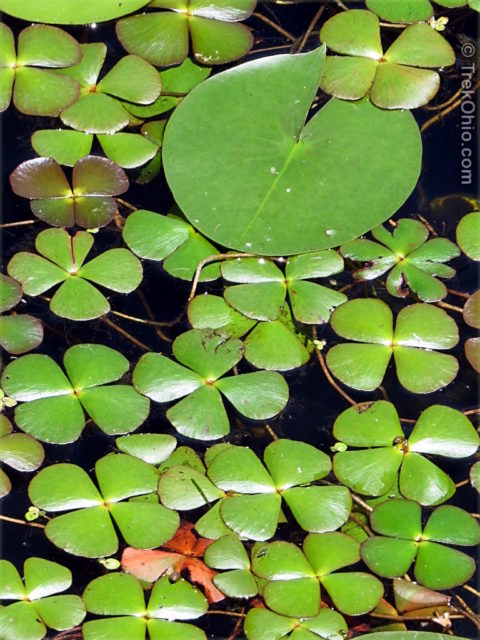 Bob: I'd have to pick an incident at Rhododendron Cove. I'd reached the ridgeline and was waiting while Deb was photographing a narrow rock cleft through which we'd ascended. I heard a noise behind me. A fox raced over a small hill, stared at me with surprise, turned 90 degrees and raced between another cleft in the rocks.
Unfortunately I didn't get a picture. At adjacent Wahkeena Preserve they captured a video of a local fox on their trail cam.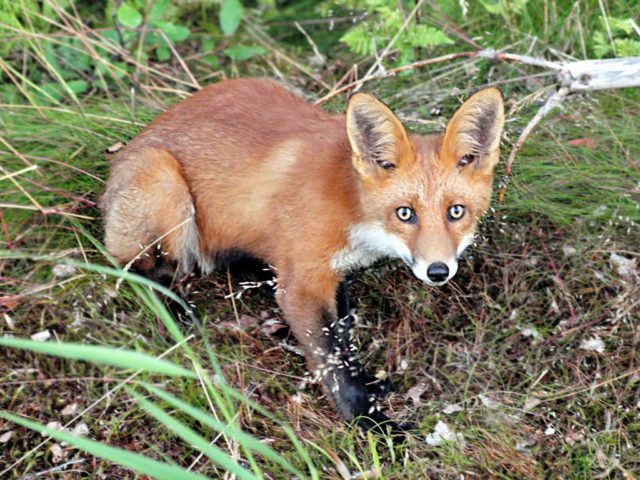 Favorite Wildflower
Deb: One of my favorites this year was the wild petunia pictured below. I appreciated its vibrant color, and I thought the little dew drops on it enhanced its beauty. It was photographed at Miller Nature Sanctuary.
Bob: Skunk cabbage is interesting. It flowers early and generates heat to melt any surrounding snow. The photo below was taken at Cedar Bog, and it was one of the photos featured in our post, April Wildflowers at Ohio State Nature Preserves.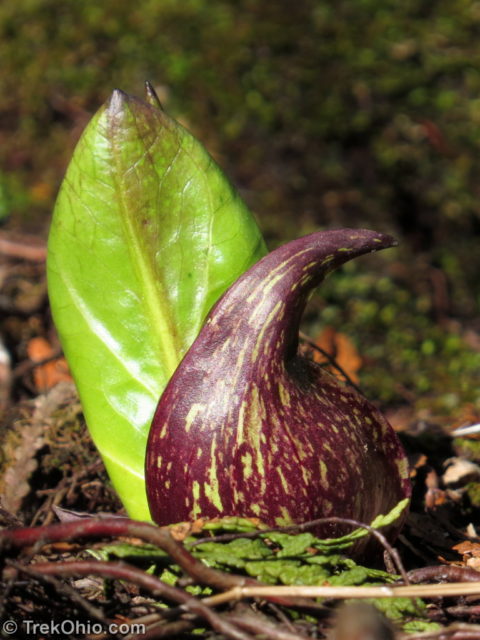 Best Critter
Deb: My daughter and I saw our first mink in the wild at Char-Mar Ridge Preservation Park in Delaware County. Sadly I didn't have a camera with me, so below I'm including one by Brendan Lally.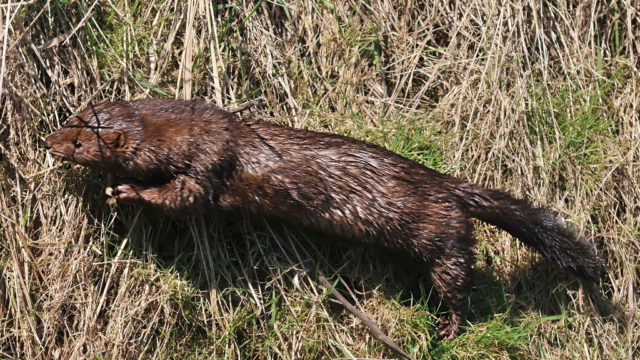 Bob: Aside from the aforementioned fox, an oppossum at Boch Hollow was ambling down a dry stream-bed and paused for a photograph.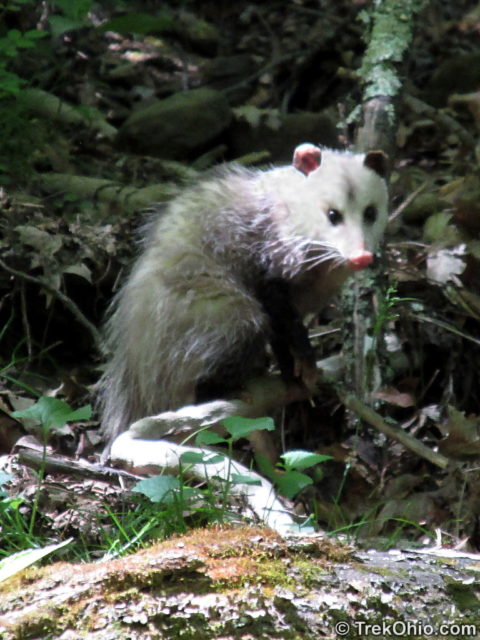 Favorite Nature Center
Bob & Deb: Once again we chose the nature center at Wahkeena Nature Preserve. Each year they run informative classes on different aspects of the natural world. We attended classes on Wildflower Identification and Fern Identification this year. Both classes have been useful on our subsequent outings. And I see they already have a schedule of programs posted for 2015.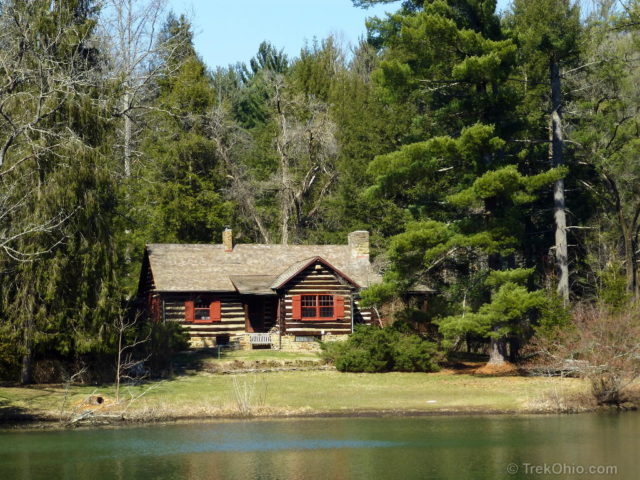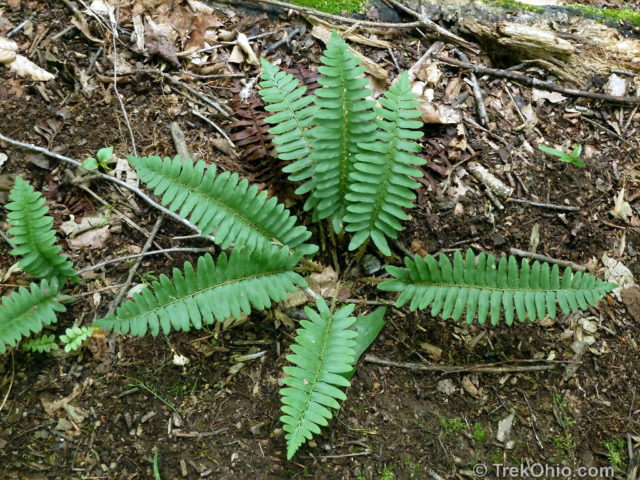 Best Novel Experience
Bob & Deb: Locating Trimmer Arch in Paint Creek Wildlife Area using geo-coordinates. This was our first experience locating a site off-trail using handheld & smartphone GPS.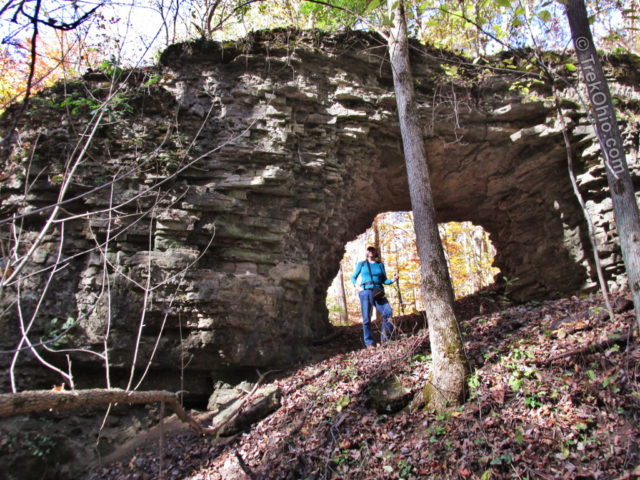 Most Hidden Preserve
Bob & Deb: Miller Nature Sanctuary is a wonderful, but exceptionally well hidden state nature preserve in Highland County.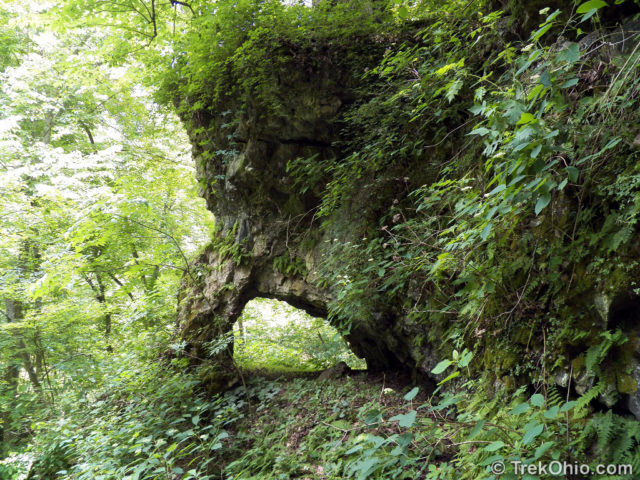 Worst Vista
Bob & Deb: The view from the Vista Trail at Gifford State Forest. There was definitely a trail, but the vista seems to have gone missing.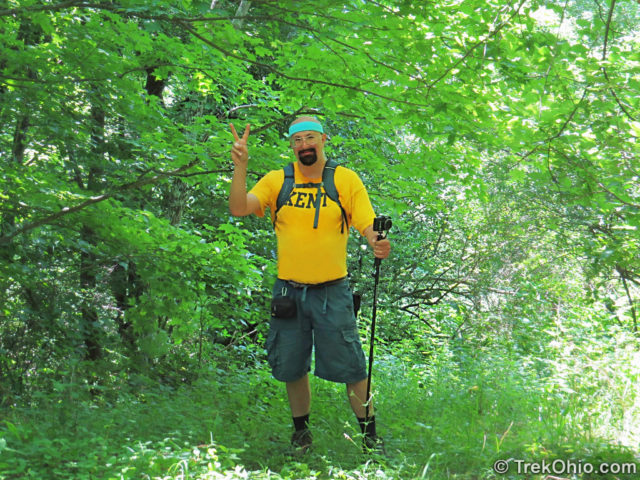 Best Historic Site
Deb: My favorite historic site of the year is at The Ridges of Athens, Ohio. One of the hiking trails goes by Radar Hill. This was the site of a WWII radar station that later became a research center at Ohio University. As a research center, it contributed to our understanding of the lunar surface and helped prepare the Apollo program for its moon landing.
The Ridges also is the grounds of the old Athens Lunatic Asylum. Learning more about this building's history gave me a better understanding of how our society has tried (and sometimes failed) to provide humane treatment to people suffering from mental illnesses.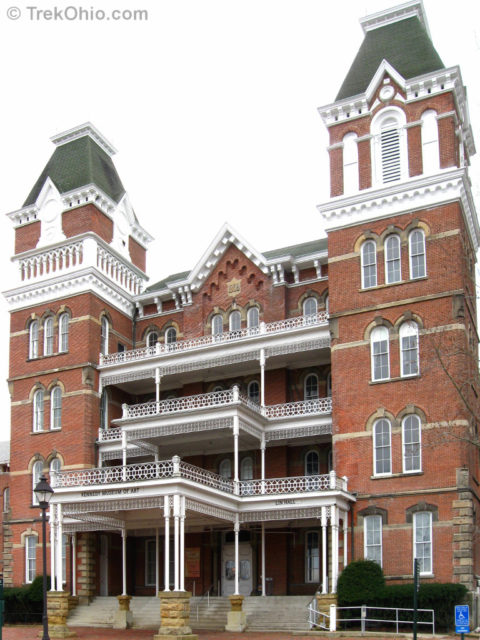 Bob: The Stone House at Salt Fork State Park. Built in the 1840's the house has been completely restored by volunteers.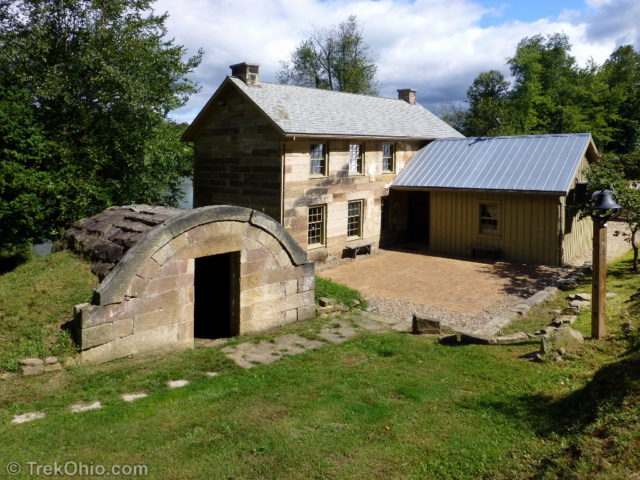 Website Milestones
In February, we transitioned to a self-hosted site which means in addition to producing content for our site, we are now doing Linux and WordPress system administration. As the year went on, we've also experienced dramatic growth in our monthly page views; in the last month the site had 61,935 page views with 38,949 uniques. We want to thank all our visitors. We also wanted to express our appreciation to those who took the time to comment on our articles.
We hope you've enjoyed our web site and found it useful in your own trips to the Ohio outdoors. If so, please share our site with your friends. We wish our readers a very happy 2015. Keep on trekking!
Annual highlights from Other Years
© Deborah Platt, Robert Platt and TrekOhio.com 2012 to 2021