Four years ago we participated in our first winter hike – 6 miles from Old Man's Cave to Ash Cave with a small group of approximately 5,500 people. There was snow and ice on the ground and the temperature was just below freezing. It was awesome! We've been hooked on winter hiking ever since.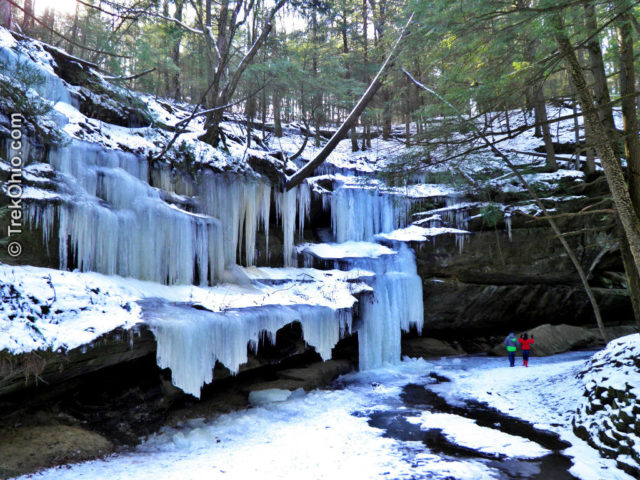 Why go on a winter hike? Isn't it cold and nasty? What about slipping on the snow and ice? Before I started winter hiking, I had all of those concerns. In fact, I thought the idea sounded a little daft. But the reality of winter hiking is actually quite different from my original preconceptions.
We go winter hiking for a couple of reasons. First is the beauty of Ohio in the winter. I enjoy seeing the forest with some green conifers and a carpet of fresh snow. In the Hocking Hills, you'll see that as well as frozen waterfalls and cliff edges with enormous icicles.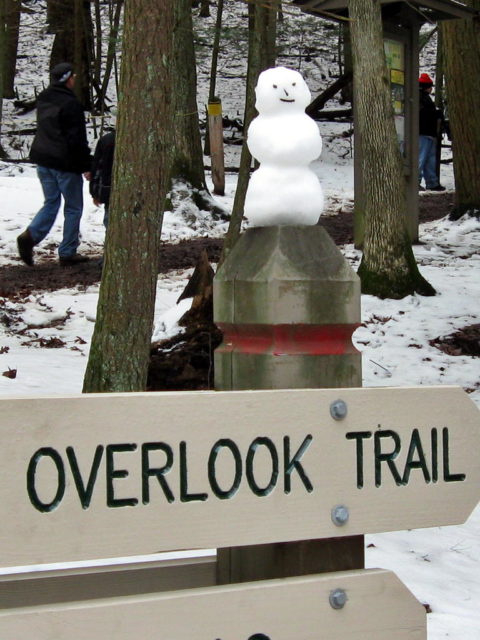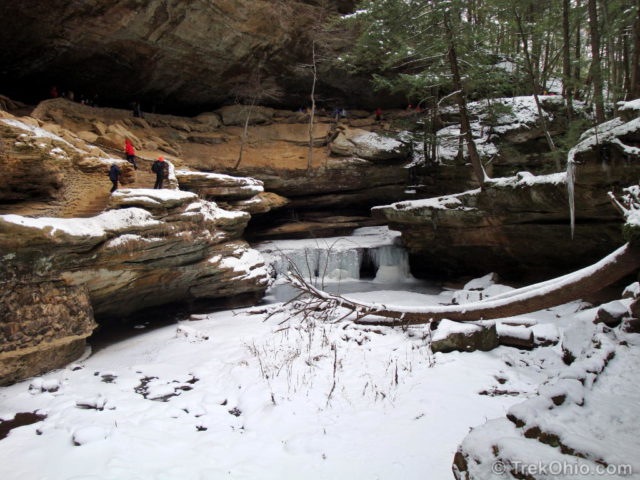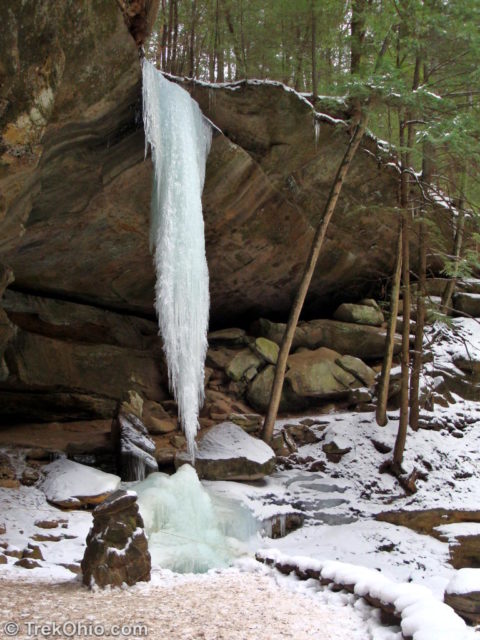 Temperature on our hikes has ranged from 10 degrees F (-12 C) to just above freezing. We dress in layers and like to start feeling just a little cold. Once we've started hiking, we warm up fast, and can remove layers of clothing as needed. For colder hikes we take chemical foot and hand warmers.
A good waterproof pair of boots (for slush) is a must. An extra pair of dry socks is a good idea. I generally wear a heavy shirt, a sweatshirt with a hood, and a parka. I usually bring two pairs of gloves; heavy-duty for cold, and lighter ones that let me operate my camera.
Traction and balance are key to winter hiking. We use YakTrax Pro cleats over our hiking boots. These use narrow steel coils that attach to the bottom of your shoes. The are held in place by stretchy rubber straps and a Velcro band. They work well on snow, ice, frozen mud, and slush. They are not bothersome when walking on bare rock. We see a lot of hikers wearing these on Ohio winter hikes.
A walking stick is important. It helps you balance in slippery conditions and gives added traction and helps ascending and descending hills. We like to use an extendable metal monopod. However, the only advantage over a simple wood pole, is a built-in camera mount.
You won't use nearly as much water as on a hot summer hike, but do bring a water bottle. And don't forget your camera.
Most of the winter hikes we've participated in have been organized hikes in state or metro parks. The ultimate Ohio winter hike is the January Hocking Hills Winter Hike which is entering its 48th year. This was originally organized by a small group of avid hikers including the legendary Emma Gatewood. These hikes now attract thousands of participants. You start at Old Man's Cave, and proceed through the gorge. Volunteers are present to direct hikers, and to clear some of the snow and ice and put down grit for added traction. The hike then proceeds to Rose Lake and on to Cedar Falls. At the parking lot of Cedar Falls, they usually serve a lunch of corn bread, hot navy bean soup, and hot chocolate (small donation encouraged). Water and rest facilities are available as well. Then it's on to Ash Cave.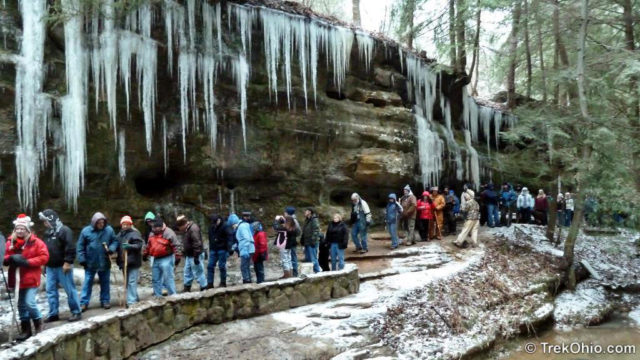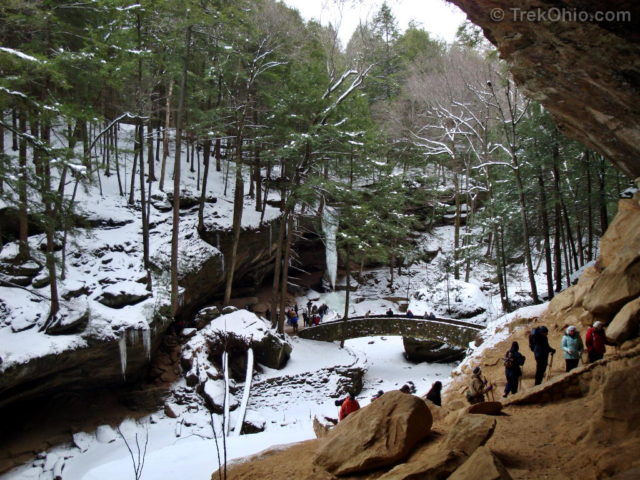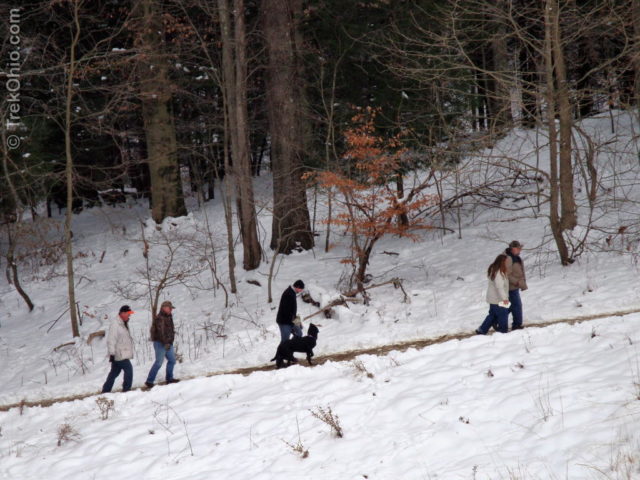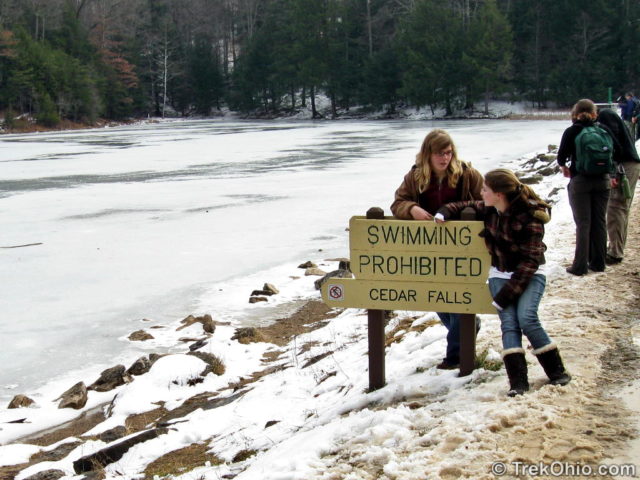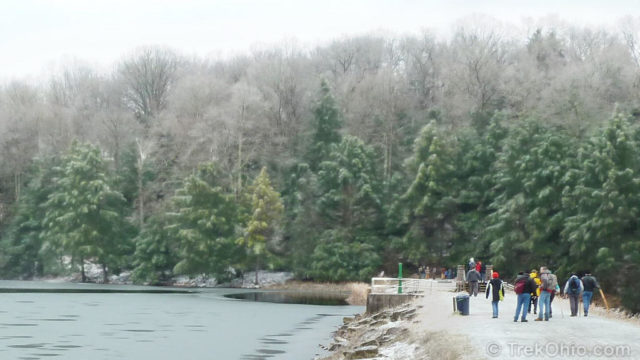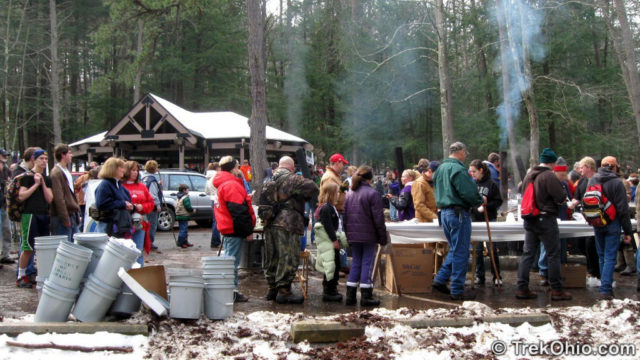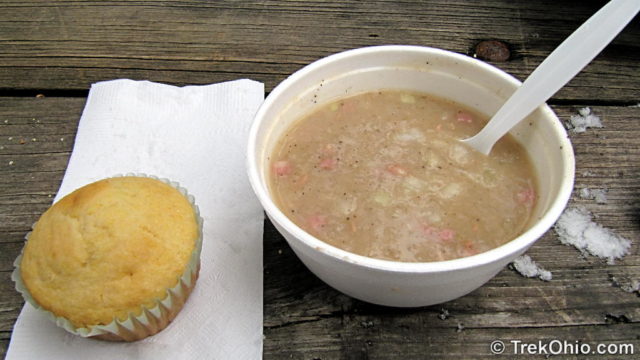 The hike ends at Ash Cave and school buses take participants back to the starting point. I'm not a fan of crowds, particularly while hiking, but the atmosphere of the hike is festive and we've always enjoyed talking to our fellow participants.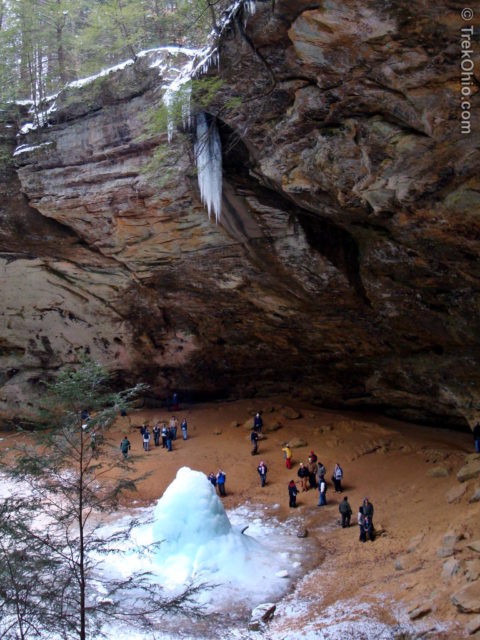 Initially, I'd been worried about winter driving. On the Hocking Winter Hikes, we've attended, it's been fairly normal winter driving conditions, and the roads had been recently plowed. On the other hand, with up to 5,500 people participating, there is a lot of traffic and parking is an issue. This year, the state is doing a lot of work on the roads and parking at Old Man's Cave, so it may be much improved.
There are many other winter hikes at state parks. In central Ohio, the Columbus and Franklin County Metro Park system runs winter hikes every weekend in January and February. These have become very popular with attendance running in the hundreds up to a couple of thousand. These hikes vary in length. At some parks there are multiple options, allowing you to choose from a small mile long hike up to five, six, or even seven miles. Many of these hikes, end with the option of a lunch of hot soup under a picnic shelter. We've participated in a number of these hikes, and have enjoyed them a lot.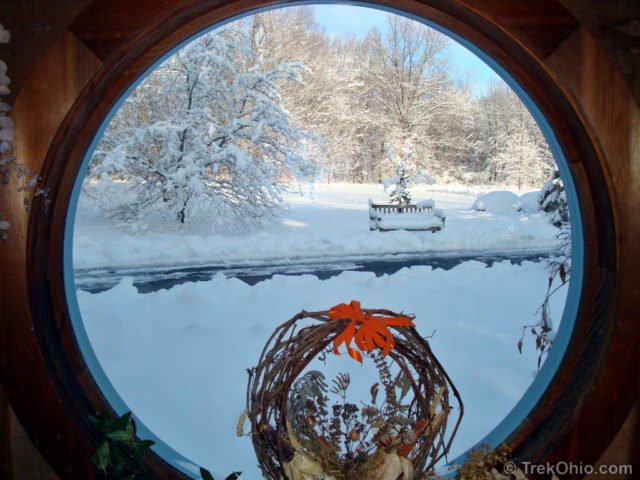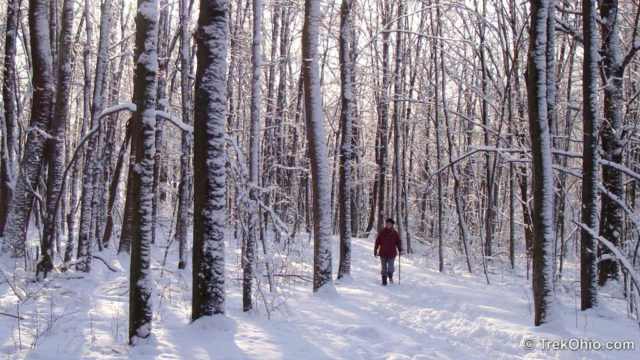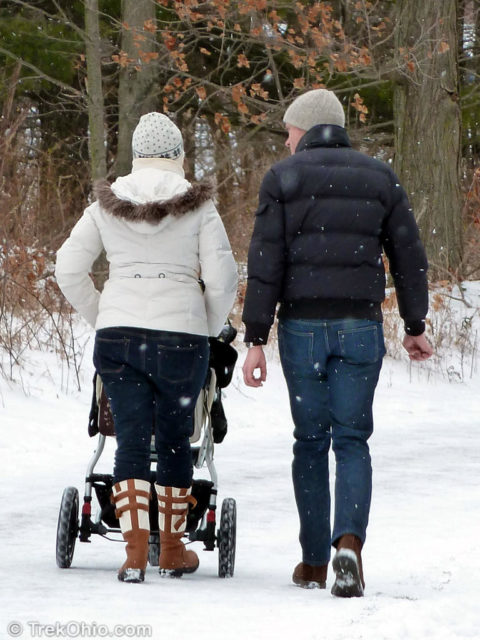 Before the end of the year, we will post a calendar of winter hikes around the state. Finally, let me thank the Ohio Dept of Natural Resources, the Columbus and Franklin County Metro Parks, and the scores of volunteers that organize these events, run them so smoothly, and help to make them so enjoyable for all.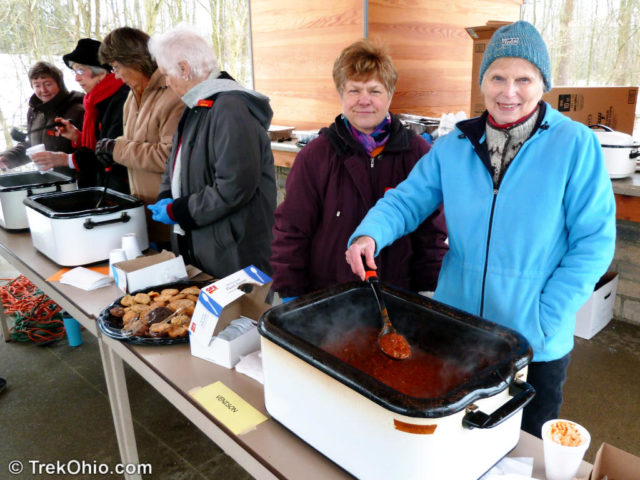 Check out the Ohio Winter Hike Calendar if you think you'd like to join in on an organized winter hike. The calendar includes hikes from park districts throughout the state.
Additional information
More on Winter Hiking
© Deborah Platt, Robert Platt and TrekOhio.com 2012 to 2021