Last Saturday we participated in the winter hike at Clear Creek Metro Park. This 5,382-acre Metro Park is located on the border of Hocking and Fairfield Counties; it features 14 miles of hiking trails.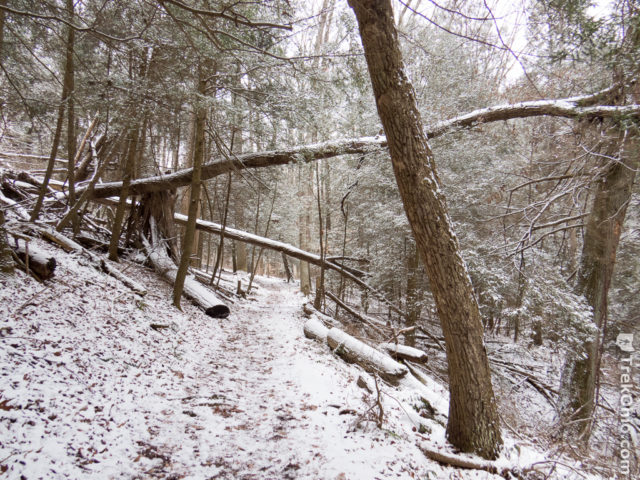 The day was cold, near freezing with an overcast sky. We arrived early about 9:20 AM for the 10 AM hikes and were greeted by park staff and volunteers who provided maps and routes for a variety of hikes. There were a variety of hikes available ranging from 1 to 7 miles and of varying levels of difficulty. We opted for a scenic 3 mile hike.
We drove passed the large slump block known as Leaning Lena and parked. Even though we were early, the parking lot at the Fern Picnic Area was almost full indicating good attendance at this hike.
Our route was a loop from the trail head of the Fern Trail at the parking lot to the scenic Hemlock Trail and then back along Clear Creek via the Meadow Trail.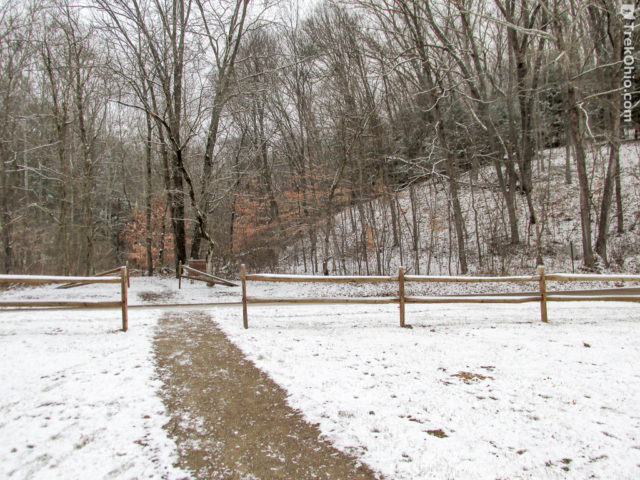 We started at the parking lot near Clear Creek. From the Fern Trail trail head we gradually ascended the surrounding ridge. Despite a lack of snow in the Columbus area, the park was had a light coating of snow over the landscape and dusting the rock outcroppings and conifers.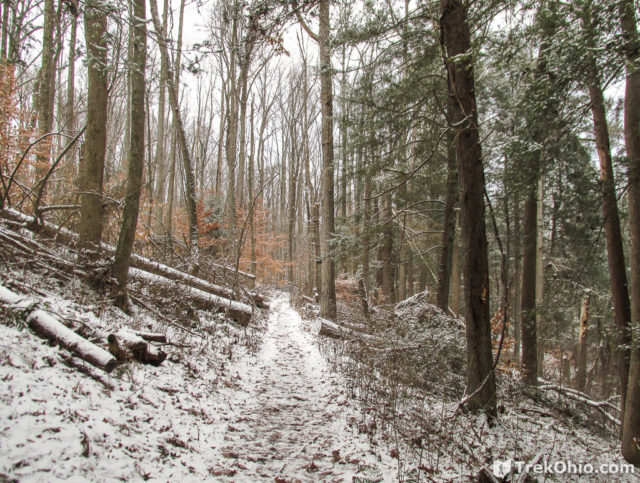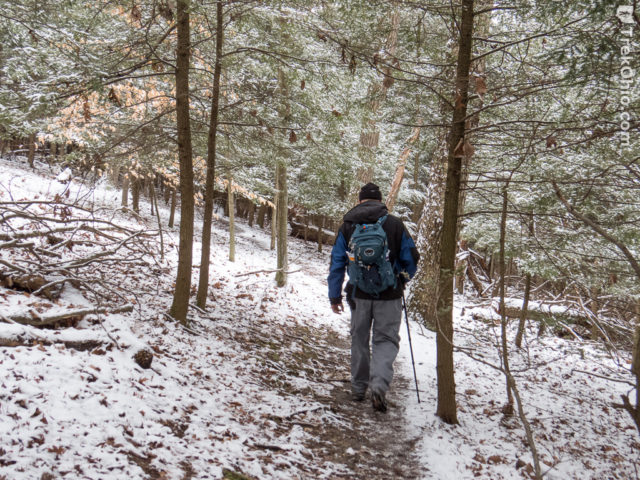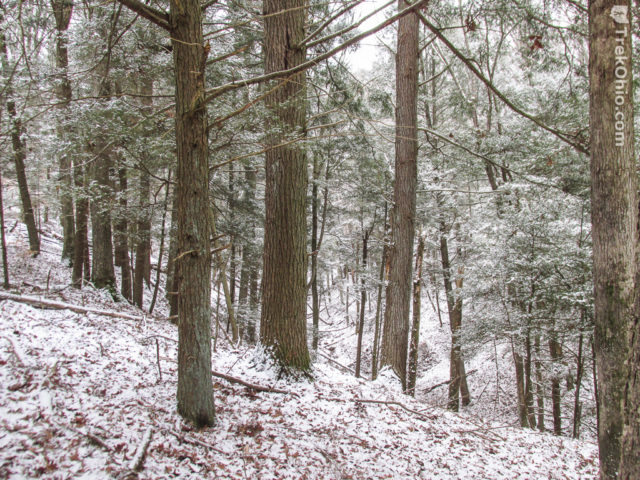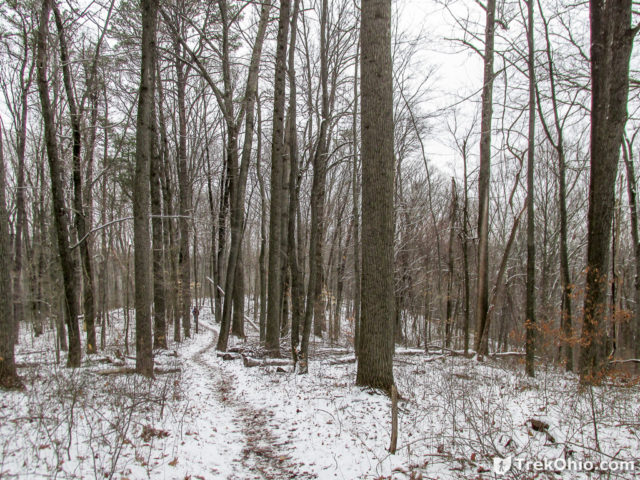 We took our first right onto the Hemlock Trail. This trail took us through several hemlock groves and involved one steep ascent to the ridge top, 300 feet above the creek. Then back down to the valley floor. Numerous slump blocks and sandstone cliffs were visible from the trail.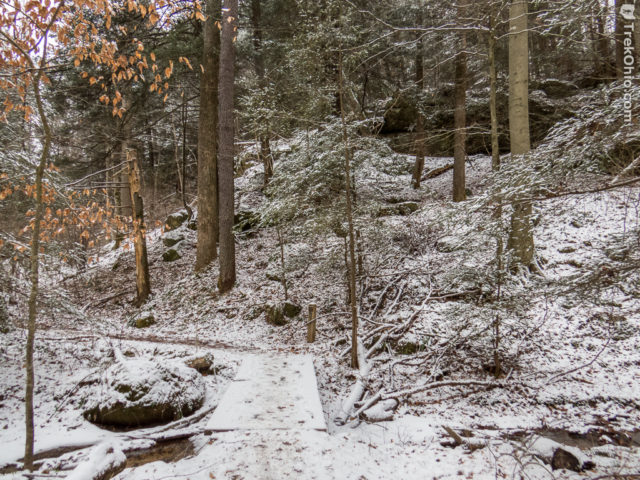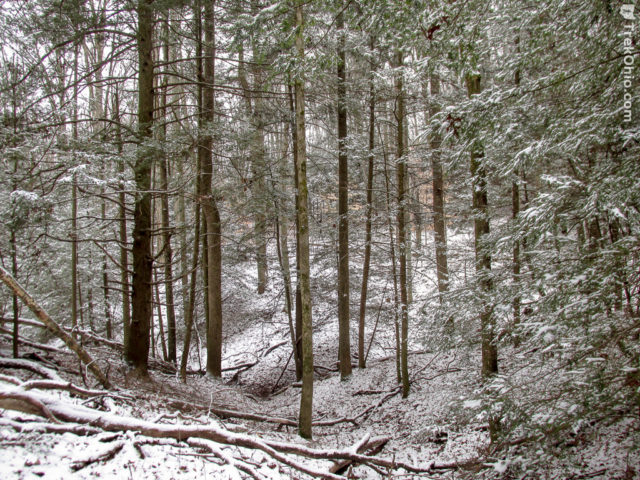 We followed a path along a small stream back to the creek and then took the Meadow trail back to the parking lot.
It was a two hour hike (we stopped for lots of pictures) and was very scenic and enjoyable. Deb's Fitbit recorded that we'd ascended / descended the equivalent of 47 flights of stairs.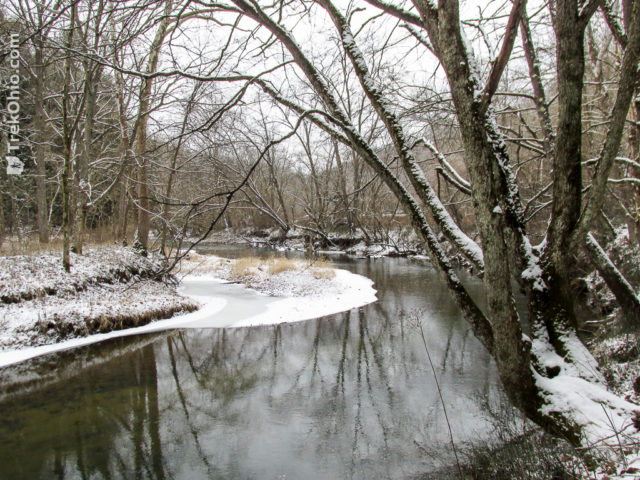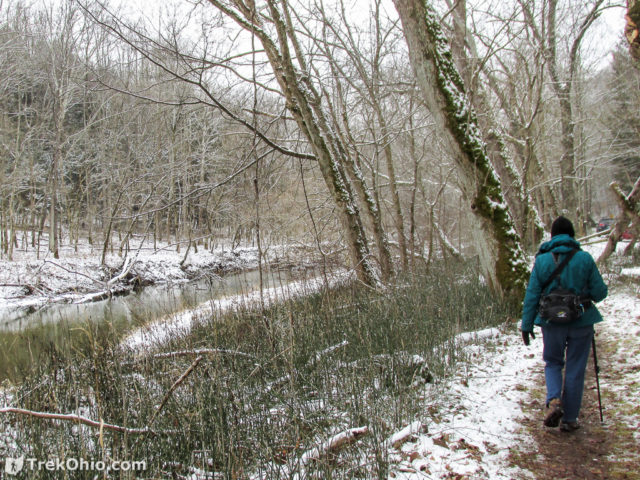 There is still a month of winter hiking left – see our Ohio Winter Hiking Calendar for details.
Additional information
© Deborah Platt, Robert Platt and TrekOhio.com 2012 to 2021