The dining lodge is one of the attractions of Lake Hope State Park. Originally built in 1950, the lodge burned to the ground in 2006. We visited Lake Hope State Parke several times after the lodge was destroyed, and it was a long drive to find a meal. Happily the lodge was rebuilt last year, and it has resumed serving those visiting and camping in the park as well as the local people of Vinton County. People can hire portions of the lodge for gatherings of all sorts, including conferences, weddings, and family reunions.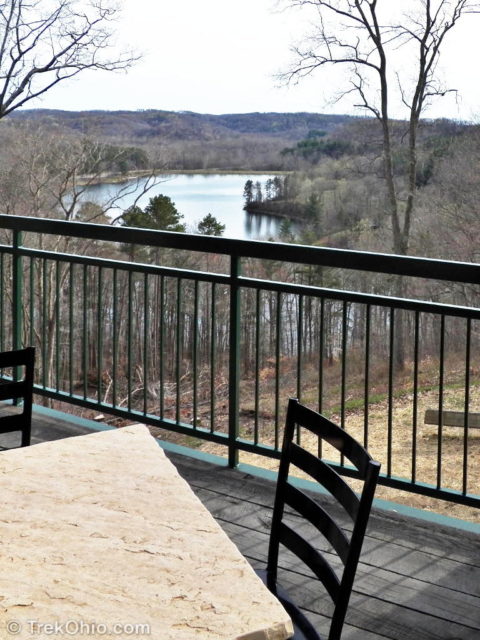 The newly re-opened 14,465 sq. ft. dining lodge houses a park office which handles camp site and cabin rentals. There's also a gift shop under the same roof. Several sitting areas are available, including one with a fire-place. The decor features historical photos of the area as well as taxidermy. For Internet-addicts such as myself there's open WiFi.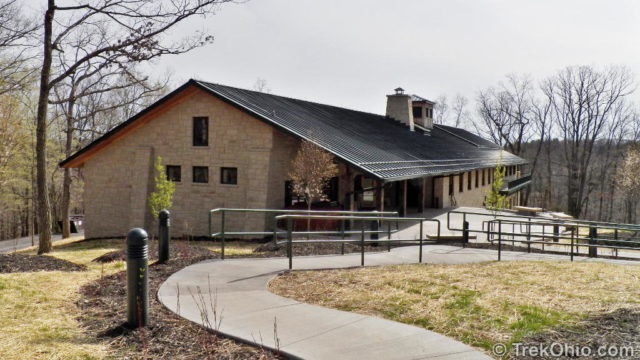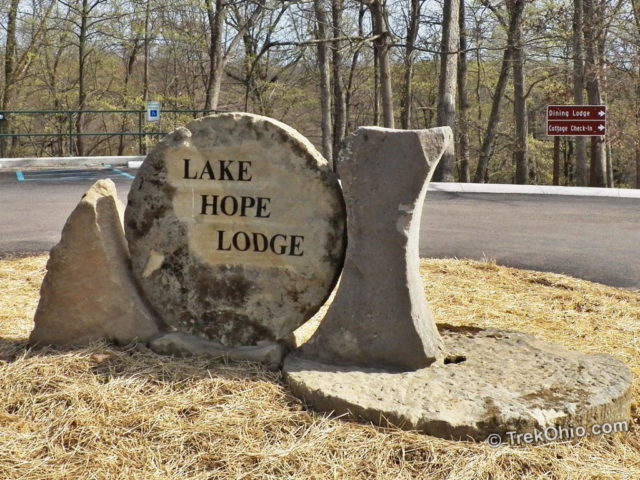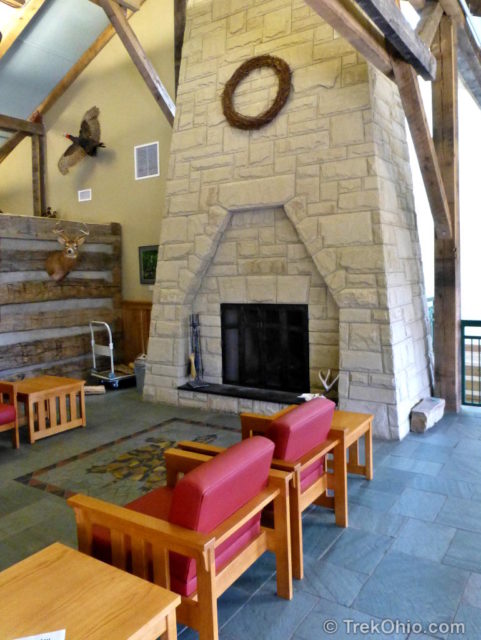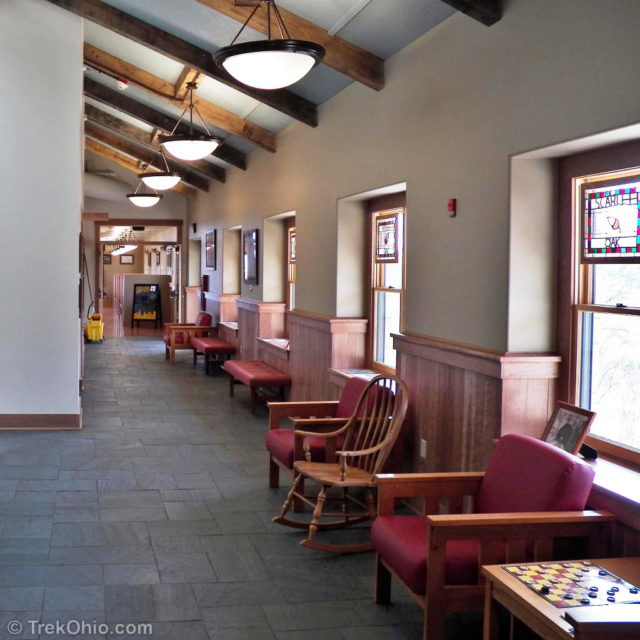 The restaurant is on the far end overlooking the lake. When the weather is nice (as it was during our recent visit) – the prime spot is on the outside second floor deck with a magnificent view of the lake. Downstairs is a banquet hall with seating for 100 that can be reserved for events. There is also a smaller dining area to the side of the sitting room with the fireplace that also can be reserved for gatherings.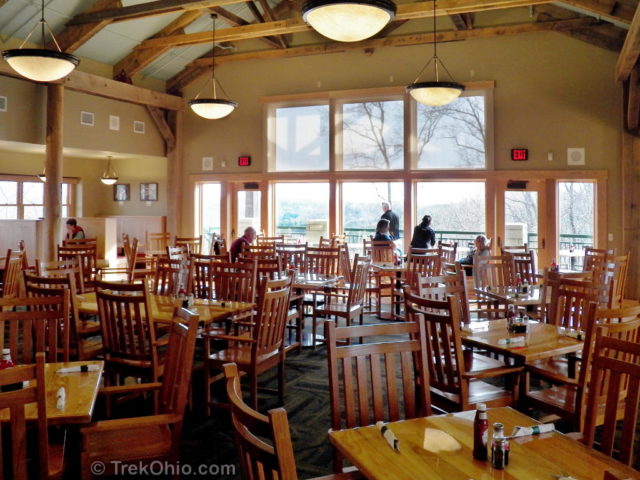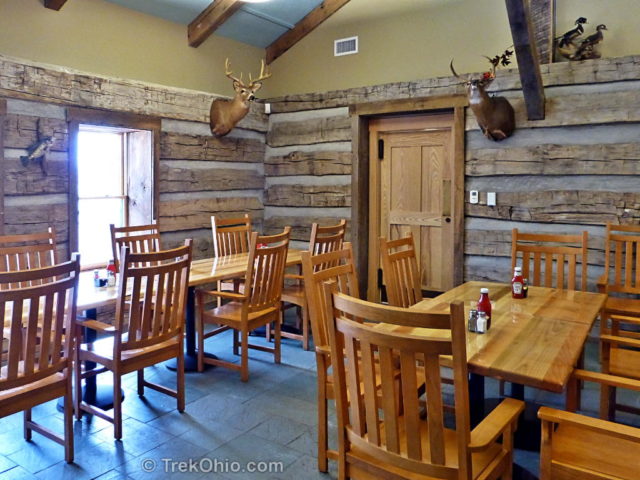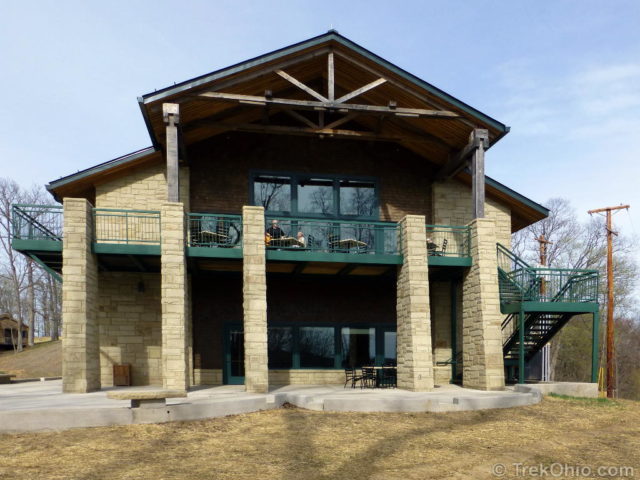 But what about the food? The restaurant sources as many local ingredients as possible. The chef also makes many items from scratch, including the rolls. Their specialty is slow-cooked, barbecued brisket, so that's what we had. Deb had it as a sandwich, and I had a salad with brisket and blue cheese. It was delicious and filling (and this was after a day of hiking). They plan to add a pizza oven (which they're ready to install), and on Sunday's they feature a brunch buffet. The restaurant menu can be seen here.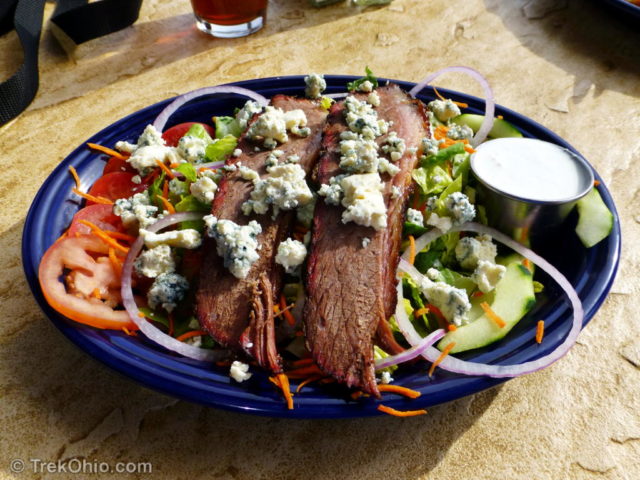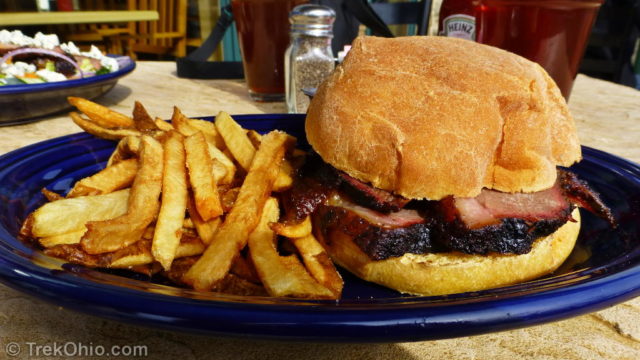 After finishing our meal we struck up a conversation with the couple at the next table. The gentleman remarked that we had probably had one of the best meals in Ohio, both with respect to the food and the setting.
Additional information
Location
Address: 27331 State Route 278, McArthur, Ohio 45651
Directions:
From US 33 at Nelsonville, take OH-278 South. You will see the entrance for Lake Hope State Park on your right.
GPS Coordinates: 39.3278905, -82.3519143
Google Maps: View on map or get directions
More on Vinton County
© Deborah Platt, Robert Platt and TrekOhio.com 2012 to 2021