The glacial grooves on Kelley's Island are a designated National Natural Landmark. They were formed during the last Ice Age about 18,000 years ago, and they are the world's largest, known glacial striations. Typically glacial striations are formed when boulders and gravel are dragged across the bedrock under the immense weight of a glacier. Geologists rely on these natural features to determine the direction in which the now-melted ice once flowed. However according to the Ohio Department of Natural Resources, geologists now think that the glacial grooves in Ohio may have been formed by sand-charged water flowing at great speed and pressure through channels at the base of glacier. At the pinnacle of the last ice age, Kelley's Island was underneath a mile of ice, so the pressure would have been incredible.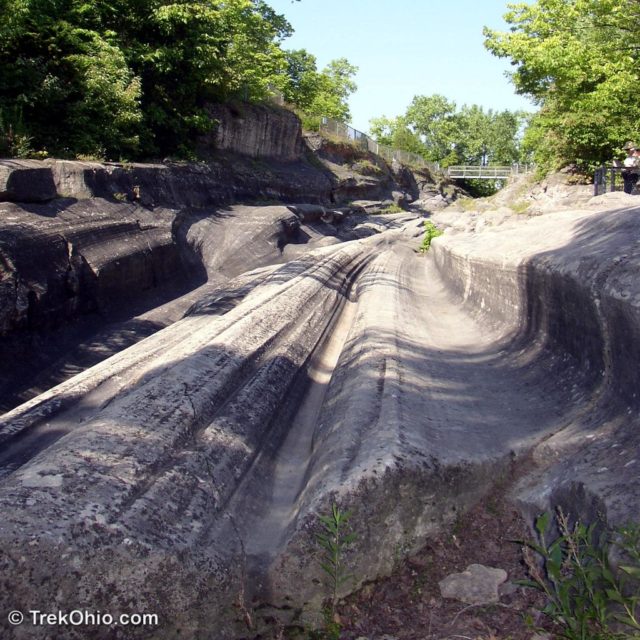 In their present form, the glacial grooves are about 430 feet in length (131 meters), 15 feet deep (4.6 meters), 35 feet wide (10.7 meters). However the Historical Association of Kelley's Island explains that the world's largest example of glacial striations was much longer a couple of centuries ago, extending from its current site the whole way into Lake Erie. The grooves are much shorter now because people quarried this geological wonder for its Columbus limestone which formed when this area was the bed of a shallow sea some 400 million years ago. However after becoming a state memorial park in 1923 the site has been protected from further quarrying. The Glacial Grooves State Memorial is now managed by the Ohio Historical Society because of its important role in Ohio's natural history.
If you go to Kelley's Island, besides visiting the glacial grooves there are a number of other attractions including Kelley's Island State Park (where we camped and swam at its beach) and Inscription Rock. I didn't know about Inscription Rock when I visited the area, but if I had I certainly would have checked it out. It is a flat rock on which Native Americans carved petroglyphs. Archaeologists believe that the petroglyphs were the work of Algonquian-speaking groups affiliated with the "Fire Nation" confederacy and that they were made about 1643 A.D.
I will close out by including a few more views of the glacial grooves from different angles. It's definitely worth a visit.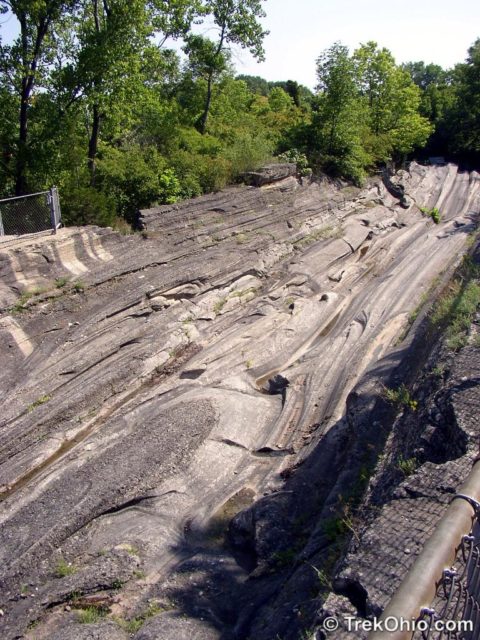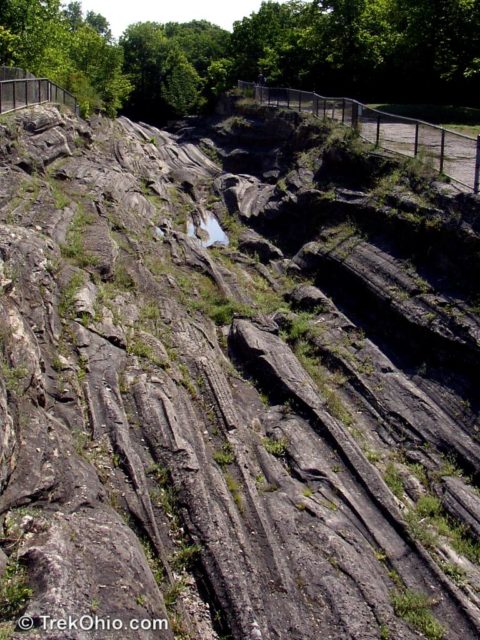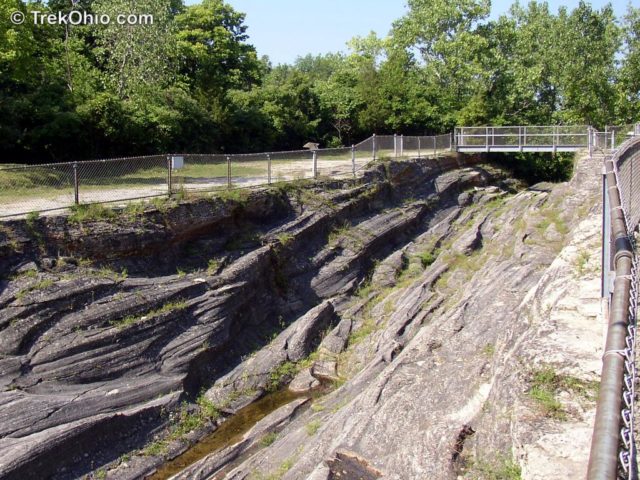 Additional reading
Location
Address: 920 Division Street Kelleys Island, Ohio 43438
Location: Glacial Grooves is located on Kelleys Island, Erie County, in Lake Erie 8 miles north of Sandusky. Ferries depart from Marblehead and Sandusky.
GPS Coordinates: 41.579498,-82.76001
View or get directions from Google Maps.
More on the Lake Erie area
© Deborah Platt, Robert Platt and TrekOhio.com 2012 to 2021