You may not have heard of it, but there really is a Squirrel Appreciation Day. Although not officially sanctioned by any government (that I know of), Squirrel Appreciation Day was founded by wildlife rehabilitator Christy Hargrove in 2001, and it falls on January 21st of each year. He believes that a good way to commemorate this winter holiday would be by putting out some extra food for the squirrels in your yard. In the slideshow below, you can see an Eastern gray squirrel helping himself to food from one of my bird feeders.
In Ohio we have four species of squirrels. In terms of individual size, going from largest to smallest they are:
In the suburbs the most commonly seen squirrels are Eastern gray squirrels and Fox squirrels. Red squirrels seem to be more common in forests with mature trees, and I believe they are more common in northern Ohio than in southern Ohio. And unbelievably our most common species of squirrel is the Southern flying squirrel. I say unbelievably because I never see these. They are hard to spot because they're nocturnal.
I became tired of squirrels getting into my bird feeders, and I eventually put them all on a pole with a raccoon baffle (which baffles squirrels, too!).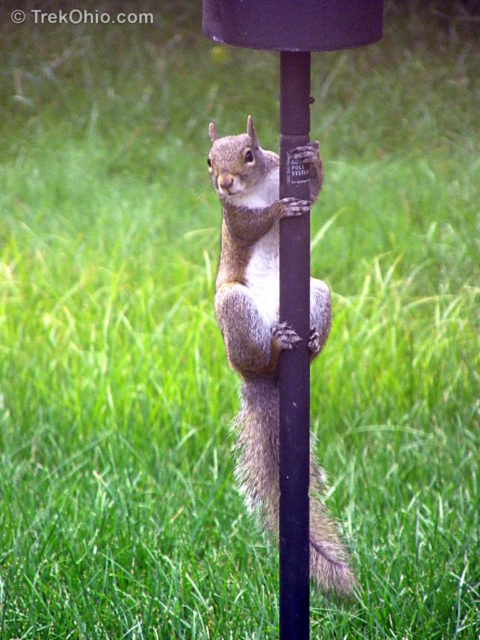 Additional information
More on Nature Events
© Deborah Platt, Robert Platt and TrekOhio.com 2012 to 2021