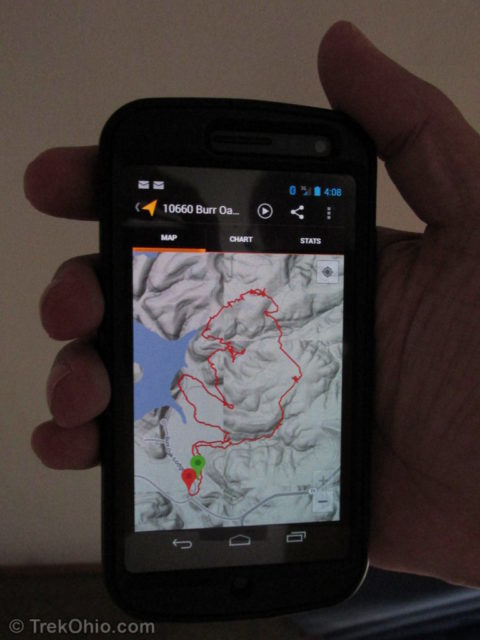 Does this seems familiar:
Her: Wow, I can see for miles. What a great view!
Him: beep-ding … Hang on, got to check this e-mail, and Twitter, and look at Facebook and …
A hike is an opportunity to get some exercise, unwind from daily stress, and enjoy nature. One argument for not bringing a smartphone on hikes is that it can destroy the natural experience for you and those traveling with you.
So, should you bring your smartphone with you on hikes? Yes, definitely! A smartphone is a multifunction device, but first and foremost, it is a communications device. Think of it as an emergency communications device. If someone in your party, or some other person that you meet on the trail requires emergency assistance, you can use your smartphone to call for help.
Admittedly there are places in Ohio where there is no cell service. But these days such spots are fewer and fewer. The Hocking Hills used to be a dead zone, but now cell service is more generally available, though still a little iffy. Usually if you can't get a signal, a short hike to the top of a nearby hilltop will yield a bar or two. When the signal isn't strong enough for a voice call, you still may be able to send a text message.
As I discussed in a previous article, a smartphone can be used for car navigation to direct you to a trail-head. Once you're hiking, a smartphone can be used as a handheld GPS to help keep track of your hiking path, and if necessary, get you back to your starting point. Deb and I have Android phones and use an app called 'My Tracks'. This app will track your path in real-time, compute mileage, speed, and change in elevation. A feature was recently added that computes total calories burned.
Smartphones can be used to access on-line and off-line hiking information. The TrekOhio web site is designed to work on mobile devices. County guides can be obtained by entering:
https://trekohio.com/county-name
Hence: https://trekohio.com/fairfield will retrieve our guide page for Fairfield county. For off-line use, we will frequently download color hiking maps as PDF's to our smartphone. This will allow us to refer to a map even if we don't have cell service.
Smartphones are handy for quickly obtaining a short-range weather forecast. I like to get hourly forecasts the day of a hike and look at Doppler radar. Prevailing winds are generally from the west, so I can look at what's coming our way from Indiana.
I occasionally use my smartphone as a camera. Google has added a feature called 'photosphere' to Android that lets you take 360 degree pictures. I've not used this feature often, but you can see a segment of a one of these pictures here.
We also use our smartphones for entertainment. We listen to audible books via our smartphones while driving to or from a park. When camping we often use a smartphone to read books in the tent during the evening.
Anyone who owns a smartphone knows how quickly they go through batteries. I always bring an external power-pack that can recharge a phone on the go. There are power-packs that use rechargeable lithium batteries, as well as ones that accept AA batteries.
And remember if social network updates are distracting you from your experience of nature, you can turn your phone off or put it in airplane mode.
Additional information
Note: Since we are Amazon Affiliates, any purchases made via the above Amazon links help support this blog.
More on Navigation
© Deborah Platt, Robert Platt and TrekOhio.com 2012 to 2021