Crall Woods is a 97-acre woodland that's one of two tracts of land making up Pine Hill Park in Ashland County. It was named as a National Natural Landmark by the National Park Service in 1974. According to a sign in the park's kiosk, there are three nature trails at Crall Wood with a total length of 2.45 miles. However, we saw two unlisted trails (one under construction and the other complete) that were not listed on the kiosk. All the trails were wide and well-maintained.
In a recent comment to our site Amanda Kiplinger pointed out that Crall Woods is a good site for viewing spring wildflowers, so we arranged to visit the park on a sunny day in mid-April.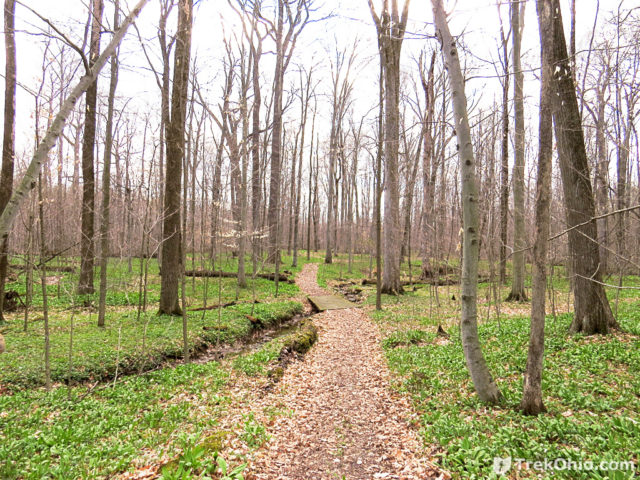 At the entrance there is a small playground and law, a parking lot, and a kiosk. To the left of the kiosk is the trailhead.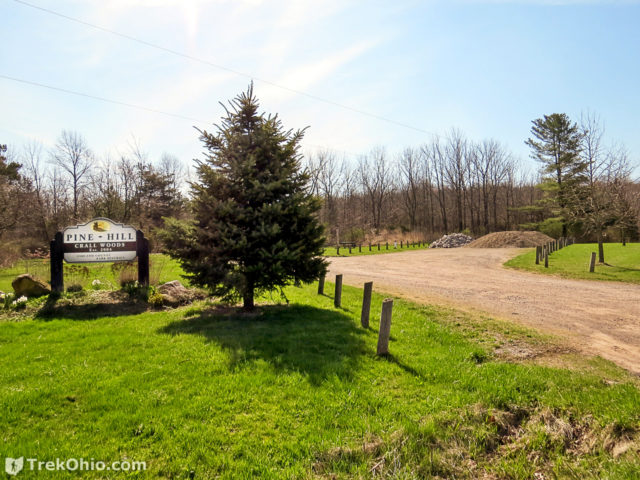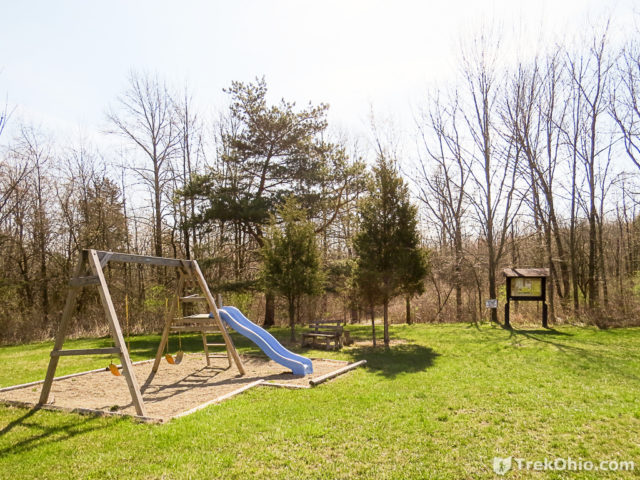 We hiked for a total of 2.34 miles on several trails which combined made a loop. We followed the loop in a clockwise direction. A screenshot of our hike follows.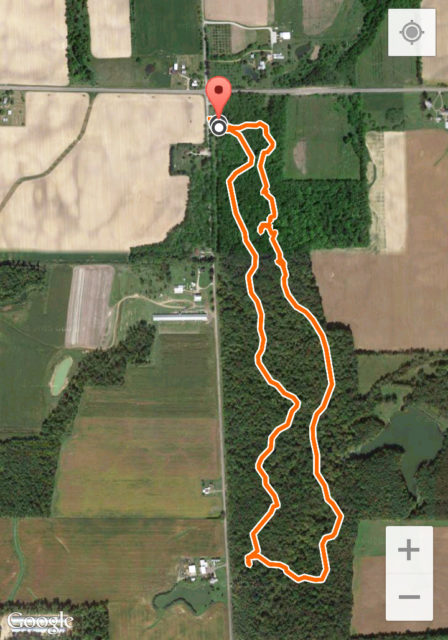 We had a choice of trails near the beginning, and we chose to start with the Overlook Trail. Shortly after starting the trail, we had to wade across a small creek. As it turns out if we had gone in the other direction we could have crossed the small creek via a bridge.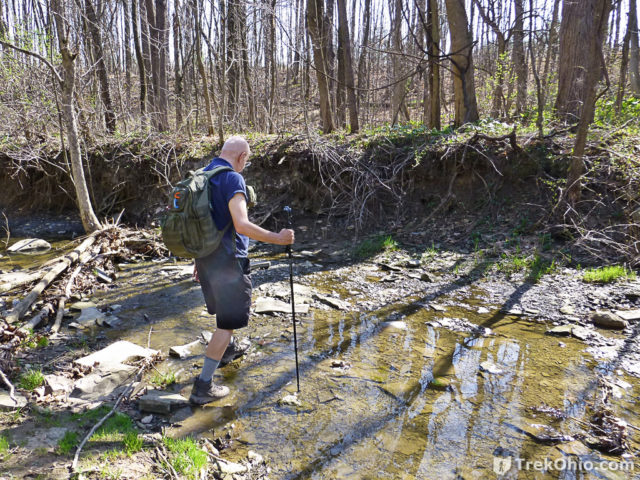 On our way back to the parking lot we did use the bridge. I'm pictured below walking away on it.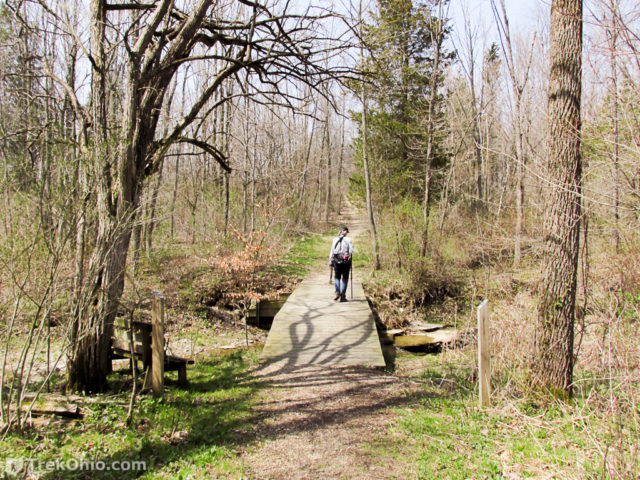 Right below the exit bridge, there is a tiny cascade made from eroded shale.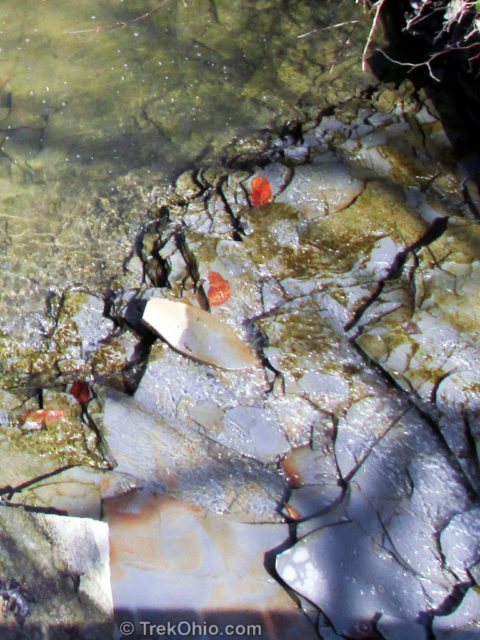 While we explored the area, we soon found that the trails had footbridges at just about any point where hikers might have liked one. The footbridges are courtesy of Fred and Kathy Hacker who donated the funds for their construction. Just like others who have hiked this park, we appreciated their generosity.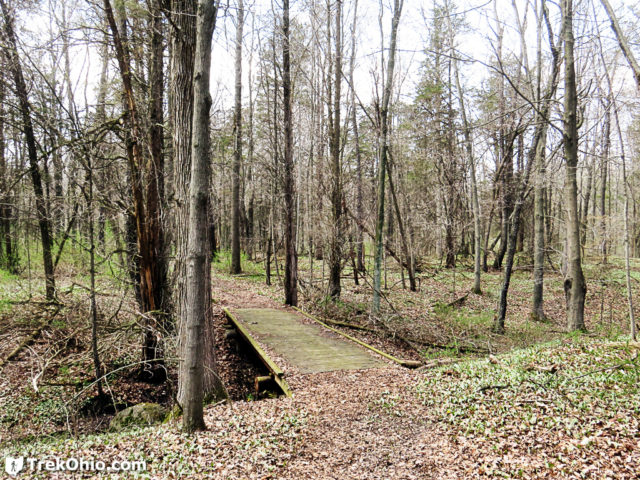 The first ground cover that we came across was skunk cabbage.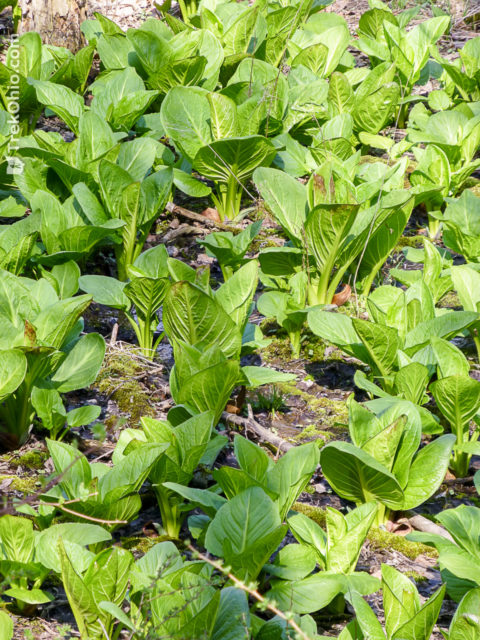 The Overlook trail followed a bluff above the flood plain for the creek, and other than the skunk cabbage in the low areas, it was kind of barren looking this time of year.
We left the Overlook Trail and instead headed southward on the OakView Trail. At first that trail also seemed devoid of wildflowers, and we began to wonder if mid-April was too early to view wildflowers here.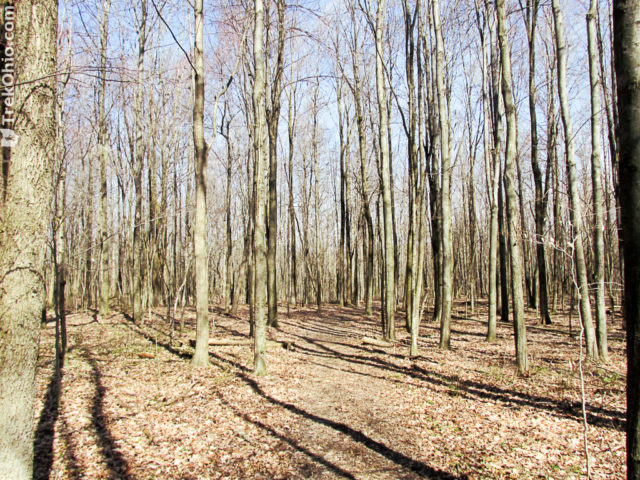 However before long greenery appeared. The greenery was either the leaves of "ramps" or that of wildflowers. Ramps are also known as "spring onions" or "wild leek". When we were on our way back going north on the trail, we went through one section that was so thick with ramps that there was a whiff of onion scent in the air.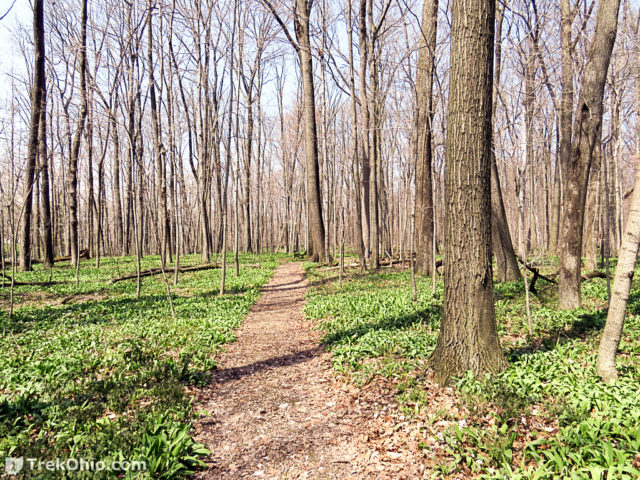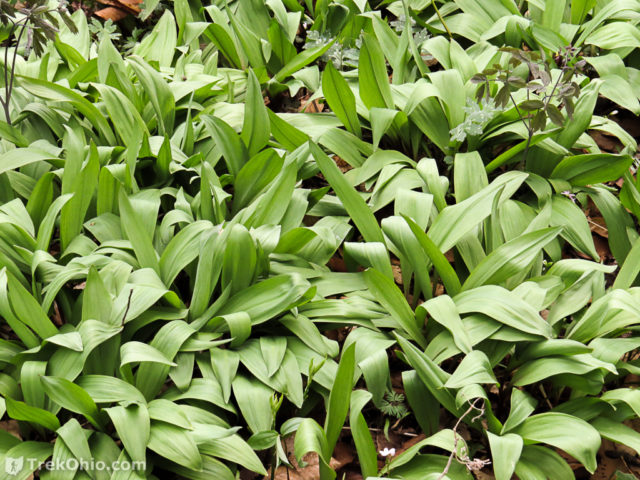 Sometimes we would see spring wildflower sticking up above the ramps. At other times they created a thick carpet with their own foliage.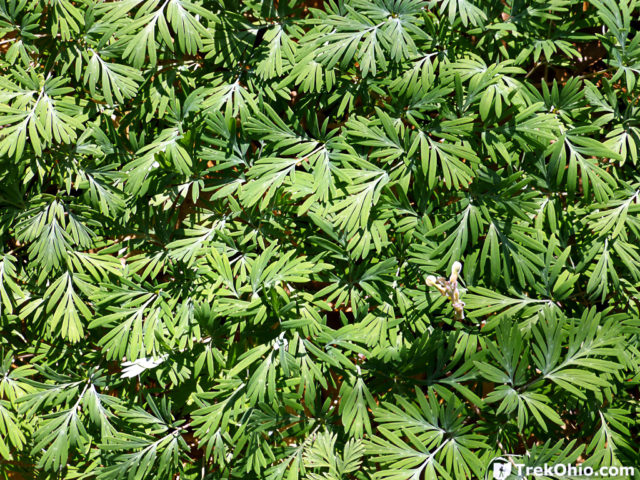 To me the foliage of Dutchman's Breeches and Squirrel Corn looks pretty much the same. Here's what their blossoms look like: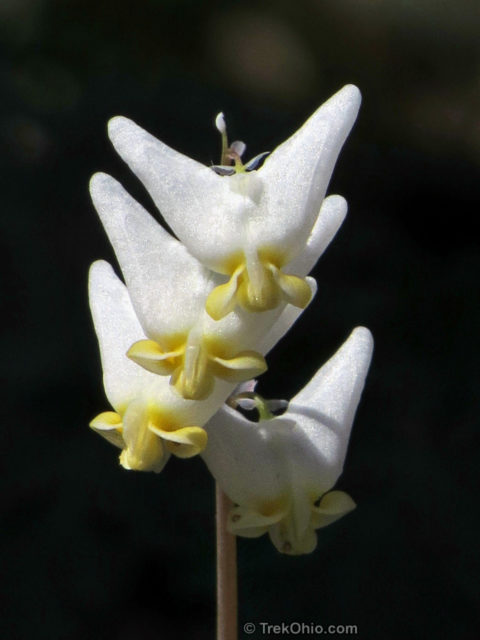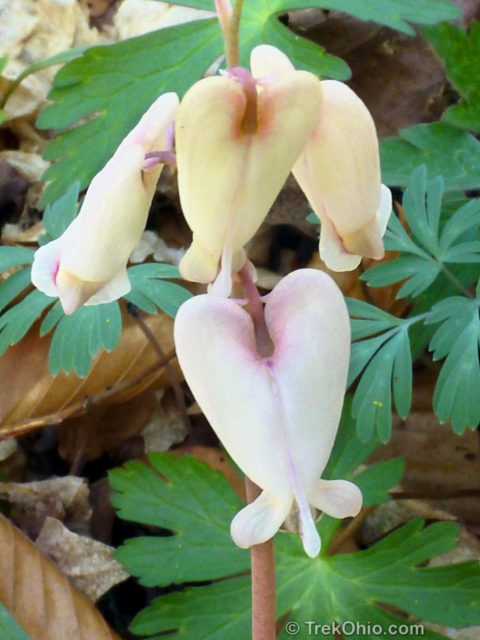 We also went through areas where woody plants were just beginning to put out leaves.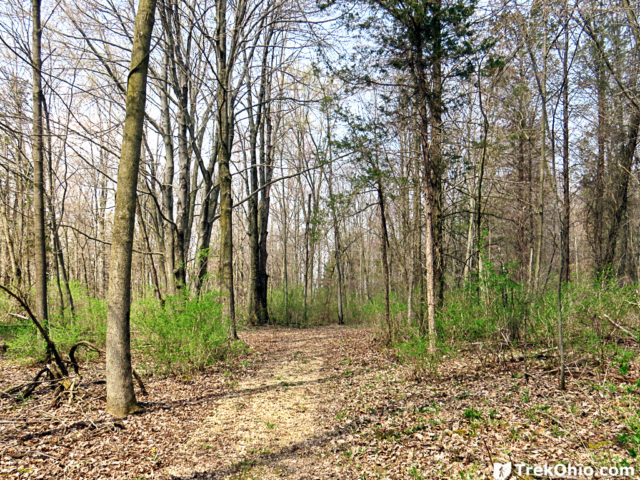 Periodically there were benches placed along the trail. At the far end of the loop, there was even a roofed shelter with benches inside it.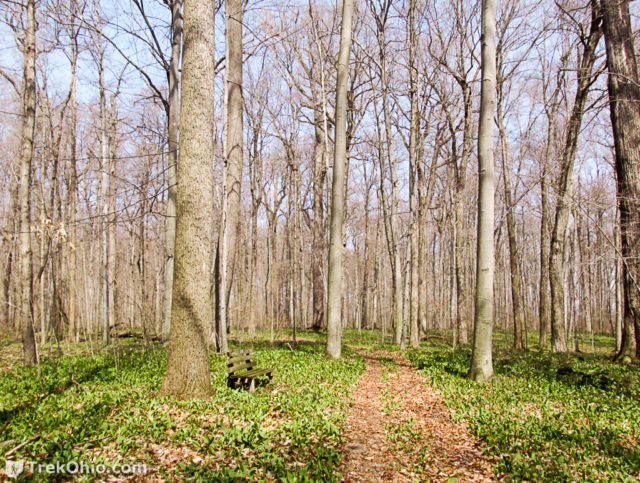 There are supposed to be remnants of an old growth forest here. Although most of the trees that we saw seemed to be an ordinary size, we did see a few that had impressive trunks. I stood near the one below just off the trail to give you a sense of its girth.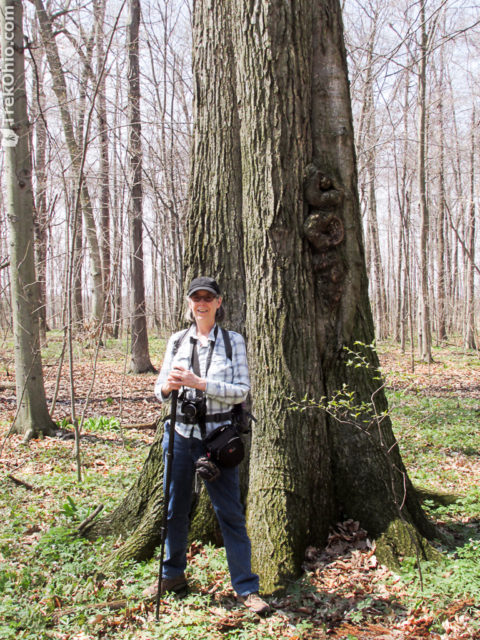 I saw a number of birds there, but the only one that posed for me was this robin.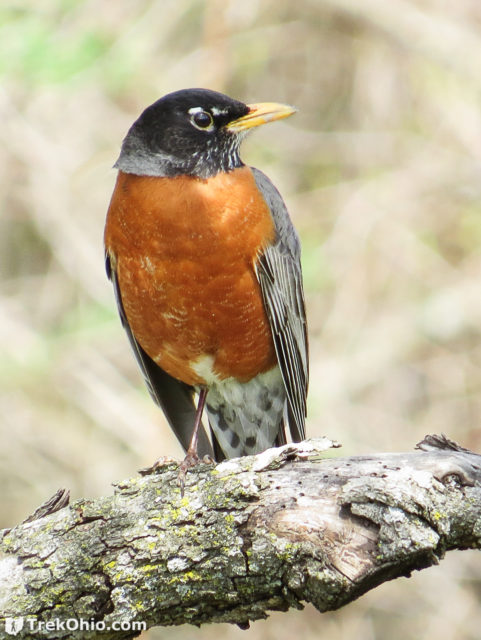 I also caught sight of a small, harmless snake.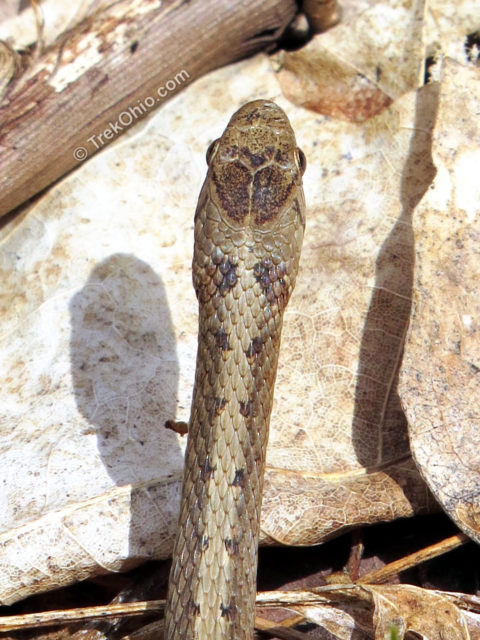 However, the real treat for me was the bountiful display of wildflowers. It turns out that we weren't too early to see them. We just needed to move into the park farther. As we did our clockwise loop, we saw most of our flowers as were going outbound towards the south. After we reached the farthest end of the loop and started heading north toward the parking lot, the number of wildflowers dropped off. At any rate I would like to thank Amanda Kiplinger for recommending Crall Woods as a great site for viewing spring wildflowers. If any of our other readers would like to recommend a hiking destination, we're always happy to hear from you.
And with that I'm going to close out with some of the wildflowers photos that we took at Crall Woods mid-April.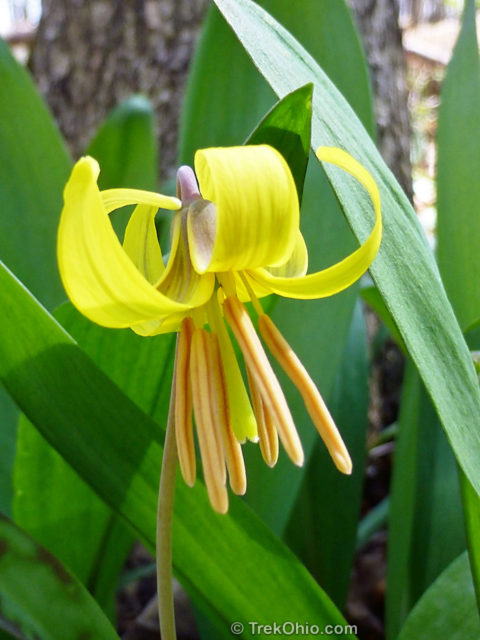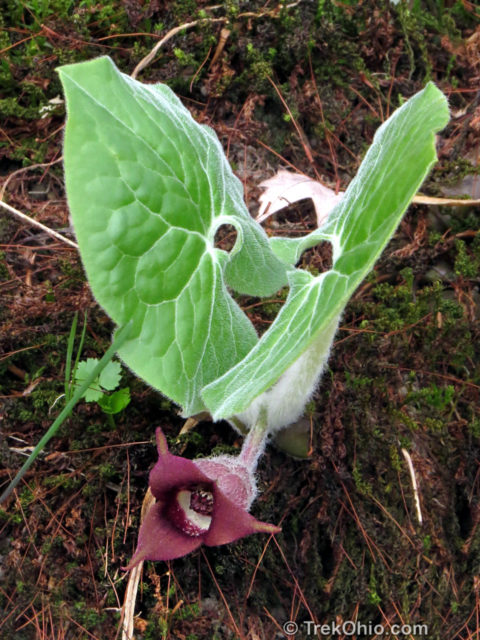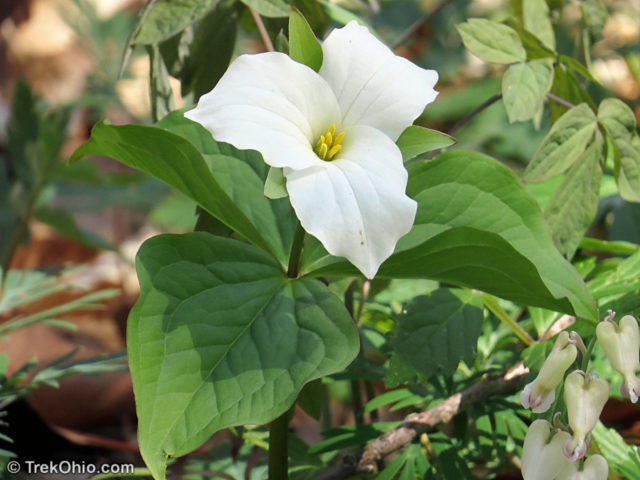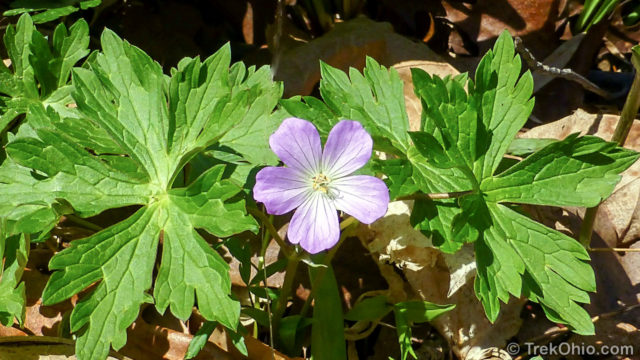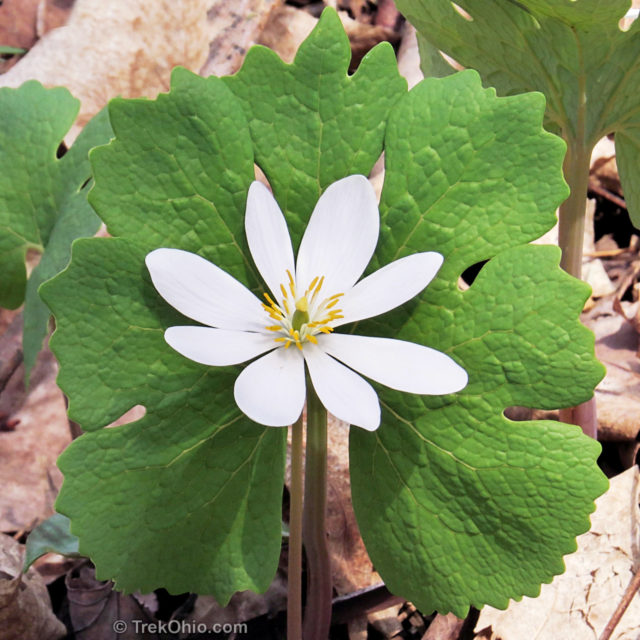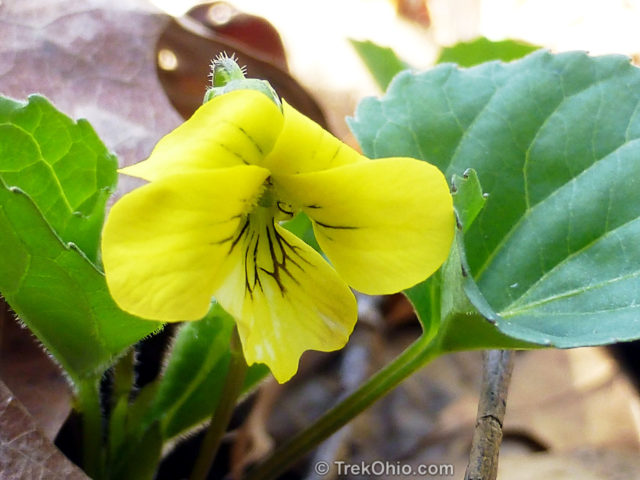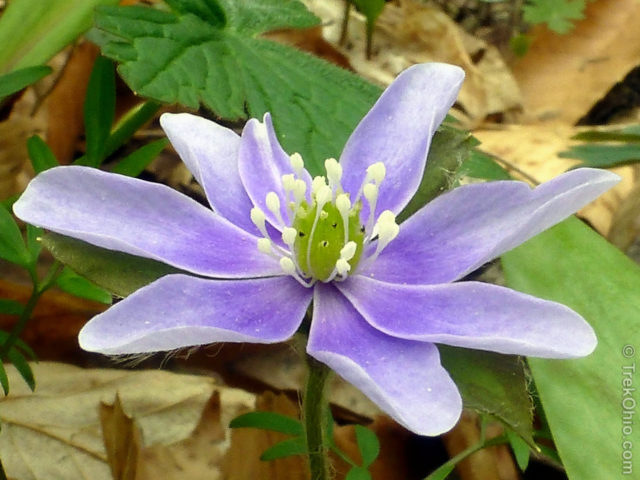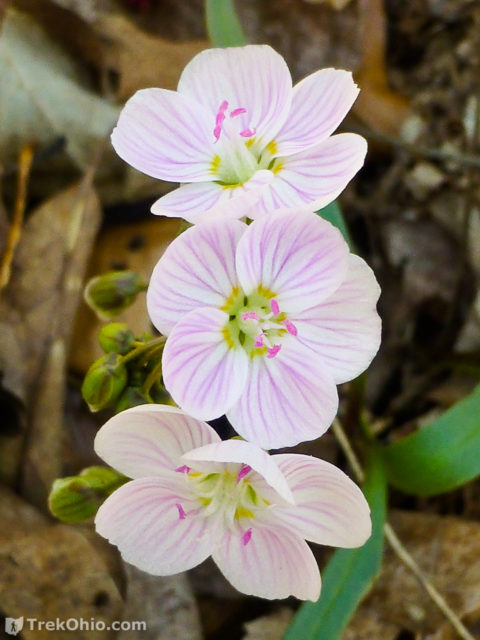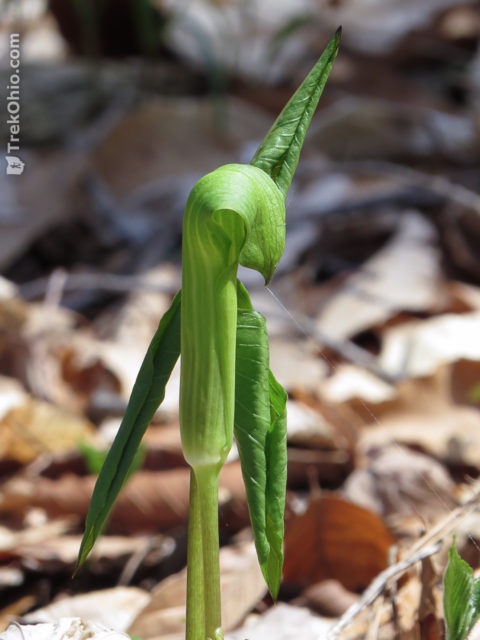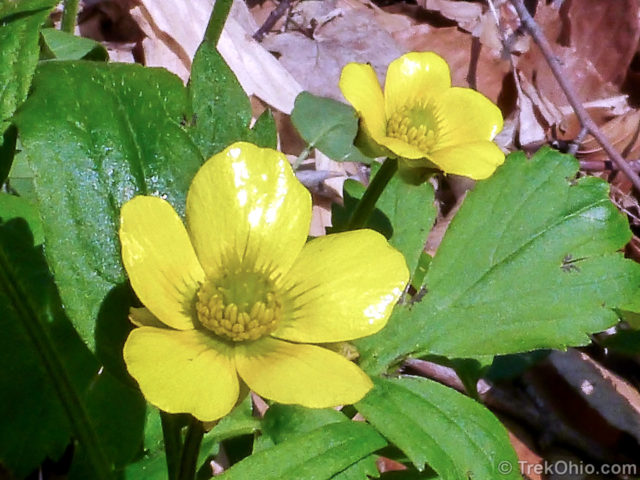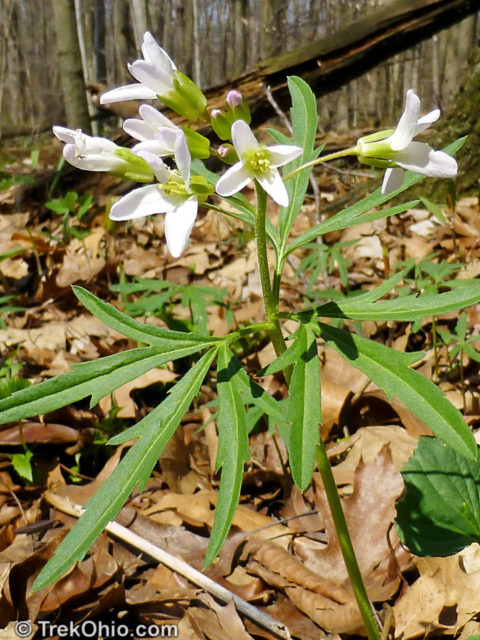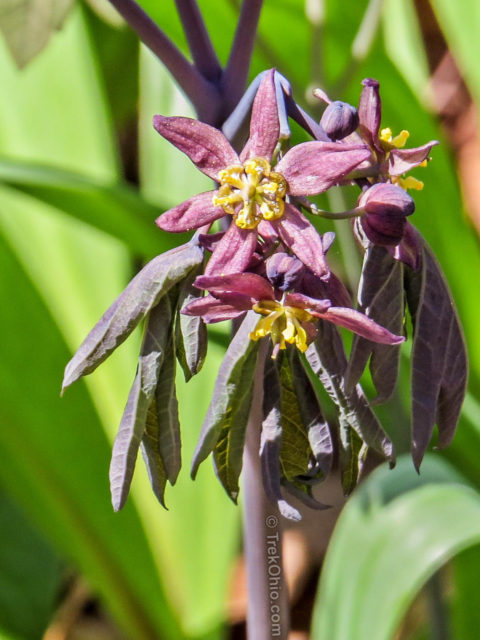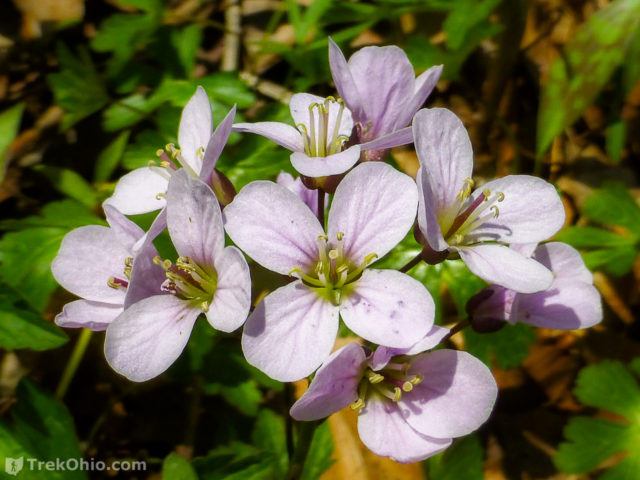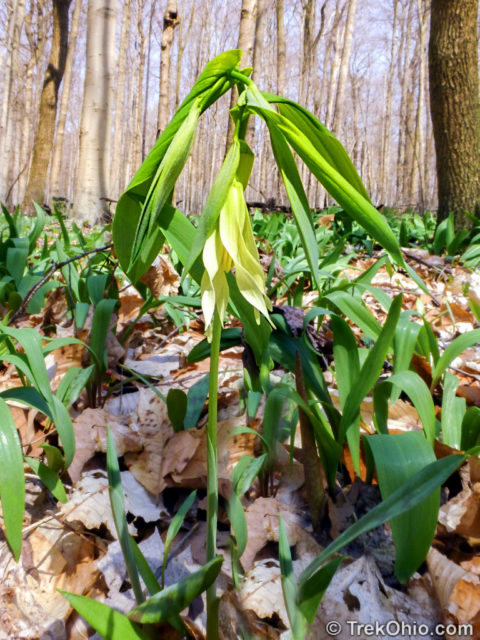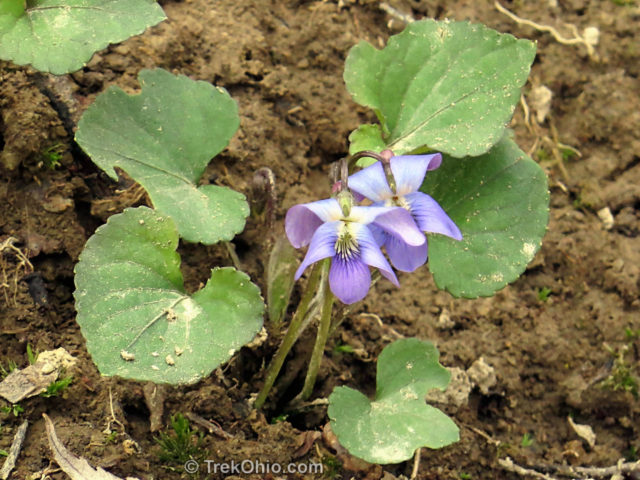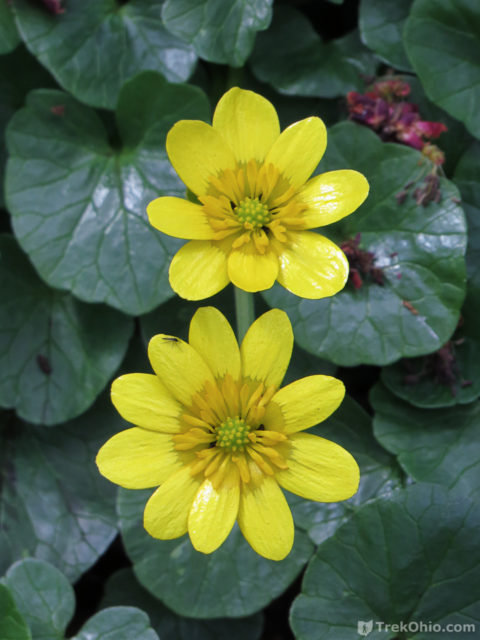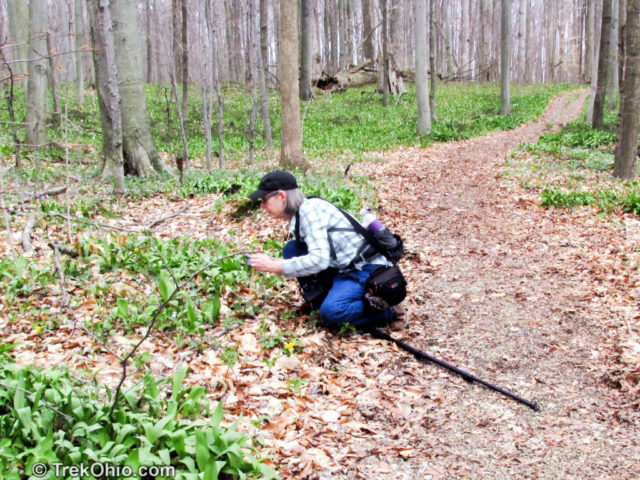 Additional information
Location
Address: 263 Township Road 1601, Greenwich, OH 44837
GPS Coordinates: 41.028385, -82.434809
Google Maps: View on map or get directions
More on Ashland County
© Deborah Platt, Robert Platt and TrekOhio.com 2012 to 2021