Ohio has some scenic wonders – the gorge valley at Old Man's Cave, rapids and waterfalls at Clifton Gorge, the Glacial Grooves at Kelley's Island. But how did it all come about? In this article I intend to cover half a billion years of geological history in 10 minutes or less and explain how Ohio became Ohio.
First of all, Ohio has no mountains. But next door in West Virginia is an ancient chain of mountains called the Appalachians that extends from Georgia to Maine. Half a billion years ago, this chain of mountains rivaled today's Himalaya range. In southeast Ohio, you'll find hills that comprise part of the foothills of this range. During the time period from 480 to 252 million years ago (known as the Ordovician Period and the Permian Periods) most of Ohio was the sea bottom of vast inland sea. Silt from rivers was deposited on the seabed as were the calcium rich shells and bones of sea creatures. Layers of plant matter from sea plants were also deposited. Beyond that, nothing much happened during this 200+ million year period. Aside from the huge meteor impact in southwest Ohio.
Geologists classify rocks into three broad types: igneous, sedimentary, and metamorphic. Igneous rock is formed from cooling magma, often from volcanoes. The only igneous rocks that we have in Ohio were created in Canada, then carried here by glaciers during the Ice Age. These igneious rocks that were dropped here during the ice age are called glacial erratics.


Sedimentary rock is formed when ocean sediment is under pressure over a long period of time. Metamorphic rock is rock whose chemistry is changed by being exposed to internal heat and pressure from magma or tectonic activity. The vast majority of exposed rock in Ohio is sedimentary. This includes sandstone and shale from deposited silt, and limestone and dolomite from the calcium of deceased sea creatures. The layers of plant material became seams of coal, or mixed with shale, became underground deposits of oil shale containing oil and / or natural gas.
Sherlock Holmes and Dr. Watson were traveling through Ohio exploring the states scenery. Watson spots a rock outcropping and inquires "I say Holmes, what type of rock is that?" Holmes responds "Sedimentary, my dear Watson".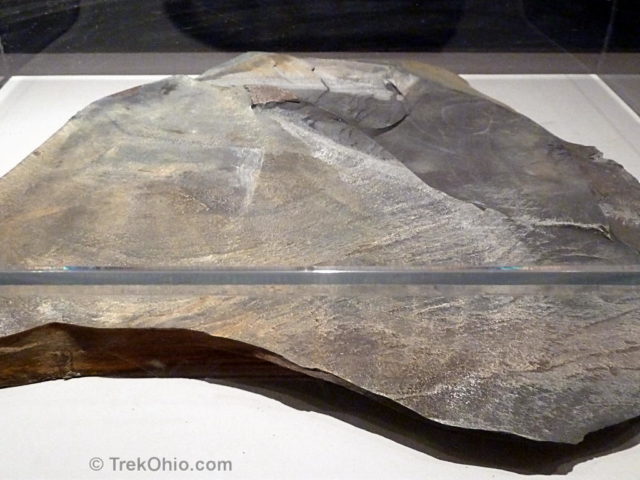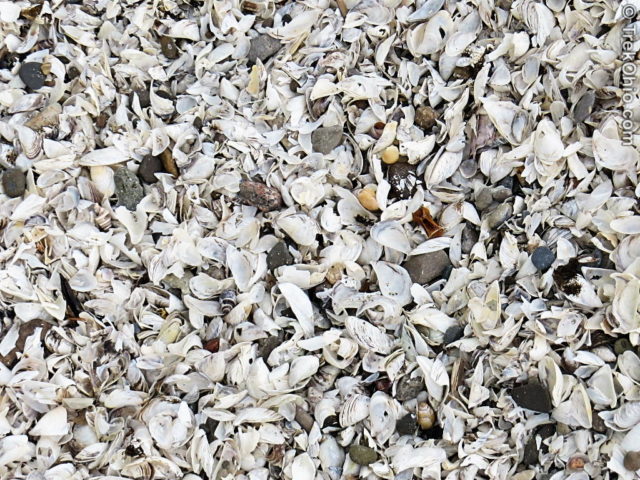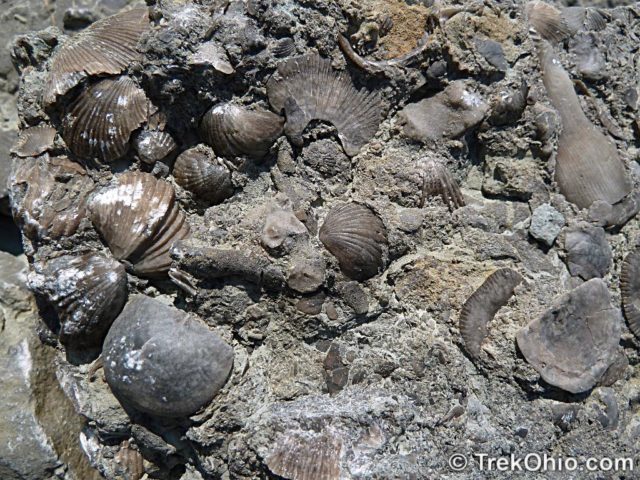 Sandstone varies in hardness depending on the nature of the silt that was deposited. Some layers of sandstone – such as the Blackhand sandstone found in central and southeast Ohio are harder and hence more resistant to erosion. When multiple layers of sandstone are exposed to erosion from running water, the softer layers will erode faster. This differential erosion can produce recess caves or interesting rock formations.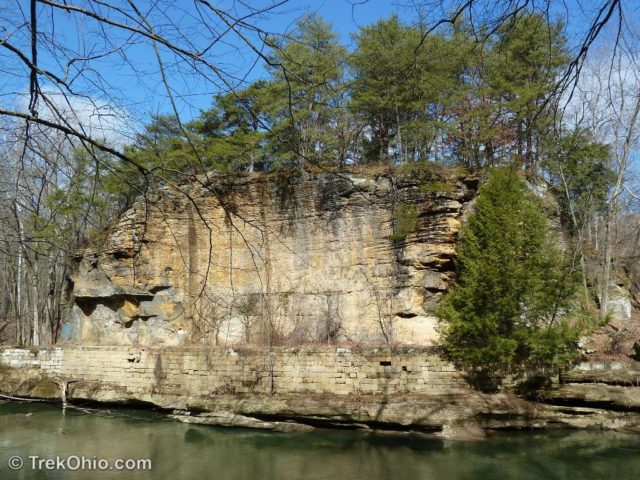 Limestone tends to be porous and is slowly dissolved by carbonic acid (formed from carbon dioxide and water in the atmosphere). Over long periods of time, this results in limestone caverns like the ones found in Logan and Champaign county.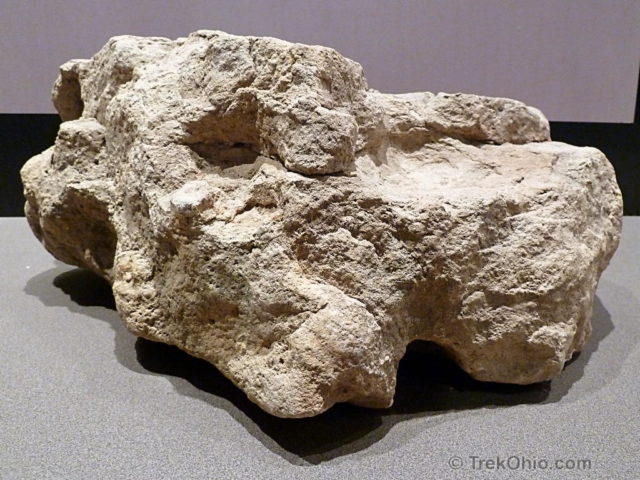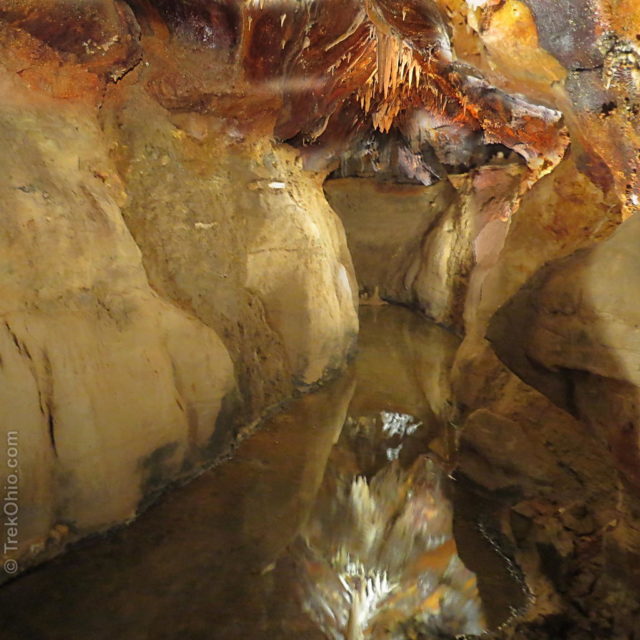 The shallow sea eventually receded and Ohio became part of the landmass. And not much of geological interest happened until the Pleistocene from 2.5 million to 11,000 years ago. Much of Ohio was covered in a series of glaciers. In northern Ohio, the land was covered with ice over a mile thick. The glaciers ground down exposed rock and hills. It carried and dumped boulders from Canada (called "glacial erratics") and dumped massive amounts of silt and gravel forming hills known as 'kames' and long winding hills known as 'eskers'.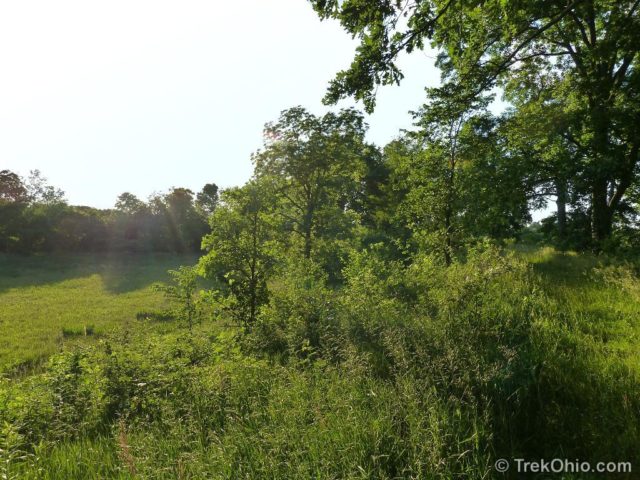 In many places, a piece of glacier would calve off and get buried in silt and gravel. Once it melted, it would create a lake known as a "kettle lake". There are many of these in Ohio.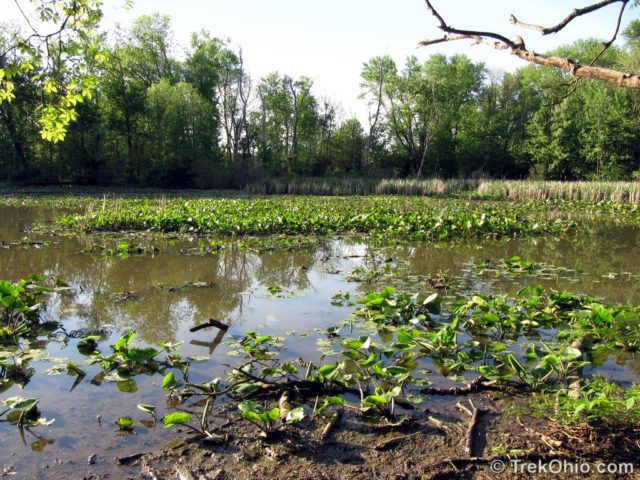 Around 11,000 years ago, at the end of the Pleistocene Period, the glaciers started to melt. The melting glaciers released enormous amounts of water. Furthermore, the melting was not uniform. Ice blockages would impede water flow, shifting the water in one direction, and then burst releasing torrents of water in another direction. Much of southern Ohio was not covered by glaciers, but was definitely effected by the torrents of melt water flowing through. Many of the valleys and hollows were formed by the enormous rush of water.
In the northwest, the melt water created an enormous lake, much larger than today's Lake Erie. The lake successively grew and shrank over thousands of years, leaving sand dunes far from Lake Erie in the Oak Openings area. Eventually, receding to create Lake Erie and a massive forested swamp known as the Great Black Swamp.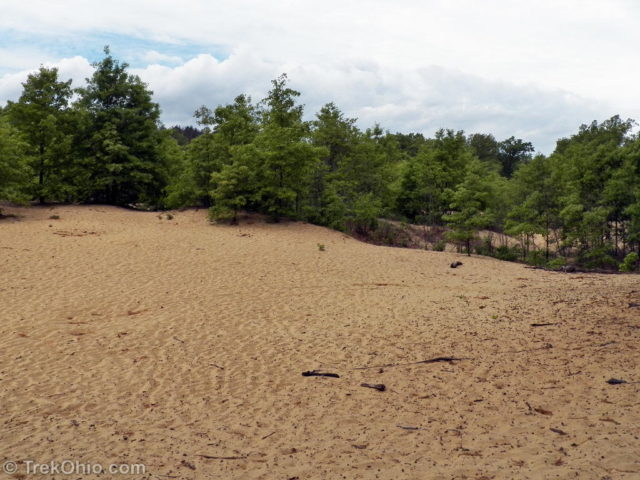 In summary, today's Ohio is the result of the formation of sedimentary rock from the ancient sea bottom and then the more recent sculpting by a series of glaciers and torrents of melt water from those glaciers.
Additional information
More on Geology
© Deborah Platt, Robert Platt and TrekOhio.com 2012 to 2021