Ohio's Parks & Preserves offer many excellent educational opportunities for homeschoolers and for parents seeking educational enrichment for their public school students. To locate parks and preserves near you, TrekOhio offers an on-line guide currently listing details of over 900 parks and preserves around the state. The guide is divided into five geographic zones that are listed in the tabs on the top of each of our pages.
In this article I'll discuss resources for the academic areas of geology, paleontology, and astronomy. If there is sufficient interest, I'll publish follow ups covering additional academic disciplines.
Geology
You can read my article: Ohio Geology in 10 Minutes or Less to get a quick overview of Ohio geology. Here are a few locations of particular geological interest:
Much of Ohio's terrain has been shaped by flowing water, you might want to visit one of the many waterfalls located around the state.
Additional information
Paleontology
Deb wrote about her experience fossil hunting at Caesar Creek State Park. Fossils from the Devonian Period are easy to locate at this site in just a few minutes.
The Ohio History Center in Columbus features a collection of mega-fauna fossils from the Pleistocene including a mastodon skeleton. They also have an exhibit containing a collection of Ohio rocks and minerals. Dinosaur fossils are not found in Ohio. But one of the best exhibits of dinosaurs can be found nearby in Pittsburgh, PA. The Carnegie Museum of Natural History has a world-class collection of dinosaur fossils on display.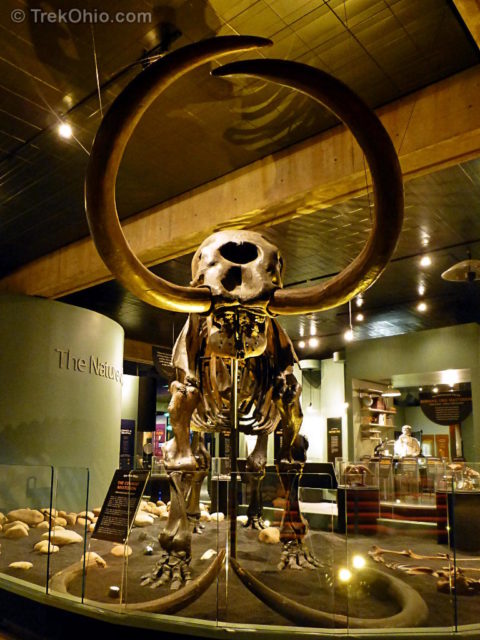 Additional information
Astronomy
Did you know that a number of Ohio parks have astronomical observatories? For instance, John Bryan State Parks has an astronomical observatory that is operated by the Miami Valley Astronomical Society. Observatory Park in Geauga County features a planetarium, a science center, and a variety of large telescopes. The site Observatories of Ohio lists astronomical observatories around the state.
If you already have a telescope and are looking for dark skies away from city lights, we've been told that the camp sites at AEP ReCreation Land are good sites (at least for Ohio) for astronomical observation. And camping at AEP ReCreation Land is free (with required free permit). Also check the Ohio State Parks calendar for astronomy related events, such as meteor shower viewing.
Additional Information
© Deborah Platt, Robert Platt and TrekOhio.com 2012 to 2021