On October 17th Bob and I attended our first Annual Fall Hike at Lake Hope. The staff at Lake Hope State Park, along with Friends of Lake Hope, organized the hike. Participants were subdivided into smaller groups that left the picnic area in a staggered fashion between 10 a.m. and 11 a.m. The hike from the picnic shelter to Hope Furnace was three miles and followed the Hope Furnace Trail. At the conclusion of the hike near Hope Furnace, participants had the opportunity of enjoying a communal meal of bean soup made on site accompanied by cornbread provided by the Lake Hope Dining Lodge. The organizers shuttled hikers by bus from the Hope Furnace back to the parking lot at the shelter. The annual hike is a great opportunity to hike the entire Hope Furnace Trail without having to do the return trip.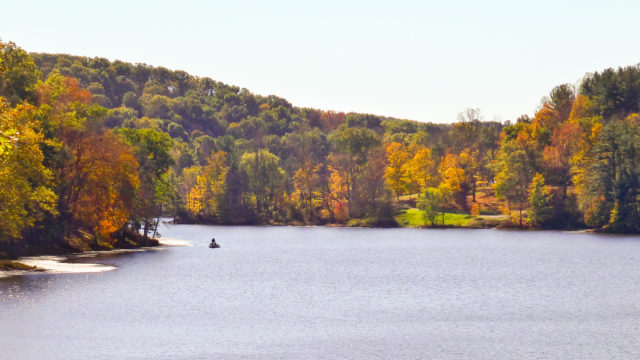 We arrived at 9:30 a.m., but as you can see there were already plenty of people at the picnic shelter.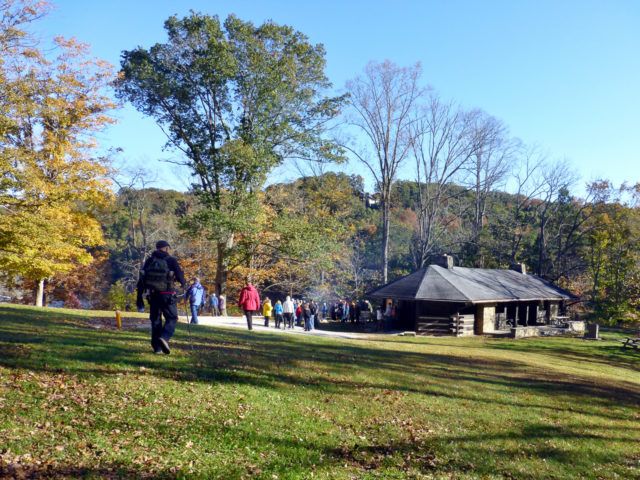 While we were waiting for the hike to start, I moseyed down to the lake. The weather was just perfect for this walk: cool, yet sunny. The leaves had started to change colors, but hadn't reached peak color yet.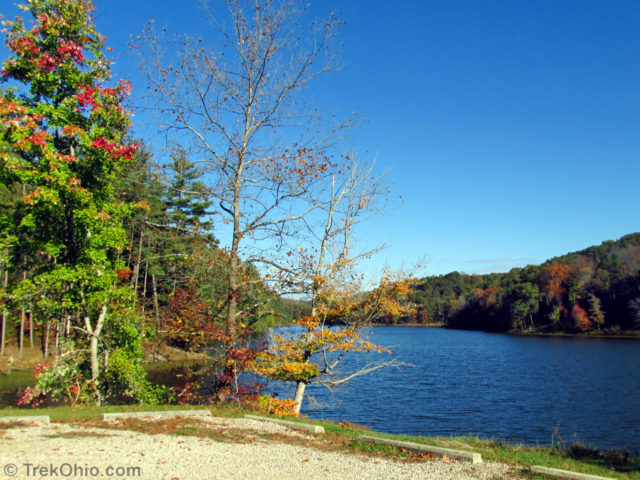 Near 10 a.m. the hikers were subdivided into smaller groups, each led by one or two people. Our group was led by a student and a professor from Hocking College. Among other things the college helps train future naturalists, and our guides stopped periodically to talk about the plants and trees that we were passing. As an example of what we learned, our guides introduced us to the sourwood tree (Oxydendrum arboreum). We were invited to taste the leaves which were indeed sour, but not unpleasantly so.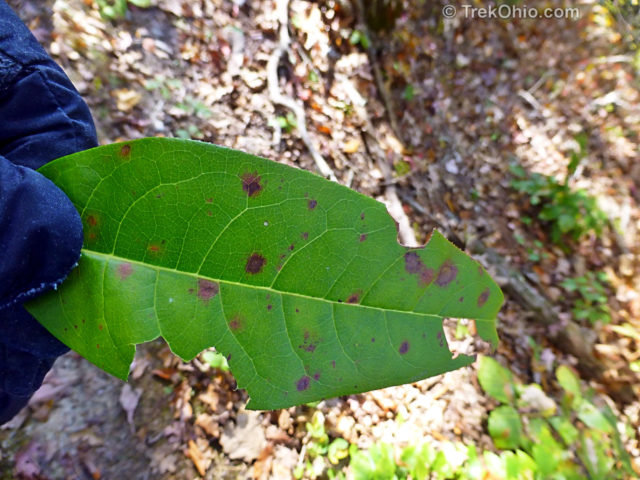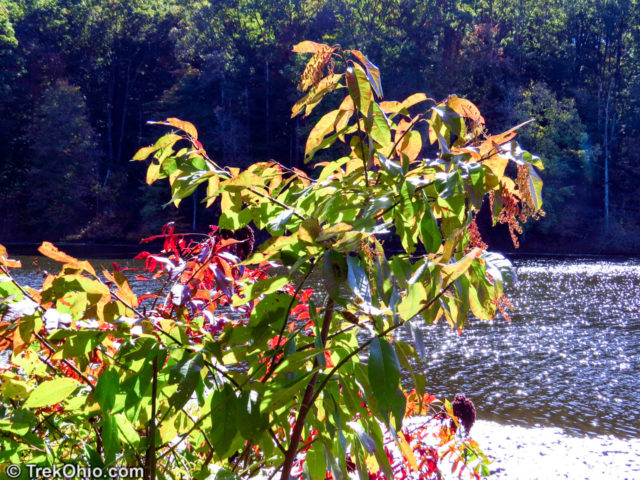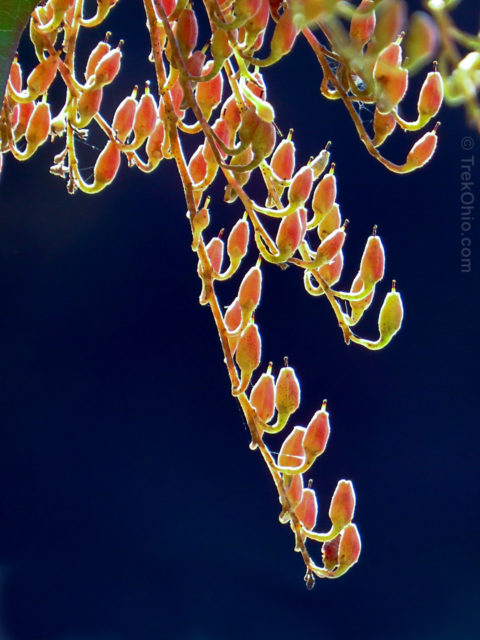 Relatively early on in our hike, we turned inland. If you've hiked around lakes, it is common for the trail to move away from the lake when you approach areas where feeder stream flow into the lake.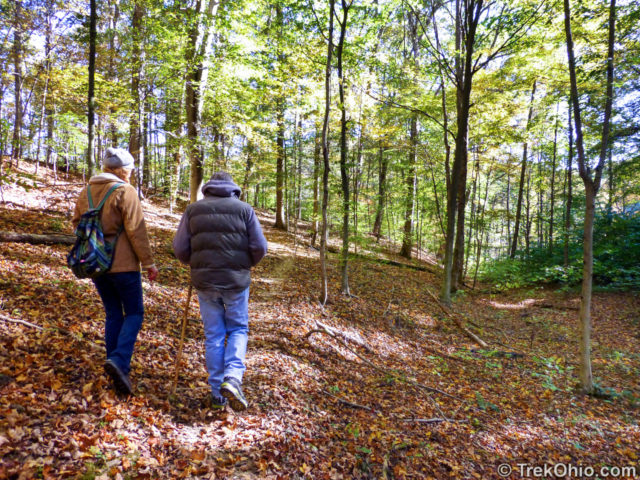 Some of the time the trail was a distance from the shore, but we could see the lake through the trees.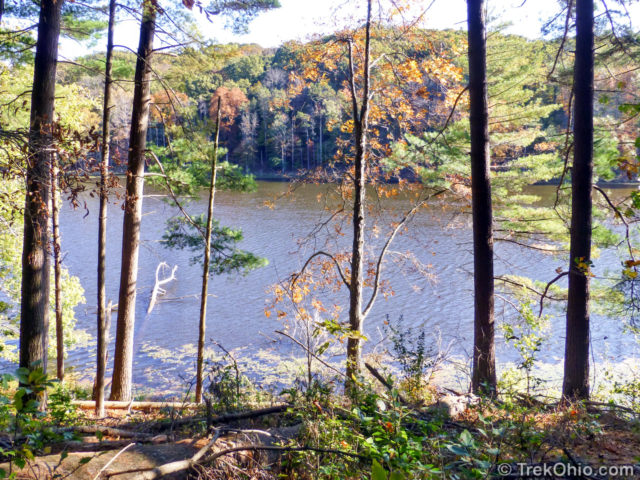 There were other times when the trail went right along the lake.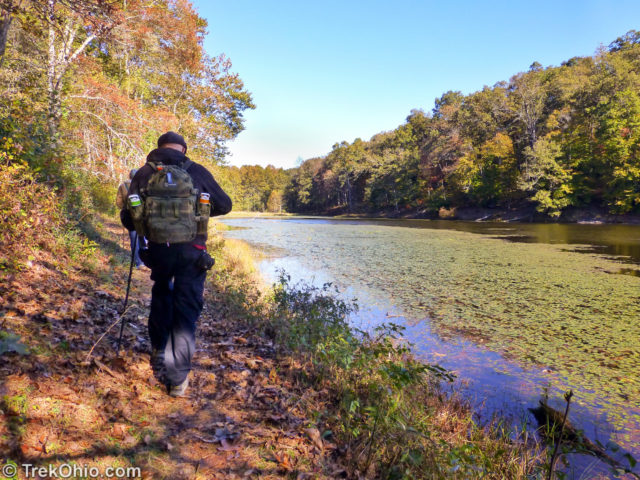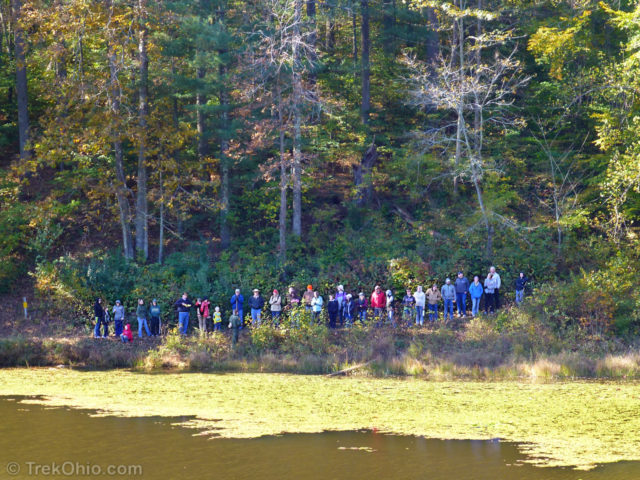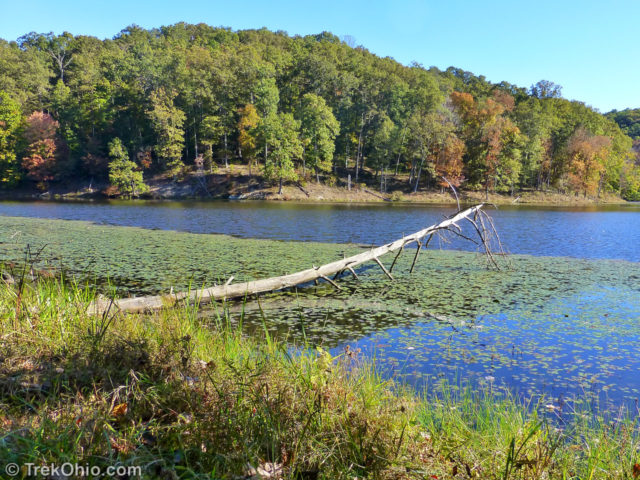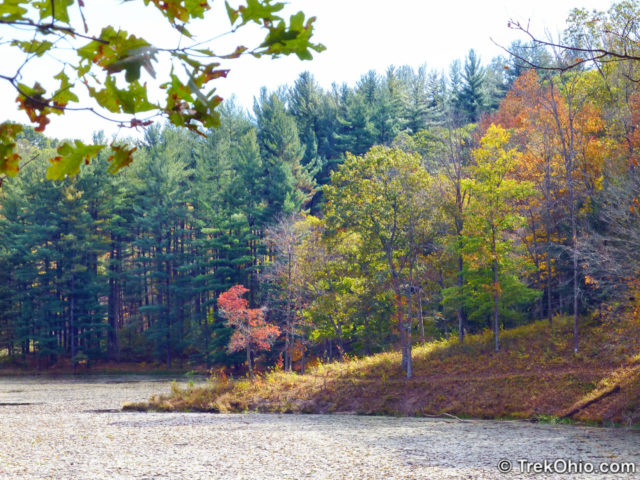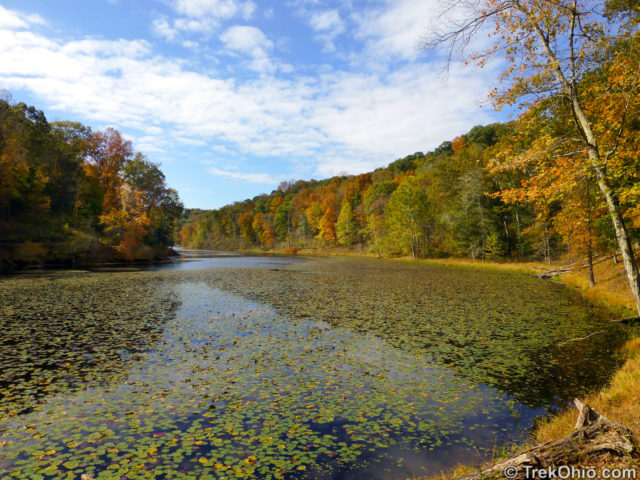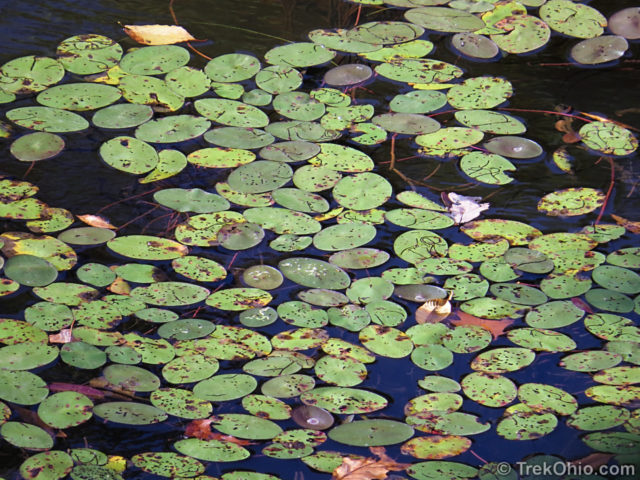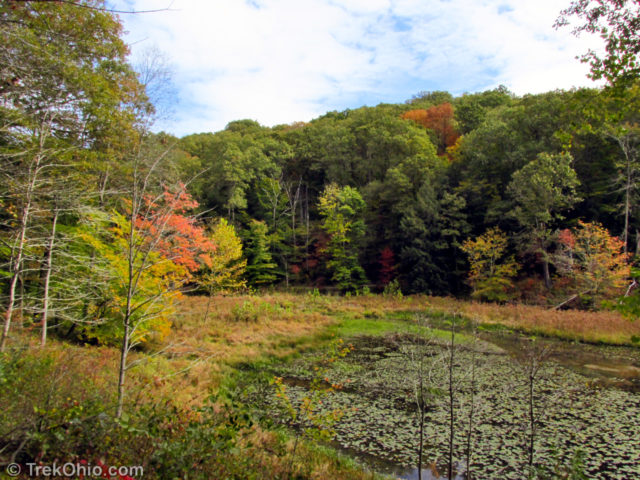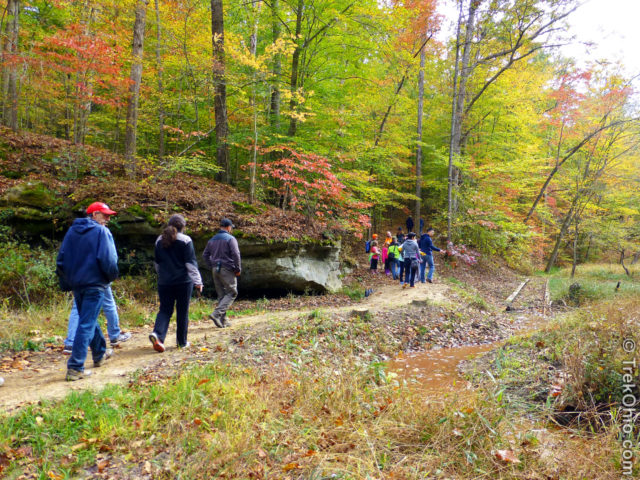 As we approached the Hope furnace we could see where our fellow hikers were gathering for bean soup and cornbread. If you do any of the organized, winter hikes offered in many communities, this is a common meal often shared at the end of the hike.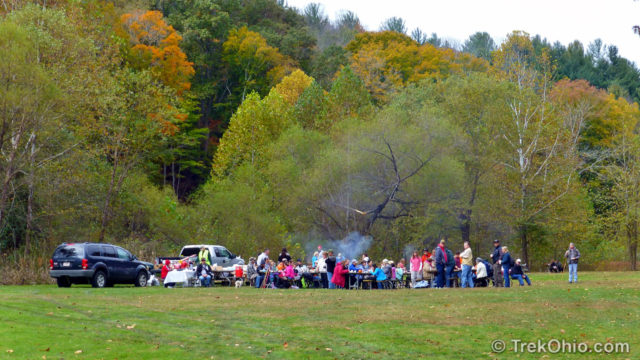 However since the Lake Hope Dining Lodge is one of my favorite restaurants in the entire state, Bob humored me and we hopped a shuttle back to our car. Once there we drove to the dining lodge. I had the smoked turkey, and it was delicious as always. Plus the view from the upper deck at the lodge is extraordinary.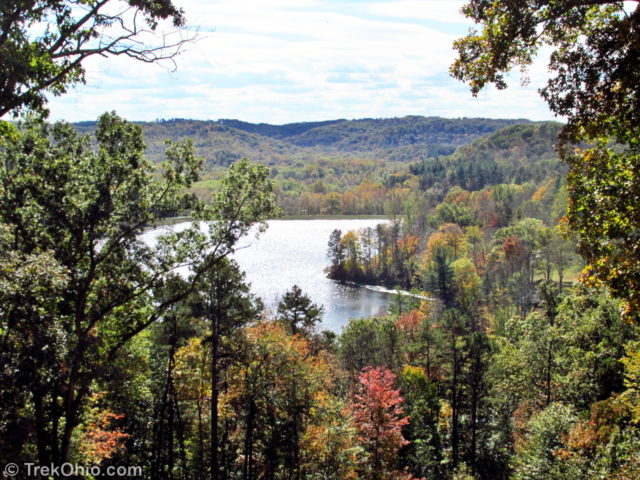 GPS Trace of the Annual Fall Hike
If you'd prefer, you can explore the trace of our hike directly on Google Maps.
Additional information
More on Vinton County
© Deborah Platt, Robert Platt and TrekOhio.com 2012 to 2021