Fairfield County is not nearly as famous a venue for outdoor activity as it's neighbor Hocking County. But the fact is, there are some great places to go hiking there.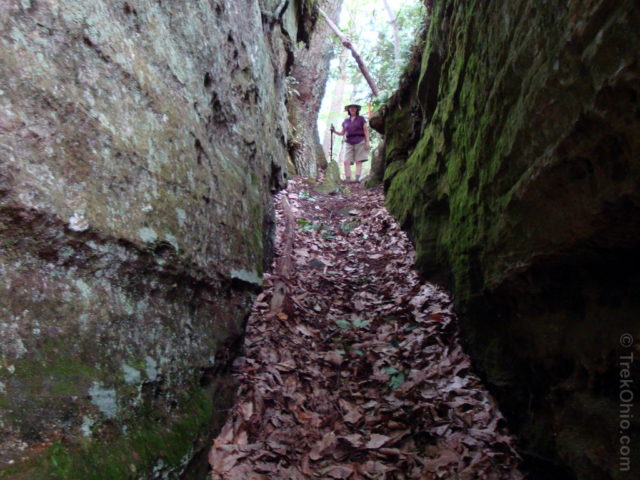 State Nature Preserves
Wahkeena
Wahkeena Preserve is located on the southeast edge of the county, near the border of Hocking County. It features 2 miles of hilly trails, a short boardwalk through a marsh, and a nature center with a knowledgeable and friendly staff. Dogs are not permitted. Wahkeena offers a variety of programs for adults and children.  See the Wahkeena events calendar for further information. Wahkeena is owned by the Ohio Historical Society and managed by the Fairfield County Historical Parks.
Rhododendron Cove
Rhododendron Cove is a well hidden preserve that is a 1/2 mile down the road from Wahkeena. It has a trail (2.25 mile round trip) that traverses a ridgeline after a steep climb and features interesting rock outcroppings and a view of groves filled with great rhododendron. Dogs are prohibited at this preserve.
Shallenberger
Shallenberger Preserve off of US 22 near Lancaster features two unglaciated rocky knobs and trails that circle and ascend them. The knobs are wooded and also feature mountain laurel. The trails total 2.5 miles in length. Dogs are prohibited at this preserve.
Christmas Rocks
Christmas Rocks features 4.75 miles of well-marked hilly trails. The Jacob's Ladder loop trail culminates in a spectacular cliff side view of the surrounding area. Dogs are prohibited at this preserve. If you visit, be sure to stop at the adjacent Mink Hollow Covered Bridge. Two additional covered bridges are located within short driving distance.
Columbus & Franklin County Metro Parks
The Metro Park system operates several metro parks that are outside Columbus and Franklin County. Four are located in (or partially in) Fairfield County. These parks offer a variety of nature programs ranging from hikes and wildlife viewing for adults, to educational programs for children.
Clear Creek
Clear Creek Metro Park is located in Fairfield and Hocking Counties. It features 9 trails with a total distance of over 14 miles. The trails range from flat creek-side trails to very hilly trails that go up and down surrounding ridgelines. A one mile portion of the Chestnut trail is available for pets who are prohibited elsewhere.
Chestnut Ridge
Chestnut Ridge Metro Park has 2.4 miles of trails in a large loop. The trail traverses one small ridge. An overlook provides a view of downtown Columbus in the distance. This park is equipped with restrooms and play equipment for young children. Dogs are permitted.
Blacklick Woods
Blacklick Woods Metro Park is located in Fairfield and Franklin County. It has 7.5 miles of mostly flat trails, some along Blacklick Creek. The park has play equipment for young children, restrooms, and a nature center. Dogs are permitted.
Pickerington Ponds
Pickerington Ponds Metro Park has 5.1 miles of trails on flat terrain bordering a variety of ponds and fields. The area is known for a diverse variety of birds, particularly during fall / spring migration. The park has several wildlife observation decks. Paved trails are popular with both joggers and families on bicycles. Dogs are permitted.
Blacklick Creek Bike Trail
The Blacklick Creek Trail follows along Blacklick Creek for a distance of 12 miles. It is still under construction, but the segment connecting Three Creeks Metro Park to Pickerington Ponds (with a pedestrian bridge over US-33) is open. Partial segments have been built that will eventually connect to Blacklick Woods. From Three Creeks Metro Park, the Alum Creek Bike Trail is open to I-670. When completed, you will be able to bicycle / skate / walk from Blacklick Woods to Pickerington Ponds, next to Three Creeks Metro Park and then on to Westerville and Galena – a distance of about 37 miles.
City of Lancaster Parks
Alley Park
Alley Park has 6 miles of hiking trails that go around two lakes and up into and around ridges surround the lakes. The park has a nature center, a covered bridge, and restrooms. Dogs are permitted.
Rising Park
Rising Park has a 1/2 mile (one way) trail that leads to a the top of Mount Pleasant – a 250 ft sandstone bluff with a stunning view of Lancaster and surrounding areas. The park has a pond and play equipment for small children.
Other Sites
Fairfield Heritage Trail
The Fairfield Heritage Trail is a 10 mile (8 miles paved) multi-use trail in Lancaster, OH. Trail map here.
Johns Trail
The Johns Trail is a 1.6 mile multi-use gravel trail in Amanda, OH. Trail map here.
---
More information on the above parks and preserves can be found in the TrekOhio Guide to Parks, Preserves, and Trails. Check out the guide's entry for Fairfield County.
Additional information
More on Hiking Summaries
© Deborah Platt, Robert Platt and TrekOhio.com 2012 to 2021